Winter Fashion: Coopers Surf + Uptown Local
On the first day of winter Coffs Central retailers held a rooftop soiree wearing the latest fashions. Coastbeat went along to document the evening's fun and frivolity. This week, the spotlight is on Coopers Surf and Uptown Local. 
Tell us about your outfit?
Indy – Coopers Surf: In the shoot I wore check white and beige pants by Rhythm, a charcoal Billabong sweater, a blue and mustard check Riders cropped teddy jacket, white Pumas and accessorised with a Brixton wide brim hat. 
Grace – Coopers Surf: I wore a pair of A brand white cord pants, a Thrills cream singlet, black Roc boots and an oversized RVCA red tartan coat. I love pairing whites with a statement coat, it's timeless and simple!
Angela – Uptown Local: Hansen & Gretel 'Clarrie' Velvet Jacket in Black, Ena Pelly 'Wilderness' Tee in Washed Black, 'Straight Sally' Nudie Jeans in Everblack and Skin Boots – Zurich Black Croc. 
Micah – Uptown Local: Blanca 'George' Shirt in Pink, Viktoria & Woods 'Ringo' Jeans in Dark Acid Wash and Veja 'Venturi' Suede Khaki sable in Oxford Grey.  
Cam – Uptown Local: Mr Simple Cord Sherpa Jacket in Tobacco, Mr Simple 'Reginald' Organic Tee in Black, Nudie Jeans Steady Eddie II Dry 16 dips and Veja 'Nova' Canvas in Black.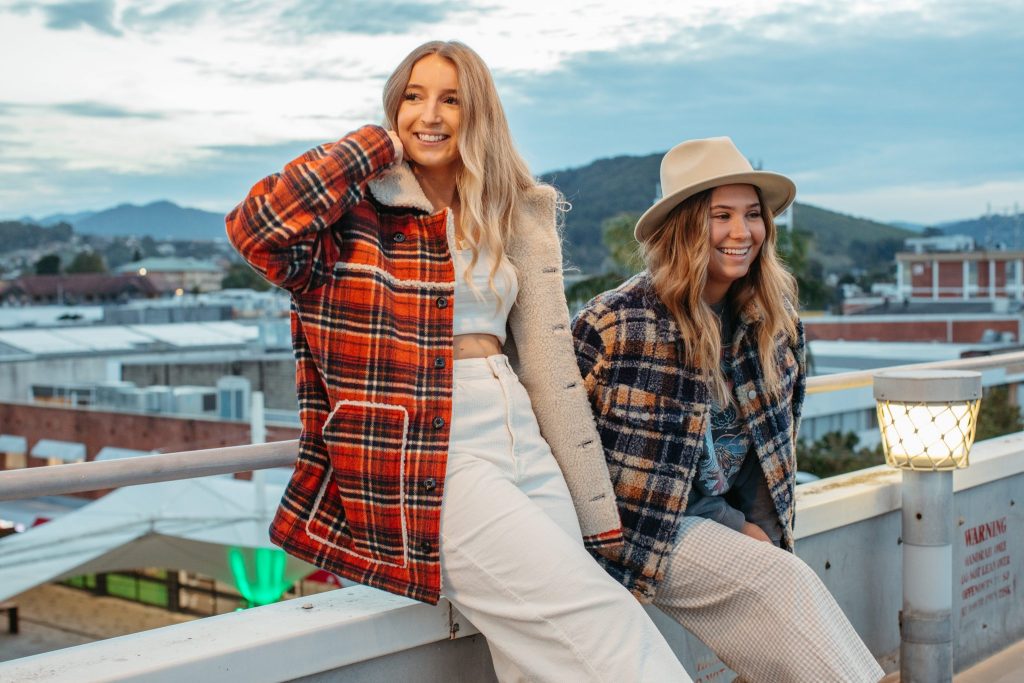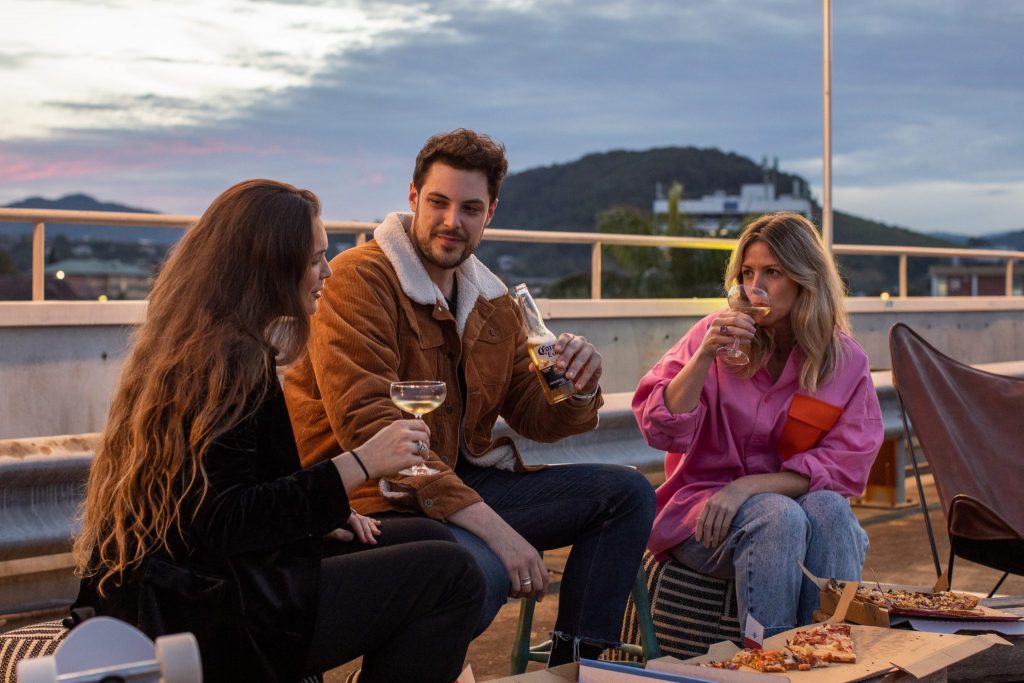 What are your personal winter staples?
Indy – Coopers Surf: You can't go wrong with a black knit, a favourite pair of blue denim jeans, black cowboy boots and a statement jacket. I love this simple outfit because it's so versatile. Dress it down with a hat and strappy sandals for brunch or dress it up with heeled boots, gold jewellery and a clutch for a night out. 
Grace – Coopers Surf: Chunky black boots, they go perfectly with nearly any ensemble. 
Angela – Uptown Local: My winter uniform consists of black jeans, black jacket and black boots. Classic edge all the way. 
Micah – Uptown Local: Pink! Colour is my vibe for winter. Vibrant and fun. I love winter staples, but am by no means defined by them. 
Cam – Uptown Local: A denim jacket and a pair of Nudie Jeans are my go-to staples.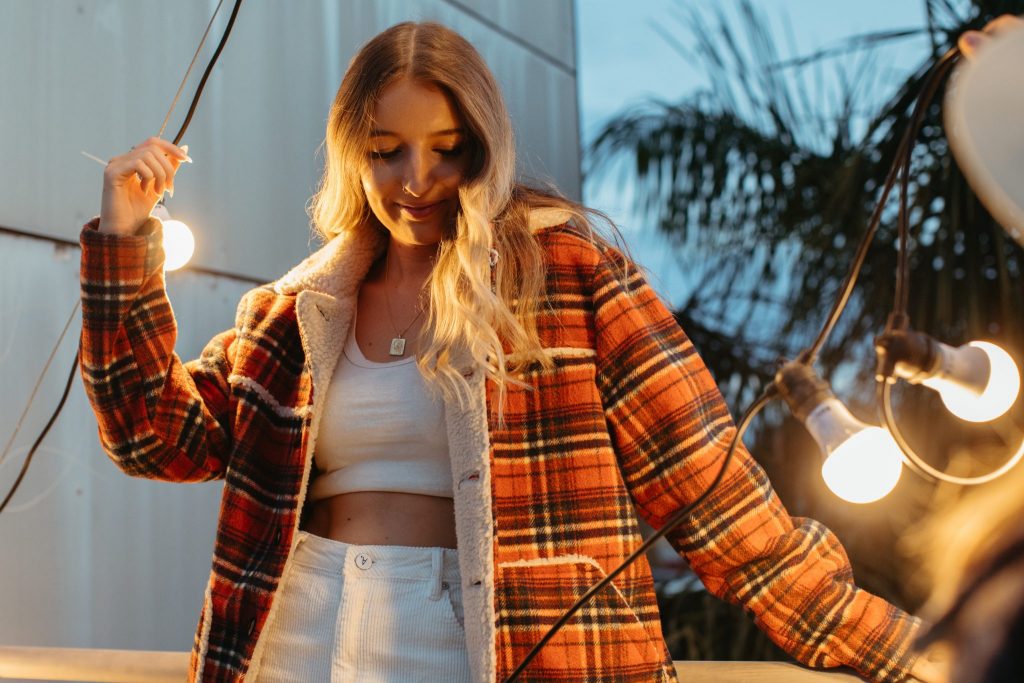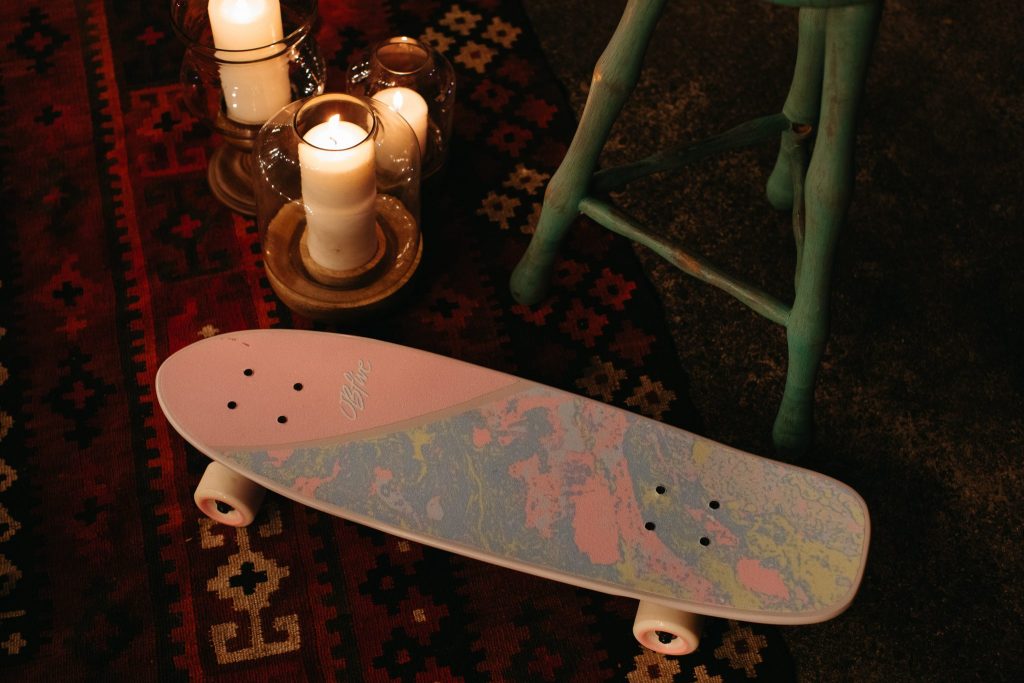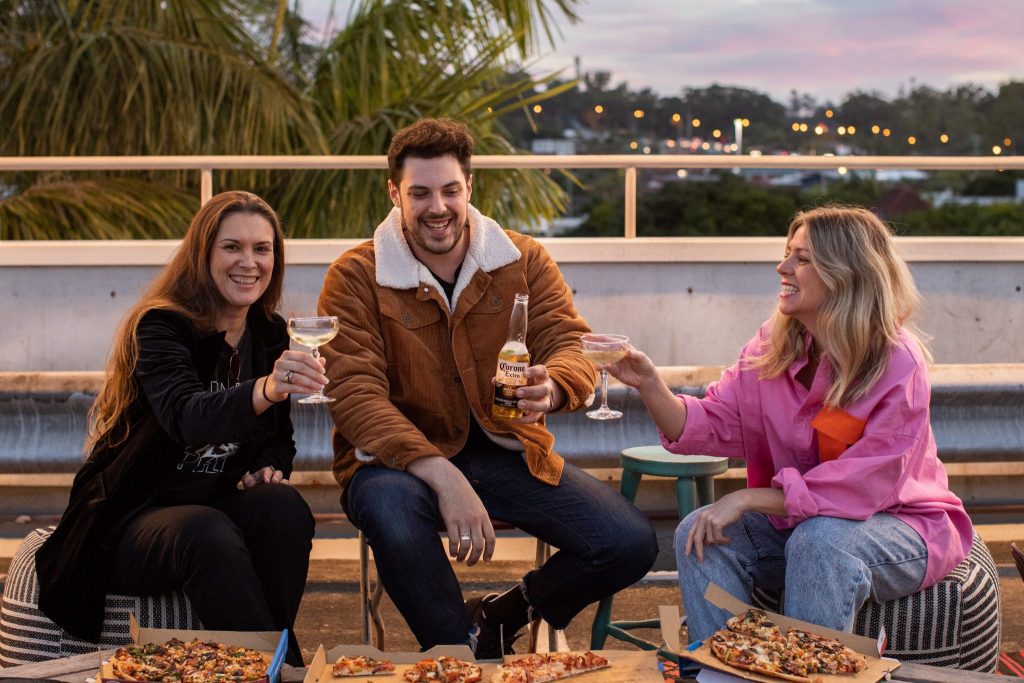 What do you love about winter dressing?
Indy – Coopers Surf: I love layers! Having done a snow season in Canada I quickly became very familiar with layers. I loved creating outfits with lots of different styles of jean matched with patterned long sleeve skivvies. Multiple thick, cosy knits, teddy jackets and chunky statement jackets were always a win! I quickly learnt you don't go outside without bulk accessories, long chunky scarves, cute beanies, gloves and a pair of trusty old Doc Martens!
Grace – Coopers Surf: Layering! It gives any outfit a lot of depth and excitement. I not only love layering clothes, but I also love adding accessories to my outfits. On a daily basis I wear two Kirstin Ash necklaces and I think these really complete any outfit! You can find these necklaces in our Urban Life stores. 
Uptown Local: We love the layers. Adding a jacket to any outfit instantly elevates how you look and feel. Denim is a big passion of ours. Especially when it comes to ethical and sustainable fashion. Nudie Jeans and Nobody Denim are two of our 'ethical super star' brands.
Which pieces or styles are you especially excited about this year? 
Indy – Coopers Surf: So far, everything Billabong! Loving all the teddy jackets and the Adventure Division range. Lots of graphic logo sweaters and chunky knitwear! Quicksilver has brought back all patterns retro – lots of cute, loud sweaters coming through from them. Ripcurl for all your puffers and cosy knits and matching tracksuits! Rhythm has some great coloured jeans and beautiful matching linen sets perfect for sunny mornings at the beach and paired with a chunky jacket for the cool afternoons. 
Grace – Coopers Surf: All of the pants! Thrills and Afends always come out with great staple trousers. This winter I have been wearing a pair of the Thrills Artist Pants almost every day and am in love with them.
Uptown Local: We're excited to be adding a well-known Australian denim brand to our premium collection. Launching in store soon… KSUBI!