Wild Harvest Wednesdays, Newrybar
Wild food foraging and fine dining come together in a unique partnership between a professional forager and the new, award-winning Head Chef at the acclaimed Harvest Restaurant at Newrybar.
The Forager
At a secret location near Lennox Head is a bit of bush that most people wouldn't even notice if they drove by. In amongst the bracken fern, coastal cypress and lantana, is one of the ingredients destined for tonight's Wild Harvest dinner at Harvest, in Newrybar near Byron Bay.
Professional forager, Peter Hardwick supplies the restaurant with new wild foods every Wednesday and this is a patch he's had his eye on for the last week or so.
"It's rained a bit recently which makes the plants shoot new leaves, so I knew there'd be enough to pick."
He's looking for the new shoots of the native grape vine and he needs at least seventy of them, enough to garnish seventy plates. Like some kind of strange insect, the buds, new leaves and tendrils of the native grape can also be cooked in a tempura batter or added to salads. They're there in abundance and the shoot I eat tastes tangy and has a not unpleasant mucilaginous texture. It's fresh, tender and unlike anything I've ever eaten.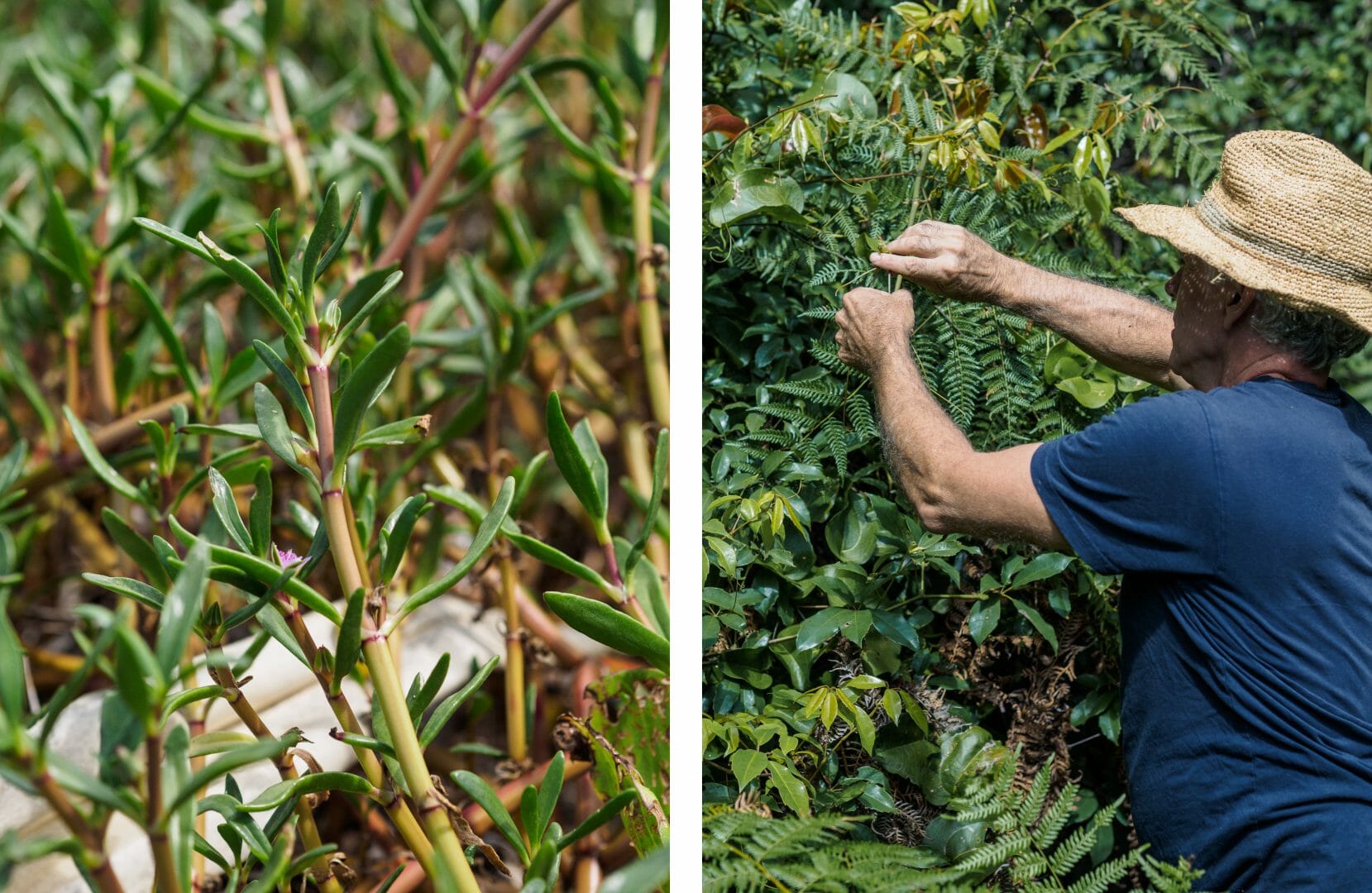 That sets the tenor of my day – new foods, new textures and entirely novel flavours.
Our next stop is a strip of land 10 metres wide between mangroves and a council park in East Ballina. "It's like a market garden down here," Peter says, setting off with a backpack and a pair of secateurs. He harvests the leaves of three varieties of coastal succulents: sea blight, sea purslane and samphire. These are plants that would look at home in an ornamental garden and it takes a leap of faith to put the rubbery leaf of sea purslane into my mouth, chew and swallow. It's salty and tangy, a bit like capsicum. Peter explains that the plant contains capsaicin, the same compound found in capsicums and chillies. There's another familiar taste in there too, something that reminds me of nori rolls or wakame but overall the sense is that I'm tasting a totally new food.
Some of the plants that Peter's harvesting will be used as garnishes or ingredients in salads, but others will be pickled in various wild vinegars.
"I like to honour the whole plant,' Peter says. "A bit like eating the whole cow right down to the offal and marrow. If it's edible, I think we should eat it."
As he talks, Peter snips a few thick stems from the sea purslane patch and plants them in some barren soil a few metres away. "Wild food harvesting is usually very sustainable because you're only taking the fruit or tip pruning but it makes sense to take care of your food source, so I always propagate new plants as I harvest. Some of these won't make it but enough will to keep this patch getting bigger all the time."
How careful do you have to be when you're harvesting wild food? Can you kill yourself by ingesting a non-edible look-alike? "You definitely want to know what you're doing," says Peter. "Unless you get into fungi, the effects are likely to be unpleasant rather than deadly, but you don't want to give yourself alkaloid poisoning or something nasty like that."
Peter acknowledges his strong relationships with local Aboriginal people as a source of some of his knowledge and he also has connections with biochemists who bolster his findings with scientific research and run analyses on the foods he gathers.
Back at Harvest, the science of wild food foraging takes on an element of alchemy. Peter introduces me to another development in wild food dining, that of fermenting various combinations of wild foods and water to create bases for sauces, soups, dressings and cocktails. The smells coming from the brews are vinegary, salty and smoky and Peter dips into various containers with a handful of spoons to pass around.
There's a fermenting sugar syrup of roasted bunya cones that smells incredible and tastes a bit like coffee and caramel, the rich seaweed flavour of a charred kelp vinegar, the pear-like perfume of a tea tree ferment and the tang of samphire pickled in fruity pandanus vinegar. One taste after another, and each of them unique.
"I play around with sugar content and ageing times," says Peter, holding out a spoonful of some mature bunya nut vinegar so potent it nearly knocks me off my feet. He laughs. "It's a lot of fun."
The Chef
Fun is certainly the vibe you get from hanging around the staff at Harvest. These are people passionate about creating something unique and delicious and who are dedicated to Harvest's local and sustainable ethos but who are also having a really good time doing it.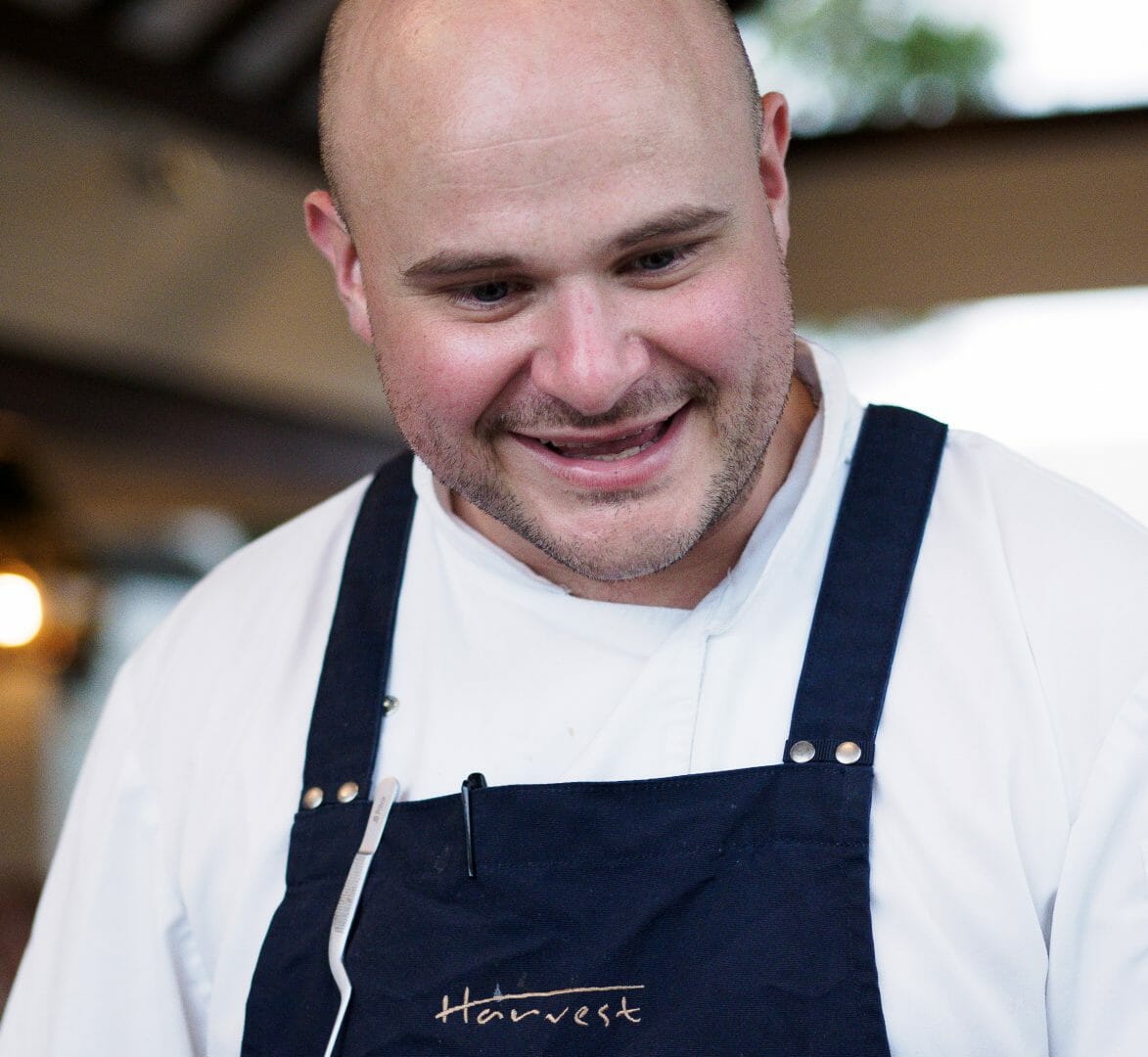 Alastair Waddell is the award-winning Head Chef at Harvest. One of the main reasons he came to Harvest was the opportunity to work with Peter. "I saw this as a unique learning experience," he says. Already dedicated to sourcing wild and local foods from his time as Executive Chef at both Southern Ocean Lodge on Kangaroo Island and Qualia on Hamilton Island, Alastair says that the Wild Harvest Wednesdays allow him to be more experimental. "The people that show up usually expect to see some unusual dishes, so we can be a bit more adventurous."
The Byron shire has a growing reputation for offering the best of fine dining, pairing award-winning chefs like Alastair with the bounty of local, seasonal produce on offer, so how does Harvest stand out from such a salubrious crowd? "It's the whole package that Harvest offers," says Alastair, eyes bright with enthusiasm.
"We've got the deli, the sourdough bakery, the dry-age room, the bees, the gardens and we've got Peter's work."
It's a unique partnership. As well as the fresh produce that Peter forages for Wild Harvest Wednesdays, Alastair incorporates many of Peter's ferments into his meals. "The four main ingredients I rely on are the charred kelp vinegar, for its incredible umami tones; the pandanus vinegar, my go-to ingredient for when I want to pick up the flavour in a dish; the coastal tea tree vinegar, which I use in wild salad dressings; and the fermented fish and prawn sauces."
Alastair is passionate about using native ingredients but knows you have to introduce them gently.
"You don't want to be too gimmicky," he says.
Having said that, he got a giggle from serving a dish with vinegar made from cobbler's pegs (otherwise known as farmer's friends) to disbelieving farmers.
Because the raw ingredients for the Wednesday night meal only arrive at noon that day, everything must come together quickly in the kitchens. "Tuesday and Wednesdays are usually pretty hectic," Alastair nods. "Peter and I will have talked about the upcoming meal in advance and have a reasonably good idea of what he's going to bring in, but it's never set in stone." For tonight's meal, Alastair is experimenting with marrying the sweet bitterness of chocolate with the smoky umami of charred kelp.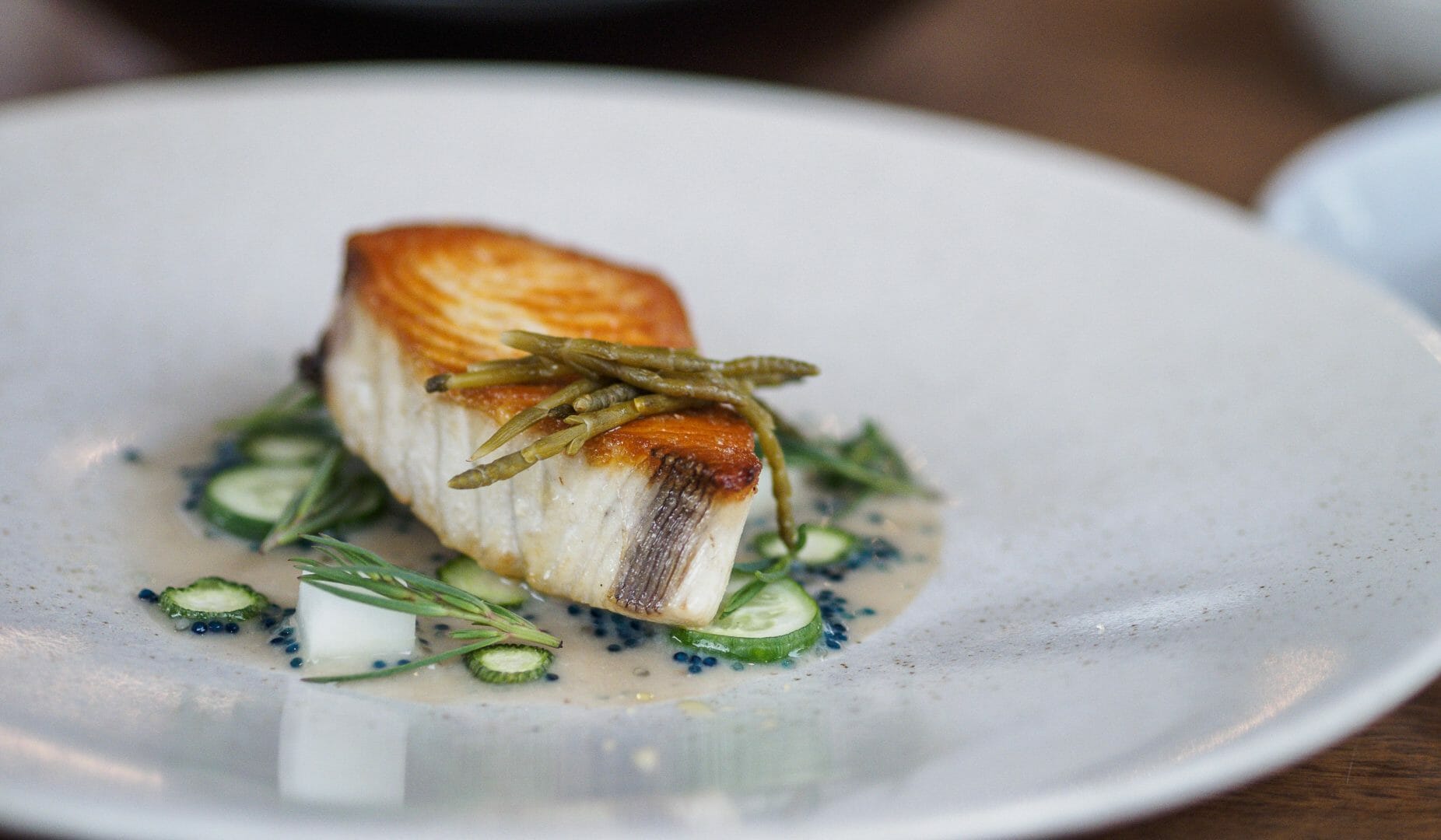 The menu is different every week and is dictated by what's on the land. "It's a collaboration between Peter, me and the whole kitchen team. Sometimes we'll find ourselves with a huge load of something that's in season and we'll figure out how to feature it on the menu."
"Like bunya nuts?" Bunya nuts only fruit every three years but then they do, it is in bulk, with cones that weigh up to 10 kilograms. In this bumper year, the kitchen at Harvest has been gifted with bag after bag of nuts from loyal customers. "Yes", he says with a smile, "like bunya nuts."
The Dinner
The meal served that night is exceptional. The novelty of the flavours tasted throughout the day are expressed in each of the five dishes in a perfect marriage between familiar and unfamiliar that is never overdone or overwhelming. Alastair circulates amongst the diners, introducing them to the dishes he's invented, and Peter displays the raw ingredients with which they were made. The native grape shoots foraged earlier that day sit like gangly green spiders on top of a Dorper lamb tartare and the coastal succulents provide a salty crunch in a clam soup. The sauce for a steak of locally caught wahoo was built on a foundation of Peter's prawn sauce, a concoction that's been ageing for 12 months, made of prawn heads, sea water, native spices and pandanus vinegar.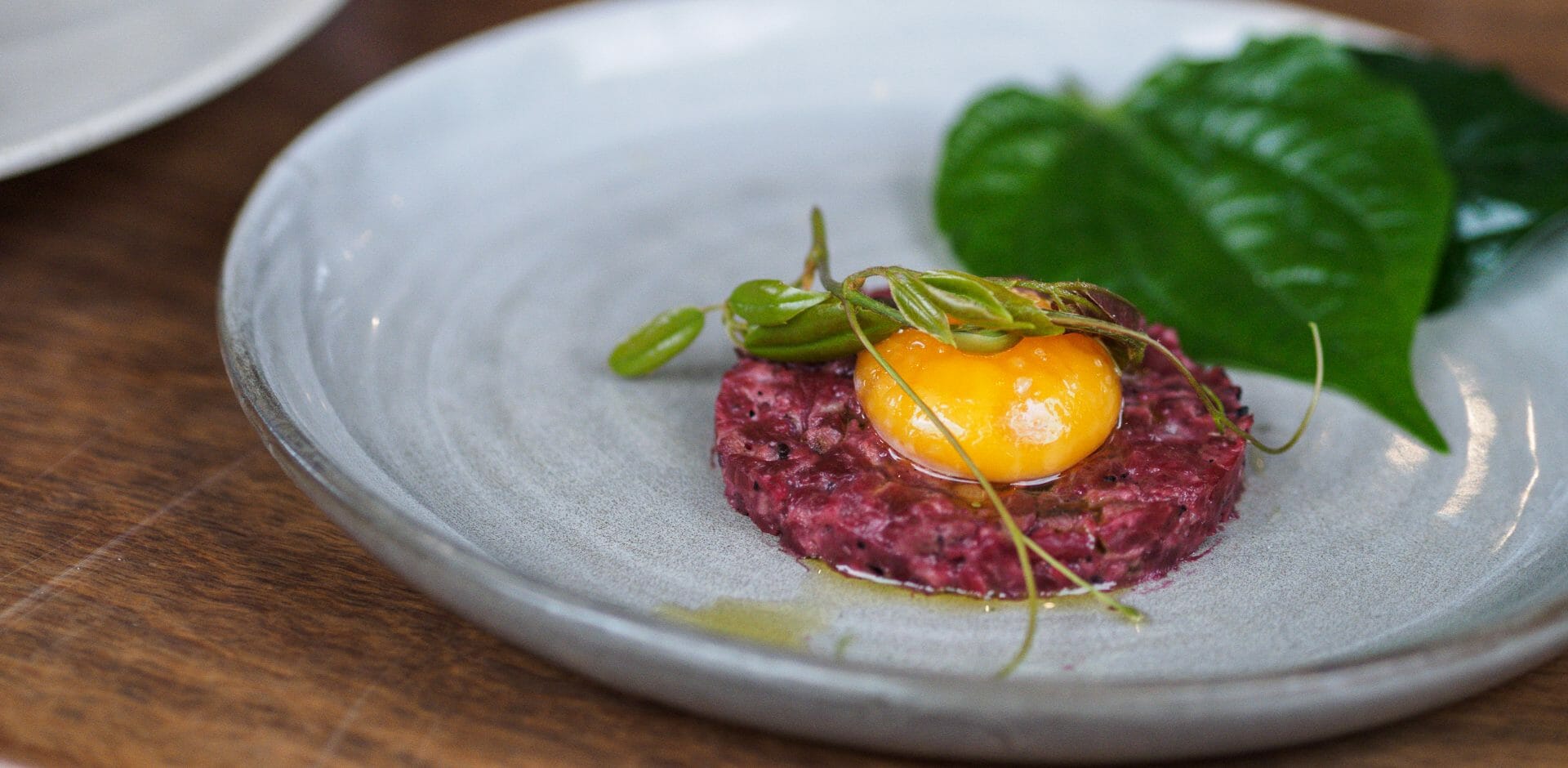 But the highlight is dessert, a bowl of rich chocolate mousse flavoured with charred kelp and the tang of a wild vinegar, crumbled with meaty bunya nuts and grated macadamias and speared with crispy wedges of chocolate and roasted bunya nut slice. Every taste is there in perfect proportion – sweet, salt, sour, bitter and umami.
Wild food dining has become a revelation and a revolution worldwide and it's at its very best at Harvest every Wednesday night.
Note: Some bush foods are poisonous, and readers are advised not to rely on information gleaned from this article. Be sure to seek professional advice before eating unfamiliar foods.
For more information on Harvest and all it has to offer head over to harvestnewrybar.com.au/
Ph) 02 6687 2644 to make your reservation 18-22 Old Pacific Highway, Newrybar