A Great Lakes weekend escape – Sea Eagle Point
A weekend escape at Sea Eagle Point recharges the spirit and brings a family closer together.
The Great Lakes region has long been a favourite destination for nature lovers. The pristine white sand beaches are among Australia's most beautiful: clean, rainforest-fringed and buttressed by headlands which shield the wind and sculpt desirable waves. Whales, dolphins and eagles are frequently sighted while anglers dig beach worms to land their dinner. Most visitors spend their days facing east – on the sand, in a boat or bobbing on a board.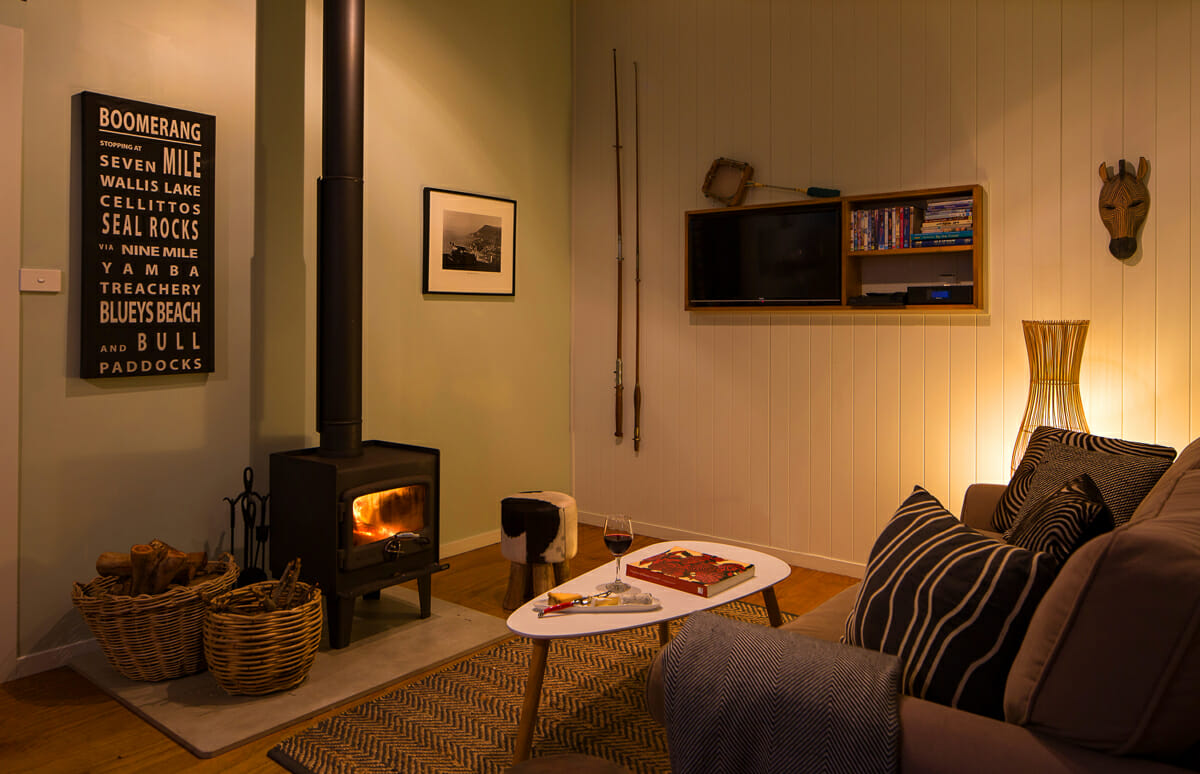 The Cabin living room and fireplace by Claudia Gabriel Lim Photography
But the Lakes region has another side to it, figuratively and literally. A narrow isthmus of coastal land, its western flank is bordered by a series of coastal lakes, National Parks and wetlands. Brimming with wildlife and flora, the hinterland is ripe for adventure. Wallis Lake, one of the cleanest coastal lakes in Australia, empties into the sea at Forster and backdrops the small villages of Pacific Palms. It's a beautiful body of water especially at dusk when it mirrors the sky and shines like Inca gold.
Normally my family stay as close to the high tide line as possible but when the opportunity arose to experience 100 acres of seclusion on the western side of Wallis Lake, we jumped at it. Our boys were eager to fish from the private jetty and hunt for yabbies in the dam. My wife and I packed books and dreamed of all the places we might read them: in hammocks, by the fire, on a sun-warmed daybed.
The Navigator House perches on a scenic ridgeline, part of a finger of land with views to the Green Cathedral and Seven Mile Beach on its opposite shore. The spacious house features a big sun-dappled deck overlooking a grassy slope clipped by the resident donkeys, Teddy and Jaco. Including an adjoining cabin and nearby cottage, the entire property sleeps 20, making it idyllic for small or extended family gatherings and retreats.

Interior of the Navigator House by Claudia Gabriel Lim Photography
Before long we've unpacked, and my wife is easing into a hammock. I spend the afternoon fishing off the jetty, playing badminton, launching yabby traps and feeding apples to the donkeys with the boys. As night approaches, fires are lit, and we gather in expectation. A new outdoor dining area, cooking fire and kitchen has recently been completed, a local chef is keen to test it out and we've been invited to sample the food being prepared over the glowing coals.
David sources sustainably farmed local produce for his restaurant and catering business. We feast on pork from Coomba's Long Table Farm, buffalo rump from Burraduc Farm in Bungwahl and a brace of rib-eyes from the Manning. The meal is topped off with a tail of fresh crayfish (caught by my son) and marshmallows by the fire. We waddle home, blissed out.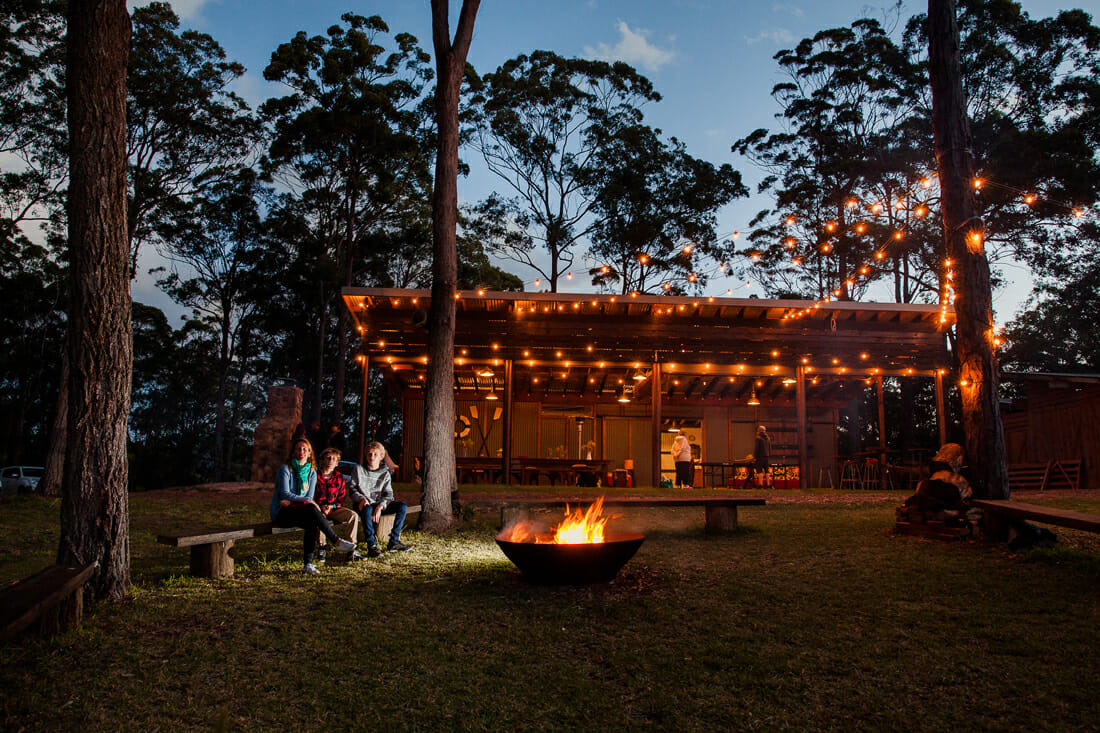 Enjoying the fire with the bran as a backdrop. Image by Kirk Owers
The next day the kids find six yabbies in the traps which need liberating or eating (we can't decide). A casual hit of tennis turns into a proper game. Then it's basketball and another fishing session. After lunch we follow a wallaby track and find a remarkable wetland-fringed rainforest thick with huge Elkhorn Bird Nest Ferns.
We spot plenty of wildlife throughout our stay including sea eagles, lorikeets, kookaburras, owls and lace monitor lizards. We don't want to leave, and we make plans to return. Nearby Wallingat National Park is said to be great for mountain biking and there's an amazing lookout from Mt Whoota. Best of all, these experiences aren't an either/or option. Hit the beach in the morning and go for a rainforest adventure or a kayak in the afternoon. At Sea Eagle Point, both are at your fingertips.
The author was a guest of Sea Eagle Point www.seaeaglepoint.com.au
To book email seaeaglepoint@gmail.com See a short video on YouTube of Sea Eagle Point.