Wayne's World
We're delighted to introduce our readers to the very talented Wayne deJong – tradie by day, artist by night. Coastbeat sat down with him to learn more about his world.
He may look like an Aussie surfer but as a Canadian, Wayne would be just as content in the ski fields as he is on the Coffs Coast – the place he now calls home. Aussie? Canadian? Norse God even? My three boys thought he was just like Thor and half expected him to conjure up thunder and lightning.
And so, how did a talented carpenter from Vancouver end up here, painting beautiful portraits like the one of our favourite little Belgian breed of Schipperke, Skippa? Well, like many a backpacker before him, it was all about a girl…
Skippa is the Gowings and Coastbeat team mascot. As you can see below, Skippa has now been immortalised by Wayne who has captured him in all his cheekiness, wearing the appropriate hat of course…as 'skipper' of the ship. It's a dog's life!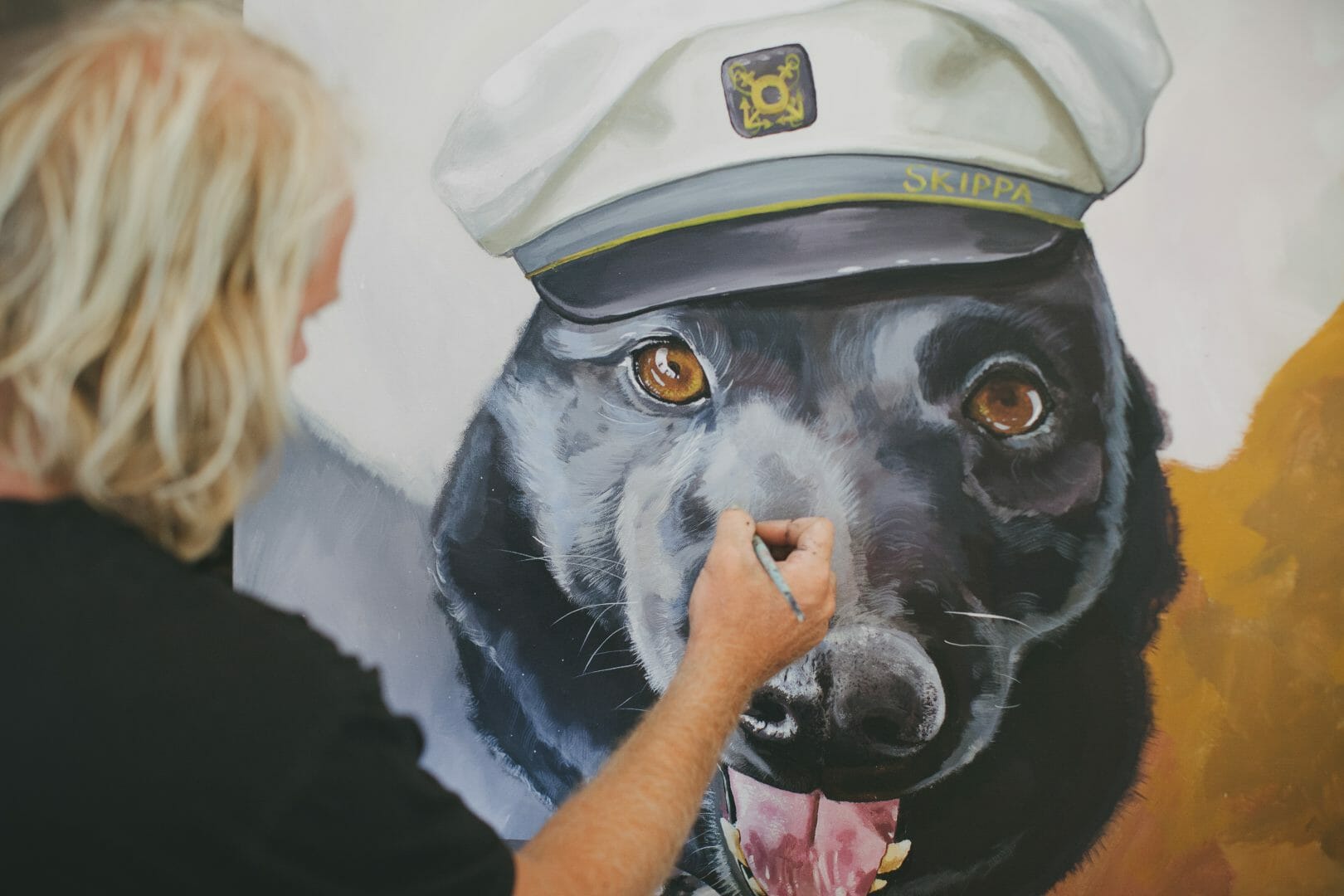 Wayne only planned to spend a day or two in Coffs Harbour until he crossed paths with a local girl by the name of Marie and his travel plans went out the window. Three kids and 13 years later, Wayne's still a long way from Vancouver.
Wayne grew up in a creative household with a musical family who also loved drawing, quilting, building, painting and making stained glass windows. As a boy, he would tinker in the shed with his father and as he got older, curiosity turned to passion, especially knowing he wasn't one for a desk job. And so, taking on a carpentry apprenticeship under the tutelage of his father was a natural progression for Wayne.
"I really enjoy the building game. It's very satisfying creating something with your hands and seeing that visual progress. I also like trying new things all the time and taking on small challenges in life to keep it fresh."
And it was the appeal of something new and different that led to portraiture. About 18 months ago, a fellow tradie suggested Wayne depict the work dog as a bit of a joke. Wayne took on the challenge with gusto.
And the result? A dapper dog wearing a suit, a monocle and smoking a pipe. Quite the distinguished gentleman indeed. Next, Wayne and the lads were doing the carpentry work at Maggie's Dog Café at Moonee and he showed the owners a picture of his recent subject. Before long, two more of Wayne's wonderful paintings adorned the wall at Maggie's.
Portraiture suits Wayne well. "I like people and find them interesting to paint. It's fascinating looking into their eyes to try and capture a bit of their soul – striving to get to the depths of them." At his Korora home, which he built himself, hangs a stunning portrait of his grandfather, among others.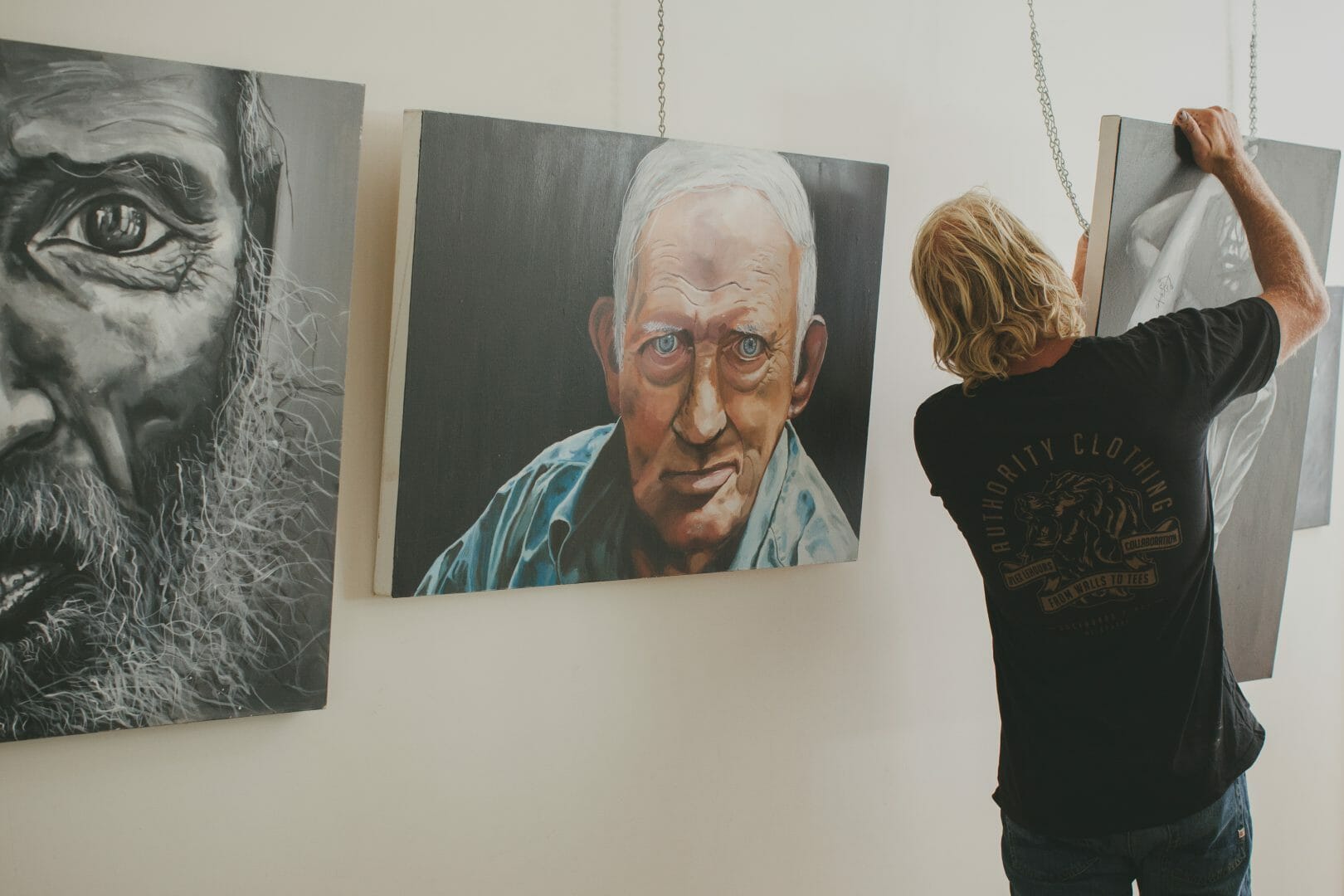 It was actually a nasty knee injury a few years ago that reintroduced Wayne to his artistic side. The damage to his knee and consequent surgery sidelined him from building for several months and so, to keep himself busy, he picked up the paintbrushes. "I took a couple of lessons and discovered my gift for it. I loved it and realised I was much better than I thought and decided to pursue it."
And he's thrilled to now have the perfect place to hone his skills. It may have been 10 years in the making but the man finally has a shed. "It's my dream shed and I'm lucky to have the space and know-how to build it. Here, I can let my imagination run wild." And it's a safe bet that Wayne and Marie's three kids are close by too – thereby becoming the third-generation to tinker away, pick up a brush and feel inspired…
On the shed wall, bold and large, is the slogan, 'It Was All A Dream' – lyrics from a song of Wayne's youth. In building his own creative space, he's also realising the dream of his father and uncle, who, living on small suburban blocks in a city, never got to have their own fabulous sheds.
The new shed is also where Wayne hopes to draw other artisans to. When forced out of work with his injury, Wayne found it difficult to find people in the local art scene. He did attend a group art class comprised of women in their 60s and very much enjoyed it (a feeling reciprocated I'm sure) but he would love to bring together a diverse group of people to share their skills so that everyone can support one another. Be it woodworkers, sculptors, painters or even those wishing to learn such skills, his goal is to establish a creative hub where everyone is welcome.
"Hey," he says in his warm, relaxed drawl, "if this tradie can do it, anyone can."
Ready for your portrait? Wayne can be reached by email – dejongconstruct@hotmail.com and on Instagram @dejongw