Take Me Higher: Treetop Accommodation on the North Coast
If you were lucky enough to have a childhood treehouse, you'll know how good it feels to climb up amongst the branches and leave all of your worries on the ground below. Who didn't want to rise above it all and retreat to their own little hideaway? For many, the desire to find a quiet and private space up high lingers but hijacking your little one's backyard cubby probably won't go down well. Thankfully, the North Coast has treehouses for adults and they're a big step up from the plywood platforms and offcut outposts of your youth. If you're craving a secluded getaway in a truly unique setting, you don't have to go far. Plan a stay at one of these treetop abodes and you'll be reliving joyful childhood memories within minutes.
Diamond Waters Treehouse Retreat – Laurieton
When Peter Johnson and Kerry McFadyen saw the large riverside trees on their beautiful Mid North Coast property, an idea began to take shape. They'd spent years rehabilitating their land at Laurieton and wanted to offer something special. Taking care to plan, design and construct mindfully, they erected Diamond Waters Treehouse Retreat to complement the natural surroundings. Peter says only a handful of trees were cut down to make way for the luxury accommodations, but more than 60 were planted to compensate. Thanks to Peter and Kerry's commitment to environmental protection, the Treehouses have been awarded Dual Accreditation for Ecotourism and Climate Action Business through Ecotourism Australia. Late last year they added a wedding and events space called The Fernery as well as a 70-metre wetland walkway.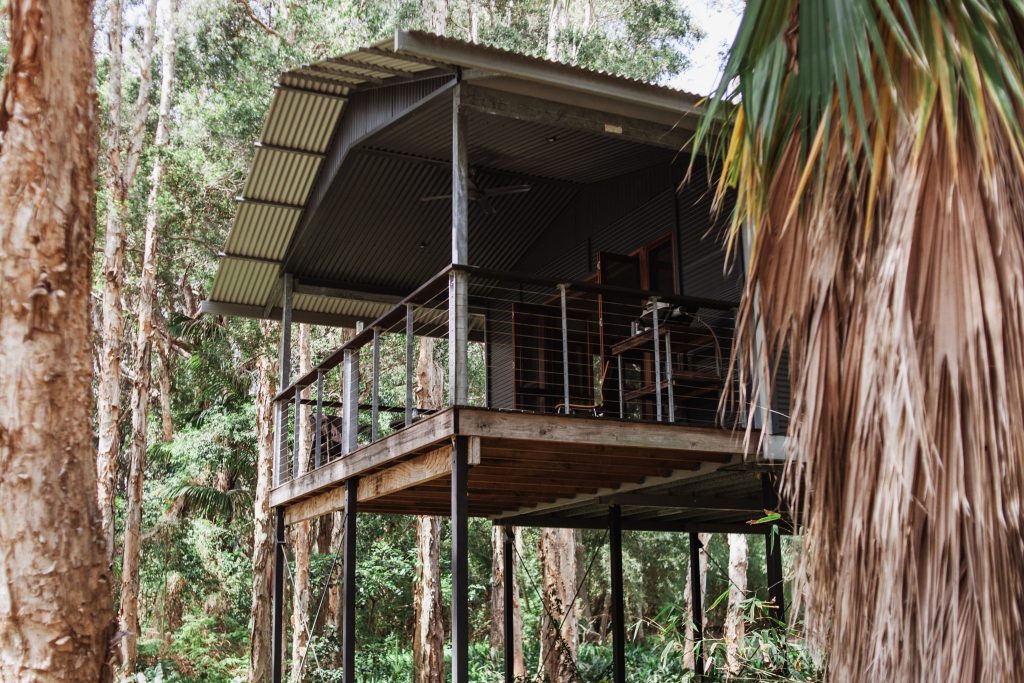 The River Room – Gleniffer
Minutes from charming Bellingen, on the banks of the Never Never Creek, you'll find the idyllic River Room. This treehouse hideaway is part of a stunning three-part structure designed by celebrated Australian architect Richard Leplastrier. The River Room sleeps two adults in a king-sized bed and includes a lounge and desk. The main feature is a wall that can be rolled up to reveal the rainforest as well as the bubbling creek below. An elevated walkway connects the room to the bathroom and other spaces. Guests use words such as stunning, unique, extraordinary and relaxing to describe their stay in the River Room.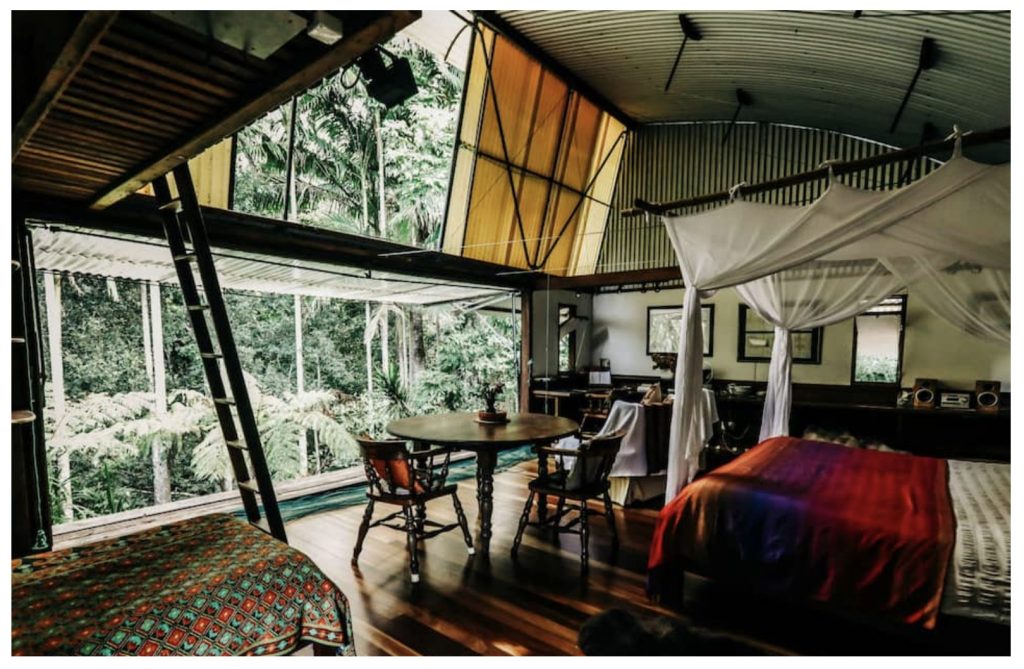 Latest Posts
Azabu – Byron Bay hinterland
This Zen-inspired property can be found nestled in the subtropical forest just minutes from the busy streets of Byron Bay. Azabu has five suites available, each designed as a simple open plan studio. French-style doors open out onto a private balcony overlooking the native hoop pine forest, home to trees that can live up to 450 years. Choose from a king room or queen spa room then relax and enjoy minimalist design with a focus on stylish appointments.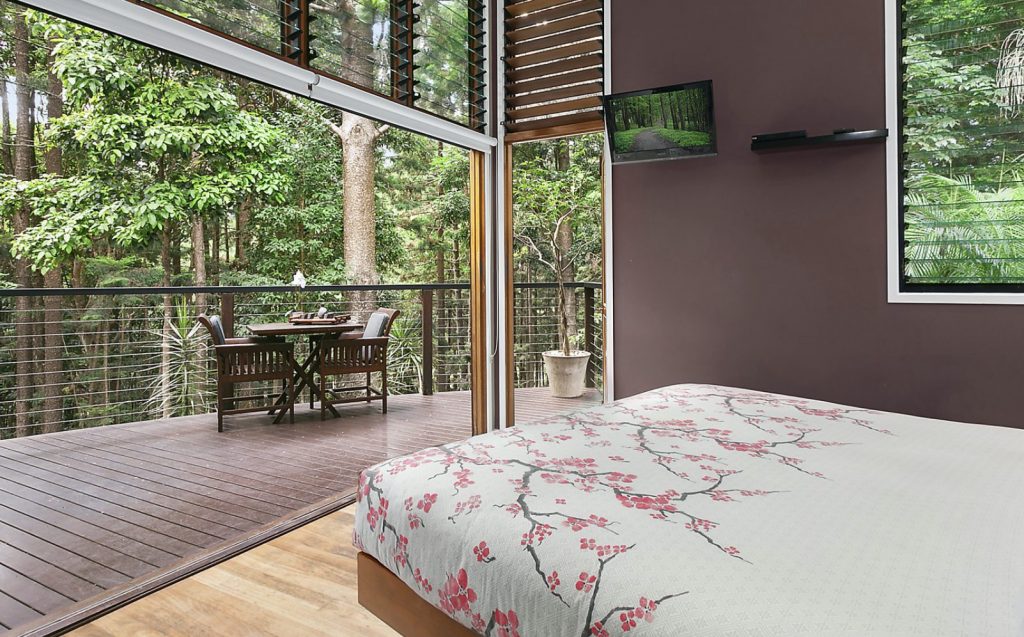 Byron Oasis Treetop Holiday Houses – Byron Bay
The Byron Oasis Treetop Holiday Houses are a stone's throw away from the stunning Tallow Beach, set on six acres of native bushland. It takes around five minutes in the car to get to Byron's boutiques, restaurants and the main beach. Groups of up to six people can choose a Treetop House featuring bush or ocean views and several even have a heated spa on the deck for that added holiday indulgence. Guests have their own fully equipped kitchen and access to a shared pool, spa, sauna and gym.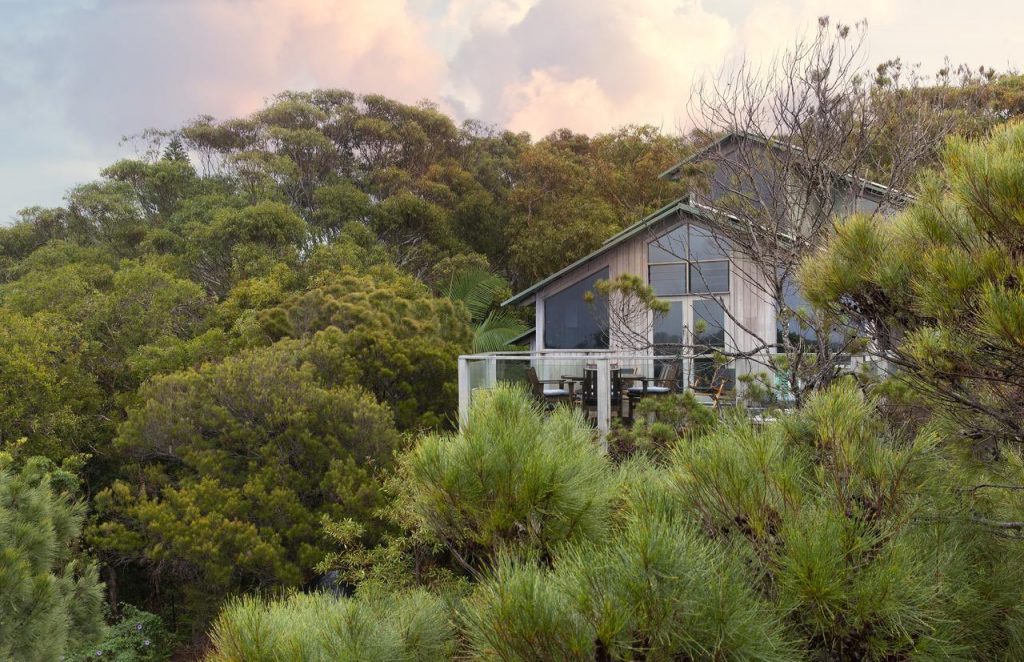 When booking your next holiday, why not reconnect with your inner child and relive those wonderful treehouse experiences…albeit with a little more luxury!
Need to slow down? Read our story on the benefits of mindfulness through meditation.