Top 10 Family Fishing Spots on the Coffs Coast
Local adventurer Paul van den Boom shares his comprehensive guide to the best locations in the Coffs Harbour region for anglers, big and small to throw a line in.
The Coffs Coast has always been a mecca for fisherman and their families due to the variety of angling options, locations and fish species. With so many options on offer, you need never return to the same spot twice.
Interstate visitors will need to purchase a NSW Fishing Licence online or from a local tackle store or selected petrol stations. The Coffs Coast is also home to some protected and fragile ecosystems, outlined in the Solitary Islands Marine Park Zoning Map. This map is generally supplied with your licence, but you can also download the app or find the map online. Find more info here.
Nambucca Heads
The southern reaches of the Coffs Coast hold a magnificent array of fishing options from the tidal and freshwater reaches of the Nambucca River around Bowraville where the Aussie bass love to play in Summer to the inshore reefs, where big brutish snapper will give you a run for your money in the Winter months.
There are many land-based and boating options here and some terrific family-friendly spots like Gumma on Warrell Creek. Gumma has a camping and day use area for the family to catch a variety of estuary species throughout the year. It's also a lovely spot to swim in the clear, shallow waters in the warmer seasons or relax at the creekside campsite.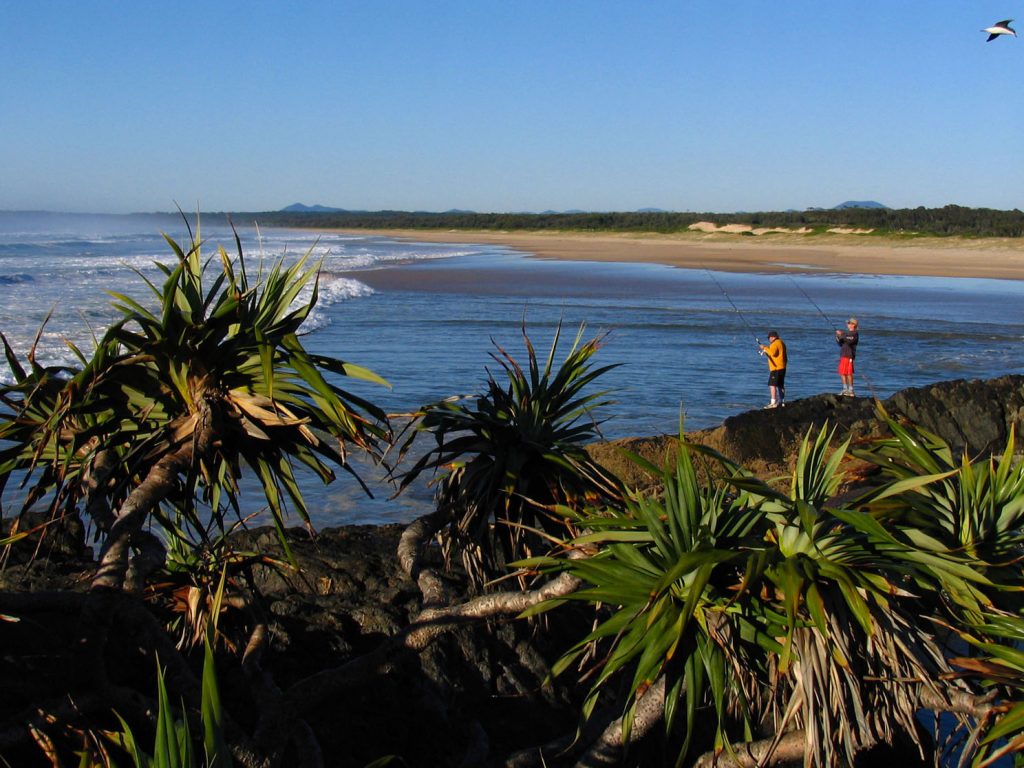 Coffs Coast fishermen doing what they love. Image courtesy of coffscoast.com
Mylestom / Urunga
You could spend years exploring and fishing the Bellinger and Kalang rivers – some of the larger river systems in the Coffs Harbour region. The rivers divide right at the mouth in the small town of Urunga where you can normally find land-based anglers and tinnies parked along the rock walls floating cabbage in the eddies for the great tasting luderick or blackfish.
Both estuary systems hold many iconic species from trophy sized mulloway in the tidal regions around Mylestom to beautiful bronzed Aussie bass in the freshwater reaches around Bellingen.
The Mylestom tidal pool is also a highly recommended location for families to spend a day picnicking and provides an easily accessible fishing spot for the kids to give fishing a try.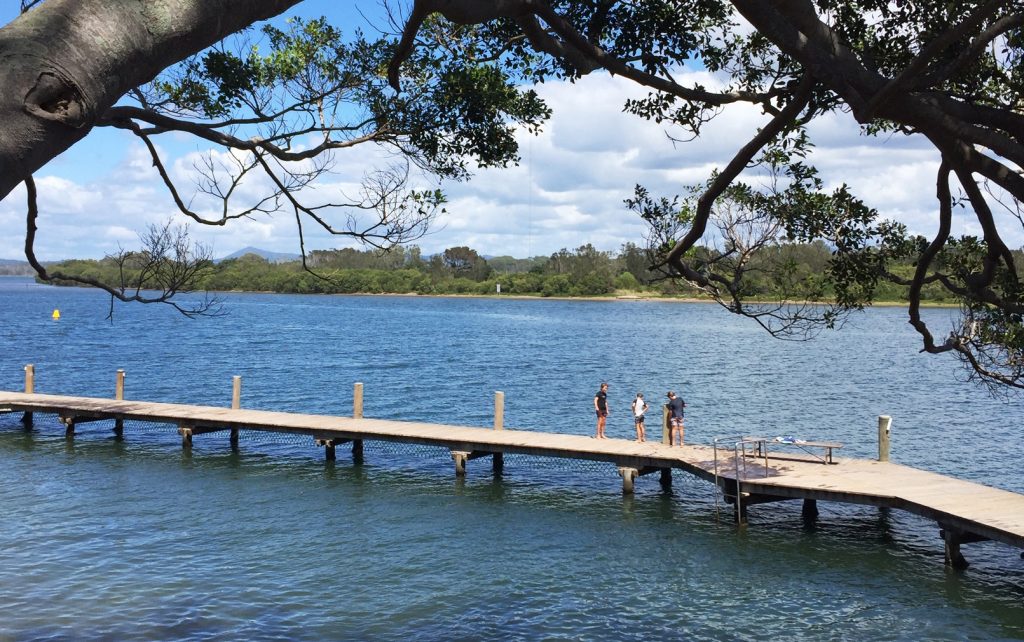 The tidal pool at Mylestom offers hours of family fun
Sawtell / Bonville
Bonville and Pine Creek is another beautiful, small system on the Coffs Coast that feeds in from the ocean at sunny Sawtell. The creeks divide above the large tidal flats near the mouth.
The flats are home to excellent whiting and flathead fishing and access is available through a few walking tracks as well as the boat ramp off Lyons Road. A small tinny or kayak is a wonderful way to explore these creeks. The creeks are surrounded by the picturesque Bongil Bongil National Park. Bonville Creek has a great day use area accessed from the old Pacific Highway with huge picnic area, toilets, walking tracks and a pontoon for fishing and canoe or kayak launching.
Boambee
Boambee Creek is a relatively small estuary that starts on the north side of Boambee Headland and winds its way through bushland and mangrove lined marshes. There are several walking tracks for land-based access and a small high tide boat ramp on the Link Road between Sawtell and Coffs Harbour. Sand flats, coffee rock walls and some deeper holes are dotted throughout the creek giving various options for estuary species like bream, whiting and flathead.
Boambee Creek Reserve is managed by Reflections Holiday park and a $5 entry fee will get you into this beautiful park for the day. It's an ideal location for families and friends to meet up for a BBQ, picnic and to throw in a line with the kids. A short walk from here is Boambee Beach which has some great gutters for beach fishing right throughout the year. Boambee Beach can also be accessed by 4WD from the northern end.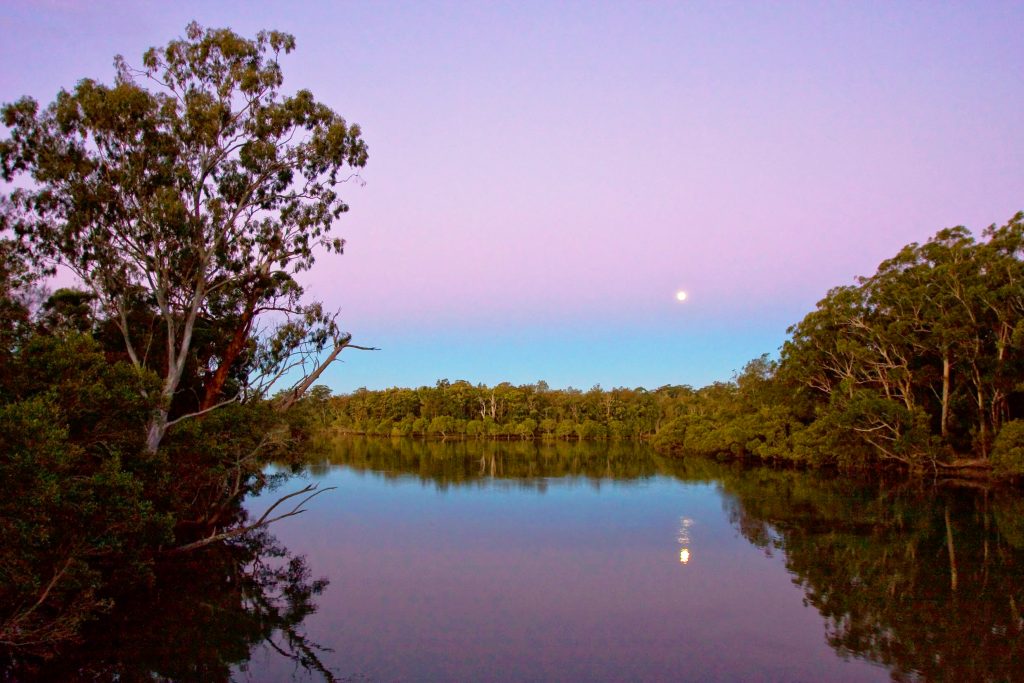 Moonrise over Boambee Creek. Image courtesy of coffscoast.com
Coffs Harbour
Whether you love spinning for pelagics off the rocks or soaking some baits in the surf, Coffs Harbour itself has a multitude of fishing options right at its doorstep. Coffs Creek runs right through the heart of the town and is an ideal base for families to start their fishing adventures in the area.
Kayak and canoe launching are available from a variety of locations along the creek and the creekside walk also has a few small platforms so you can keep your feet dry as you fish with the kids as they seek some bread and butter species.
The Coffs Marina is a magnet for many fish species and when the fishing isn't working out for you, the Coffs Harbour Fisherman's Co-Op is right there to sort the family out for dinner!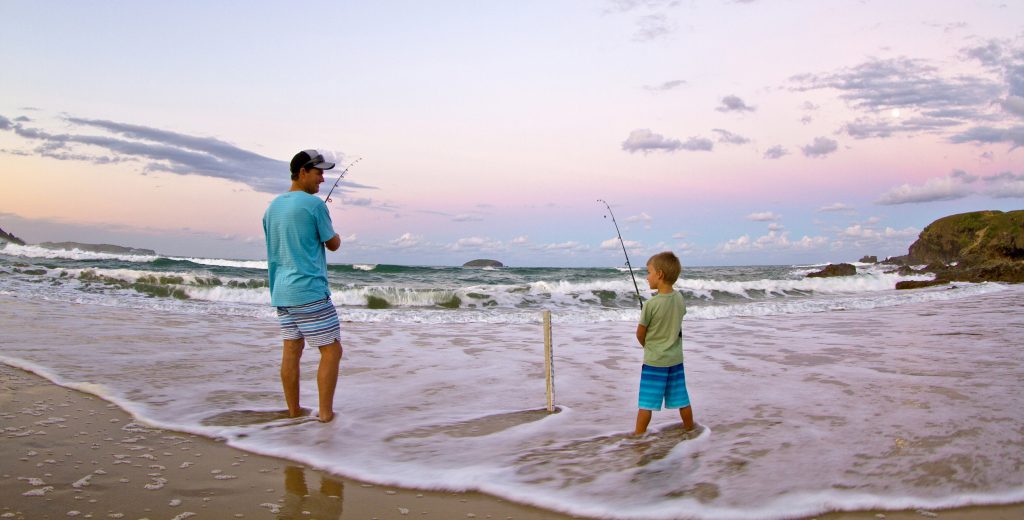 The Coffs Harbour region has a multitude of family-friendly fishing locations. Image by ST Images
Korora / Sapphire
These are locations where the fishing gets a little more serious with deep drop-offs right on the beach, rocky outcrops and big headlands. Most anglers head this direction with jewfish on their mind. Tailor, bream and small sharks are also popular targets in these areas. These areas aren't so family friendly but the northern beaches in front of Sapphire Beach Caravan Park are a lot safer and the caravan park is a good base from which to explore the area.
Moonee Beach
The tidal flats surrounding the Moonee foreshore are perfect for teaching the kids to pump for yabbies and to catch some good-sized whiting. Small tinnies, canoes and kayaks will see you getting into some better territory further up the creek with species like flathead, blackfish, bream and trevally.
Woolgoolga
If you're after a place to escape the rat race and relax on the beach with a line in the water, then head to Woolgoolga and its surrounding beach towns. This part of the Coffs Coast offer plenty of beaches, small creeks, lakes and lagoons all of which are easily accessible and teeming with fish life. Woolgoolga Lake is right on the beach and has a well-positioned caravan park with access to a few family friendly fishing options.
Red Rock
In my view, this little town is the jewel in the crown of the Coffs Coast. The crystal-clear water in the creek, its picturesque headland, beautiful beaches, friendly locals and of course, top fishing, make Red Rock my pick for a family weekend away.
Corindi Creek winds up through wide open sand flats near the mouth that can be tricky to navigate even in the smallest of boats. As you head further up, the mangrove-lined creek has a few deeper holes that are perfect for anchoring up with some bait or throwing some lures around for bream and flathead.
The parkland adjacent to the creek makes for a great family day out. Wet a line, pack a picnic, watch the kids run around or perhaps just sit back on the grass and take in the beauty of Red Rock.
Solitary Islands
For the serious boating families with offshore species in their sights, Coffs Harbour boat ramp is your gateway to the Solitary Islands and some of the best fishing grounds on the NSW East Coast.
The islands and surrounding reefs are renowned for year-round snapper fishing. Late Summer through to the early Winter sees the warm currents push closer to shore bringing in schools of mackerel, wahoo and marlin.
From June to October, you'll also encounter migrating humpback whales on their travels north. The Coffs Coast area has a few other boat launching facilities that will get you offshore, but these are mostly beach launches or dangerous bar crossings and should only be attempted by experienced boaters.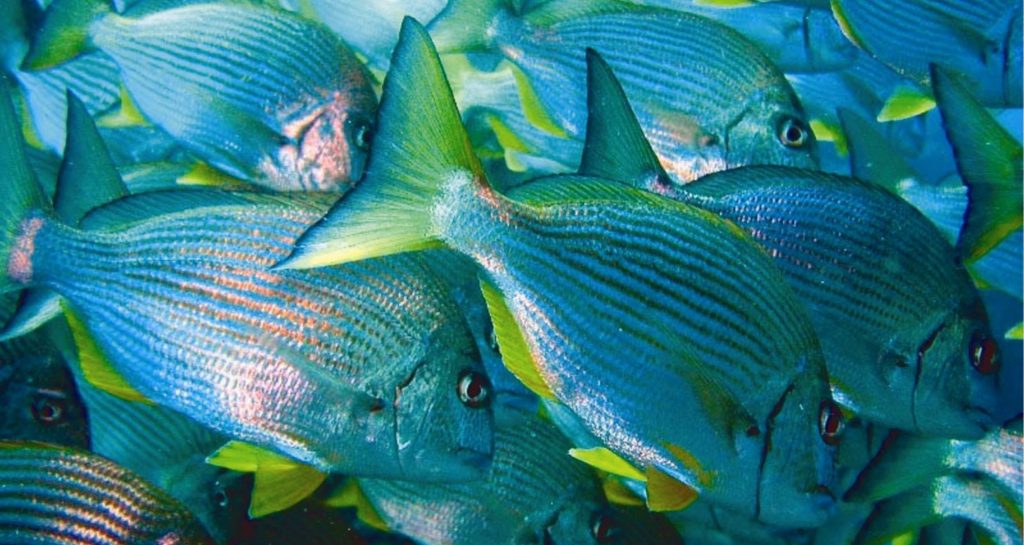 Solitary Islands snapshot. Image courtesy of Jetty Dive
So, what are you waiting for? Grab your family, your fishing gear and get out and about to enjoy all that is on offer in the Coffs region.
A little info on Paul van den Boom…
Growing up in Coffs Harbour, Paul developed a passion for fishing, camping, 4wding and bodyboarding. His love for the outdoors and search for adventure led him to travel and live in various places in Australia and overseas. Wherever he went though, the Coffs Coast was always in his heart and Paul is happily based here once again. He continues to explore this beautiful area. You can follow his adventures on Instagram – @a_man_in_a_kayak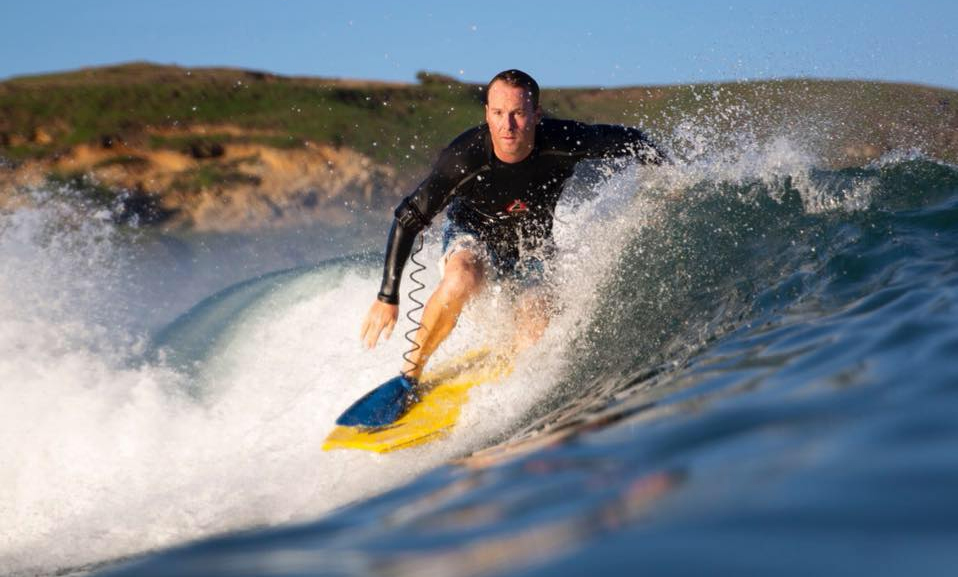 Image of Paul van den Boom in action courtesy of Brandt Mackney @deathbydigital