Throwing a Line In – Forster / Great Lakes
The Foster Tuncurry area is a tourist mecca with its laidback style and awesome surf breaks. With seven pristine beaches within a 10-minute drive, there really is something for everyone. And what about for those of you who love your fishing?
Well, it's like being a kid in a candy store with great offshore fishing for targeting reef and pelagic monsters like Marlin, Tuna and Mackerel. The region also delivers on open beaches and rock ledges for Tailor or Jewfish and we haven't even started on the Great Lakes yet! With over 100 square kilometres of creeks, rivers, oyster leases and open lake water, it's an angler's paradise.
While a tinnie is perfect to explore the maze of waterways, it's also ideal to throw a kayak in to access the smaller and more secluded waterways. If you're not watercraft savvy, there are plenty of wharves to access and inlets to walk around. At low tide, you can walk across one of the many sand flats to find a channel or a weed bed where bait fish hide and where bigger fish stalk the edges like Blackfish, Whiting, Flatties and even small Jewfish and Bream. As the warm sun hits these weed beds, it can make the fish more active and alert which hopefully, allows you more strikes.
With an average depth of around five feet, Wallis Lake is pretty shallow in lake terms but this means more sand flats for those big Flathead and Blue Nose Bream. Wallis Lake also has one of the biggest oyster lease systems on the east coast and this gives way to some stonker Bream that have been known to have smoked even the most experienced angler! Tuncurry Channel and Breckenridge Channel are popular spots for Flathead and another suggestion for flatties is around the bend near Red Spot Boat House.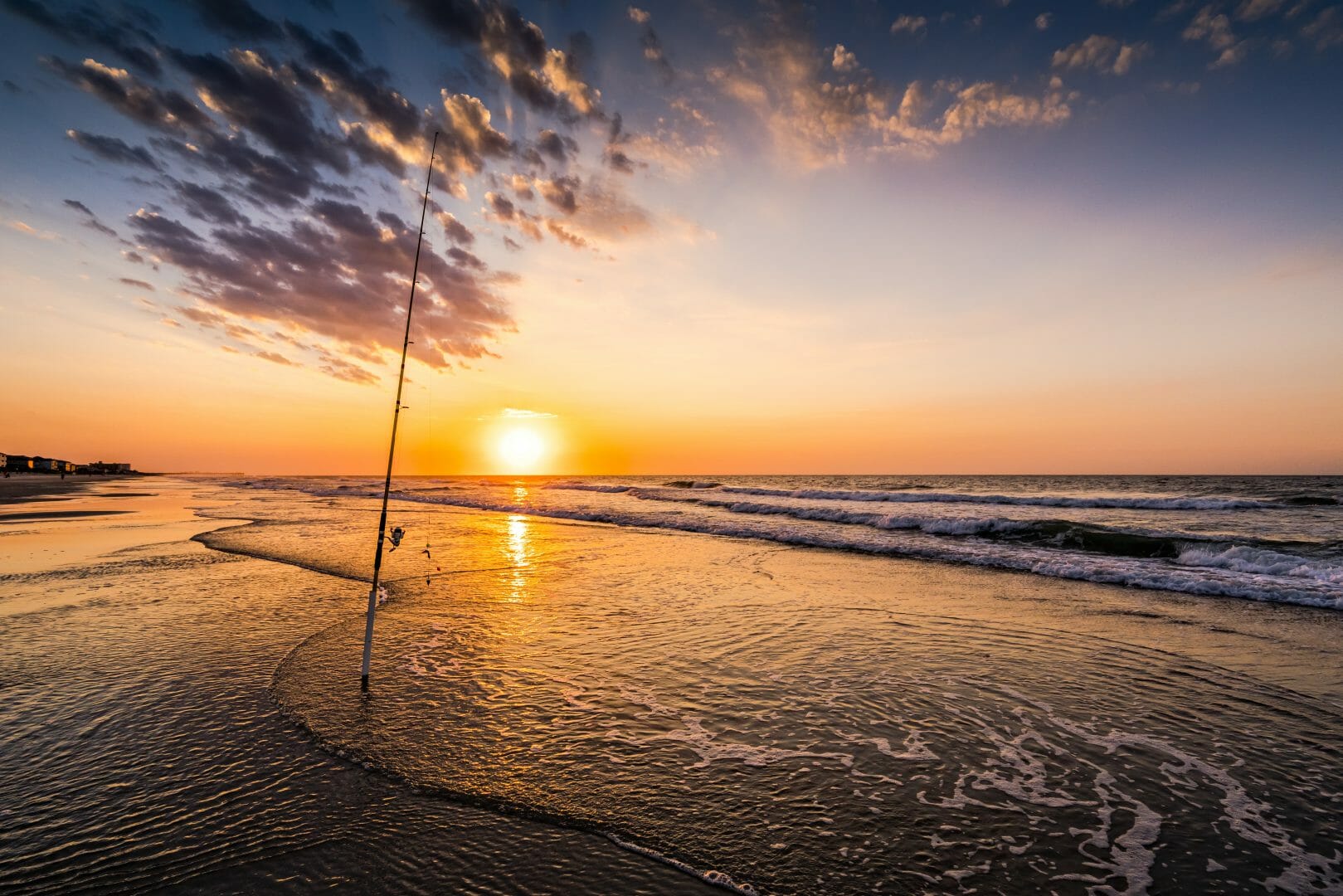 Through April and May, when the warmer water starts to subside, the fish are still feeding on the river prawns. Use this as a guide and match a soft plastic such as a clear prawn or little shad and bounce it along the bottom of any of the sand flats to target a Flattie. Be sure to stick to stealth mode though as they can be timid.
Around the oyster leases, throw a little blade lure or small popper for a sizeable Bream. Be warned, however, that some of these terrors will smack your lure so hard, you'll never see it again! They may well drag it in and bust you off around any sharps. Another option is to catch a few poddy Mullet for live bait on a run-out tide off the break walls for a classic Forster Jewfish.
Whiting love a good feed too and so, by pumping yabbies or catching a little whitebait, you'll do well. Use a little finesse for Whiting though as they do spook easily. By fishing light, using either mono or braid down to even 2kg and without a sinker if possible and you'll have edge over any species you're targeting.
With many a fishing specialist store in the region staffed by experts to guide you and with bait also readily available, the prospect of catching your dinner looks spot on. My advice, hold off on the pizza delivery until you get out there and have a crack!
What to Catch & When
With thanks to the Department of Primary Industries (DPI), here's an overview, just for Coastbeat, on what's best to catch along our coastline throughout the year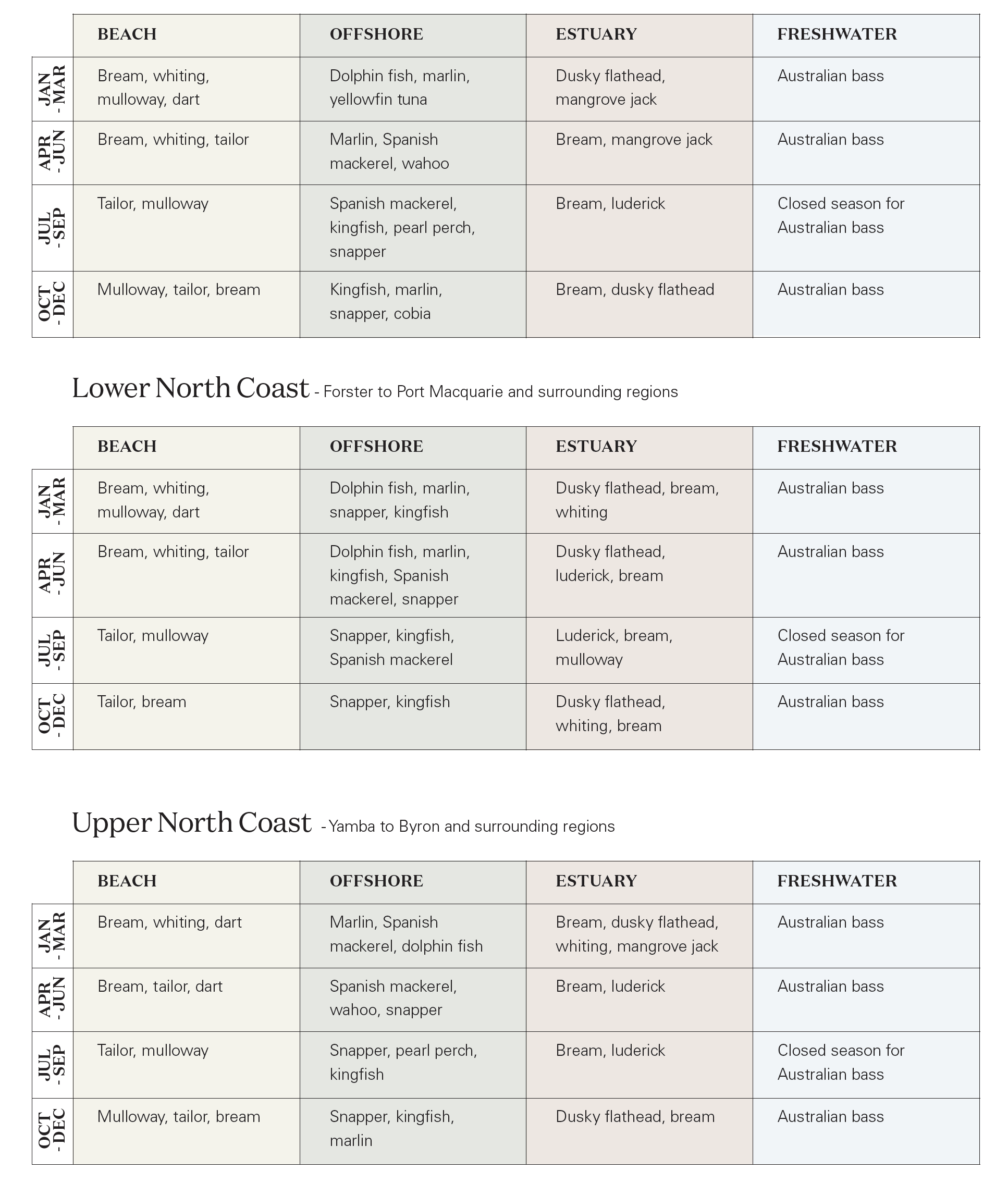 Kevin Smith is a mad keen fisherman, camper, mountain-biker, explorer and all-round adventurer. He has been based on the coast for the better part of 30 years and runs Woolgoolga Off Road as a sideline hobby. He loves getting out and about, be it by vehicle, kayak or SUP.