Thistle Flowers Bring Raw Beauty to Port Macquarie
Matt Smith and Chris King are floral stylists breaking down barriers and showcasing raw beauty. Moving from the country to the coast to open Thistle Flowers in Port Macquarie, the blokes with bouquets bring bold creativity and personalised service. Watch how they do it and learn more about the dapper duo.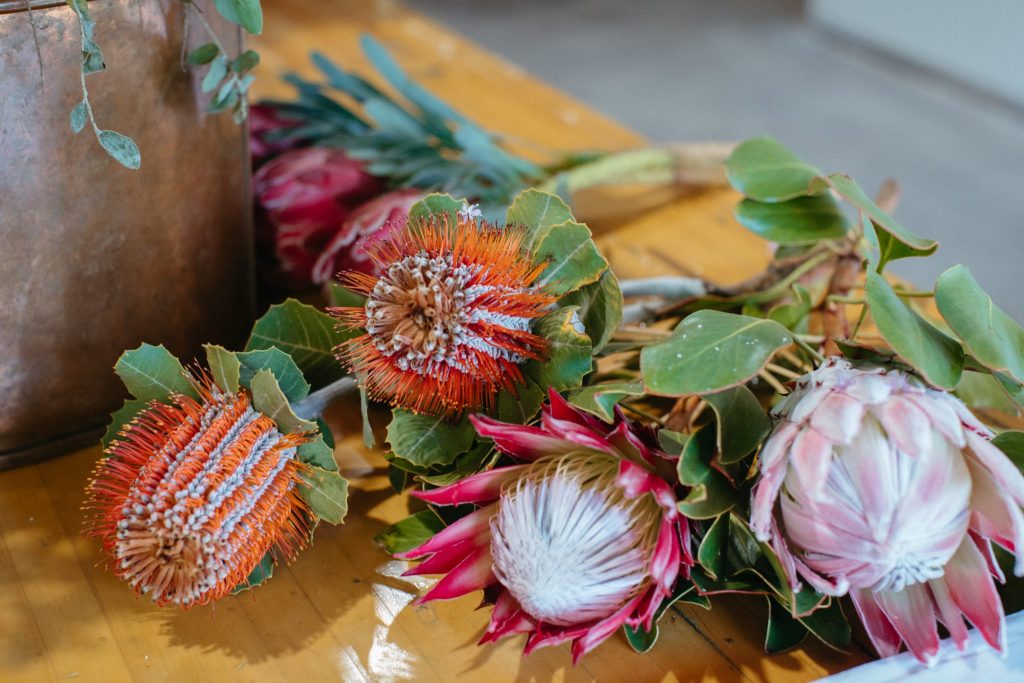 A Love of Raw Beauty
"In the drought, you'd see these thistles flourishing while everything else turned to dirt and dust," Matt Smith recalls. "They're resilient, they're beautiful and we look for that raw beauty."
Country boys at heart, Matt and Chris both spent time in Inverell before travelling and living overseas. Matt ended up back in the New England town working with horses. Gomeroi man Chris pursued teaching and became a high school principal. He then transitioned into an Aboriginal Education role with the Department of Education. All the while, an interest in floral styling was blossoming. Matt became known for the unique foraged bunches he presented to friends at dinner parties.
"If we were going to someone's place, I'd head into the garden or pull over on the side of the road and see what I could find," Matt says. "I've been doing it for years and years!"
A friend in Inverell encouraged him to make bunches and sell them at her shop on a Saturday. They sold out every week.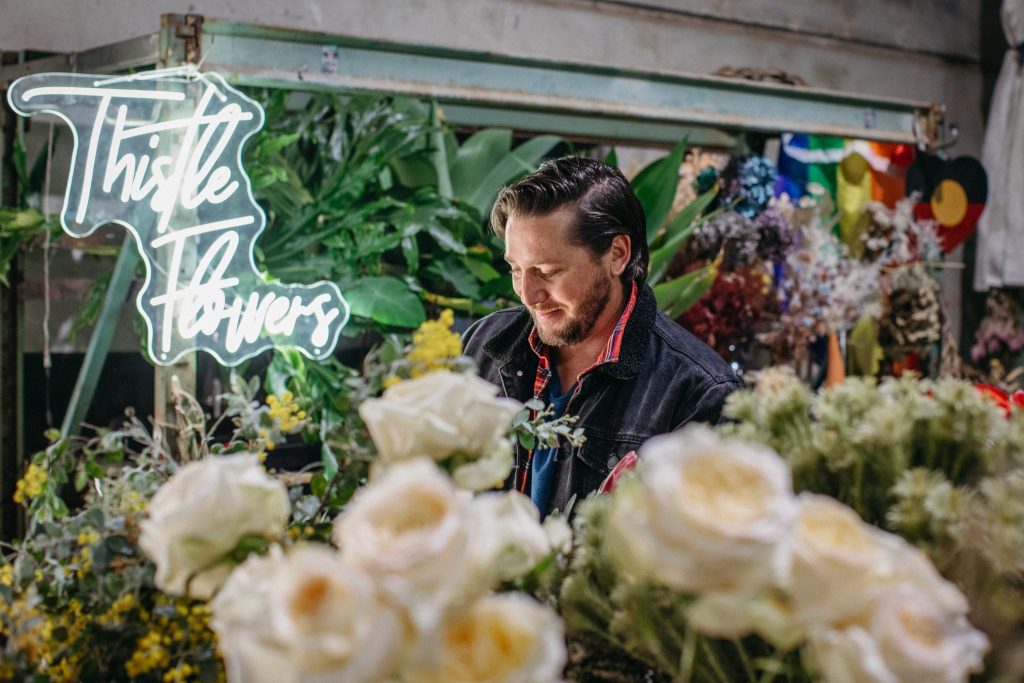 From the Country to the Coast
The move to Port Macquarie came about after COVID-19 caused Matt and Chris to consider what was most important to them. Up until that point they were living in Inverell and Sydney respectively, meeting in the seaside town whenever possible. After travelling between the three locations frequently, they decided to ditch long distance love and settle in Port together.
You'll find Thistle Flowers at the back of the Peak Coffee Brew Lab and Roastery. The pops of colour, hanging installations and sweet scent of bright blooms have completely transformed the cavernous, industrial space. Matt and Chris are big fans of the contrast and feel it's a great fit for them. Word has spread fast, with a steady stream of locals coming through the doors to meet the boys with bouquets.
Floral Styling with Flair
Matt and Chris don't exactly identify as florists. Old fashioned associations with the profession persist, so they prefer floral stylists or floral designers. Events and weddings are where they shine. When planning the big day with couples, they've taken to steering brides in different directions, nudging them towards a hanging arrangements or installation as opposed to traditional table flowers. Chris describes the Saturday morning pre-wedding excitement as a real buzz.
"We get a little sad when they're over," Matt admits. "Ideally we'd do a wedding every week of the year."
The name Thistle Flowers has become synonymous with personal service. Instead of pre-making daily bunches, Matt and Chris focus on working with their customers to create something they genuinely love. Their flowers sit in buckets and vases on a large, accessible table so customers can see what's available and pick what they like.
"I think what people want is changing," Chris says. "They're starting to see floral styling in a different light and taking an interest in new flowers."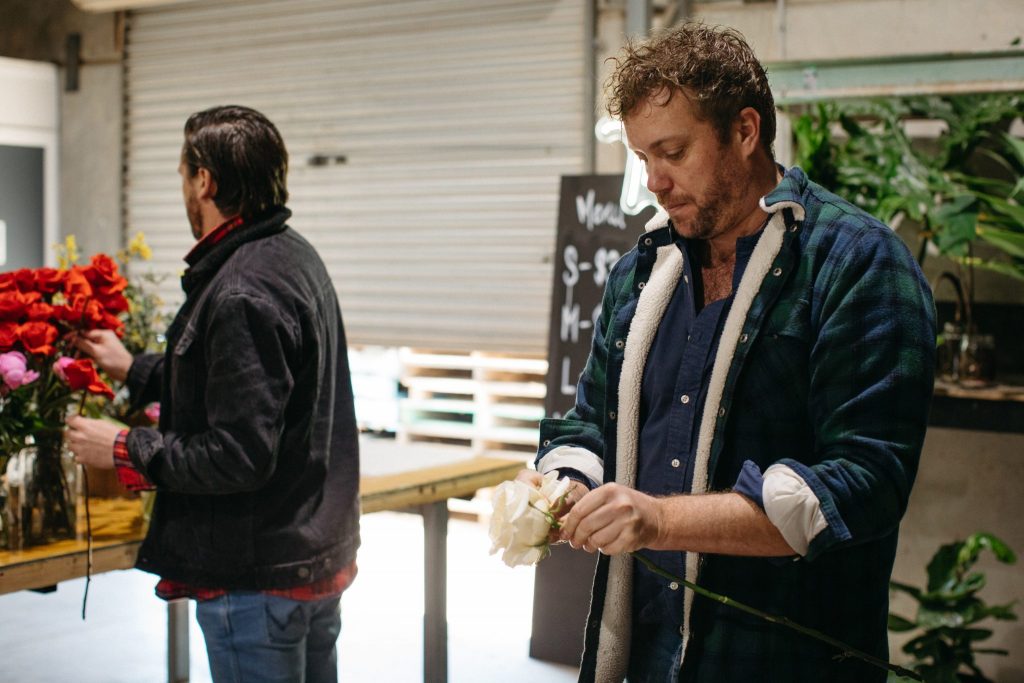 Blokes with Bouquets
Matt and Chris are on a not-so-secret mission to sell more flowers to men. Chris brings up a widely shared article that revealed the majority of men receive their first bunch of flowers at their own funeral.
"It's really sad and we're trying to change that," Chris explains. "Men can buy for other men; people can buy for their male partners and there's nothing wrong with that."
"In Inverell we had tradies come in and inquire about different flowers and they'd end up buying some – not for anyone in particular, just to display in their homes," Matt adds. "I think we're breaking down barriers as well – two blokes doing bunches and floral styling."
Bending the Rules
Matt and Chris have wasted no time in meeting local growers and sourcing seasonal flowers. They've been ordering from Kempsey grower Paul Dalley for years, but Matt says he's excited to work more closely with Paul now that he's just down the road.
"We also stumbled across a Swiss couple Rosamarie and Fred, we saw them at a few markets and asked if we could buy some of their native flowers," Matt says. "It would be great to eventually get everything from local growers."
Natives were Matt and Chris's first love, and both say flannel flowers top the list. They like to bend the rules, mixing hardy natives with soft blooms and adding jagged-edged foliage.
"We're playing around with that and pushing the limits," says Chris. "People are loving it and we're loving it — the main thing is what we do is what we love."
Visit Thistle Flowers at 30 Jambali Road, Port Macquarie