Uko Ono – The sound of joy in Sawtell and beyond
Uko Ono founder Stephanie Sims is taking the ukulele to hospitals, libraries and hopefully, Elton John's concert. She describes the humble instrument as a great equaliser, capable of bringing happiness and joy wherever it's played. Coastbeat went along to Uko Ono's monthly jam session in Sawtell.
Walking down Sawtell's main street, I can hear them before I see them. The sound of 50 people strumming along to Dusty Springfield's 'I Only Want to be With You' is floating on the breeze. I spot a van decorated with pink flowers parked outside a restaurant and I know I'm in the right place. Stepping inside 63 First Avenue, I feel a smile spread across my face and a burst of laughter rise in my throat. I have entered Uko Ono's monthly ukulele jam.
"I think it's the instrument of the people," says self-described Director of Joy at Uko Ono, Stephanie Sims. "The main thing I've learnt through teaching the ukulele to people is that it's actually not about the music, it's purely about connection and joy."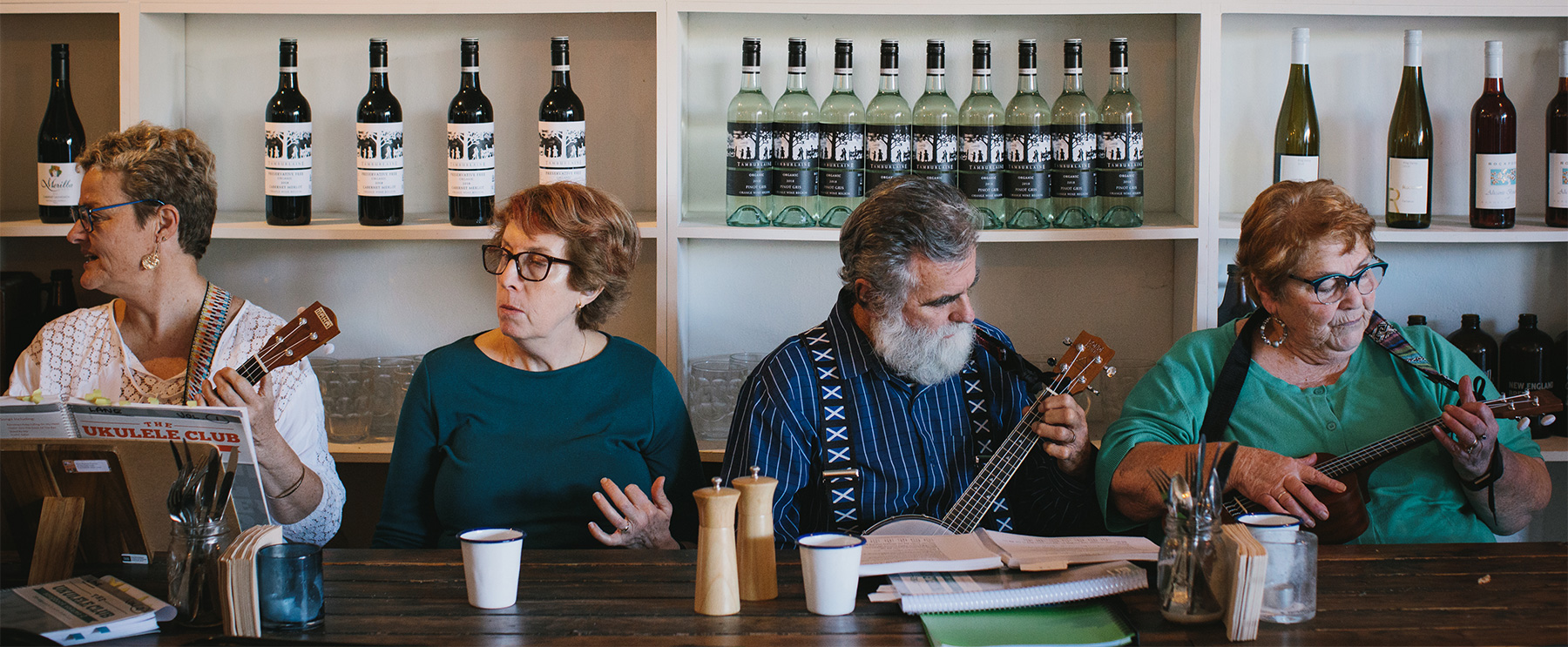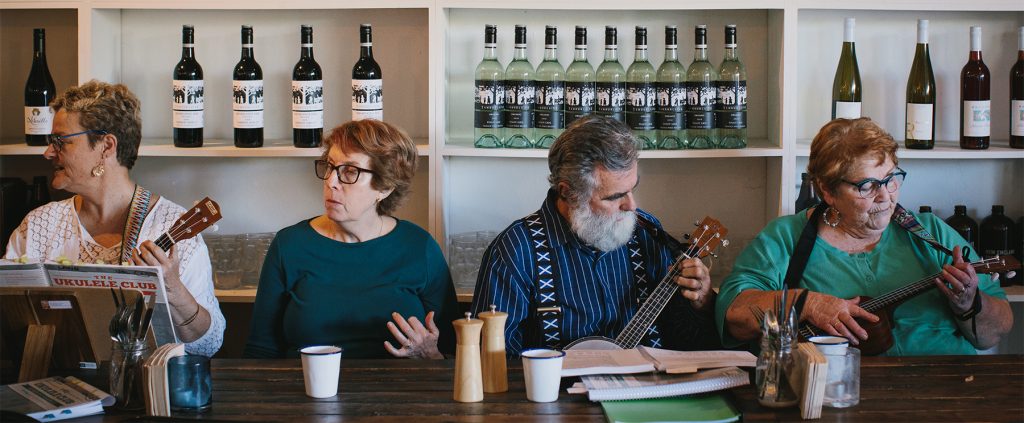 Participants of the monthly jam session in Sawtell 
How it all began
Stephanie moved from Sydney to the Coffs Coast in 2006 after working in a corporate capacity in the arts sector. Her best friend Sami bought ukuleles for her children and Stephanie decided to get one for her daughter too. The kids weren't interested so Steph and Sami thought they'd have a go. They met up on weekends and attempted to learn songs that some band played in some pub years ago. It was all a bit of fun but soon became addictive.
When a friend asked her to run a ukulele workshop for women who had experienced trauma, Stephanie knew she had found her calling. "It was one of those moments where I thought, yes, this is what I'm meant to be doing," she explains. "It was then that I decided to start my own business teaching the ukulele."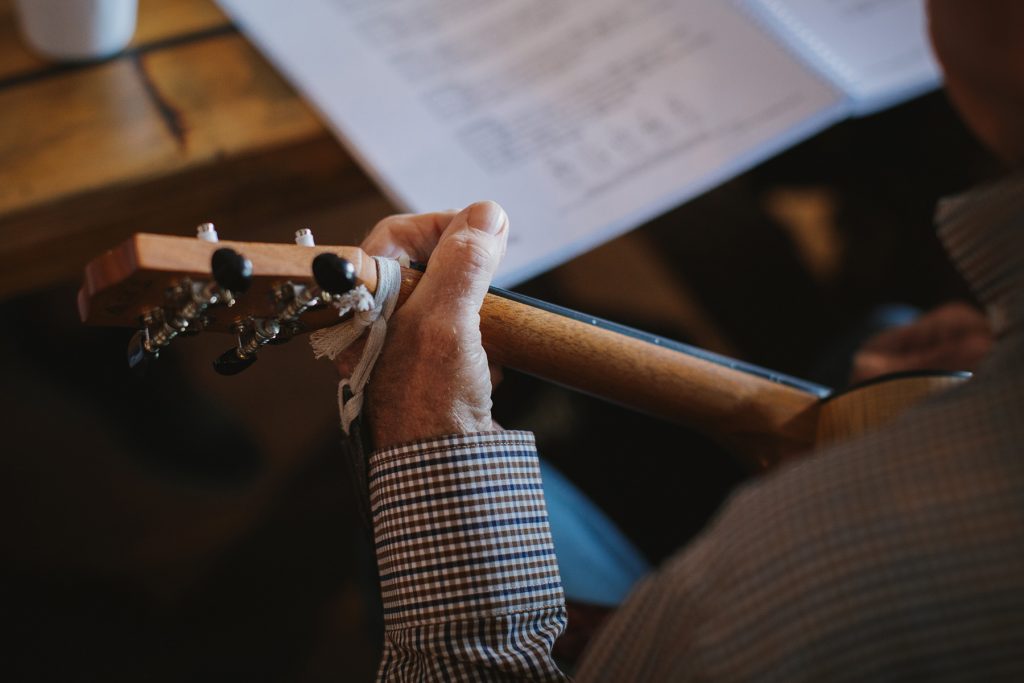 Community and connection
Uko Ono was born in 2016 and began with a group of 12 students in Sawtell. Now, Stephanie teaches about 120 people each week. As well as group and private lessons, she teaches at a women's health centre and at the Coffs Harbour Library. Through the Australian Red Cross Happy Hearts program for new migrants, Stephanie has taught families from Ethiopia, Sudan, India and Syria.    "Some of the people in that program had never held an instrument before," she says. "But the music is a universal language that crosses age, culture, economic status…it's just amazing."
After eight weeks, HHUG (Happy Hearts Ukulele Group) made their public debut with a performance at the Harbourside Markets in Coffs. The community embraced it, she says, smiling warmly. It's really important for newcomers to feel that connection to the community, to do something the community can see and appreciate.
As we speak, musicians who've attended today's event trickle out of the restaurant smiling and laughing. They hug Steph and tell her they can't wait for the next one. The Sawtell ukulele jams happen once a month and attract people from South West Rocks to Yamba. There's a house band and musicians take turns leading the group in a song or two.
As soon as I stepped into the room I was overwhelmed with happiness and I couldn't wipe the smile from my face. Stephanie nods knowingly and tells me that's the power of this affordable and accessible little instrument. "You can buy one for 40 bucks and all you need is four chords and you're away!" She enthuses. "It's instant happiness."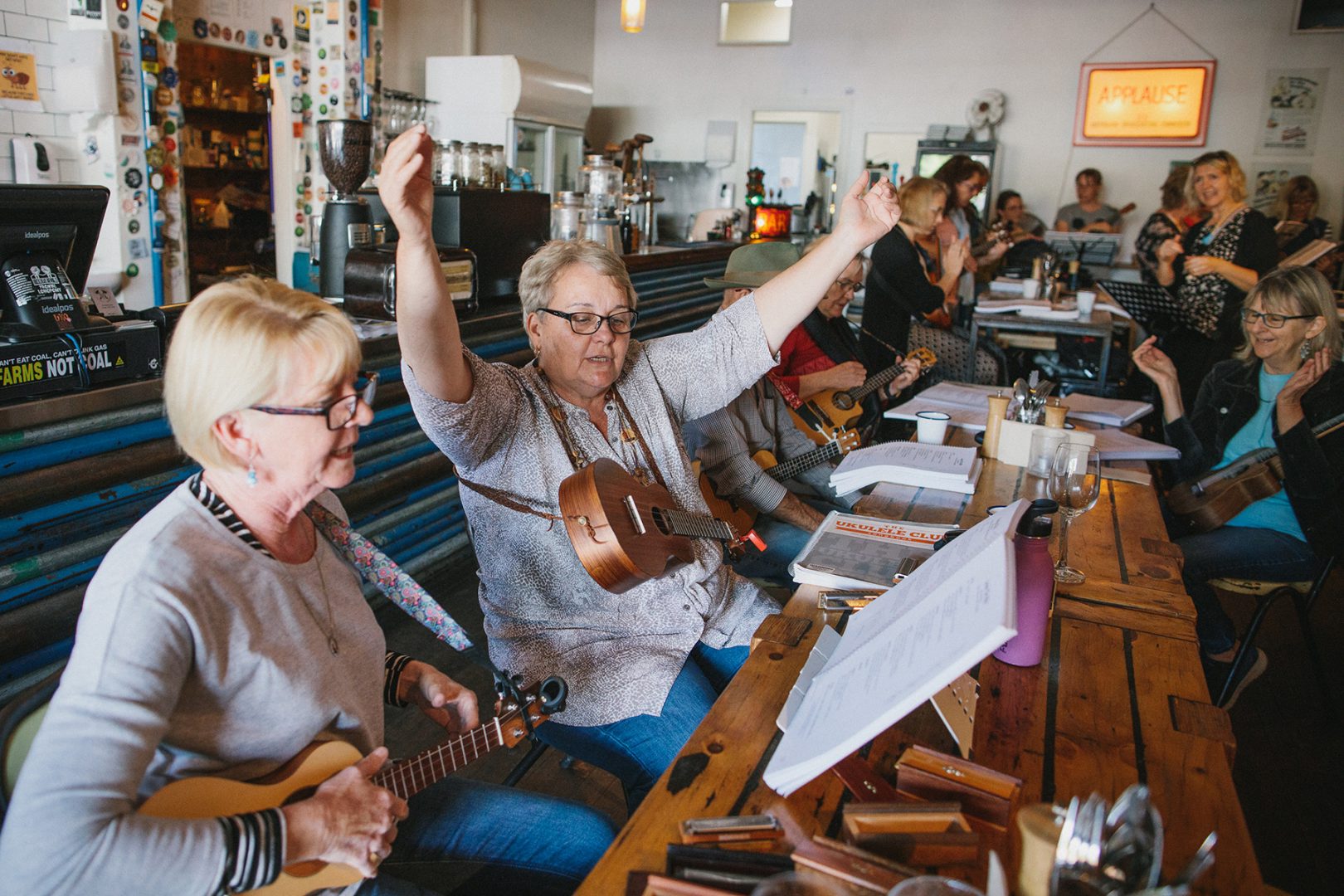 For Steph, teaching people how to play the ukulele is about connection and joy 
The power of live music…and Elton John!
That happiness is now extending to patients at the Coffs Harbour Health Campus after Stephanie was awarded a grant through the NSW Government's My Community Project funding program. Small teams of musicians will join music therapist Bonnie Nilsson to perform and deliver music making activities designed to improve the quality of patients hospital experience and well-being.
"There's so much research into the benefits of music," Stephanie says. "Live music in hospitals provides comfort and reduces stress and anxiety."
Steph's next goal is a lofty one but if anyone can pull it off, she can. In the lead up to Sir Elton John's visit to Coffs Harbour in February 2020, she'll teach all of her groups a medley of his songs. "I think Elton would find it hilarious!" She laughs. "My aim is for us to be on stage opening the Elton John concert at the stadium. Plan B is a flash mob out the front!"
Elton, if you're reading, please get in touch. You certainly won't regret it!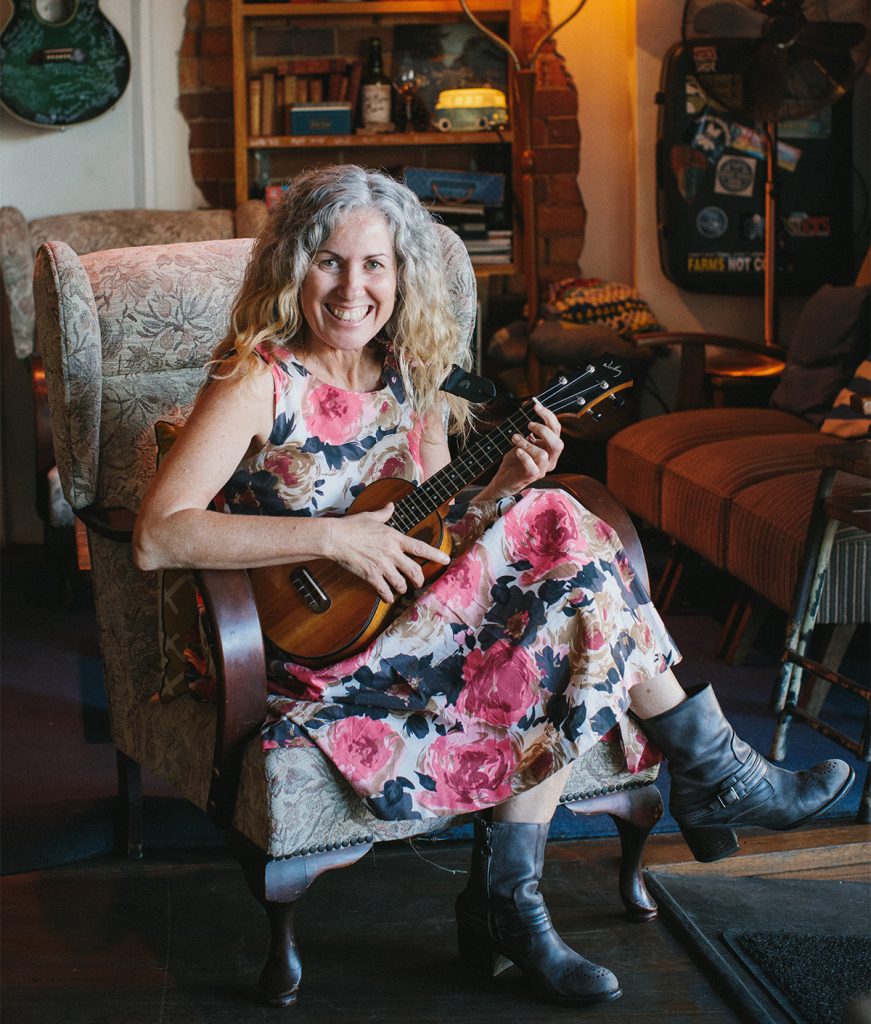 Stephanie Sims holds the special little instrument creating instant happiness  
You can find out more about Uko Ono and upcoming ukulele jams via Instagram and Facebook

Read more about Stephanie and discover what she loves about living in Sawtell  here.