The Ratua Story, a Pacific Island escape
As the first in our 'Postcards from the Pacific' series, Coastbeat caught up with dynamic Kiwi couple and owners of Vanuatu's Ratua Island Resort and Spa, Brett and Leah Fasher about life in paradise and the tireless work they do supporting the local community through their charity – the Ratua Foundation.
Originally from Kerikeri in the North Island of New Zealand, Brett and Leah Fasher took over Ratua Island two years ago and now balance life between the two picturesque locations.
Cb: What inspired you to move to Vanuatu?
We loved the island, we loved the people and we really loved the Ratua Foundation and what it stood for. It was definitely one of the attractions to taking over the resort, with 100% of all the resort's profits going directly to the children of Vanuatu.
Cb: What is the focus of the foundation?
The main goal of the foundation is to improve the educational conditions for children in Vanuatu. We do this through student scholarships and providing schools with supplies like stationery, library books, computers, sports equipment, musical instruments and infrastructure support.
Our main project is the 'One Child One Bag' initiative, which aims to provide every child in Vanuatu with a school bag full of stationery, books, pens, pencils and a small game. When you see how little these children have, it's truly heartbreaking. So far, the Ratua Foundation has distributed 7,000 bags but there's around 60-70,000 school children so it's a big job.
Cb: How important is having charities like the Ratua Foundation to support the community?
It's vital. Vanuatu is still very much a third world country and the government simply can't afford to fund essential things like schooling and even healthcare. I think it's certainly something we take for granted in Australia and New Zealand. Put it this way, in Vanuatu, school costs the average family three months of their yearly salary – and that's if they're lucky enough to even have a job.
Cb: Clearly the Ratua Foundation is doing really important work – what have been some of its key achievements?
Helping with the rebuild after Cyclone Pam was quite significant. We have assisted with building classrooms, re-roofing school buildings, providing mattresses for dormitories, and installed power plants and water systems as well as computer labs and libraries at a number of schools. Another initiative is our scholarship program. We have six scholarships running at the moment.
The great thing about the foundation is that it's politically neutral, so it's completely independent. The Ratua Foundation board decides where all the funds go and there's no 'skimming' off the top for administration etc.
Cb: How can people support the foundation?
When guests stay at the Ratua they're directly supporting the foundation, with 100% of our profits going to the community. It's very difficult to understand how little these children have until you visit a school. Guests will often give donations during their stay and some of our regular guests bring over suitcases full of supplies which they can then deliver directly to a local school. This proves to be such a rewarding experience.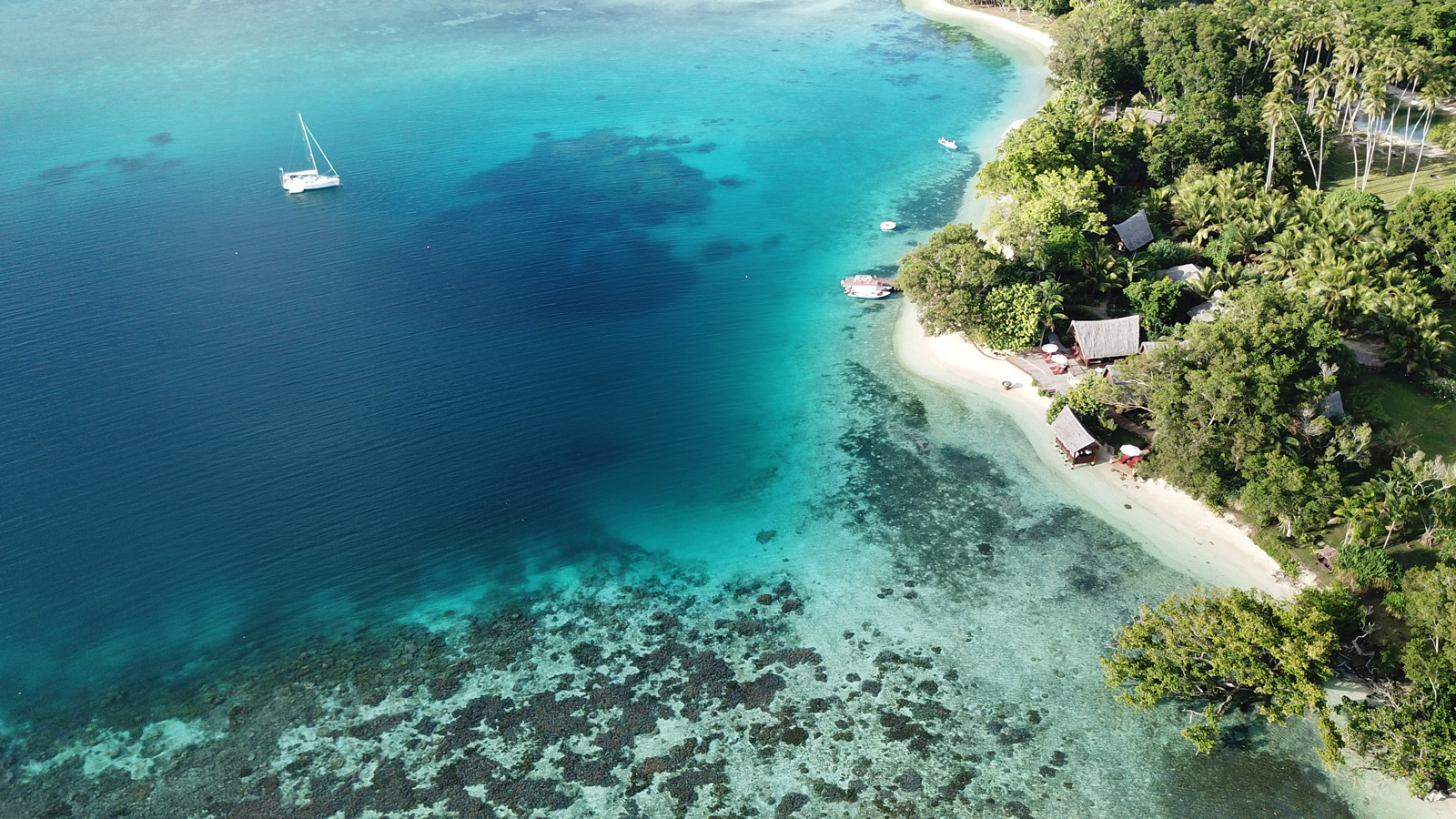 Ratua is set amongst 146 acres of tropical gardens, beaches, lagoons and coral reefs
Aside from this, cash donations can also be made directly to the Ratua Foundation website.
Cb: What can we expect from a holiday with our South Pacific neighbours?
Vanuatu offers some utterly unique experiences. From watching the land diving at Pentecost Island, standing on the edge of a live volcano on Tanna, touring the extraordinary Millennium Cave, snorkelling at Million Dollar Point, diving through what is described as one of the best wreck dives in the world or soaking up some sunshine on Champagne Beach – one of the top five beaches in the world – Vanuatu is truly a wonderland.
And our little island paradise of Ratua has so much to offer too. Described as 'the land forgotten by time', Ratua is set among 146 acres of lush tropical gardens, private beaches, lagoons and coral reefs and has all the cultural and natural wonders of Vanuatu right on your doorstep. Guests can experience swimming with horses, going out on our brand new 46ft game fishing boat or taking a neighbouring Blue Hole tour through the rainforest. To truly unwind, our overwater coral reef spa is one of the most relaxing places on earth!
To support the Ratua Foundation visit www.ratuafoundation.com

Travel Associates at Coffs Central have a great Ratua Island Resort and Spa package for 5 nights with flights and much more from $1,990 per person.

Call 1300 650 326 to book your island escape.
All images with thanks to Ratua Island Resort & Spa