The Macleay Valley's world class Slim Dusty Centre
Words and images with thanks to the Macleay Valley Coast
The Macleay Valley is home to a dynamic mix of entrepreneurs including artists, musicians, designers, marketing professionals and CEOs. Although these people may be different in many ways, they all share a love for the Macleay Valley Coast and the unique lifestyle it offers.
The Slim Dusty Centre is a world class attraction that celebrates the life of one of the Macleay Valley's most treasured icons whilst also bringing world-class cultural exhibitions and events to the creative community of the Macleay Valley Coast.
While most people have heard of iconic Aussie musician, Slim Dusty, not everyone is aware of how popular he remains. Kempsey's Slim Dusty Centre was built to change that – and to educate and inspire the public on the life and times of one of our nation's most popular artists.
The architecturally designed building, which opened in 2015, holds the Slim Dusty Museum, where you'll find items that represent Slim's first steps into show business right through until he became a household name. A movie theatre also shows daily films of Slim and Joy's glory days on the road.
Beside the museum is the Nulla Nulla Gallery, a space that hosts travelling exhibitions and brings national and international exhibitions to the Valley. The conference facility can seat up to 500 people and serves as a venue for trade shows, expos and other events.
According to manager Michele Atkinson, The Slim Dusty Centre attracts between 16,000 and 20,000 visitors a year (not including functions and conferences), a number that she believes is a testament to the impact Slim made in his lifetime.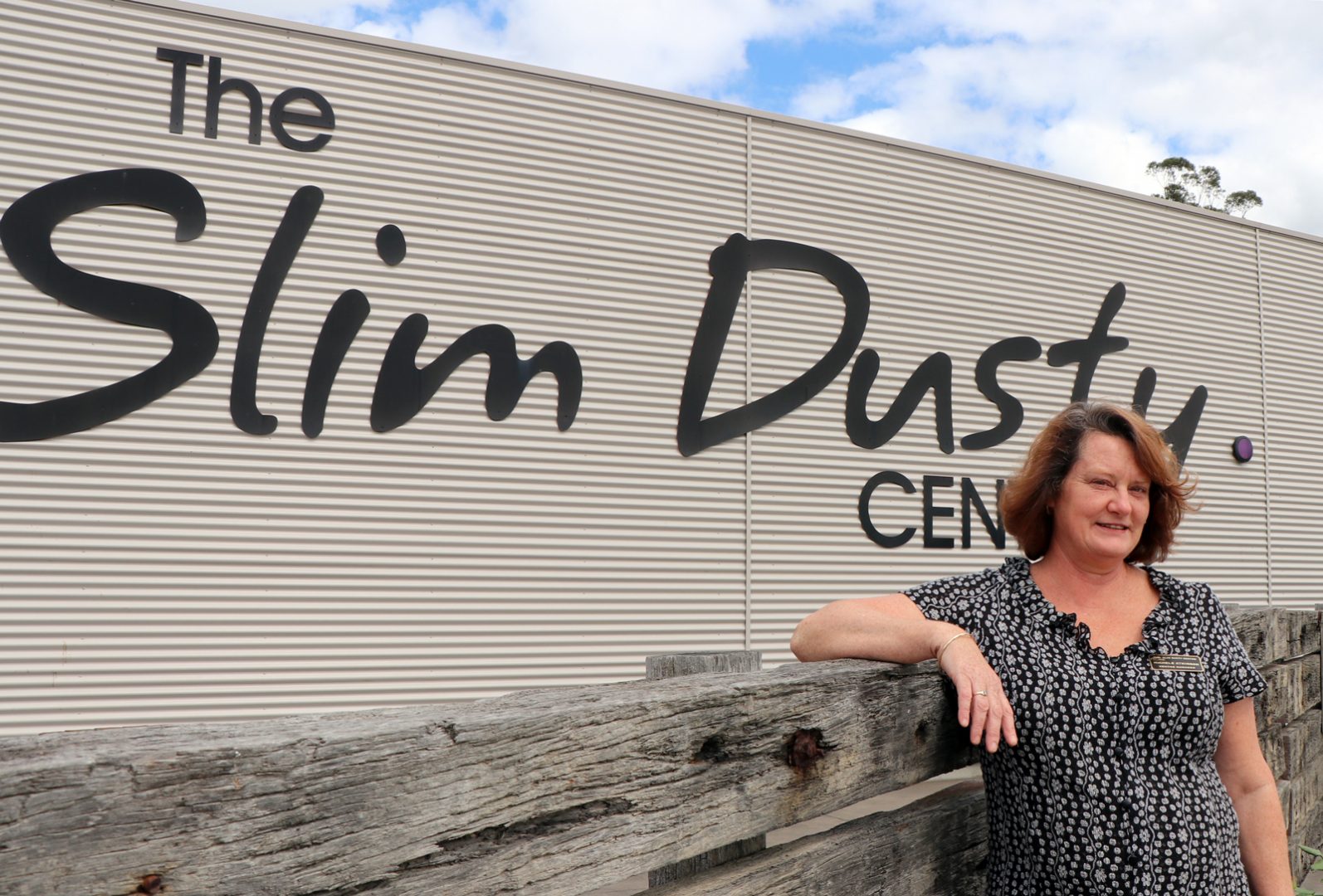 Michele Atkinson at the Slim Dusty Centre
"Honestly, when I began working here, I had no idea how much Slim had actually achieved," Michele says. "He has a plenitude of gold and platinum records and was incredibly popular. It's something few people realise until they view the Museum."
Michele continues, "I admire what the man did. He visited small communities – particularly Indigenous communities – and made a real connection with people. He also wrote songs about everyday life and things that people could relate to. I believe that's one of the main reasons he had, and still has, so many fans. He was very much a people person."
The centre aims to not only educate people on the life of Slim Dusty, but to inspire young musicians to develop their talent.
"Slim Dusty was passionate about supporting emerging artists, which is one of the reasons it's so important to keep his legacy alive," Michele says. "We're aiming to inspire and support younger artists."
"The multifunctional centre is also available to everyone and provides spaces that can be used by the Macleay Valley community. It allows us to bring more community activities under one roof and also attracts travelling exhibitions that bring metropolitan cultural assets to the region."
The Slim Dusty Centre is a much-needed attraction that draws visitors from all corners of the world to the Macleay Valley, where they can discover the incredible beaches and natural assets on offer.
"The fact that people come here just to visit the centre means we're in the position of being able to promote other local attractions and accommodation providers," Michele says.
Building on the success of previous years, Michele says there are exciting plans in store for the venue. One focus is to attract more educational workshops and displays that align with the school curriculum and invite young local people to visit the centre.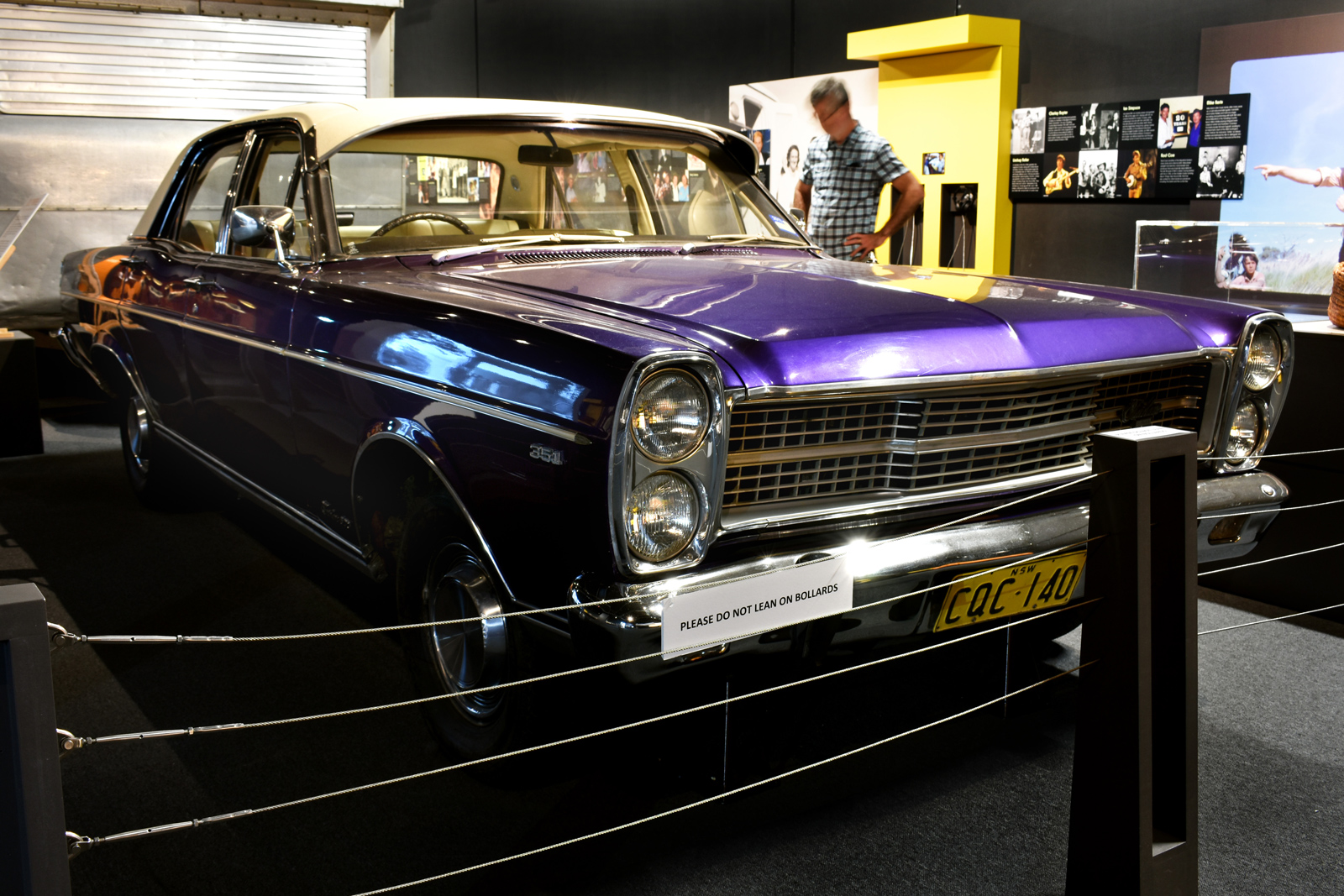 A Centre visitor checks out Slim & Joy's 1972 Ford Fairlane and touring caravan
"A great example was last year's virtual Australian Chamber Orchestra exhibition, which was popular with schools," she says. "Children were able to interact with the performance and accentuate different instruments. Questacon was also fantastic – it drew around 850 local children and adults through the door. Everyone we spoke to was so positive about it and a lot of people said, 'we need more of this'!"
"In the next 12 months we will be targeting the coach and conference market – looking to promote overnight accommodation packages. We'd love to attract more interstate and international delegates for seminars. We'll also be stepping up the venue side of things and hosting weddings."
With a Facebook following in the thousands, Michele credits social media as an important marketing tool. But it's the volunteers who keep people coming back. "We couldn't run the centre without our incredibly generous team of volunteers – and we're always looking for more to join us, and of all ages: 18 – 80!" Michele says. "The wealth of information they have is unbelievable, and we consistently get terrific feedback from our visitors about interactions with our volunteers."
To read more inspiring stories about proud Macleay Valley Coast residents like Michele, visit www.macleayvalleycoast.com.au and look for the local legends page.
Visit the Slim Dusty Centre at 490 Macleay Valley Way South Kempsey.
Ph:6562 6533 slimdustycentre.com.au