Anthony Wilson – The Kid Least Likely
In his final year of high school, a decent swell mattered far more to Anthony Wilson than the HSC. In fact, his peers voted him 'the least likely to succeed in life'. Call it karma, but the owner of numerous surf stores is having the last laugh.
The kid from Hallidays Point never set out to prove his fellow students wrong – serendipity was simply at play. One summer Saturday back in the late 80s, the owner of a Taree surf store found himself short-staffed and called upon one of the lads who was always hanging around the shop to lend him a hand. Day one went well and soon after the plucky young employee asked his boss about a partnership. Within 18 months the two were in business.
"Everyone thought I was mad," Anthony tells me over a flat white in the café within his Saltwater Wine store in Port Macquarie. "Next year is 30 years since we went into business, so I guess I wasn't crazy after all!" His business partner retired in 2004, resulting in Anthony and wife Vanessa juggling three stores with six-month-old daughter Milla. The Wilsons survived the madness and retail expansion followed.
Wilson Retail Co. now owns 17 stores; Saltwater Wine in Forster, Taree and Port, Stormriders in 10 regional locations and as of June this year, four Red Herring stores in Tasmania. Anthony is the first to admit there was no masterplan. He started with one shop and has since grabbed opportunities as they presented. I ask if he feels more connected to Saltwater Wine or Stormriders…
"Actually, I'm equally wedded to them both," he says. "Saltwater Wine has been in Forster since the mid-70s and is engrained with surf culture on the north coast. I feel a bit like the custodian of all that history for kids like me who used to hang around the store like a bad smell when there were no waves."
'Stormies' on the other hand, was a blank canvas that Anthony and his team created from scratch in 2010. "It's like my baby; so much blood, sweat and tears went into how it all looked and what brands and products were available."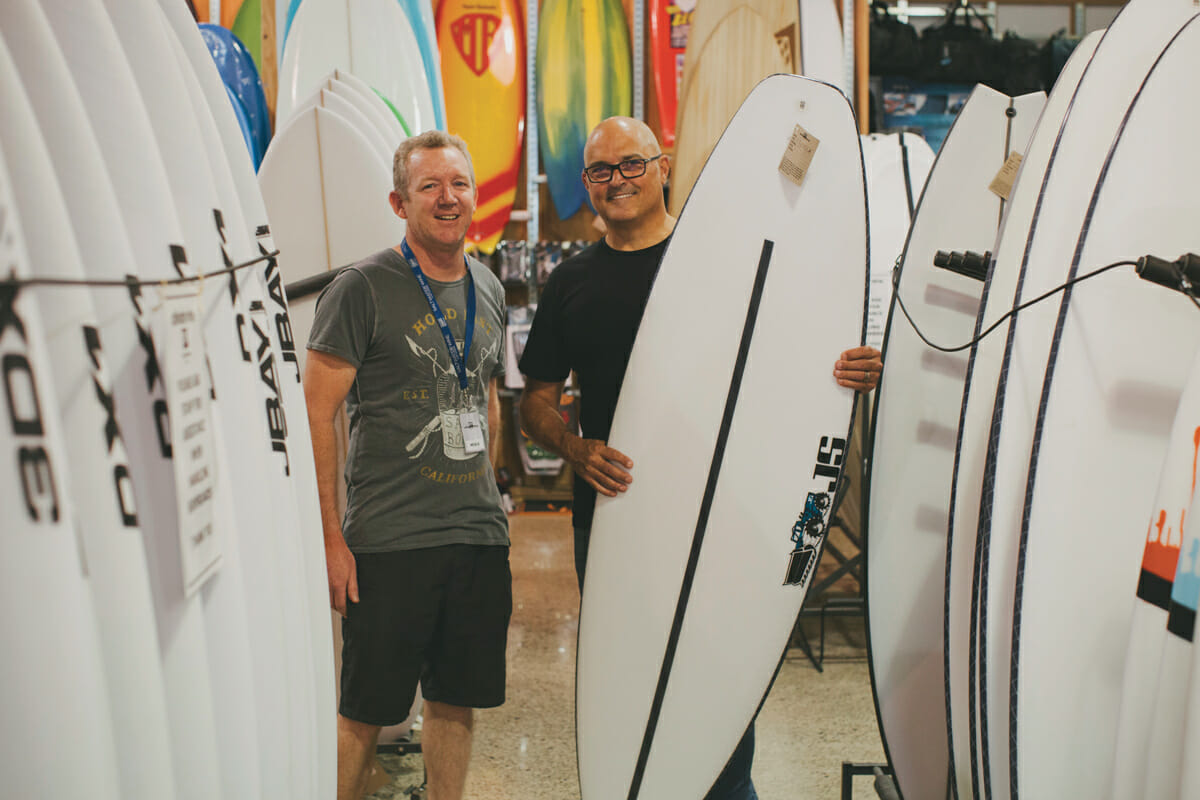 Anthony (r) with Hardgoods Category Manager, Mike Porter
Taking on Red Herring is another gutsy move. Like Saltwater Wine, there is over 40 years of history, with the brand an inherent part of the Tassie surfing scene. "It's amazing to think Red Herring launched at a time when wetsuits were really only just being developed and surfers were out there, in those waters, wearing jeans and woollen jumpers."
Sure, surfing is important to Anthony's company (his retail businesses collectively sell surfboards, surf hardware as well as surf, street and skate apparel) but in many ways it is his salvation too. He grew up with scoliosis and Scheuermann's disorder, a childhood skeletal disorder that impacts the spine. As a teenager it prevented Anthony from playing sport, but fortunately, surfing was manageable as it involved arching the back.
Even now, at 52 and with work and family keeping him busy, Anthony makes time to surf. The day we caught up he'd been up at 5.30am surfing with mates. "It's one of those things that you never ever master. It's as frustrating as it is addictive," he laughs.
Raising girls is something else he'd love to master. Of his three daughters, two are now in their teens and Anthony feels as if he's navigating a whole new world. He is a proud and devoted father. Business is important, he says, but family is everything. Will the girls follow in your surfing footsteps? I ask. "Maybe one out of the three."
With the older two, Milla and Lottie into horse-riding and dancing respectively it appears 10-year-old Pippa is the only one to have inherited her dad's love of the sport.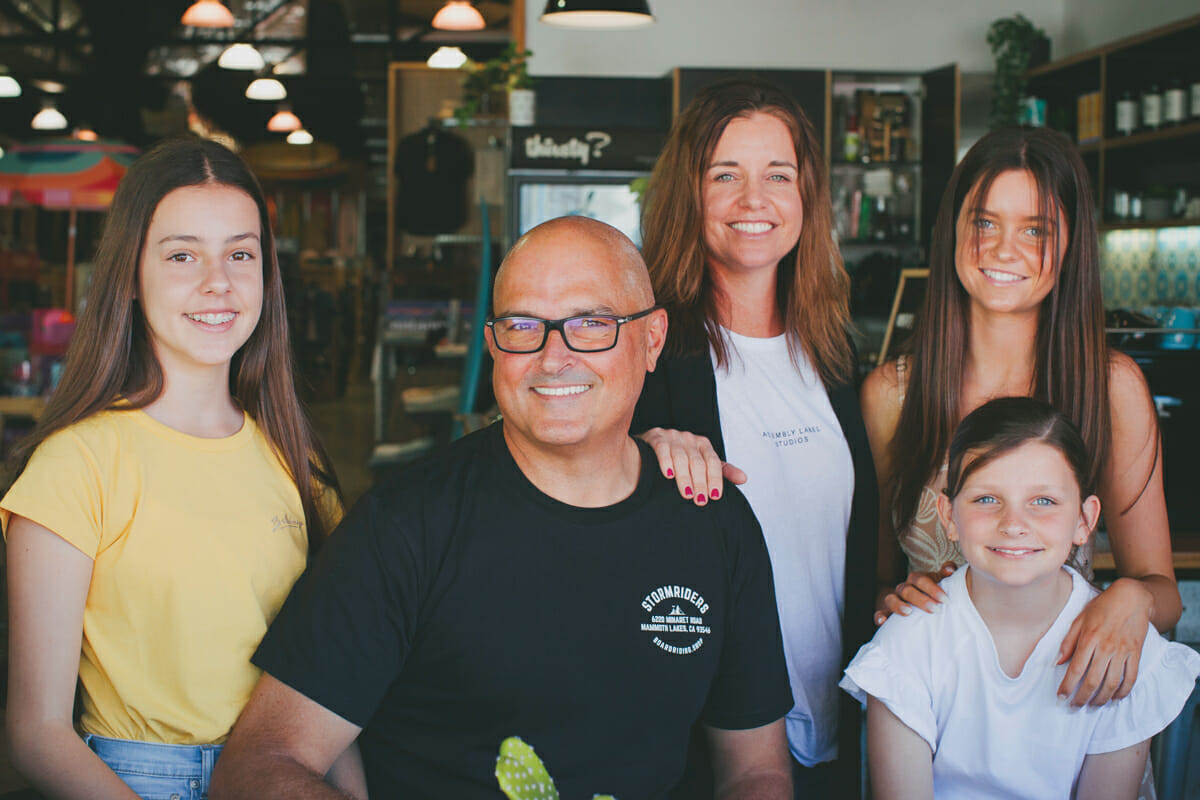 The Wilsons. (L to R) Lottie, Anthony, Vanessa, Milla and Pippa (seated)
Strangely enough, surfer girls carving it up on the big screen were responsible for an important commercial inflection point. Anthony tells me the 2002 film, Blue Crush cemented female sales for the business. "At one stage we were selling more boardies to women than men." The 90s was an earlier growth period for Saltwater Wine. "Fuelled by the recession, we were opening stores because people weren't working and were out surfing. They needed what we were selling. We'd call those fellas the Bob Hawke Surf Team."
Talk turns back to the Wilson Retail Co. and the fact that people are the cornerstone to its success; while customers are the number one priority, finding the right staff is also essential. "We have a no dickheads policy and that works well for us," Anthony says with a broad smile.
"We're now taking on kids of past employees which is exciting, even if it makes me feel really old." Anthony does not take his responsibility as an employer lightly. "I'm well aware of the role we play in mentoring younger staff and teaching them the value of a strong work ethic. It's also about capturing 'shooting stars' as they come through – those people who intuitively get it."
Anthony's the first to admit that there's room for improvement. "You never get everything right all the time. Sure you may get aspects of it right but there are so many moving parts to retail." The fact that so many employees have been with him for over a decade suggests that Anthony is doing plenty right.
I notice a staff member hovering nearby, not wanting to interrupt our conversation but needing Anthony's decision on something, so we wrap things up. As he bids me farewell and flashes a smile that stands out a mile against his olive skin, it's easy to picture that bold young man who went to his boss with a question that would change everything…
Stormriders can be found at Port Central, Kempsey Central and several other locations. For further info see www.stormriders.com.au and www.saltwaterwine.com.au