The Hilltop Store, Sawtell
As part of our 'Full Circle' series, Coastbeat caught up with renowned Sydney chef and Sawtell local, Carla Jones and her equally renowned chef husband, Richie Dolan. The couple talk about their new venture, The Hilltop Store which opened earlier this year.
The idea began as a daydream fifteen years ago. Now, acclaimed chef Carla Jones has achieved her vision of opening a café at Sawtell's famous 'Hilltop Shop'. "I've always loved it. I think it started from my trips to get lollies there as a kid," she says.
"I remember sitting at the pub in Sawtell as an apprentice chef and I'd mutter to myself, 'if I ever move back home and open something, I'd do it at the Hilltop!' And now that I've actually done it, I think I'm still in shock."
The Sawtell local, along with husband Richie and two-and-a-half-year-old son Hudson, left their high-flying chef roles in Sydney nearly two years ago for a chance to start something incredible of their own, back home.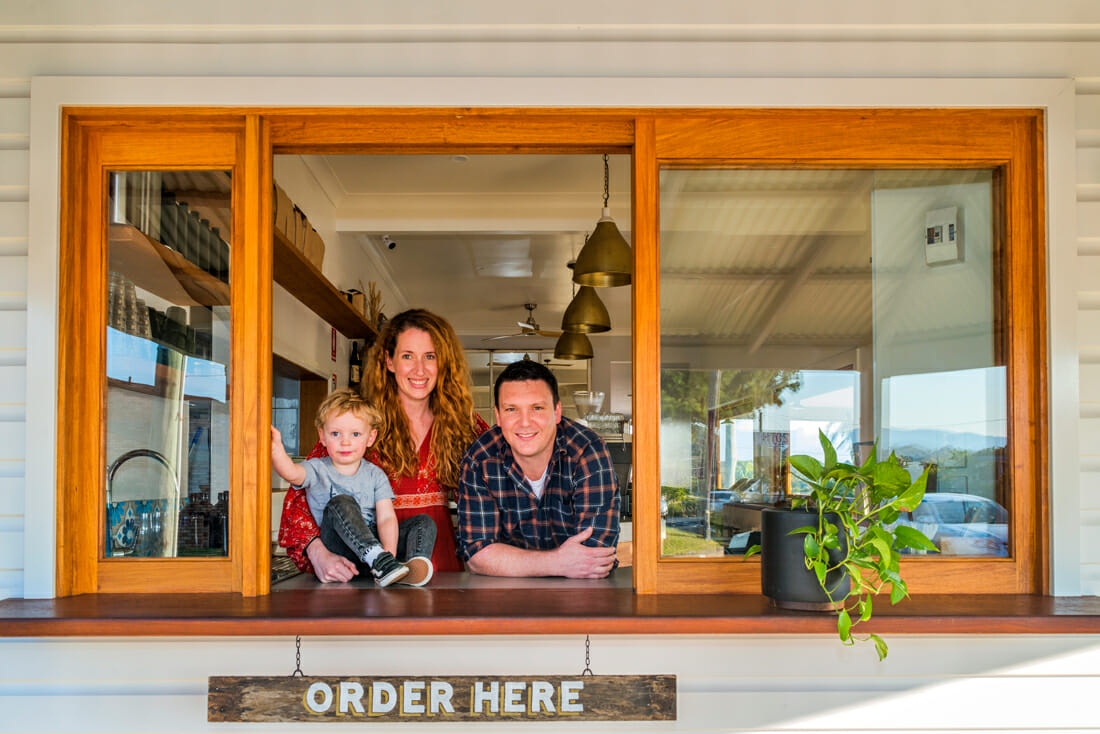 Carla Jones, Richie Dolan, and their son
The resumes of this talented husband and wife team are certainly impressive. Both have worked with national and internationally acclaimed chefs, not to mention co-owned and headed up some of Sydney's most well-known and celebrated venues.
Carla came from humble beginnings. At the age of three, she moved from Inverell to the local area with her family, attending Toormina Primary and Toormina High School. Completing her apprenticeship in Coffs Harbour and Brisbane, Carla then took herself to Sydney in search of some experience in the pastry field. In testimony to her talent, Carla ended up at Matt Moran's award-winning restaurant Aria.
As Richie recounts his rise to becoming a prominent Sydney chef, Carla, sitting beside him, smiles in the knowledge of how much Richie's first Aussie job would change both of their lives. It was at Aria that Richie and Carla's paths crossed.
Having moved to Australia as a 19-year-old with only six months training under his belt, Richie applied for the position of 'chef de partie' at Aria. For those not entirely up with the hospitality lingo, this role is just fourth in the kitchen hierarchy and requires the running of an entire section of the kitchen.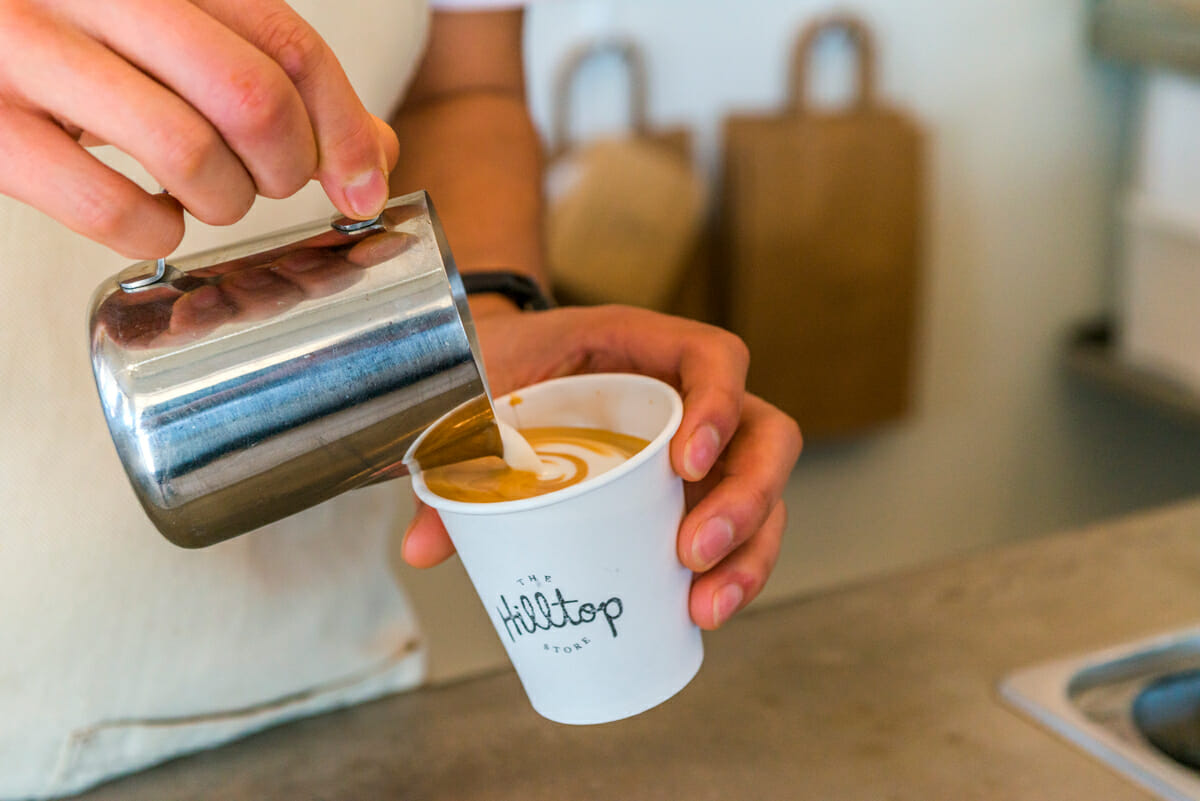 The coffee is great at the Hilltop Store
Again, as a testament to his talent – or bluffing abilities as Richie would have you believe – he got the job. "You know what they say, 'fake it until you make it!' I suppose in this industry you just bite off more than you can chew and then you chew like buggery," he says.
"It was all down to hard work after that. I worked incredibly long hours but the more time you spend in the kitchen the more you learn, and if you're eager to learn, you pick it up really fast."
Richie went on to become sous chef at Aria before stepping into the role as head chef at Matt Moran's newest addition to his restaurant collection, Chiswick.
During this time, Carla had also been busy making a name for herself. Having spent 18 months at Aria, she took herself off to London. Again, she fell on her feet, landing a highly coveted chef position at Gordon Ramsay's restaurant in Claridge's – a five-star luxury hotel in London's prestigious Mayfair district.
After nearly two years abroad, Carla returned home and began working as a chef de partie at the very popular Four in Hand restaurant in the Sydney suburb of Paddington. A promotion to sous chef, two 'hats' and seven years later, Carla decided to open her own restaurant in Sydney. She teamed up with the owner of the Four in Hand, Colin Fassnidge and the pair launched 4Fourteen.
Three years later, Carla fell pregnant and the urge to return to her hometown grew too strong. "I knew [coming home] would be the right move because every time we'd come to visit family, it became just that little bit harder to leave. As soon as kids were involved, it was a no-brainer," she says.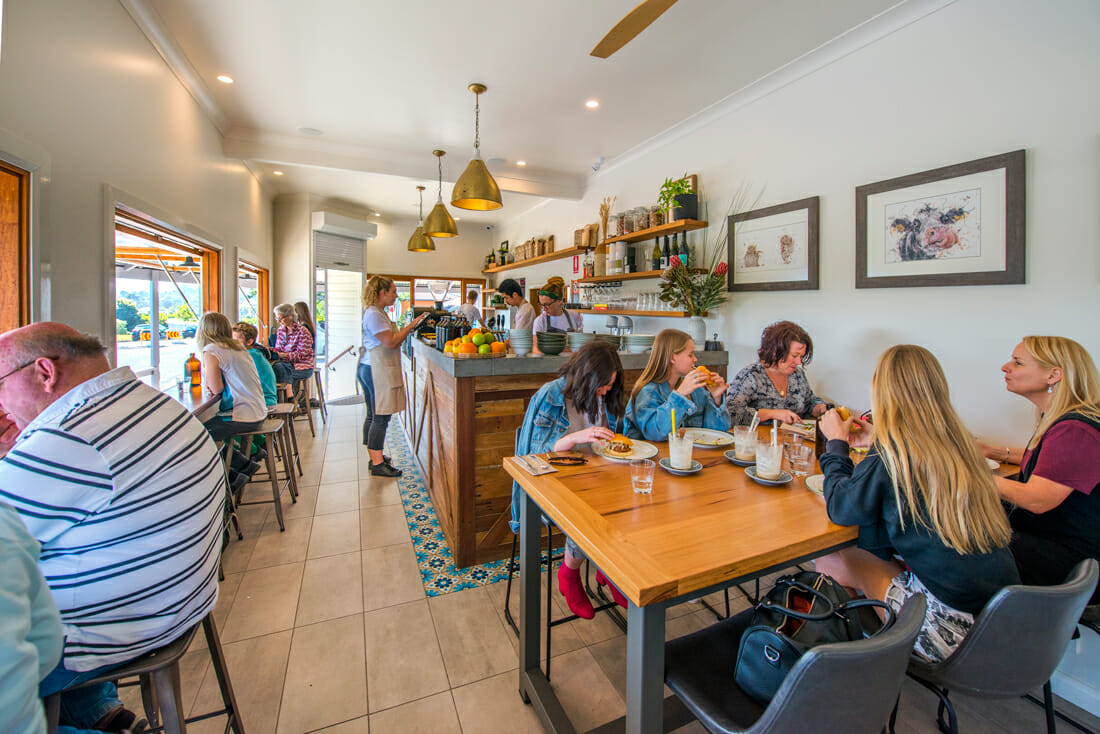 The interior of Hilltop
It wasn't long after moving home that the wheels were put in motion for the revamped hilltop shop. It took 18 months, but the couple's transformation of the historic and locally-loved general store into a vibrant and buzzing café was remarkable and has fast become a crowd favourite.
"Everyone has been so supportive of it," says Richie. "Five minutes before opening on our first day, there was a queue of people waiting at the front door. They were all people who had, in some shape or form, been part of the project." He adds, "It was just completely overwhelming."
According to Carla, the building process was made extra special by the support from the community. "I think the thing that I've loved the most about opening the new café is having past owners and families pop in and show us old pictures and thank us for breathing new life into the place," she says.
Carla is also really thankful for the number of locals who helped with the actual construction itself. "It's really the café the town built," she says.
When it came down to sourcing food, both Carla and Richie have been blown away by the exceptional quality of local produce. "Coffs Harbour has the most remarkable food bowl. There's award-winning poultry, oyster mushroom farms and beautiful fresh fish from the Co-op. It's just incredible," says Richie before adding, "We also get heaps of locals dropping food in for us like citrus fruits and honey – so we just get creative with how we can incorporate it into our menu, it's lovely."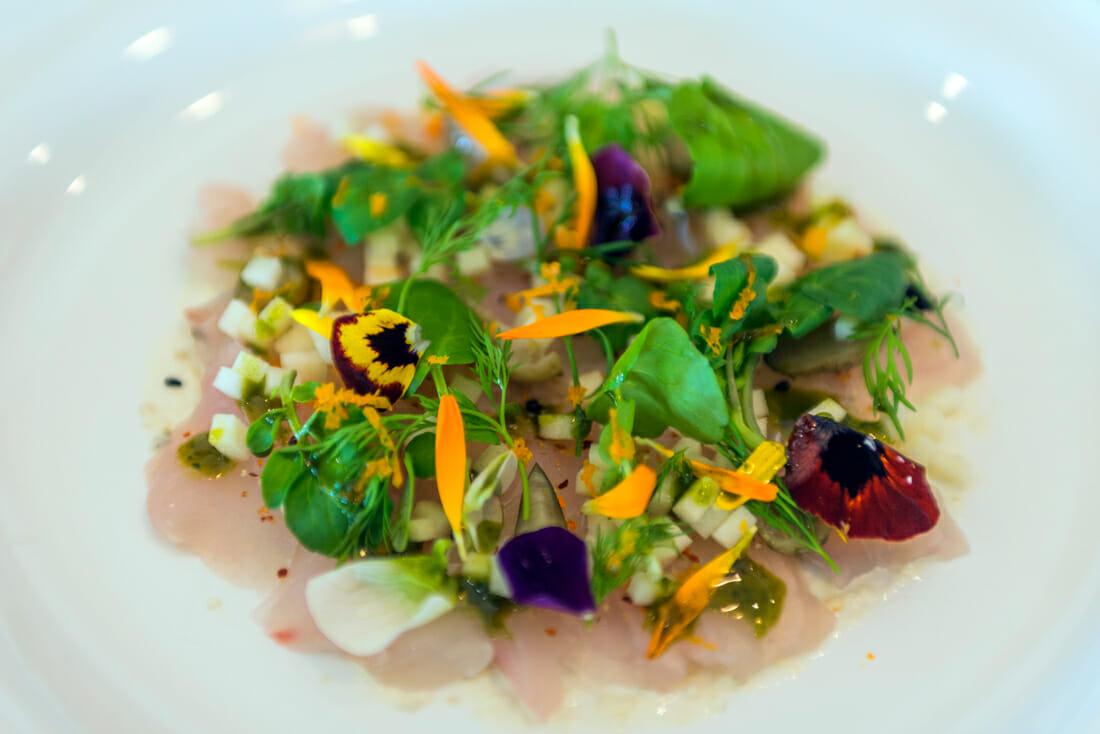 While some chefs take inspiration for their menu from past experiences, Carla and Richie are all about keeping things simple and fresh.
"We just think about what we'd like to eat and then create a menu based around that. We do a special Sunday roast lunch that's proved really successful. That's not from any past chef experience, it's from my childhood," says Richie.
While there are many married couples who couldn't bear the thought of working together, Richie and Carla enjoy it. For Richie, "It's fun – I get to work with my wife."
While Carla agrees, she admits to being a little strategic with the kitchen design. "I have my own little area out the front and Richie is out the back so we're not side by side the entire day!"
"I think the best part is when people come and compliment us together. If you're successful together and you can share that, I think that's really special," says Richie.
It's also really special that Carla and Richie have established their place on the hilltop, where Carla always hoped to be.
The Hilltop Store is located at 114 First Avenue, Sawtell and is open 6 days a week.
For more information visit thehilltopstore.com.au
For a recipe by these talented chefs head over here