The Coastal Brewing Company
Leaving the corporate rat race in the city to move to a coastal destination and brew your own beer for a living sounds like the stuff dreams are made of! And yet, that's exactly what has happened for David and Helen Black of The Coastal Brewing Company in Forster.
Former Sydneysiders David and Helen left the city and their successful corporate careers to follow a passion in their favourite holiday spot and the local, independent micro-brewery was born.
"We wanted to do something different before we got too old and importantly, we wanted to be based in Forster full-time so we effectively commercialized my hobby," says David.
"With my brewing experience and qualification; my background in business and accounting and Helen's background in marketing and communications, we felt we had the right mix of skills to build and grow a successful business."
They weren't wrong. Since opening their doors in 2017, the response has been incredible. Their unique brews can not only be enjoyed in their on-site Tasting Room but can be found in restaurants and bars throughout Forster as well as at establishments in Newcastle, Sydney, Gloucester, and Armidale.
Coastal Brewing Company Forster
The Coastal Brewing Company is also part of The Great Lakes Food Trail; an initiative that connects local and ethical producers with locals and visitors to the area.
David says their commitment to L.I.F.E – Local, Independent, Fresh, Everytime – is at the core of all of their brews and business dealings.
"Being 'local' is key to us. There are many aspects to our business model that demonstrate our commitment to being local, including using local beaches and landmarks as inspiration for our beer names."
David and Helen also send all of their spent grain to Long Table Farm in Coomba Park.
The Coastal Brewing Company have invested in technology that uses pH adjustment equipment and above ground, bioreactors to effectively treat their wastewater and brewing in relatively small batches to ensure they are regularly bringing fresh beer to market.
"We regularly keg our beer on a morning and it is on tap that evening in a local hotel or on a bottle shop shelf on the same day," says David.
"We really want to make sure that local customers and those from further afield have a terrific experience, whether visiting the Tasting Room, drinking in their local or purchasing a can."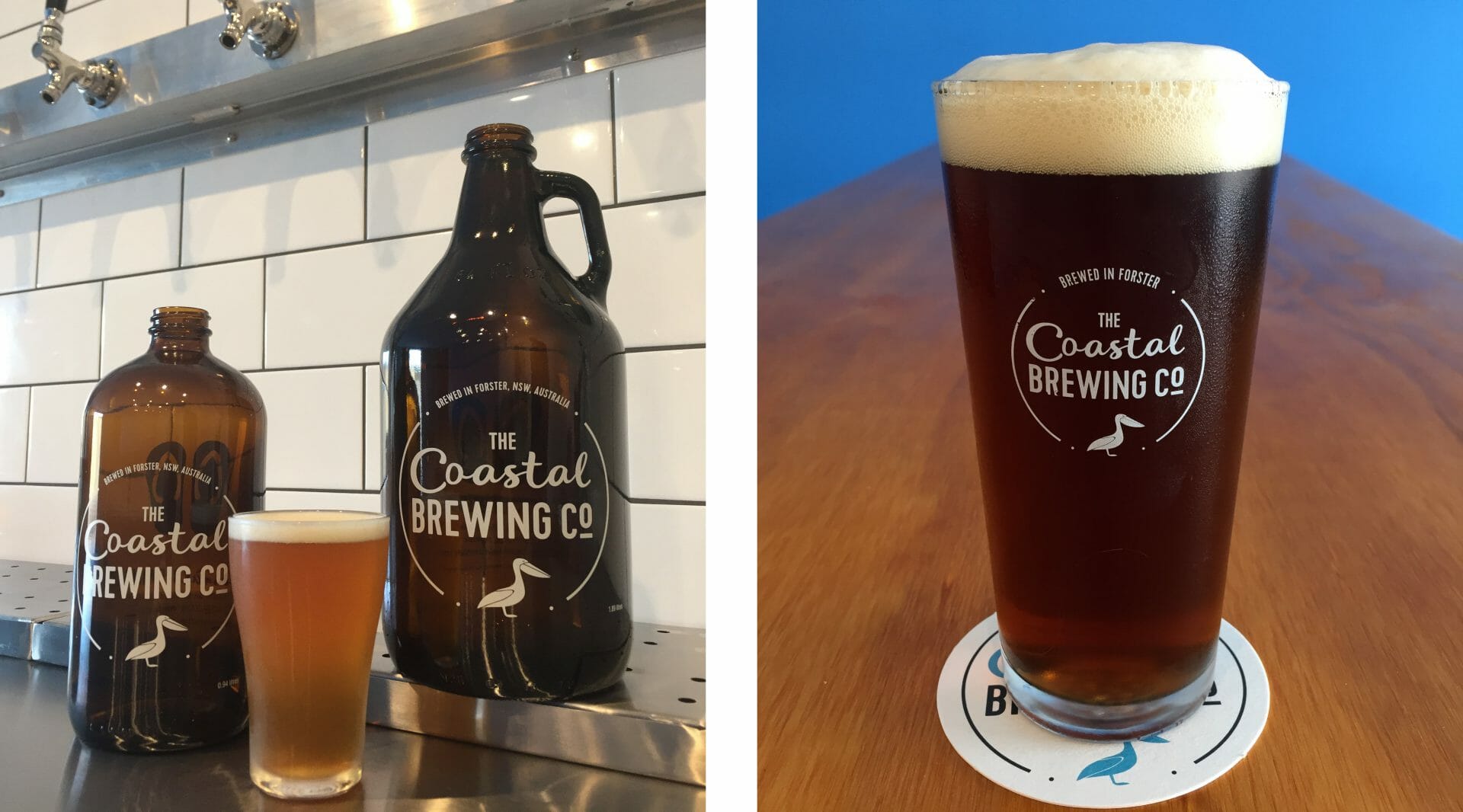 When asked what their most popular beer is, like trying to choose between children, David is quite diplomatic.
"It's actually quite evenly split between our beers – our core range of Boomerang Beach Pale, Seven Mile IPA, Black Head Milk Stout, Wallis Weizen and Town Lager are all popular."
"We also release seasonal special brews, for example, most recently, we released two Autumn beers – an Irish Red ale 'Red Head Red' and a mid-strength English bitter, 'Elizabeth English Bitter' – they're also garnering great feedback!"
So, what's the best thing about The Coastal Brewing Company according to David and Helen?
"Everything from working with the local tourism team, through to customers, bottle shop owners and festival organizers; we're particularly proud to be part of the Great Lakes Food Trail," says David.
"And of course, another favorite thing is that we never run out of beer!"
The Coastal Brewing Company
The Tasting Room opens Fridays 2.30pm-6pm and Saturdays from 12 noon-4pm with additional hours during summer and holiday periods. Also available by appointment.
For more information visit The Coastal Brewery on Facebook or email [email protected]
Artwork by Nicole Bramble, photographed by Craig Mason – East Coast Photography