The Bucha Shed: Australia's first alcoholic kombucha taproom opens in Byron Bay
By now you've probably tried kombucha, the chilled fermented tea drink said to deliver B vitamins, probiotics and enzymes that support immune function, metabolism and even lift your mood. You know kombucha promotes gut health, aids digestion and liver function. But did you know it can be mixed with premium spirits to create a delicious alternative to sickly-sweet cocktails and sugar-filled ciders?
Coastbeat visited The Bucha Shed in Byron Bay to learn more.
Combining health with pleasure, the team behind The Bucha of Byron kombucha have created two low-sugar, crafted cocktails: Botanical Gin with Lemon Myrtle kombucha and Premium Vodka with Tropical kombucha.
The launch of The Dirty Bucha coincided with the opening of The Bucha Shed, a brewery and taproom now open for tours, tastings and events.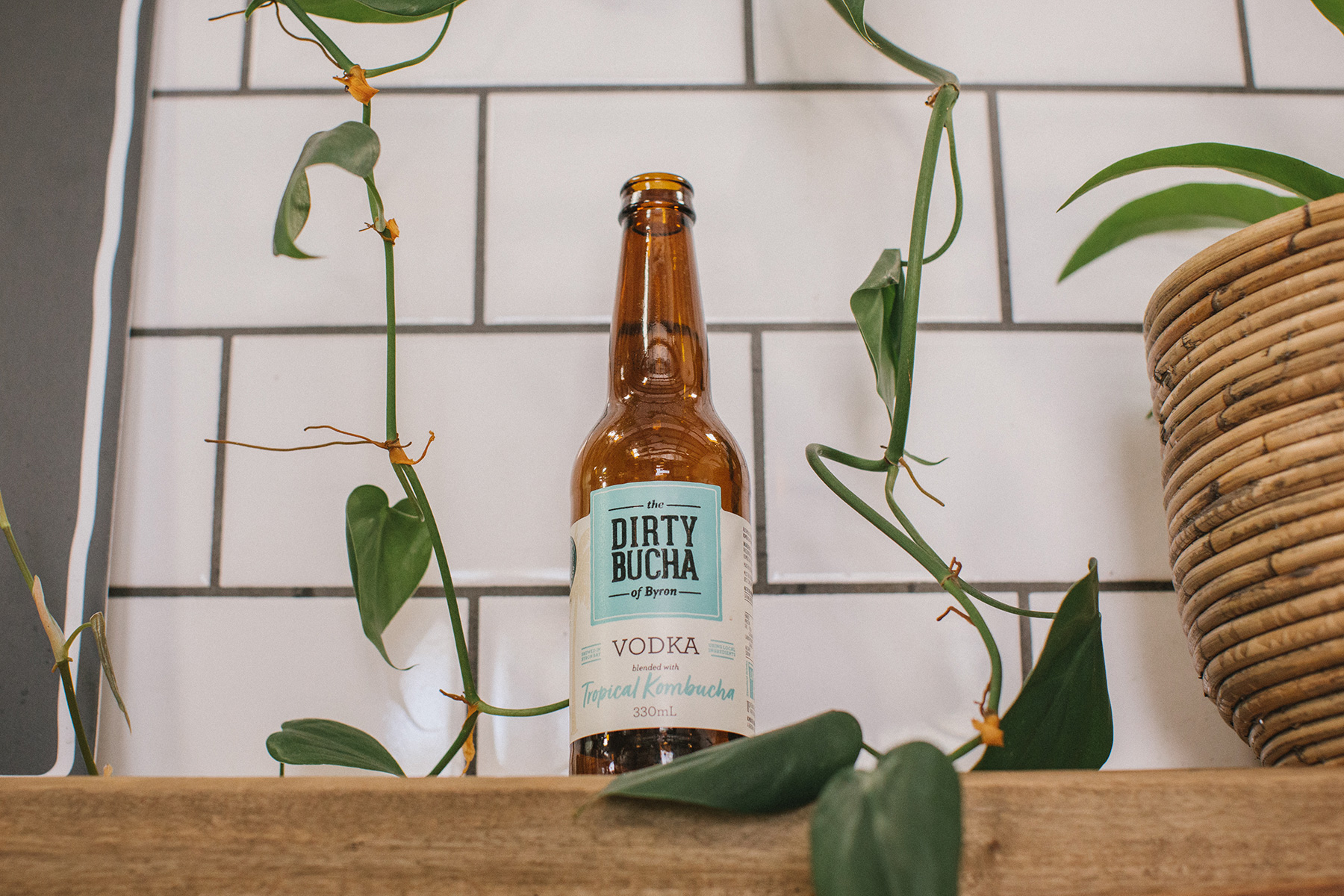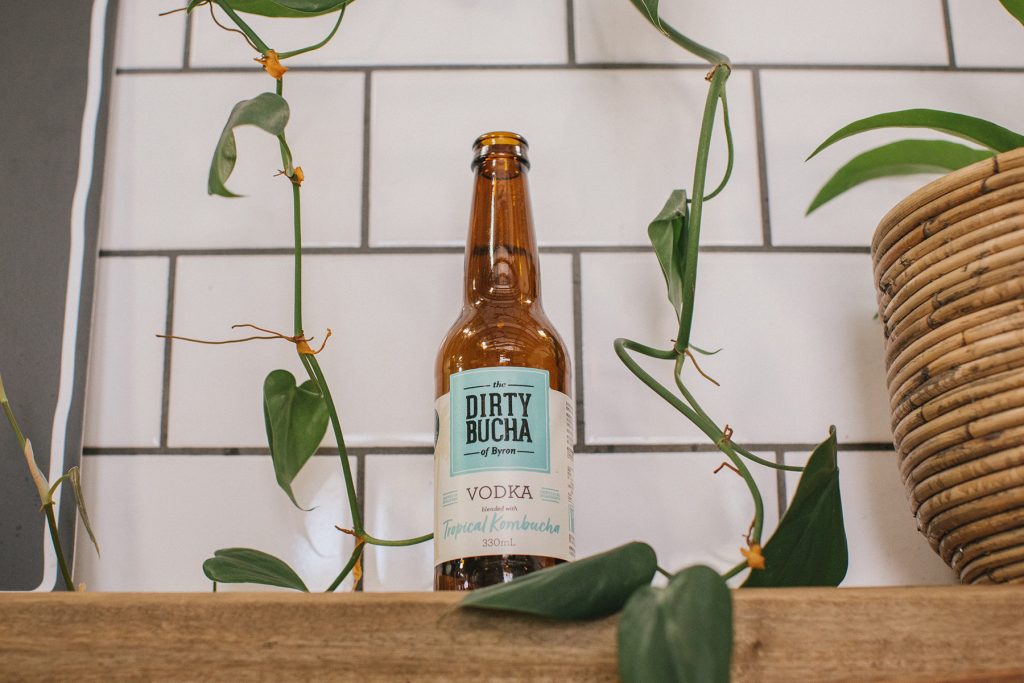 The Dirty Bucha is brewed like beer but without the carbs and tastes like cider minus the sugar
Made in conjunction with Stone & Wood, the Bucha of Byron initially squeezed itself into a corner of the independent craft brewer's factory in the Bay's Arts and Industry Estate. Once Stone & Wood shifted to much larger premises a few streets away, The Bucha was able to increase kombucha production and introduce premium alcoholic spirits to the mix.
Behind the scenes at The Bucha Shed
My friend Nat and I pop into the Bucha Shed one Friday afternoon and we're welcomed by co-founder Paul Tansley. The exposed brick walls have been painted white and blue and there are an array of plants and palm fronds lining the raw, industrial space. Festoon lights have been strung across the ceiling above the table tennis table and there's seating around the room and at the bar.
Paul hands us a cold bottle of Botanical Gin with Lemon Myrtle kombucha and introduces us to resident brewers Braydon and Tom. They happily take us on a tour of the factory and explain the process step by step.
I'm delighted by the giant "cup of tea" (black tea steeping in a large vat) while Nat is fascinated by the SCOBY (Symbiotic Colony of Bacteria and Yeast – not as gross as it sounds!).
Enjoyment and education
Paul says he wants to remove some of the mystery and confusion around kombucha by inviting people into the brewery. "The idea is people come in and take part in the brewing process," he explains. "We want them to have some fun, learn a bit and enjoy a few tasting paddles."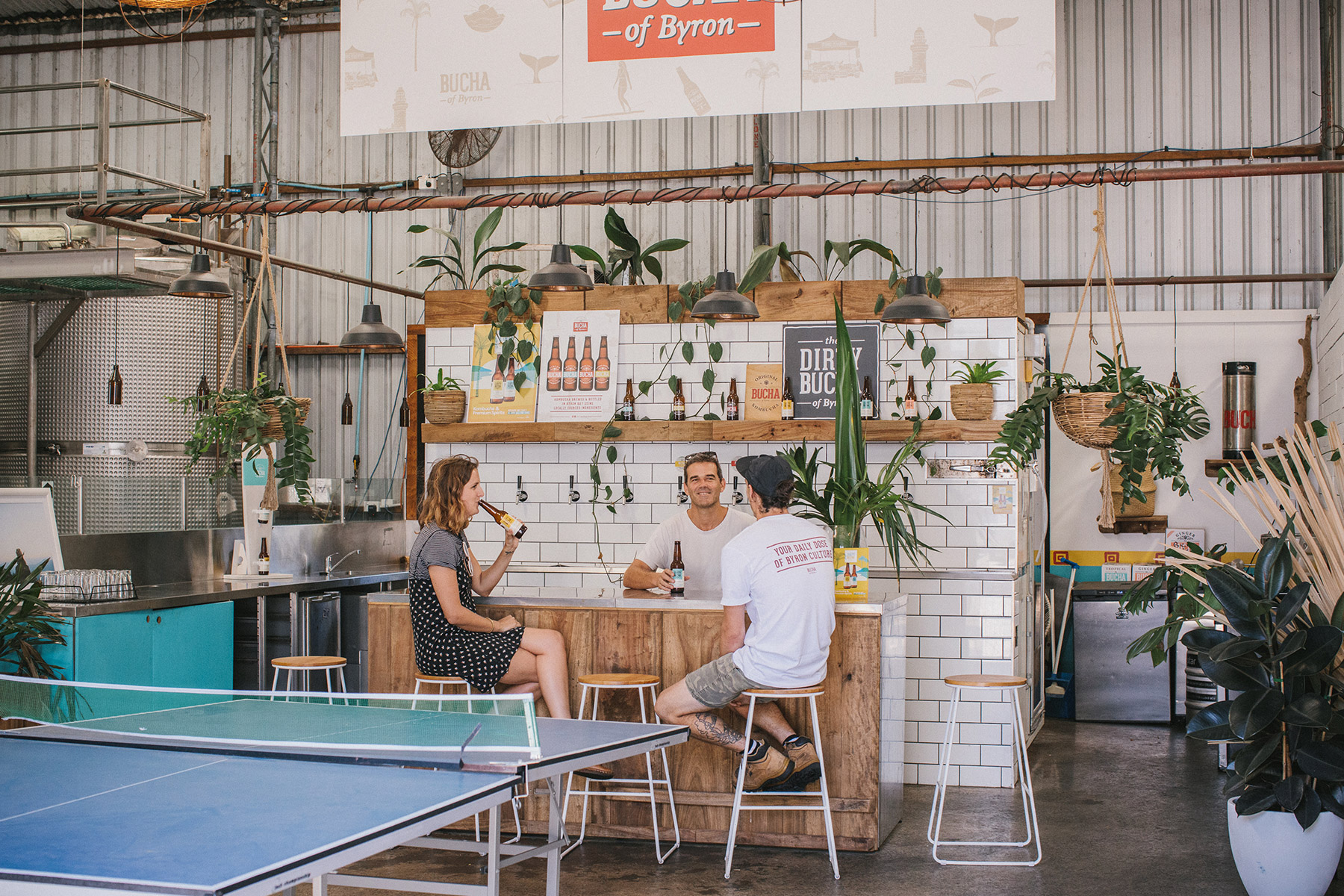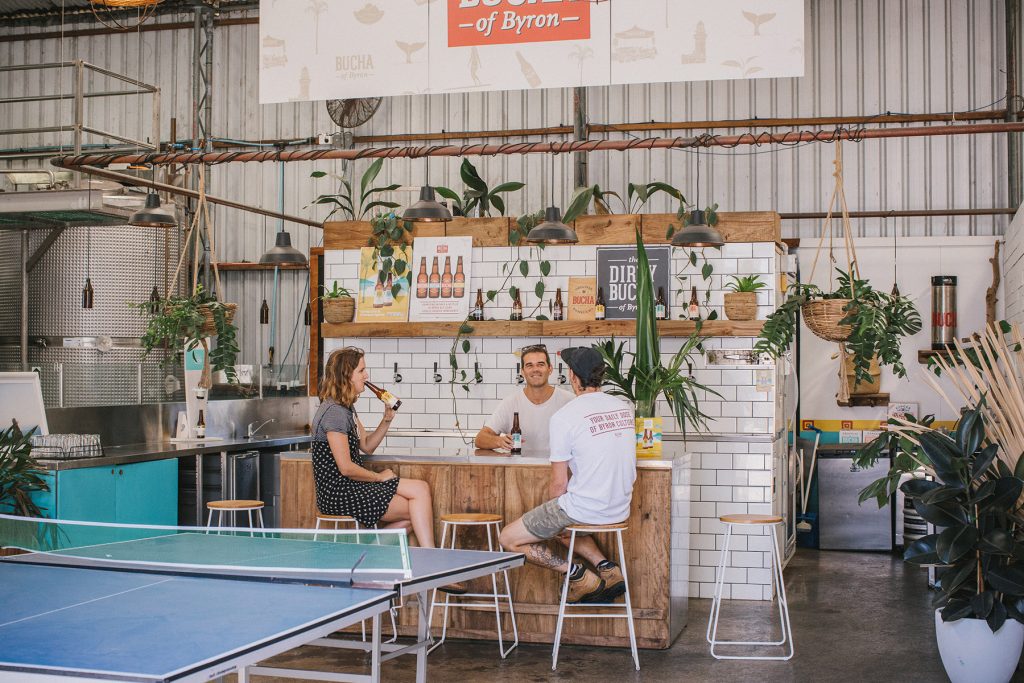 The Dirty Bucha is made in conjunction with Stone & Wood at its old facility in Byron Bay
Paul emphasises the importance of creating an accessible identity that can be seen and experienced. "Having an open space like this demonstrates that we are The Bucha of Byron, this is our home and we work with partners in the region," he says. "It makes us more real and gives us a place to anchor our story."
The brand has worked with local suppliers including Brookies Gin from Cape Byron Distillery since its inception and they're now the key spirit suppliers for the Dirty Bucha flavours.
Playing favourites
Nat and I have finished our drinks and Paul is quick to offer us a taste of the Premium Vodka with Tropical kombucha. It goes down a treat! We debate the subtleties of each flavour and struggle to pick a favourite.
What's clear is the Bucha Shed will fast become one of our favourite hang outs and the go-to 'locals only' spot to show off to visiting friends.
If you can't make it to the brewery, you'll find The Dirty Bucha at trendsetting local venues such as The Beach Hotel and Three Blue Ducks at The Farm. It's also available nationally from BWS as well as at select venues in Sydney and Melbourne.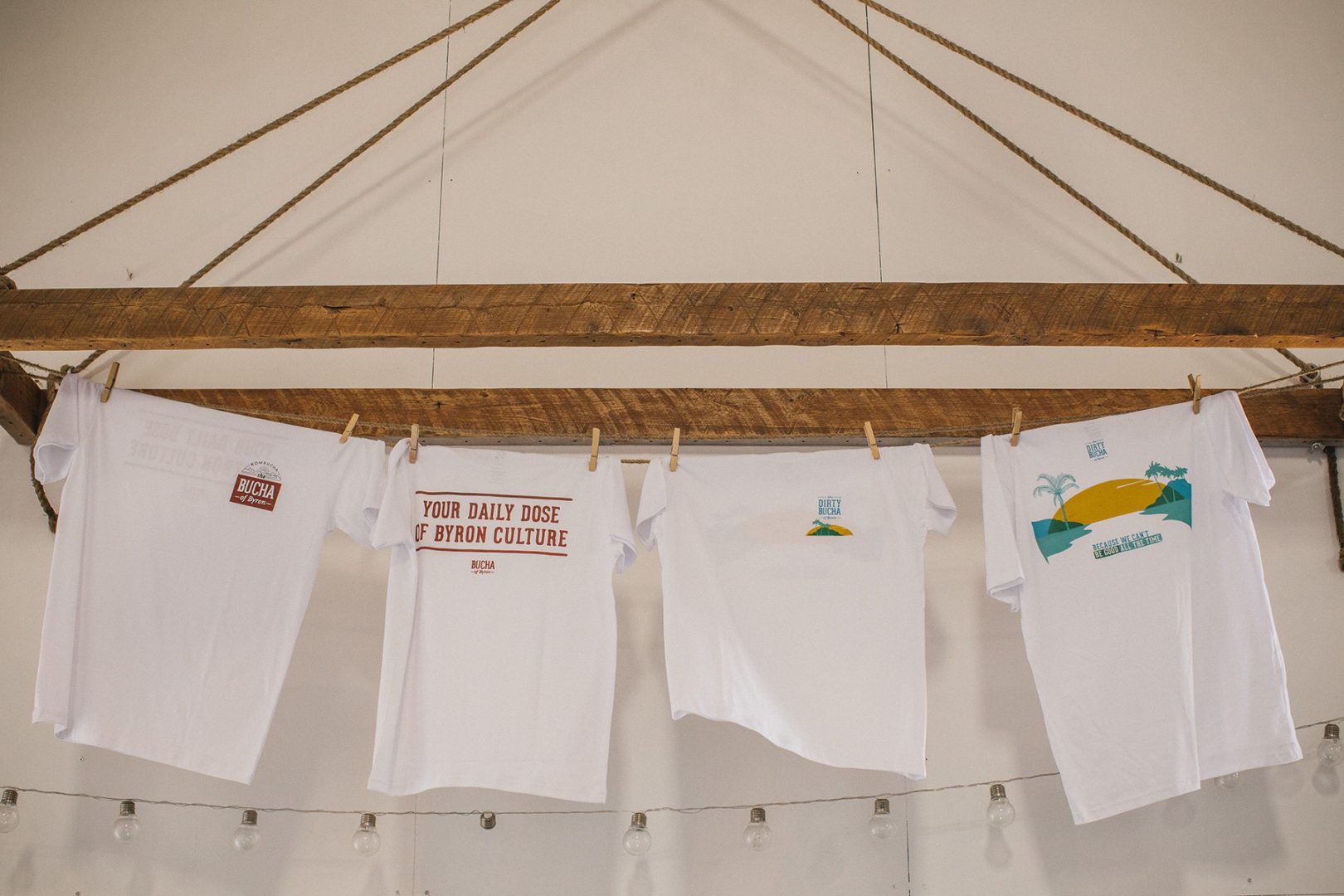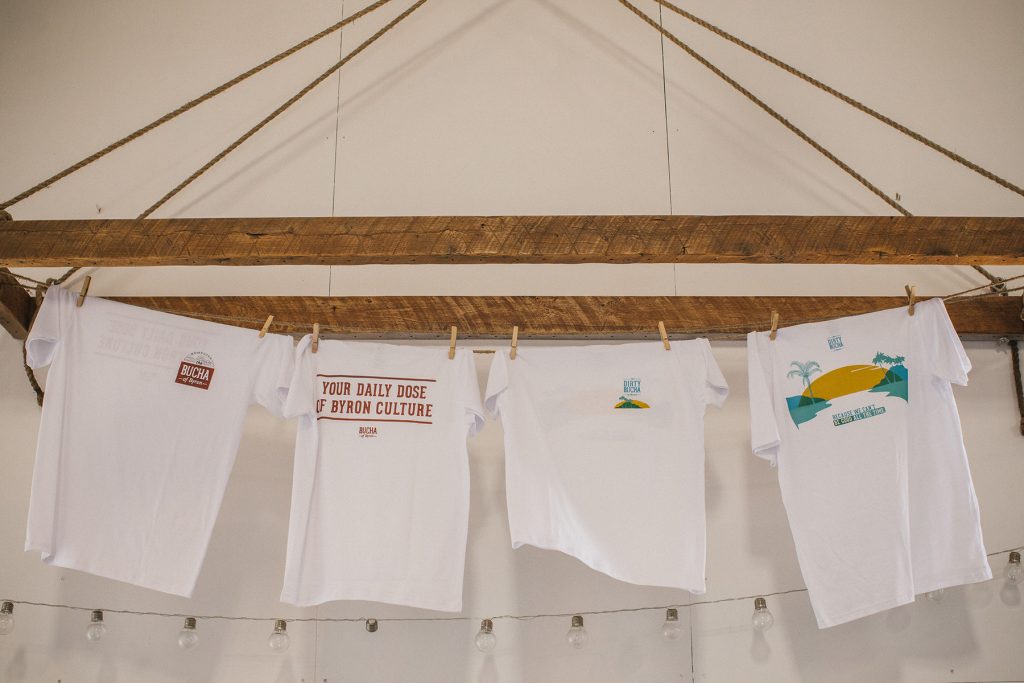 The Bucha provides your daily dose of Byron Bay culture
The Bucha Shed (4 Boronia Place, Byron Bay) is open every Friday and Saturday from 12-6pm for tours and tastings. It's also available for event hire.
Seeking other interesting things to do in Byron Bay? See our Top 10 Activities