GO BIG AT THE BANANA!
This Aussie icon has been loved by us all for over 50 years. Find out why there really is so much more going on behind that huge yellow fruit that stands bold and bright on the Pacific Highway than you might expect.
Since opening in 1964 as the first of the 'big' things (the pineapple, merino, prawn, lobster, trout and golden guitar all followed) the banana, still considered the largest in the world, has drawn people from all corners of the globe to Coffs Harbour.
And sure, those wide smiles in front of the famous banana went from film to polaroids to selfies but The Big Banana is still a huge drawcard, attracting over a million visitors each year.
The iconic venue has continued to adapt and evolve over the years, drawing in new generations and welcoming back those who are now parents themselves (and probably still have that Big Banana childhood snapshot in an album somewhere).
True to its slogan, the fun park delivers a "whole bunch of fun" with everything from the Laser Tag arena, to an Ice Rink, Toboggan Ride and a 36-hole Mini Golf course. The past few years has also seen the introduction of a number of exciting on-site attractions for the venue such as the Water Park, Cheesemaking Workshop & Deli and a super-duper slide.


The 600m Toboggan Ride is one of many on-site attractions
A wonderful new addition that opened just a few weeks ago is Steve McEwan's Reptile World. Steve is a well-recognised Coffs Coast local who has loved reptiles all of his life. He and his team look forward to sharing their passion for all things scaly with everyone. The new display will be both entertaining and informative and will feature a saltwater crocodile, pythons, venomous snakes, turtles, lizards and more. Reptile World offers people the chance to get up close and personal with reptiles too as you can cuddle up to a creature for a photo opportunity.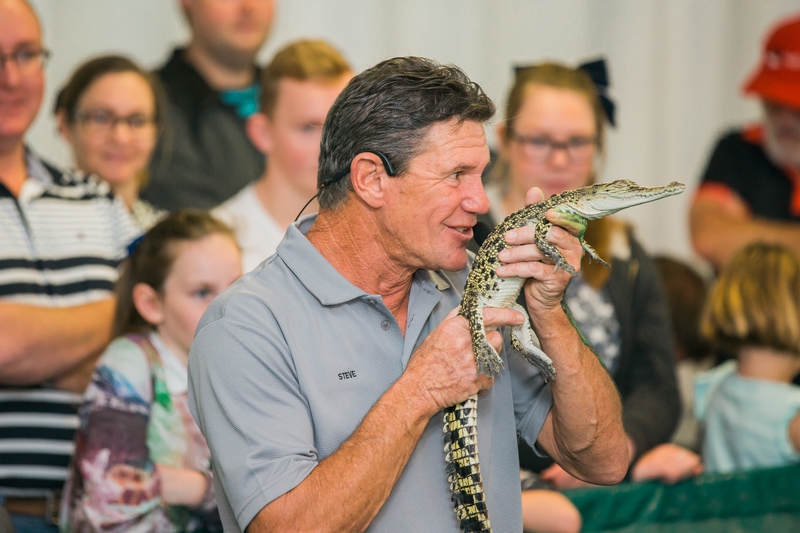 Steve McEwan with a baby saltwater croc. Reptile World is a very recently opened addition
In other developments, late 2018 saw the installation of a new virtual reality 4D Ride Simulator- the only one of its kind on the east coast of Australia. The simulator features four films that appeal to a broad range of ages. The virtual reality experience can be enjoyed by everyone from littlies (over 90cm in height) to grown-ups.
"The Racer", a Giant Glide and the largest of its kind in Australia was added in 2017. The Racer is over 80 metres in length with six lanes to choose from and a score screen which displays the riders' placement and time. Go Bananas Fun Zone was also added in 2017 and is the first and only Ticket Redemption Arcade on the Coffs Coast.
2015 saw the introduction of a huge Water Park which has proven to be very popular. The Water Park has four thrill slides and stands over four stories high and can be enjoyed during the warmer months of the year (closed May to August). The park, with slides and play areas suitable for all ages, not only draws a huge number of tourists annually but locals love it too; the Water Park has hosted countless birthday parties, work functions, fundraisers and school events since opening.
Shopping in the Heart of
Coffs Harbour
If you're seeking something a little less action-packed, you too have plenty of options with the World of Bananas Theatre and Tour experience, Ice-Creamery, Café, and Gift & Souvenir Shop. Not surprisingly, the shop boasts the biggest selection of banana-themed souvenirs in the world from banana water pistols, to banana flavoured moisturisers and keyrings and magnets galore.
The Big Banana is also home to the Opal Centre for someone looking to purchase one of our beautiful national gemstones plus, you'll find the Coffs Candy Making Kitchen on site.
The Cheesemaking Workshop and Deli is the perfect spot to try some delicious cheese with a rotation of over 300 Australian and international cheese! You can also learn to make your own cheese at one of the renowned on-site workshops.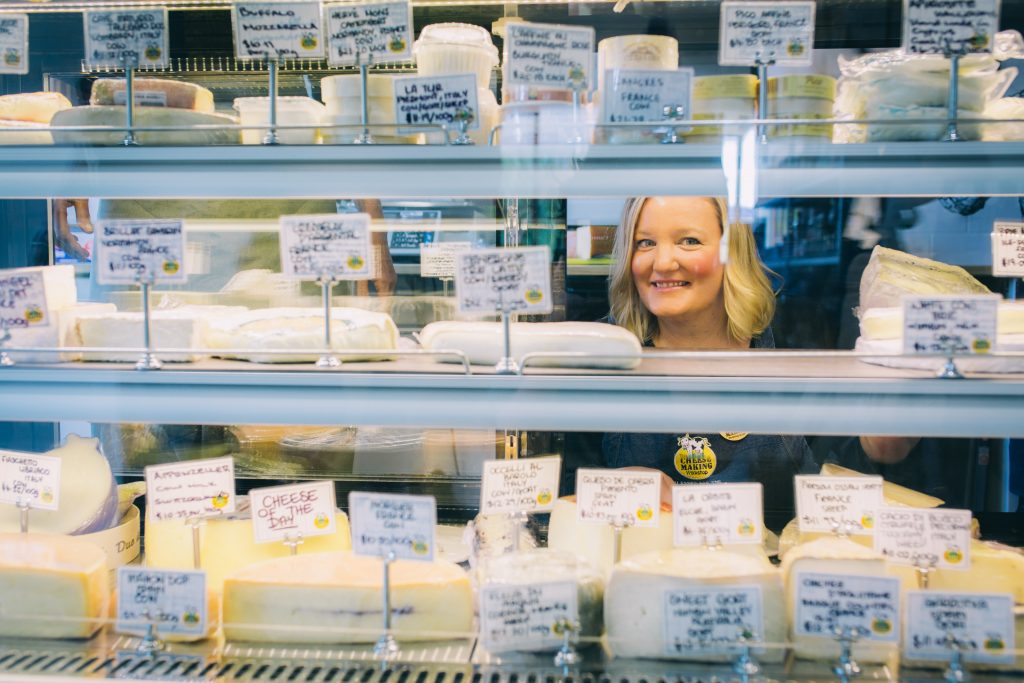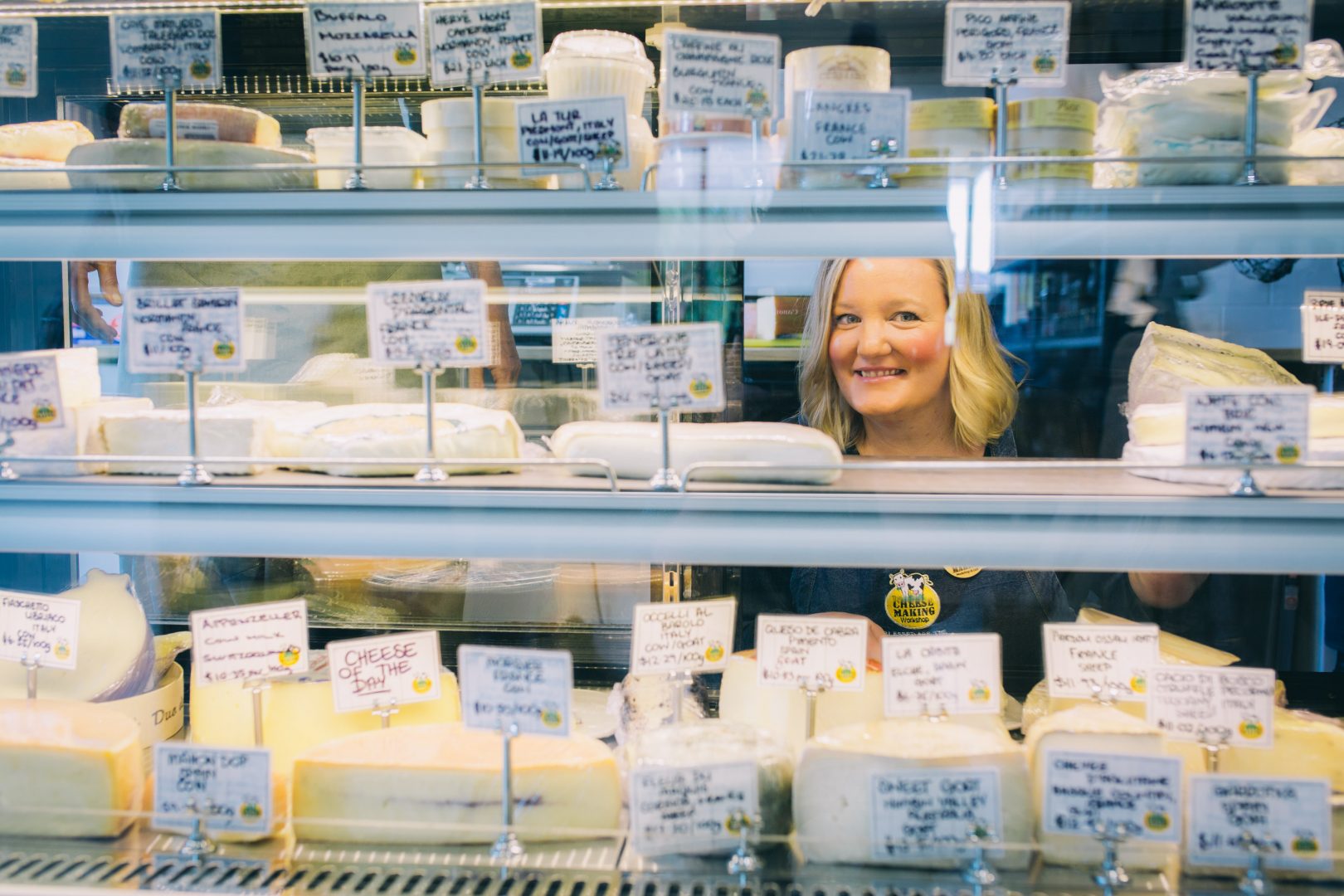 The Cheesemaking Workshop & Deli offers a rotation of over 300 cheeses
As you can see, The Big Banana really does have something for everyone and there is plenty happening behind that iconic piece of fruit we've loved for over five decades.
For more on The Big Banana go to www.bigbanana.com