The Best Places To Eat, Shop And Swim In Yamba
Coastbeat spent a day with local legend Angela Lagos-Jay who has lived in Yamba since 2006. The Project and Community Manager at Blanc Space took us on a tour of this slice of paradise and shared some of her favourite places to eat, shop and swim.
Breakfast
We meet at The Kiosk on Main Beach on a sunny August morning. In the short walk from the carpark to the Kiosk, multiple people wave and say hello to Ang. She has a chat with owners Shinae and Andrè and orders a coffee and a colourful Acai bowl. We take a front row seat under the blue striped umbrellas and gaze out at the sparkling ocean.
"I usually come down here with a book and have an hour of uninterrupted reading time," Ang explains. "It gets busier around 8 o'clock so there's always someone to have a coffee and catch up with!"
We watch the open water swimmers who make their way from Convent Beach to Main Beach every morning. Ang says she's never done the swim but enjoys the reliability of the early morning ritual.
"The view is incredible, the coffee is great, the food is great – it's the best way to start the day," she concludes.
After brekky, Ang bumps into some friends and takes a dip before going for a walk along the beach to the ocean pool.
Other cafes to check out: Good Days, Summi's, Pinewood Corner and Beachwood
Morning Tea
It's a two coffee kind of day so we pop into Yum Yum Angourie Cafe and General Store for the next round. Owned by Morgan and Chris, the cafe used to be in – you guessed it – Angourie, but is now located on Yamba's Coldstream Street. There are so many mouth watering home made cakes and biscuits to choose from and it's really tough to decide so we order two slices and split them. The general store at the back of the cafe is packed with fresh produce, sourdough bread, Brookie's Gin and other gourmet delights. Once again, Ang spots a friend (or five!) and has an impromptu catch up.
If you can't make it to Yum Yum, Ang also recommends Bowen's Delicatessen and Fine Foods.
Shopping
What to do when you're caffeinated and full of delicious food? A little retail therapy, of course! Yamba has no shortage of surf shops, clothing boutiques and homewares stores. Some of Ang's favourites include Belinda's Store for shoes and dresses, The Nook for second hand books, Kiss Kiss Bang Bang for vintage denim and tees, Willow Botanica for beautiful blooms and plants, and Revival for surf and skate basics as well as vinyl records.
Lunch
Believe it or not, we're hungry again so we link up with friend of Coastbeat Minya and head to BRGR Spot for lunch.
"This is the place for proper, American-style burgers and great cocktails," says Ang. "All of their produce is fresh and local – most of the cafes and restaurants in town support local growers."
BRGR Spot is owned by Simon and Sarah and has a fun, celebratory vibe. The burgers are seriously epic!
No tour of Yamba is complete without a visit to the Pacific Hotel, so we pop in for a cheeky after-lunch beer. Ang guides us to the front bar as that's "where the locals drink", leaving the ocean-view dining area for visitors and holidaymakers. The Pacific Hotel has been a northern NSW landmark since 1934. It holds court on the hill near the Yamba lighthouse and boasts coastal views as far as the eye can see.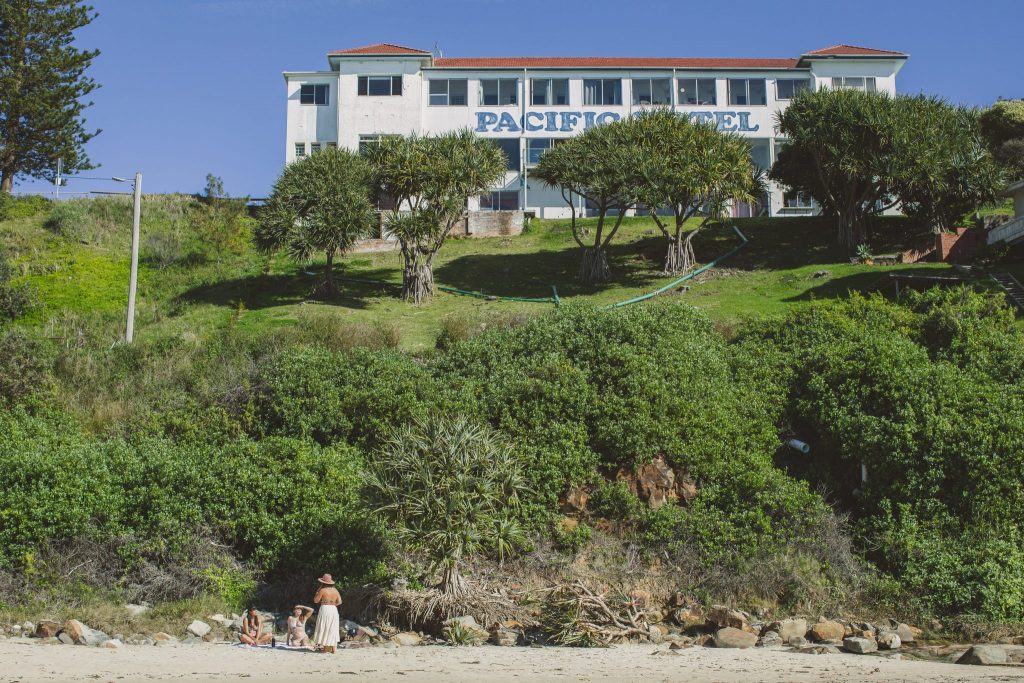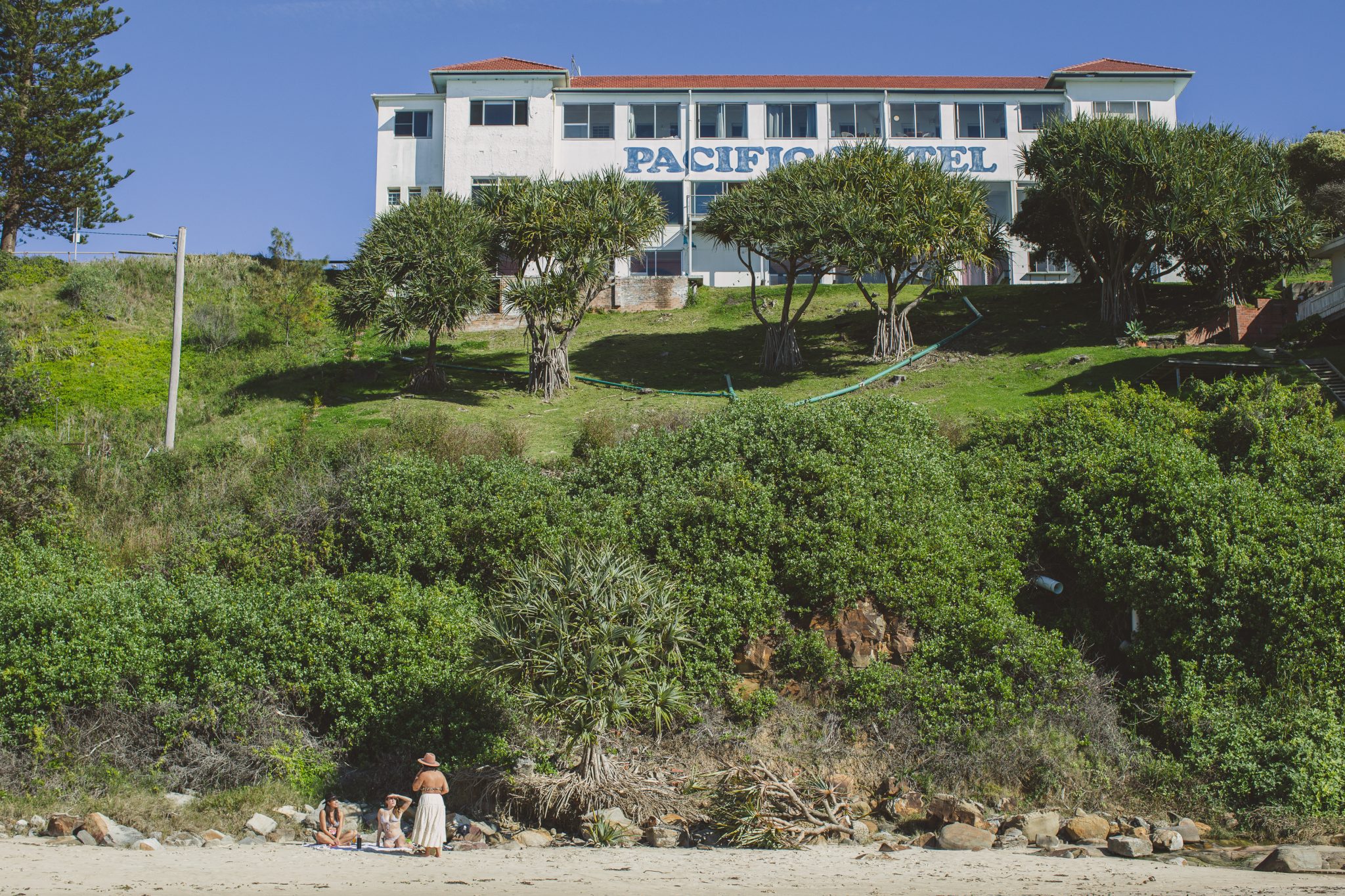 Dinner
After a little bit of admin at Ang's workplace Blanc Space and a few hours chilling at her riverfront home, we get dressed up and head back to Coldstream Street for dinner and drinks at Karrikin. This considered neighbourhood eatery used to serve the best brunches in town before owners Clare and Zac turned the tables and made it a night spot with an exciting and innovative menu. The seasonal dishes are made to be shared and are offered with exceptional wine pairings. Karrikin is currently focusing on a weekly four-course set menu featuring fresh, local ingredients and unexpected taste sensations.
If we'd been able to stick around for another night or two, Ang would have definitely taken us to Italian restaurant and bar BarBaresco as well as Drift Pizza Bar.

Want to explore another coastal paradise? Check out our list of the Top 10 Things To Do In Sawtell.

Build your Dream Home in
Sawtell Commons
A Natural Fit – Meet the New Owner of Go Vita
Naturopath Nalia Kirkaldy has long relied on natural remedies and supplements for her family's health. As the new owner of Go Vita Coffs Central, she's excited to offer the same level of care to all customers. Coastbeat chatted with Nalia about her passion for natural health and got some tips on how to fight cold[...]