The Able Disabled, Scott Doolan in the Himalayas
In the wake of personal tragedy, Scott Doolan began to rebuild his life with a focus on mental and physical strength. His goal to motivate and inspire others took him from Bowraville to Mount Everest and back again in a wheelchair.
With just 50 metres to go, he was flooded with a complex mix of emotions. The gruelling 10-day journey was about to come to an end – something he'd been longing for every excruciating minute of every day. Suddenly he was acutely aware of his spectacular surrounds: towering, snow-capped mountains as far as the eye could see and the sky a brilliant blue. It had been the hardest thing he'd ever done but now, he didn't want it to end. A crowd had gathered and watched on, silently willing him to the finish line. He placed one hand on the ground and supported the weight of his muscular, aching body then lurched forward onto the other hand. As he reached out to touch the pile of rocks in front of him, the crowd erupted into claps and cheers. He'd made it, it was done.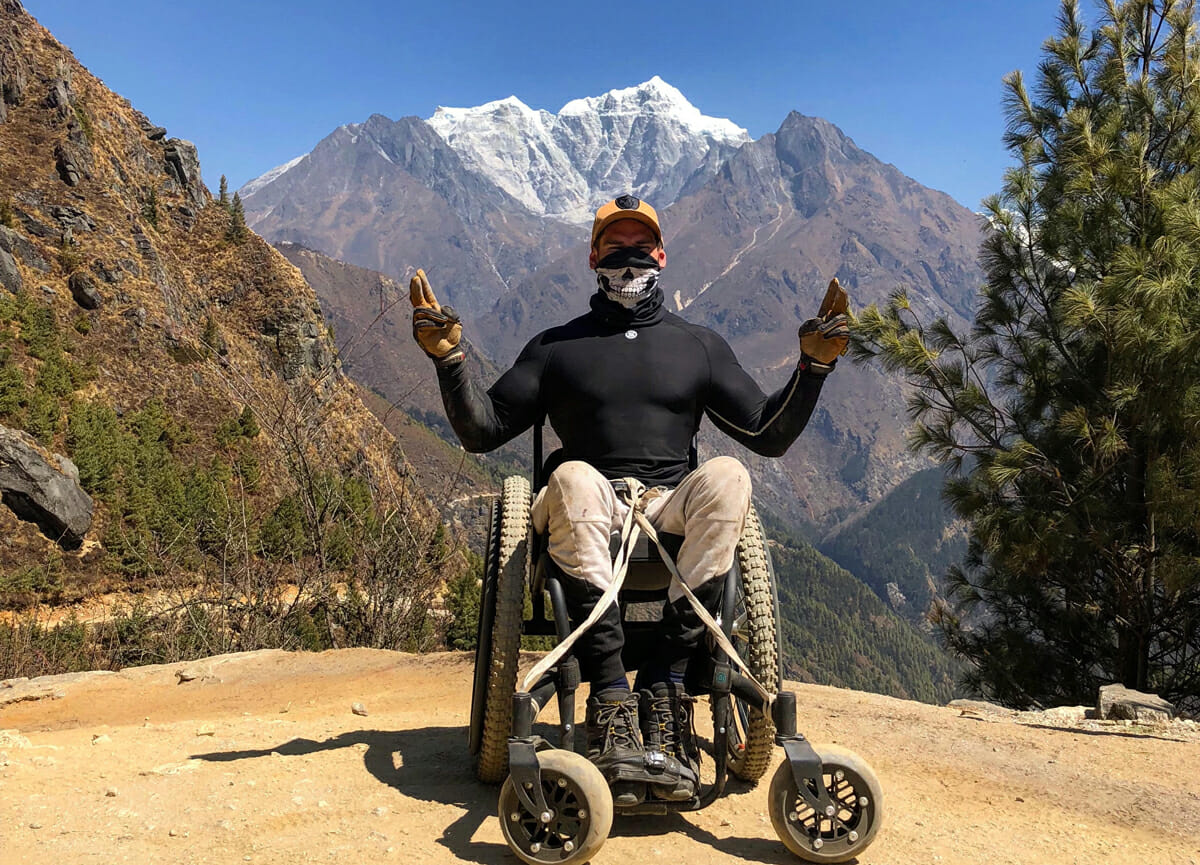 Scott ahead of the daunting challenge to reach Mt Everest Base Camp
29-year-old Scott Doolan had become the first paraplegic person to reach Mount Everest Base Camp with minimal assistance.
Scott grew up in Bowraville on the mid north coast and had a close group of mates. They rode motorbikes and played footy on the weekends. But one day all of that came to a tragic end. Riding his brother's dirt bike through the bush, 17-year-old Scott collided head-on with a ute. "I broke every bone in my body," he explains. "I was in intensive care for the first two weeks and once I was stable they moved me to a spinal ward for three months and then a rehab centre for another six months."
It was a dark time but one he remembers with clarity, including the conversation he had with his doctor about recovery. "I asked him straight out if I'd ever be able to walk again and he said there was a 99.9% chance that I wouldn't." This dire prognosis confirmed Scott's worst fears. "It was tough to hear, that's for sure. Part of me knew it was coming but I didn't think it would be that bad."
A major setback can often act as a catalyst for major change. A health scare might compel someone to go on a diet or quit smoking and a divorce could lead to constructive introspection and self-improvement. But Scott says he initially went in the other direction. "I got quite depressed and it took a few years to come back from that."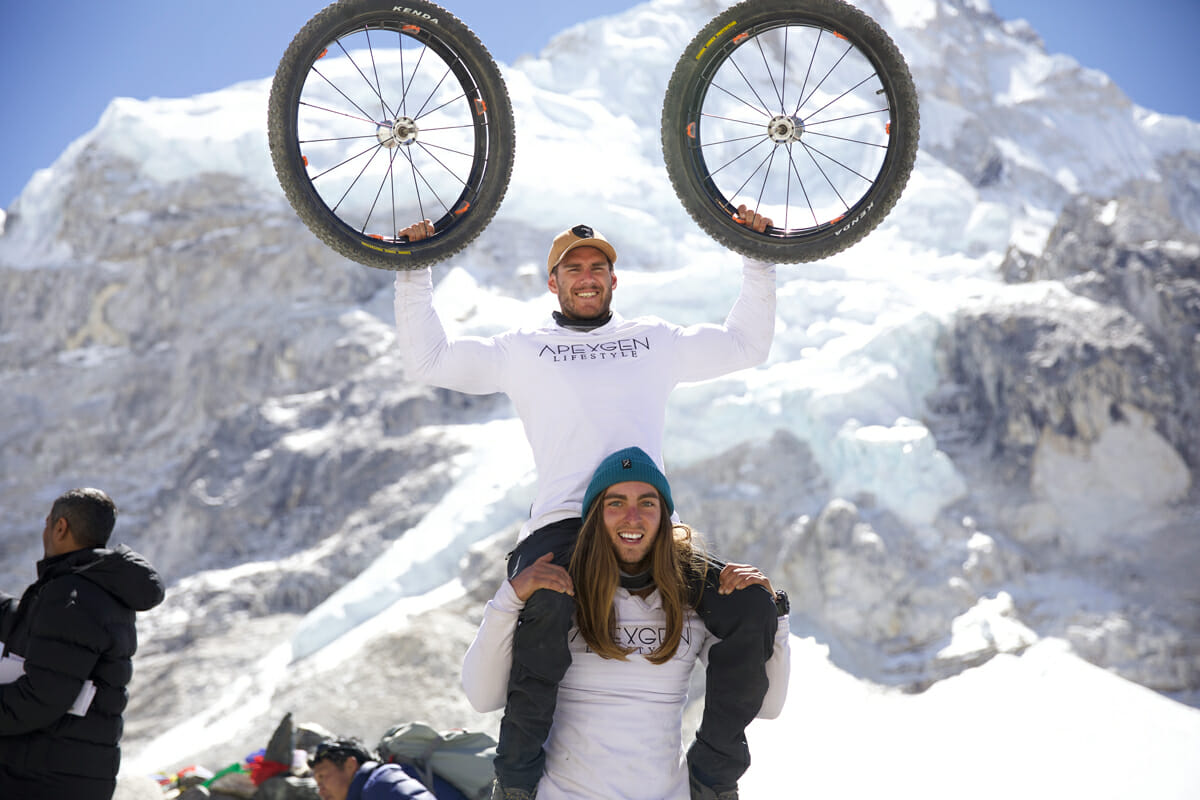 Scott Doolan and Matt Laycock – the dream team that resulted in Scott becoming the first paraplegic to reach Mount Everest Base Camp
He credits fitness for his return to mental wellness. "I started training at the gym before the accident and going back there helped a lot," he says. "The more I got into fitness, the more purpose I had. It got me out of the negative mental state and gave me a good mindset." Scott's mates did their best to keep him on the right track, refusing to cut him any slack or let him take short cuts. "They didn't look at me any differently and they made me work just as hard as I used to!" he laughs. "That gave me strength."
Eventually Scott felt he was ready to leave his home in Bowraville and made the move to Newcastle. It was there that he met Matt Laycock who told him about a company he was working to launch: Apexgen Lifestyle. He explained that the aim would be to promote mental health and wellness while empowering people to overcome adversity. They teamed up and began making short fitness videos that highlighted Scott's abilities. The videos gained traction online and received positive feedback. Buoyed by their success, Matt and his Apexgen Lifestyle partner Tommy Leung began working behind the scenes to pull together an extremely ambitious project.
"One day, completely out of the blue, Matt asked me if I wanted to go climb to Mount Everest Base Camp," Scott says. "I thought he was crazy and said there's no way I'm doing that!" Matt and Tommy didn't give up on the idea but allowed Scott time to think it over. "I sat back on it and talked to my family," he says. "At first mum said no but dad was supportive."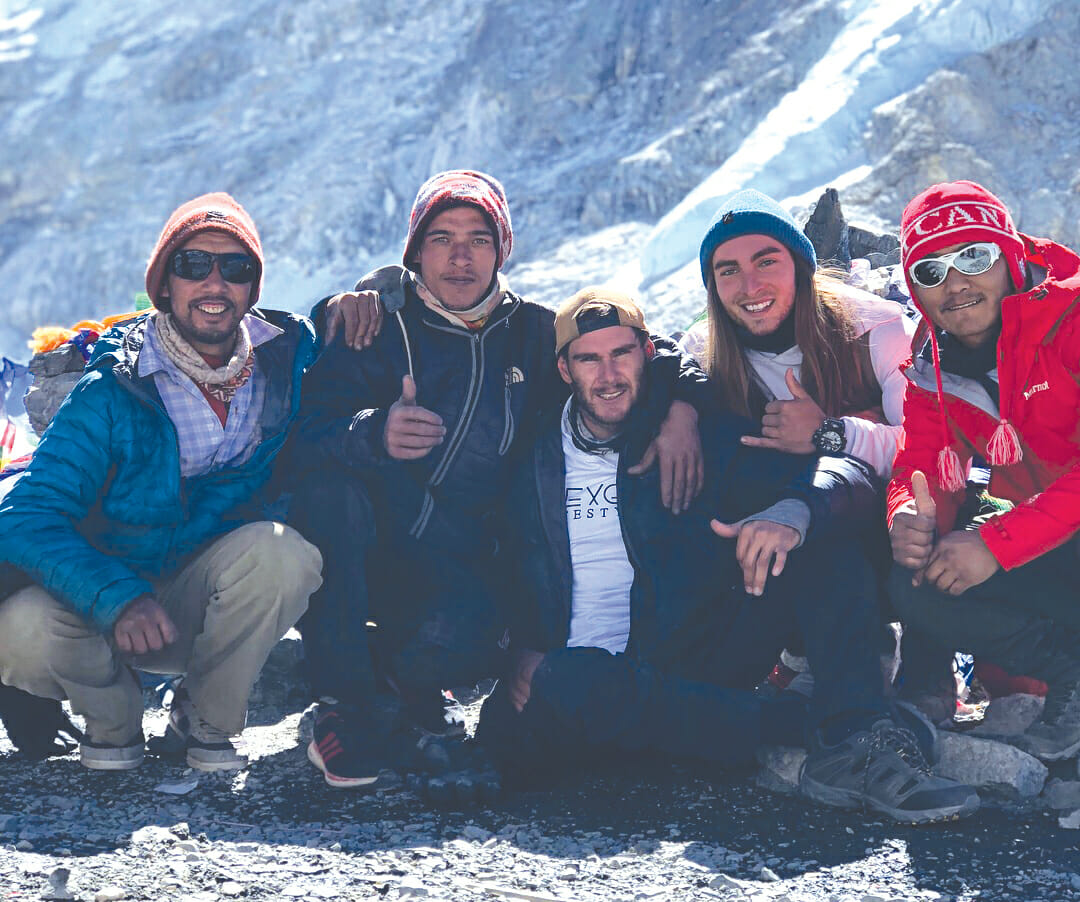 Scott's achievement owes much to his Sherpa Team including Dawa Sherpa from Blue Dragon Adventures (in red)
Eventually, Scott's realisation that such a massive feat could motivate and inspire others pushed him over the line and onto a plane bound for Nepal.
But it would take more than eight months of intense training before Scott was ready to make the trip. He pored over hundreds of photos and videos of Mount Everest to get an idea of what he was in for. Scott knew that the rocky terrain would make certain sections impossible to complete in his wheelchair, so he had to think outside the box.
"Initially I tried crawling on my hands and knees but that was too slow," he says. "So I asked one of the guys to grab my legs and I tried walking on my hands. We got a bit of pace and I thought, this could work!" Hikes in the Blue Mountains, oxygen restricting masks and sessions at a high-altitude training centre all featured in Scott's preparation for the climb. He was in peak physical condition and ready for anything. "But then I got over there, and it was a completely different ball game," he says with a smirk. "I definitely didn't think it would be as hard as it was."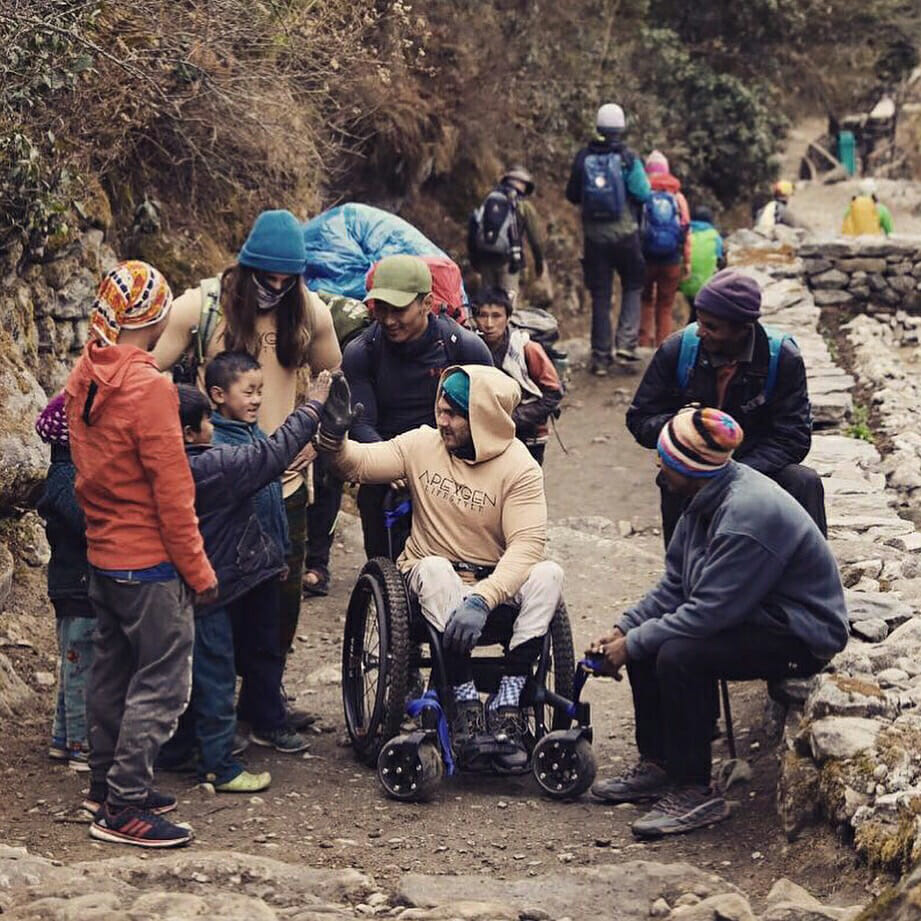 For Scott and Matt, meeting locals made the experience extra special
Once his journey began, the thought of giving up and going home crossed his mind many times but he focused on making it through one day at a time. "There were instances where I was taking too long, or I just couldn't go any further," Scott explains. "I'd jump on a Sherpa's back and they'd carry me to the next teahouse. It was definitely a team effort." But the climb took a toll on his body and left him with a fractured tailbone, chest infection and altitude sickness. Once Scott made it to Base Camp, a helicopter picked him up and transferred him straight to hospital in Kathmandu. Fortunately, he only needed to stay overnight and was able to celebrate his epic achievement the next day.
Even before he left Nepal, Scott was thrust into the spotlight. He was fielding interview requests from international media outlets and had strangers approach him on the street to say congratulations. Once back in Australia, the interview requests kept coming. Scott was booked to give motivational presentations and work on a documentary began.
Apexgen Lifestyle co-founder Tommy Leung says it was wonderful to watch Scott grow through that experience. "Seeing him speak to troubled teenagers and watching their reactions to his story has been so interesting," he explains. "Scott's had so many opportunities to inspire people and a lot of families have reached out to thank him."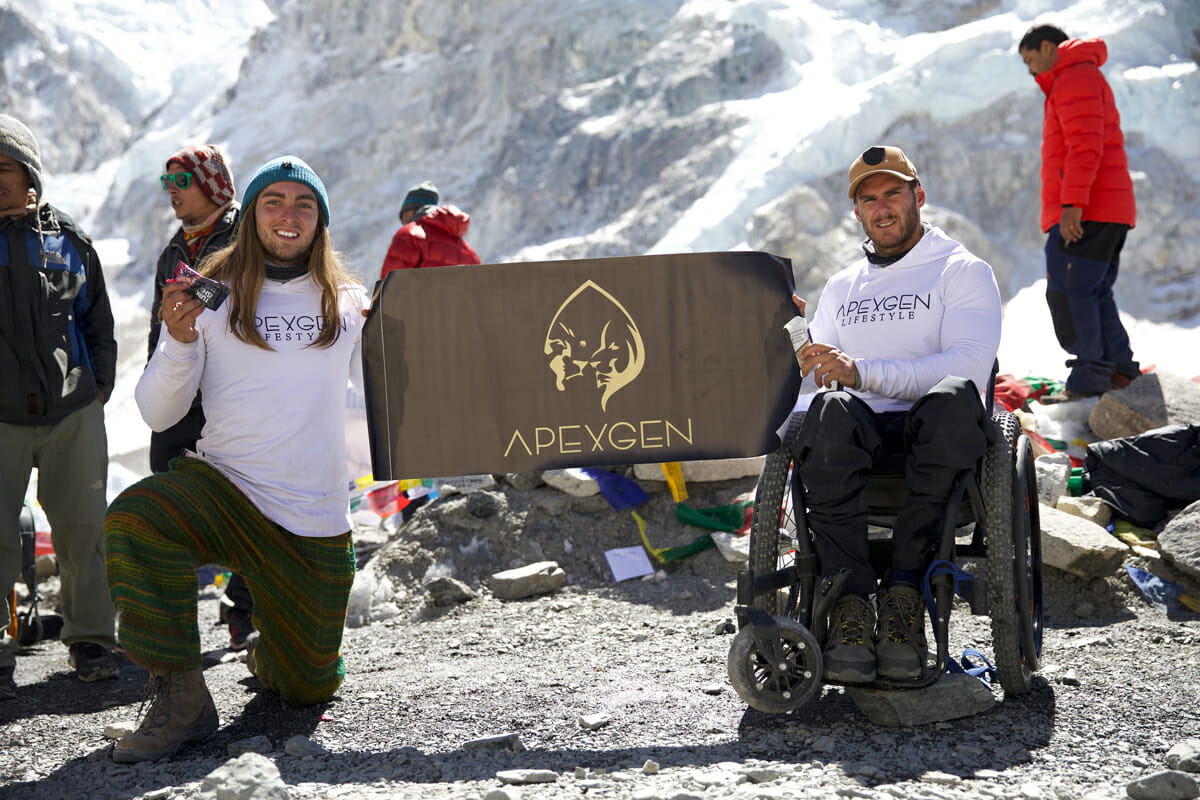 Scott hopes his incredible accomplishment will inspire others
The 'what next?' question comes up frequently and Scott has a few ideas. Mount Kilimanjaro tops the list followed closely by the 2020 Paralympic Games in Tokyo. "I'd like to play basketball at an elite level and the Tokyo games are definitely on my radar," he says. "But that's not for a few years so I think I could squeeze in another goal between now and then!"
Regardless of where he goes and what he does, Scott can rest in the knowledge that his story will continue to motivate and inspire people struggling to overcome personal challenges and rise above doubt.
Watch Scott reach EBC in 'Rise Above Doubt' at www.coastbeat.tv. Follow Scott @wheelyfit and Apexgen Lifestyle @apexgen.