The 8 Best Mountain Bike Trails on the NSW North Coast
We get an expert guide to the best mountain bike trails of the north coast.
Our region is home to many beautiful National Parks and State Forests which means outdoor adventures often top the list of things to do here. One of the fastest-growing activities in Australia is mountain biking and it's family-friendly too.
Countless mountain bike trails catering to all skill levels and taking in both bushland and coastline can be found across Coastbeat territory. We asked Scott Bocking from Woodseys Wheels to weigh in on the best trails.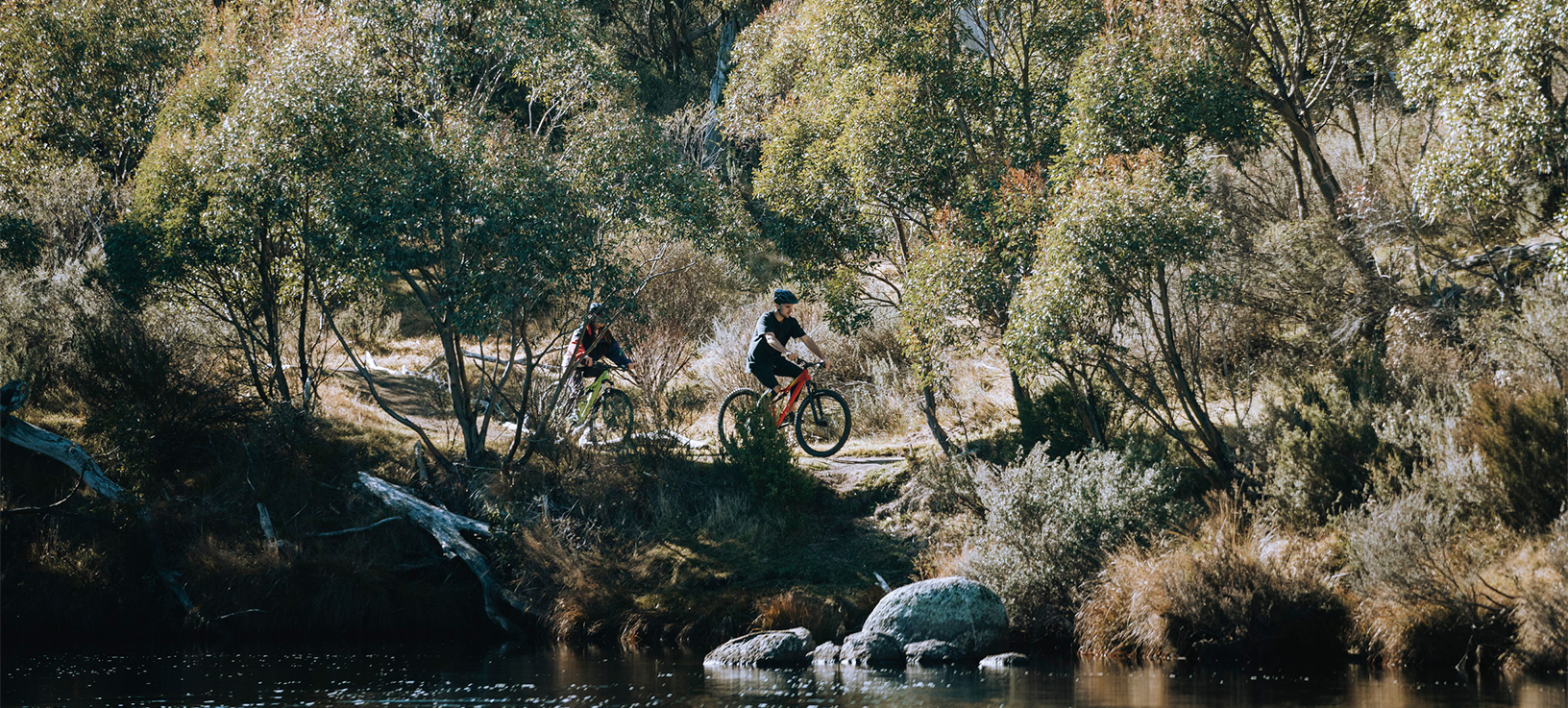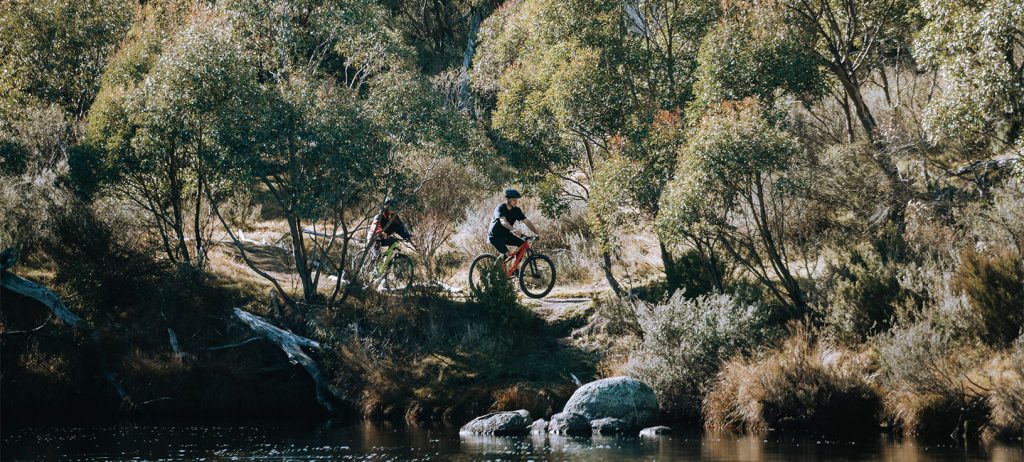 From north to south we have….
1. Kirrawak Mountain Bike Park, Taree
This park is within the Kirrawak State Forest on the southern side of Taree (about 10 minutes' drive from the heart of town). The extensive trails have been hand-cut.
Trailforks notes that many within the wider mountain biking community consider Kirrawak one of the best trail networks on the east coast. According to Scott, "Kirrawak is home to over 40 kilometres of single trails, rated from beginner through to expert. It's suitable for families and experienced riders."
2. Jolly Nose MTB Park, Bonny Hills
Jolly Nose Mountain Bike Park is within Queens Lake State Forest in Bonny Hills, about 20 minutes south of Port Macquarie. The park has around 60 kilometres of trails.
Scott tells us that Jolly Nose is best known for its gravity trails (downhill trails for the novice). "These trails can also be accessed using vehicles, allowing for more downhill riding and less climbing. It also has a vast cross-country network for those that want to pedal full loops."
3. Kalateenee Mountain Bike Trails, Kempsey
Head to the Kalateenee State Forest to access 20 to 25 kilometres of trails. You'll find them just a few minutes from the centre of Kempsey, behind the golf course. Scott likes Kalateenee for its varied terrain from rocky, steep trails to smooth, fast-flowing single track – all serviced by easy parking., the gold club and good facilities.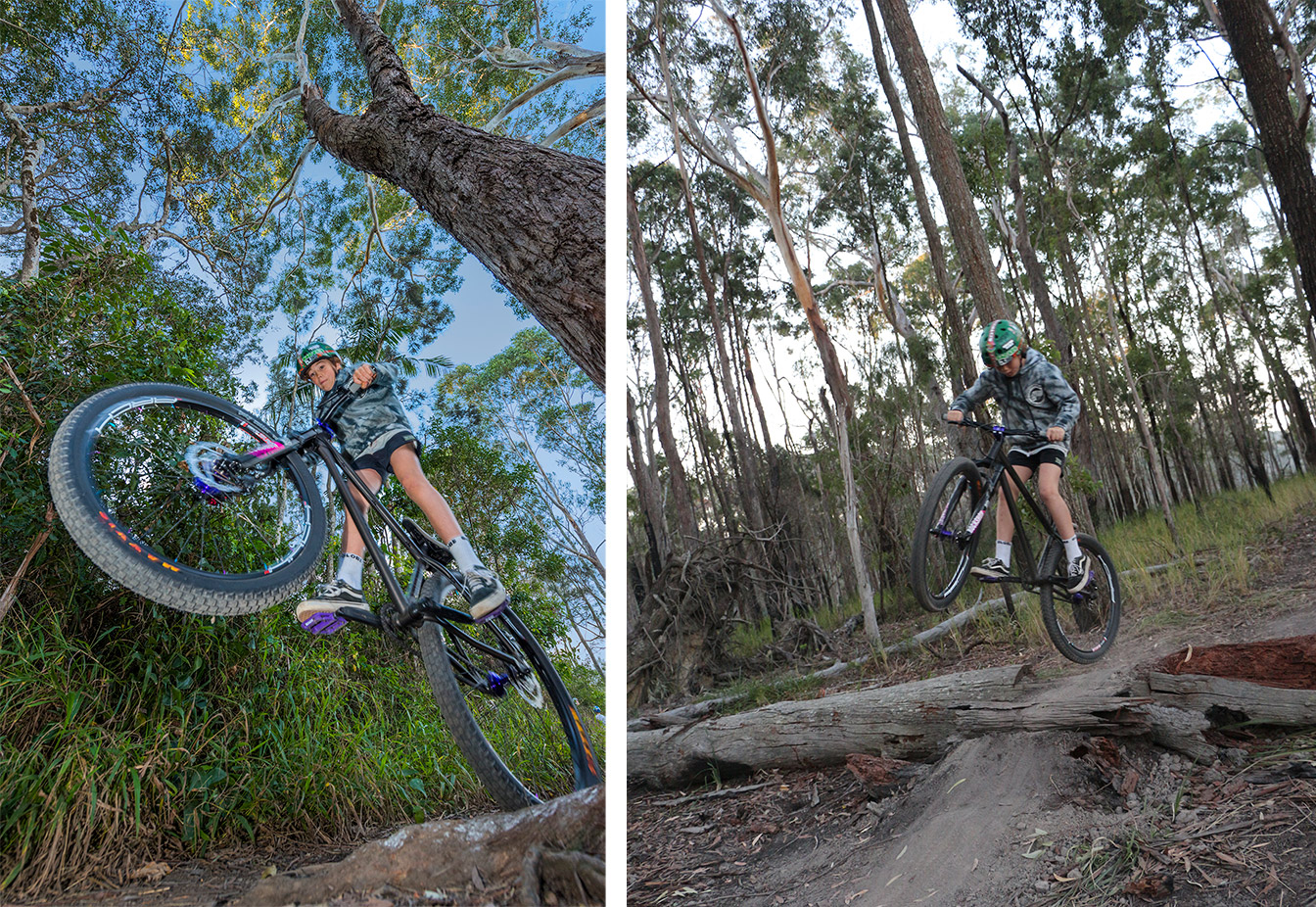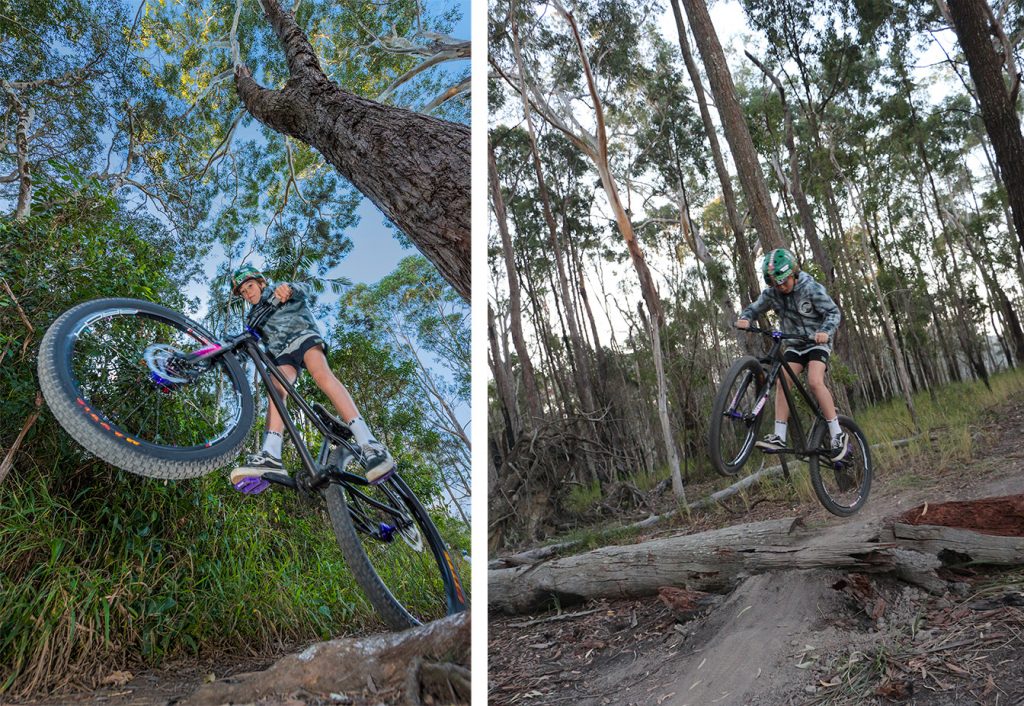 4. Pine Creek State Forest, Bonville (Cows with Guns)
This is the original MTB network on the Coffs Coast. Located to the south of Coffs Harbour in Bonville, Scott describes it as "twisty, turny rainforest single track. It is a family-friendly spot with the Cows with Guns Trail probably the best known within this signature network. Trailforks recommended it as a great introductory track.
5. The Sawmill, Pine Creek State Forest, Bonville
Also within Pine Creek State Forest is The Sawmill. This loop is considered slightly more challenging than Cows With Guns. Scott's view? "This 10km loop is renowned for its flowing, twisting luge style single track – it's one of the favourites for the Coffs locals and is appreciated for its flow, and for good reason too."
6. Wedding Bells State Forest, Woolgoolga
Wedding Bells State Forest is located to the west of Woolgoolga. 'Woopi' as it's known locally is a beachside village about 25 minutes north of Coffs Harbour. Scott enjoys this location for the differing terrain it has to offer. 'Wedding Bells has much more elevation than other ride locations on the Coffs Coast thereby delivering longer trails and more variety."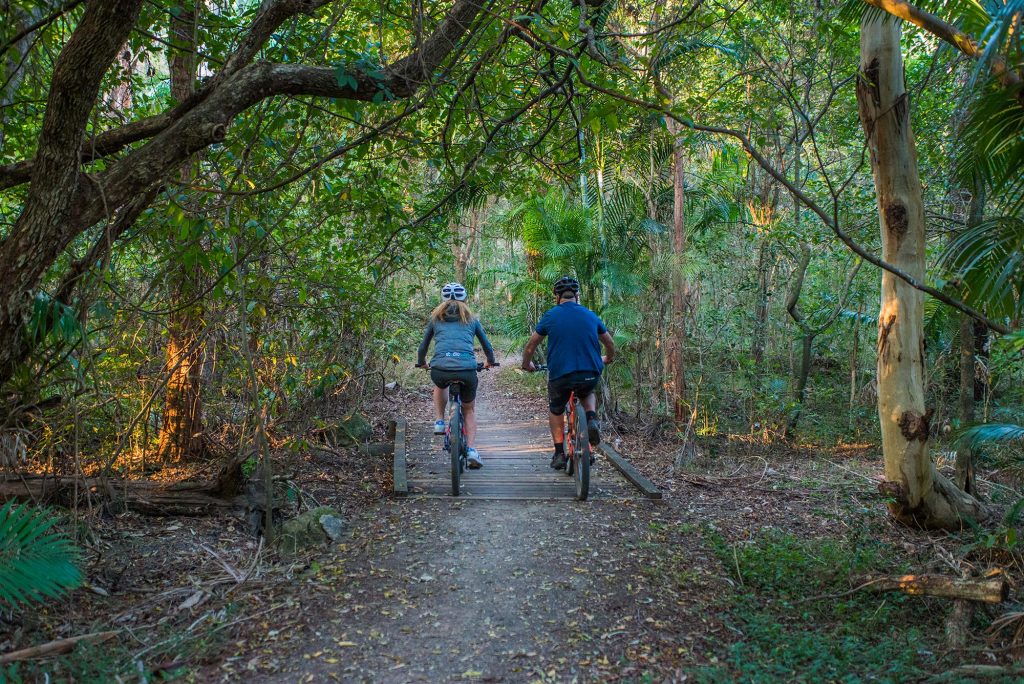 7. Bom Bom State Forest, Grafton
Located 5km south of Grafton, this State Forest is home to 30 kilometres of single track. Scott describes the open eucalypt of Bom Bom as ideal for beginners and those of intermediate skill, plus it's great for families. "Bom Bom can be enjoyed by all levels of riders and hosts many events through the Grafton Cycle Club."
8. New Italy Mountain Bike Park, Tabbimoble
Head to New Italy on the Pacific Highway about seven kilometres south of Woodburn to access these trails. Looked after by the Northern Rivers Dirty Wheels Mountain Bike Club, New Italy is an extensive single-track network catering to all levels. Scott makes specific mention of the great man-made structures such as wooden bridges and log rides.
Please note that due to the devastating bushfires in the region New Italy Mountain Bike Park is currently closed but passionate volunteers are working hard to get everything ready once more.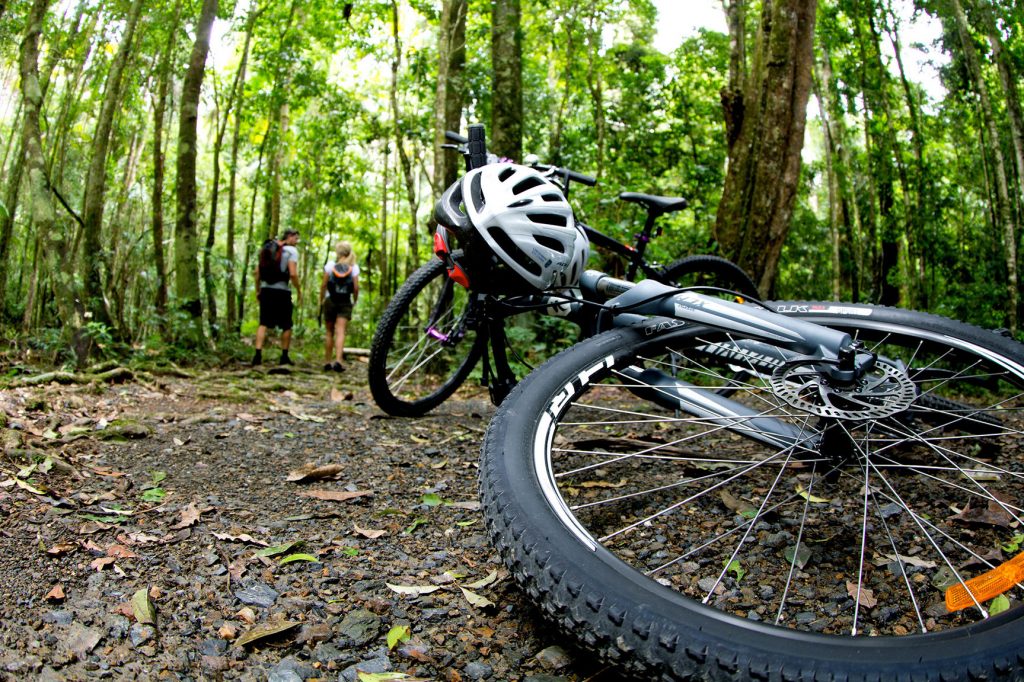 Weather conditions and info
I asked Scott, given the usually wet weather we've had on the coast in recent weeks, how challenging mountain biking is at present. Scott tells me that most keen mountain bikers will ride with the conditions. "With the rain, we've just had of course trails will be wet and muddy but it's best to check with the local clubs via their Facebook pages. Simply post a question about the condition of the trails and someone in the know will get back to you."
Get the app, carry your phone
Trailforks is a must. "This is the resource everyone should have as an app and it's important to always have your phone on you when heading to any of these networks so that if you do get disorientated, you can easily find your way back to the main trail," says Scott.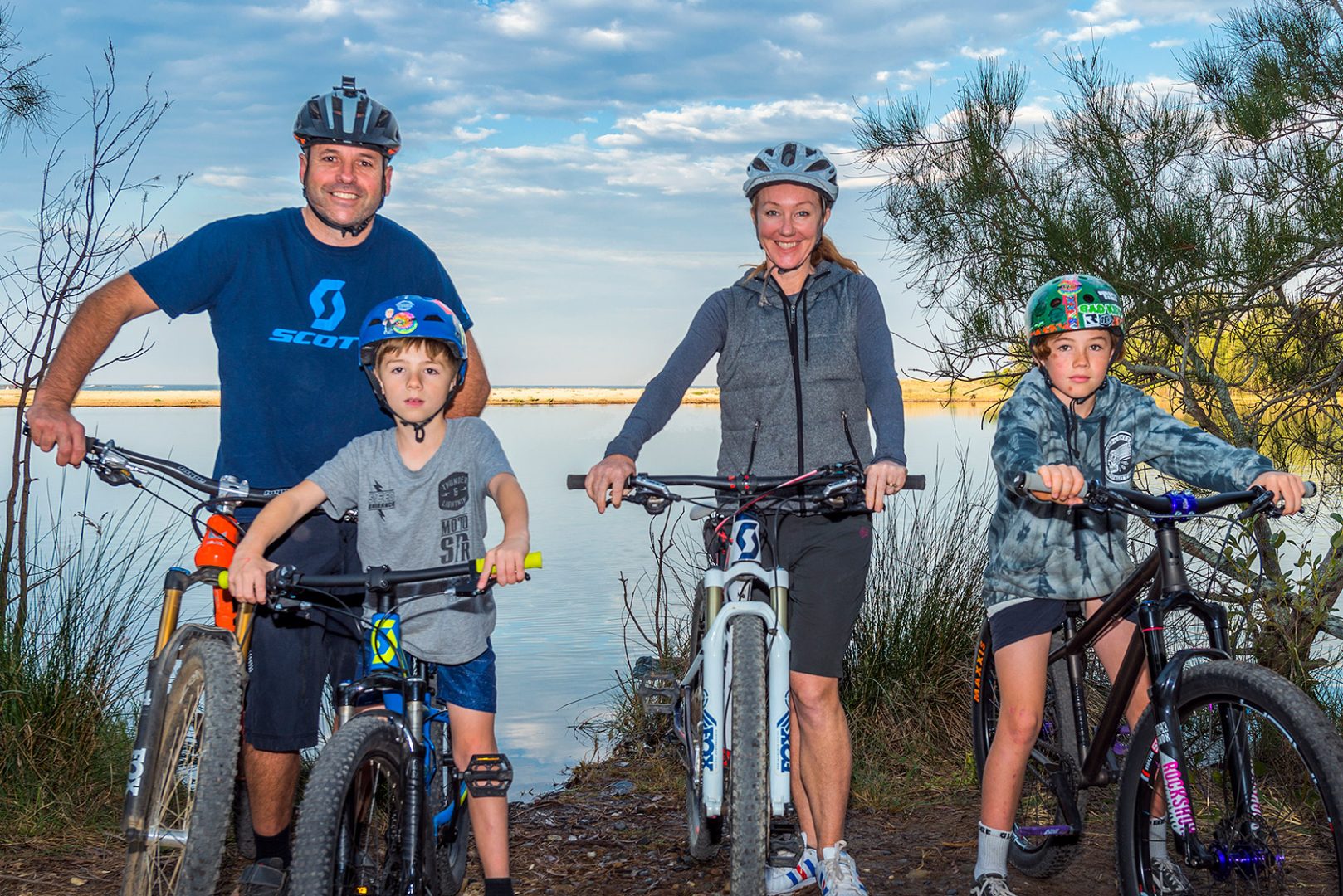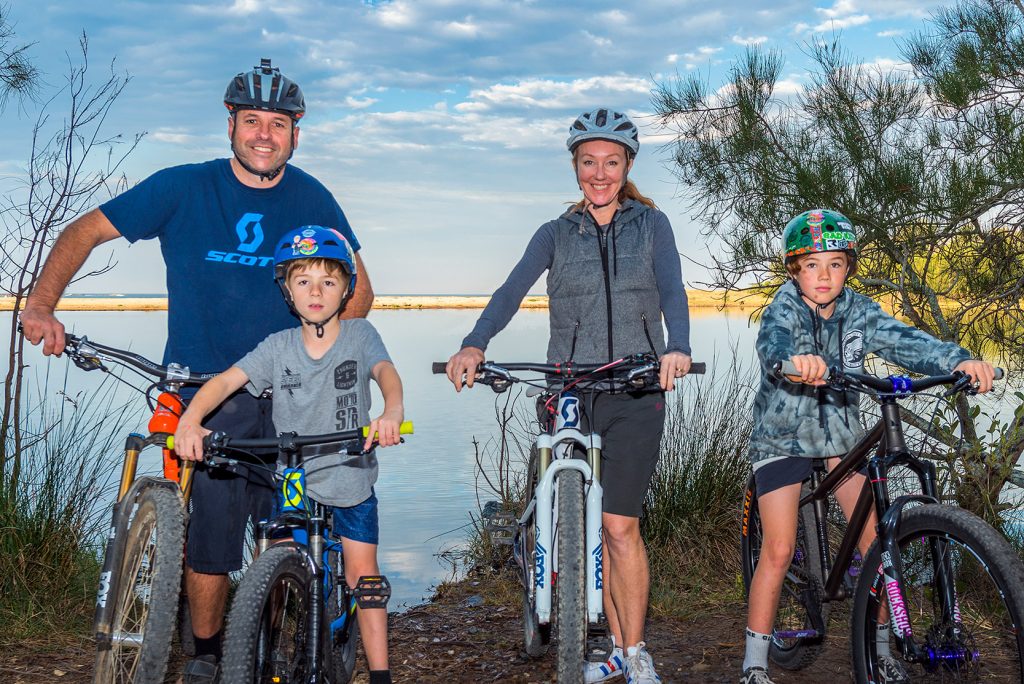 A bit about Scott
Scott Bocking has always loved bikes – so much so he even bought a bicycle shop in Woolgoolga a few years ago. He has two decades of experience in the bicycle industry. Having ridden some of the most exotic MTB destinations on the planet, these days he loves nothing more than exploring local trials with his family and friends. Read about his family day out here.
Scott is also an integral part of the bcu Woolgoolga MTB Festival which launched in 2018. It takes place in August each year. Find out more here.