Coffs Coast Surf Seekers
The Coffs Coast stretches from Hungry Head to Red Rock and is jam-packed with nature reserves, striking headlands and of course, beautiful beaches. Camping only metres from the surf in one of the many holiday parks along this spectacular coastline is a rite of passage for many Aussie families. Coastbeat writer Kirk Owers takes his family on an Autumn road trip in search of the best waves…
You never forget your first surf trip. Mine was at the age of 11 to a magical place called Moonee Beach, just north of Coffs Harbour. It was the '80s and my brother and I were salty surf rats decked out in the latest fluoro shades. We camped for a week and scored many a wave by taking a short walk from our campsite across the estuary to the beach.
Photos from the trip show us surfing, whacking cricket balls and eating watermelons bigger than our heads. Fast forward and it felt very satisfying to return to the region, chasing the waves with my own young family in tow. Having already Googled the area, my two boys knew the best spots and were eager to surf them all. We pitched our tent at BIG4 Sawtell Beach Holiday Park; a great base for daily surf checks and enjoying the relaxed vibe of Sawtell village.
Perfect surf is a very subjective matter and it can be tricky to find waves to suit a multi-generational clan. The selection of surf breaks on the Coffs Coast is exceptional, ranging from safe 'shoreys' for beginners to challenging breaks for the pros. We used a handy guide book (Mark Warren's Atlas of Australian Surfing) to get an overview but made our best discoveries independently. Few things beat the thrill of rounding a corner or topping a headland to find perfect uncrowded waves peeling off.
We'd had a great surf at Macauleys, a popular spot for surfing competitions, and were slurping banana smoothies when the sound of an old Kombi twanging towards the harbour's southside caught our attention. We decided to investigate and soon pulled up at a rise overlooking an offshore-groomed beach. Our guide book described it as a spot that "sorts the boys from the men" but on this day Gallows was head high and the perfect canvas for gliding on a longboard or practising shortboard manoeuvres.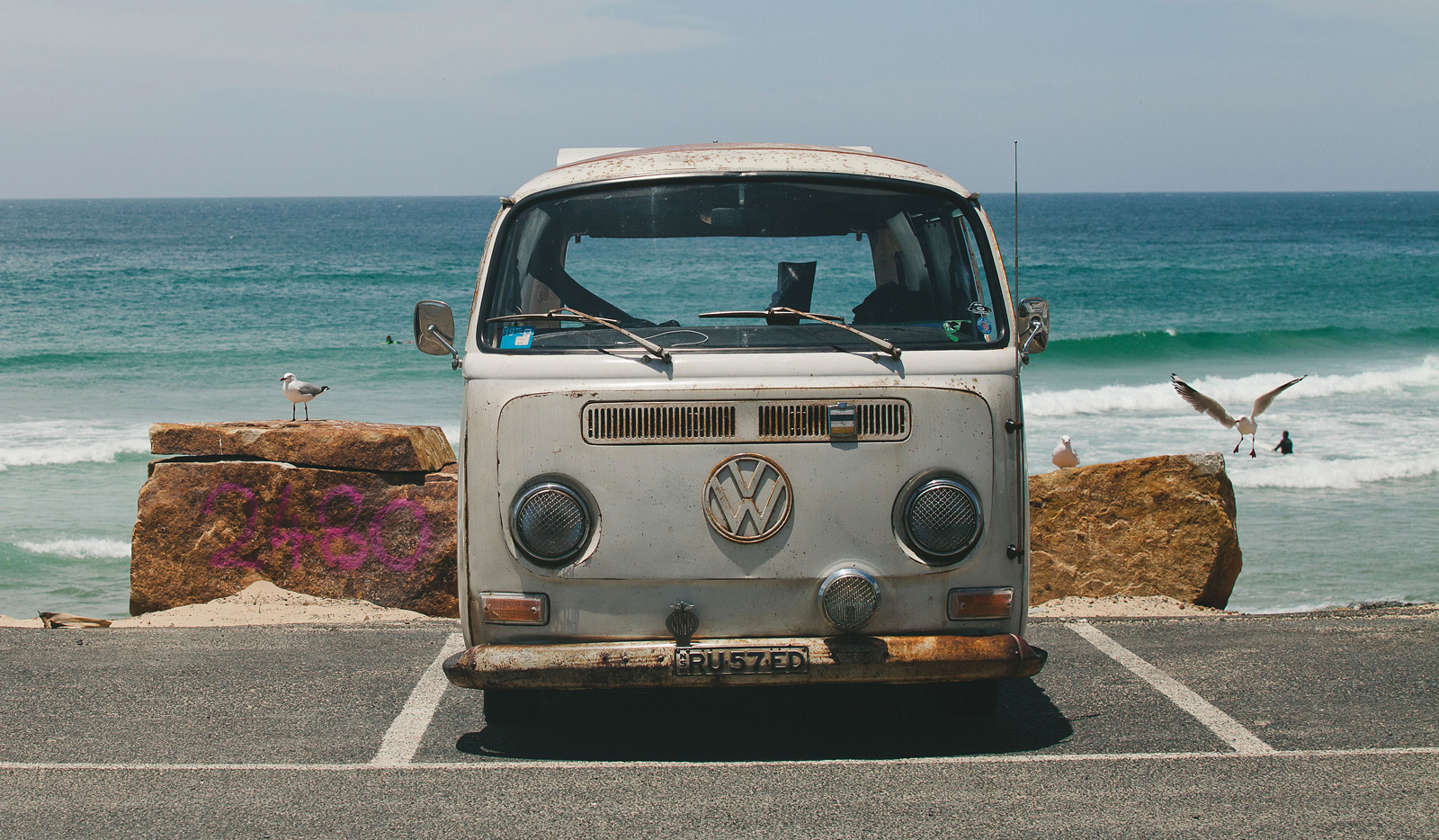 The perfect spot to catch up on some reading
We surfed for hours, splitting sets with friendly locals who shared local surf lore and exuded a sunny vibe. My wife joined us and we had the whole family out together, a rare treat. Afterward, we hit the local skate park (Brelsford Park) in the heart of Coffs and watched some talented locals perform kickflips and nose blunts.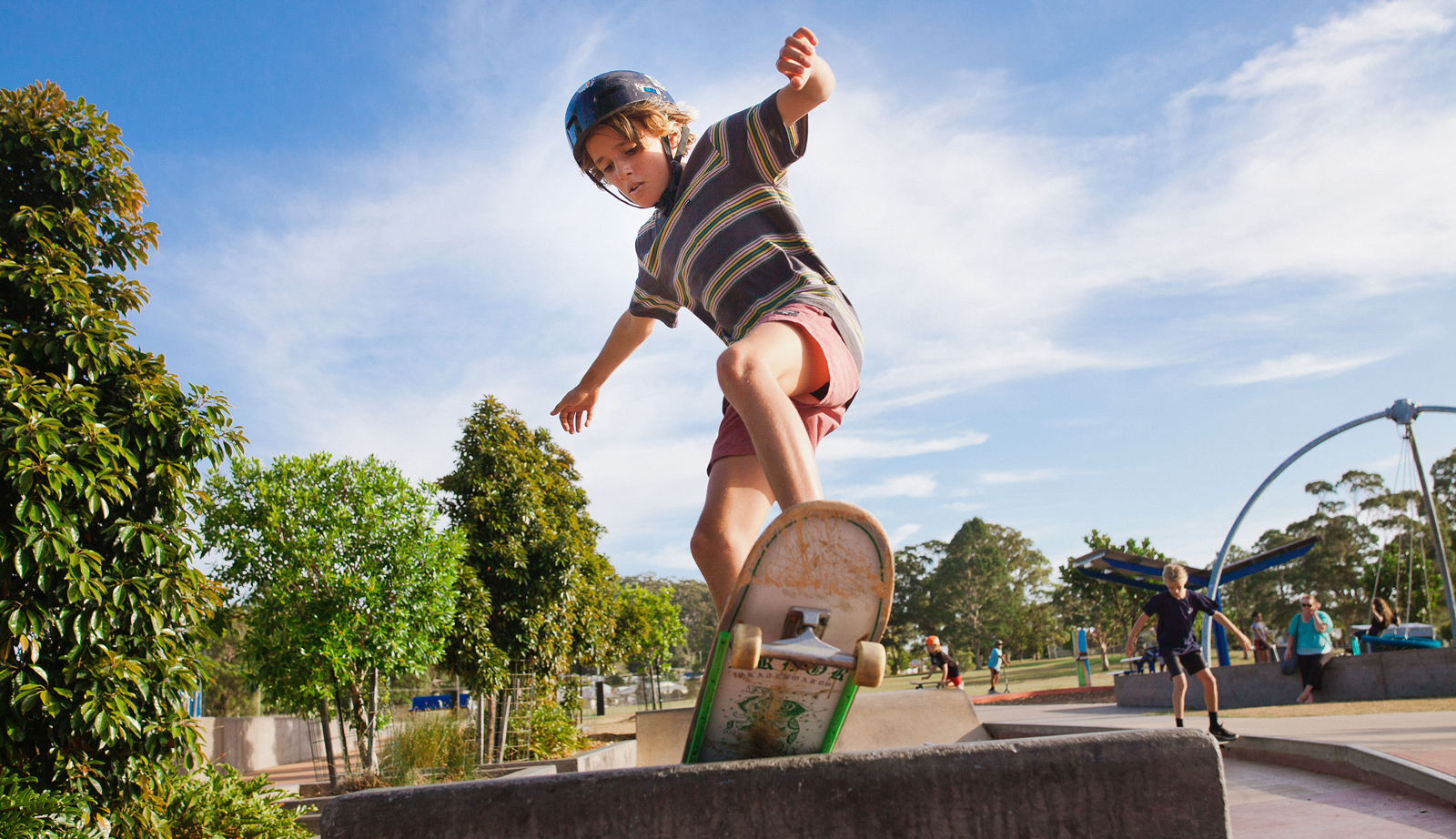 Gusto Skating at Brelsford Park
That night we dined at Lime Mexican in Sawtell. The place was packed, live music spilled over from the bar next door and we were lucky to get a table. Sawtell's eat street is a beauty; the median strip is lined with enormous fig trees which throw shade across a string of restaurants, cafes, bars and an indie cinema. Best of all, it's walking distance from our campground so we could waddle home full of beans, beer and good cheer!
On our final day, we found another great wave right in our backyard. Sawtell Island shields winds from most directions and its sandbanks are regularly topped and sculpted into shape by an estuary which runs out on both sides of the island. We surfed with a small crowd, made some new friends and logged some more memorable rides.
Gusto making the most of the surfing road trip
Packing up to leave was hard but we consoled ourselves with the thought of a return. Our next trip would definitely have to be longer. On the drive home I reminisced about my first visit to the Coffs Coast and reflected on how the experience awakened my life-long passion for surf exploration…and I wondered how my own kids would remember this little adventure 30 years from now.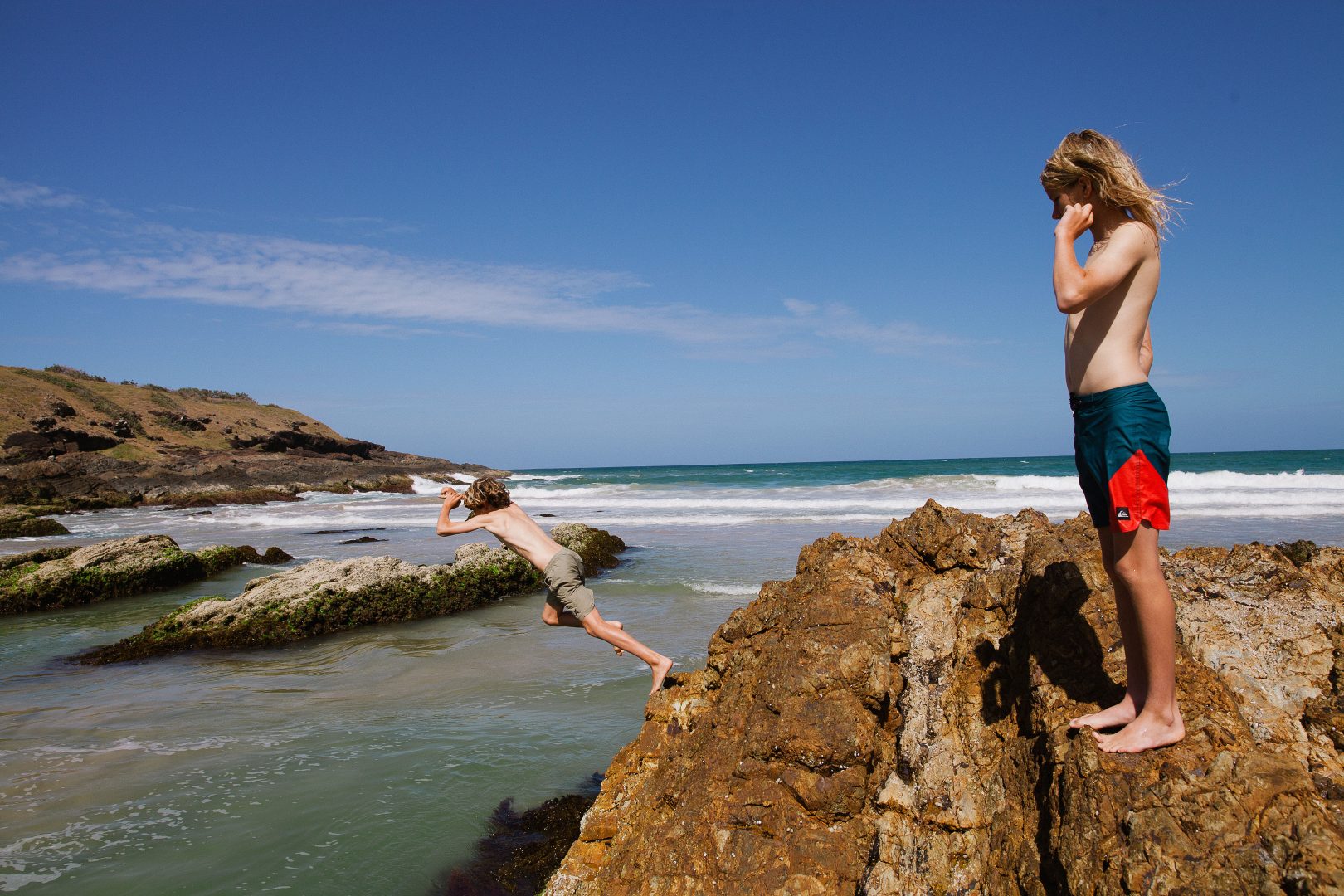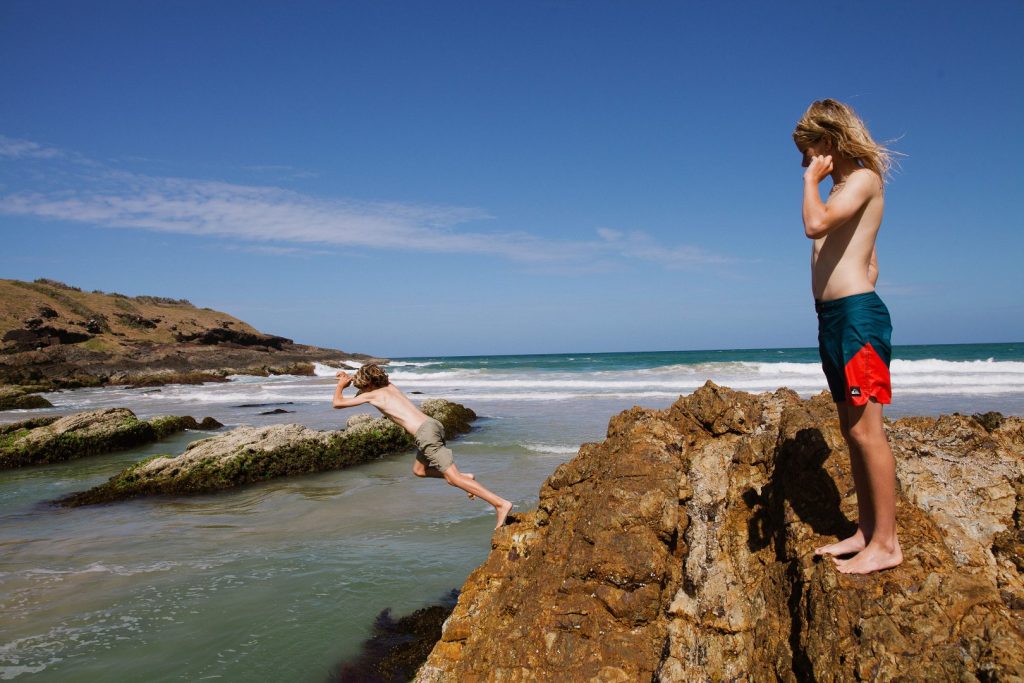 The Coffs Coast's Best Waves
Arrawarra – A long measured right-hand pointbreak. Best on a SE swell and a SW wind. Ideal for longboarders and learners.
Moonee Beach – A beautiful beach break reached by a tree-lined walkway. Best in small SE swells.
Macauleys – Located just north of Coffs this classy beach break is protected from the NE sea breeze and often has high-performance waves.
Gallows – Handles big challenging swells (thus the name) but can be super fun on smaller NE swells.
Sawtell Island – Great point-style waves can be found on either side of the island which protects the waves from most winds.
For more information on these locations, visit coffscoast.com