Striking Sculpture Completes Coffs Central Collection
A striking wooden sculpture at the Gordon Street entry to Coffs Central completes the centre's Sculpture & Artwork Trail. Divestments 4 by Tony Davis is the twelfth and final addition to the collection purchased by managing director of Gowings, John Gowing.
When he attended the 2017 Sculpture by the Sea exhibition, John was struck by the beauty of the works. He wanted to bring them to Coffs Central to give more people the opportunity to see them. 
"As a supporter of the arts, Coffs Central is proud to provide a curated experience in centre," John says. "Visitors can navigate the trail and admire the sculptures."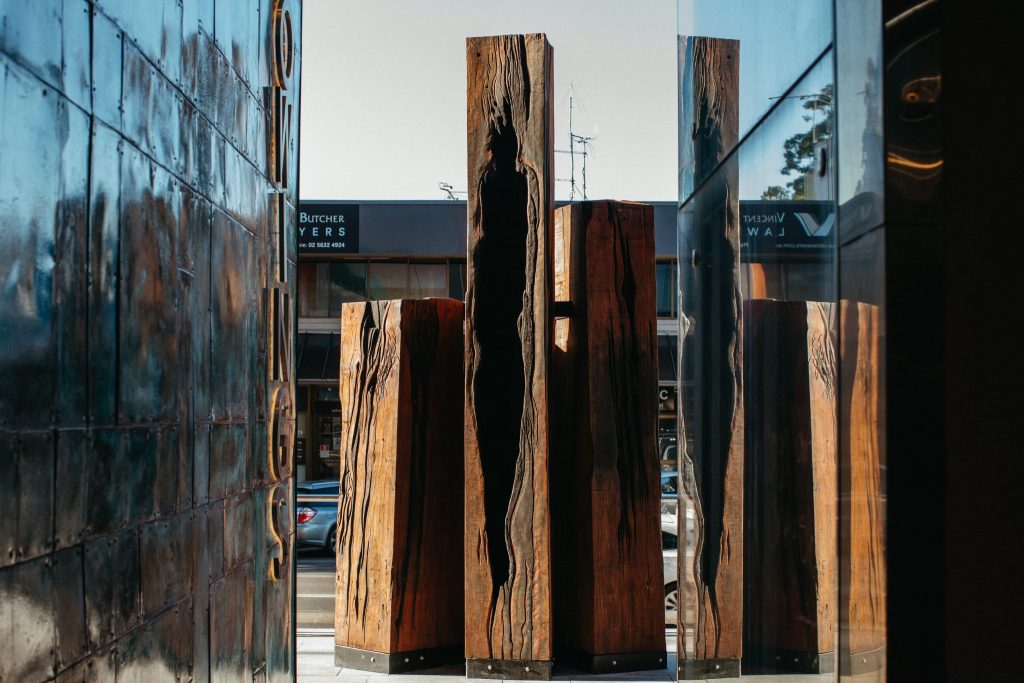 Bringing Sculpture by the Sea to Coffs
The exhibition in Sydney and Perth is the largest annual free-to-the-public outdoor sculpture exhibition in the world. An estimated 750,000 visitors celebrate the work of Australian and overseas artists in Bondi and Cottesloe each year. John Gowing's acquisition brings Sculpture by the Sea to the Coffs Coast and ensures it can be enjoyed by locals and tourists for many years to come. 
Weighing approximately three tonnes, Divestments 4 features four dark timber beams of varying heights. During installation, workmen from Sanco Projects encountered a crane pad from previous construction work. They needed to excavate to a depth of three metres to find natural ground which was nearly triple the original depth. This sculpture will stay secure for many years to come after almost two truckloads of cement were added to the footings.
Take the Sculpture & Artwork Trail
The Sculpture & Artwork Trail also features artworks Finn the whale by Coramba artist Stefan Bruggiser. Finn is made from locally sourced spotted gum and steel and is a stunning inclusion in the centre. Finn was commissioned by the Gowings Whale Trust.
Everyone is welcome to visit Coffs Central and view the sculptures and artworks. A printed guide is available free from the concierge desk on the ground floor. The Sculpture & Artwork Trail represents a $600,000 investment in Australian and international art.