Stone & Wood Brewery Byron Bay – see what's at the heart of this conscious company
Note:
Stone & Wood are proudly supporting the NSW Rural Fire Service and will be donating $10,000 to help the amazing work RFS are doing in fire impacted regions of our state. Support Stone & Wood's efforts by buying online – $2 from every carton purchased from their website will go toward bushfire relief fundraising. Find out more here.
---
I step inside Stone & Wood's massive 1160 metre square steel and timber complex in the Byron Arts and Industry Estate and it's a hive of activity. The large indoor/outdoor seating area is beginning to fill up, staff are manning the main bar and delicious lunchtime smells are wafting from the canteen (run by 100 Mile Table). People are going in and out of the tasting room, staff are hard at work in the offices and 31 huge brewing tanks are whirring away.
It's a far cry from the humble "shed" around the corner that Stone & Wood quickly outgrew. When the time came to move into a bigger space, the company's directors made a conscious decision to a stay in Byron Bay instead of outsourcing their growth and having beer contract-brewed.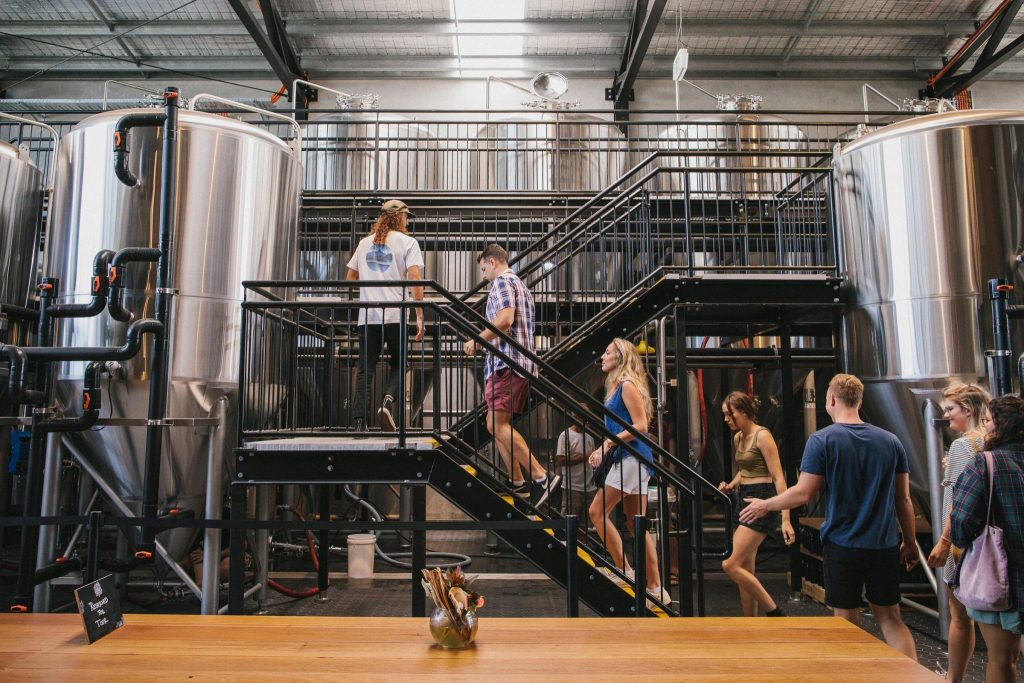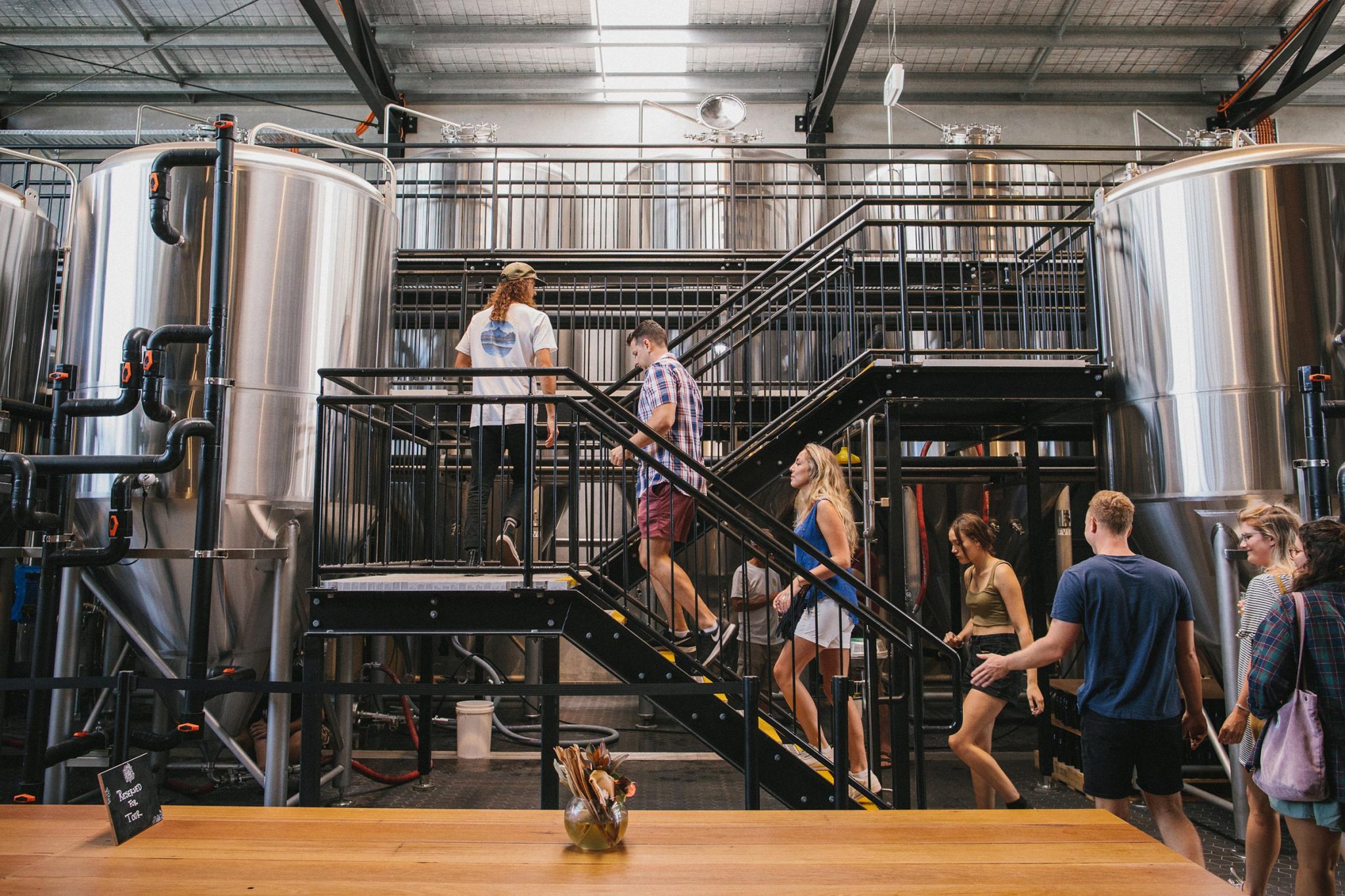 Stone & Wood's beers are perfected in massive brewing tanks
Local and independent
It's a thread that runs through all of their decisions and operations. Proud to be local and independent, Stone & Wood believe it's their responsibility to have a positive impact on the community they live and work in. This becomes clear as the brewery tour begins.
Today's group includes a couple from the Gold Coast, a trio of travellers visiting from the UK (including two women who are back to do the tour for a second time!), a man from country Victoria and my friend Georgia from Grafton. As we sip 'welcome lagers', our host Mike explains the history of Stone & Wood beginning with its origins in 2008 when founders Brad Rogers, Ross Jurisich and Jamie Cook mortgaged their homes in order to get things rolling.
Stone & Wood are all about simple beers done well, with quality and consistency being the key ingredients.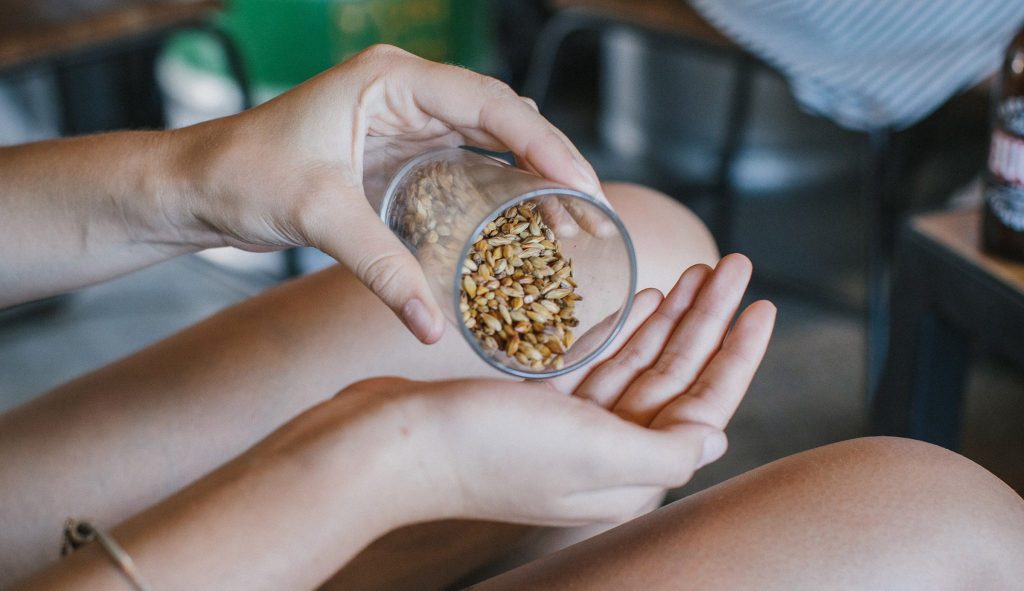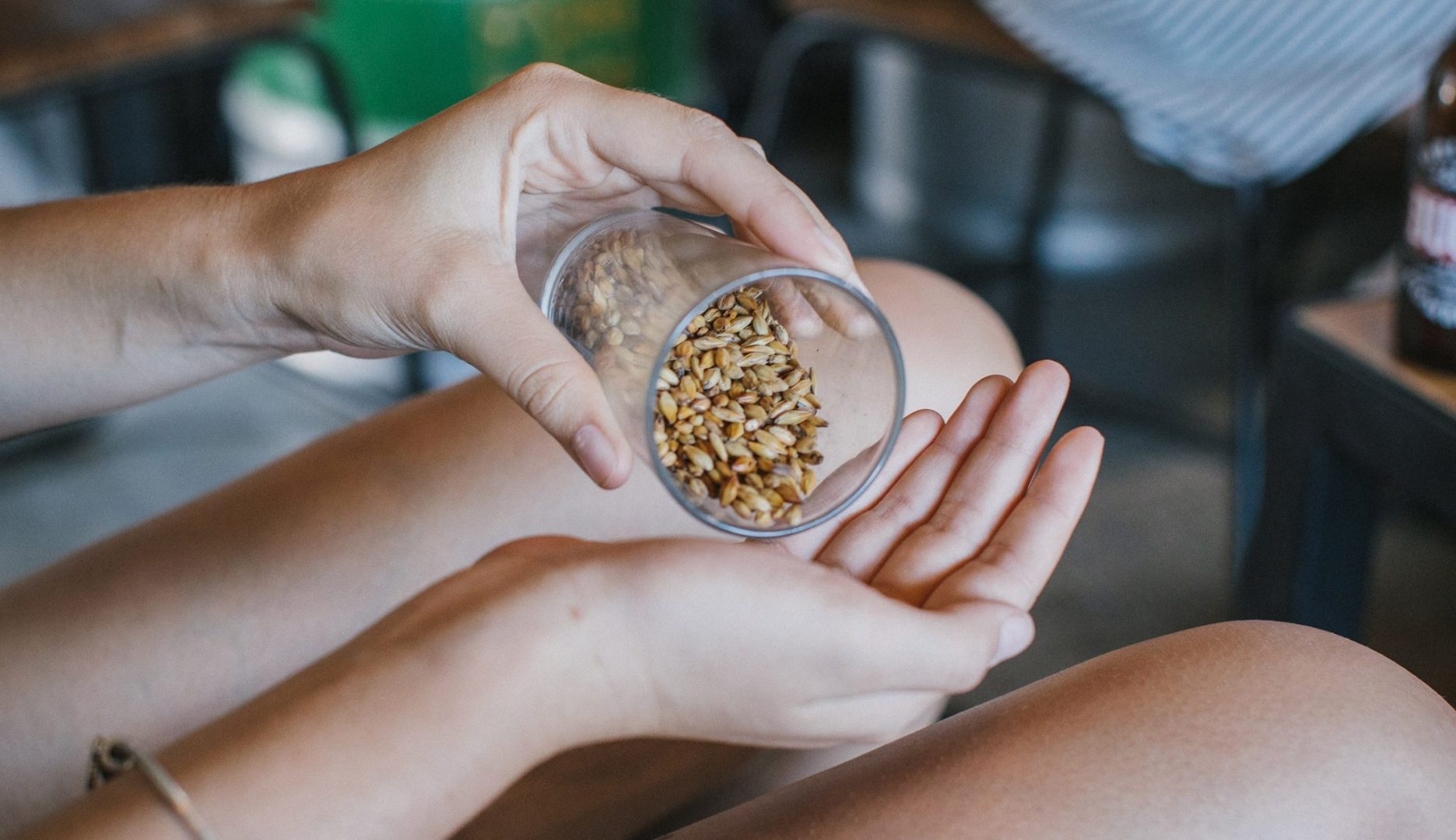 Learn what goes into your beer and why quality ingredients matter
Beer as a force for good
Mike explains that philosophy includes their approach to business and the role they play in the local community, too. He highlights the importance of using beer as a force for good and the ways Stone & Wood are honouring that ethos.
In the last year, more than 100 'Karma Kegs' have been donated to help local organisations and charities raise funds. $1 per 100 litres of beer sold and $2 from every tasting paddle purchased in the tasting room goes directly to Stone & Wood's Ingrained Foundation, a national not-for-profit that helps charities capacity-build for future generations.
The brewing process
At this point we're given a Pacific Ale to try. Mike says it's inspired by the north coast region and the first beer Stone & Wood ever brewed. He takes us through the history of beer and what it takes to brew it. As the roles and importance of water, malt, hops and yeast are explained, samples are passed around the circle for us to smell, touch and taste. Mike adds that Stone & Wood source their grains from specialty producers and that spent grain is given back to farmers for cattle feed.
To get a better understanding of the process, Mike takes us to where the magic happens: the brewing tanks. We climb the stairs to the upper platform where the boiling, whirling, cooling and fermenting takes place. It becomes clear that timing and temperature are the crucial elements and must be closely monitored. A brewer is observing readings, opening lids, taking samples and recording results.
This is truly 'hand-made' beer and I certainly have a new appreciation for the amber liquid in my glass. After Mike explains the fermentation process and the role of the bright beer tank, he leads us to a private table where more samples are waiting for us.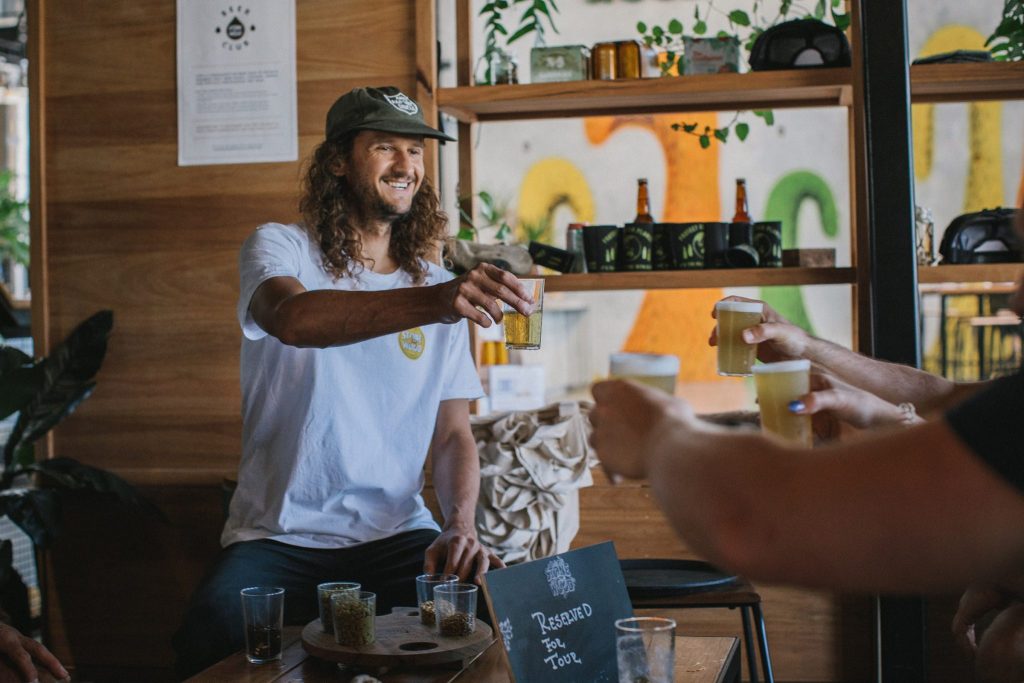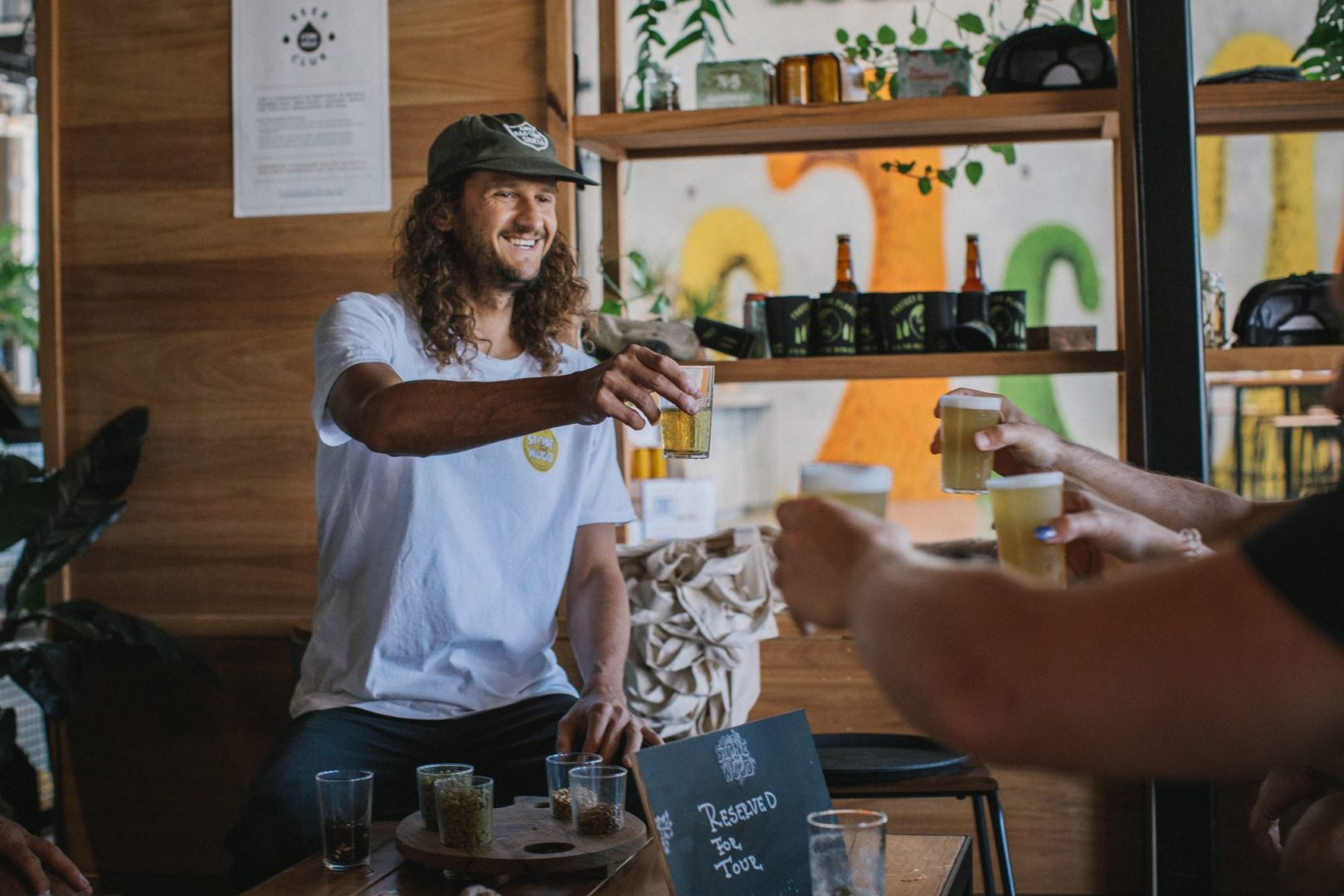 You'll sample Stone & Wood staples as well as experimental combinations
Time for a taste
One by one, we sip the Shoo Brew, The Gatherer, Cloud Catcher Australian Pale Ale (named after nearby Wollumbin Mountain), Jasper Ale and Round Mountain double IPA while Mike talks us through the ingredients, brewing methods and what we should be tasting. We spend the next 20 minutes sipping and chatting before Mike says goodbye. No one's in a hurry to leave so lunch is ordered from the canteen.
A tour and more
Stone & Wood Brewery Tours are much more than a chance to have a sticky beak and taste some delicious brews. They're an opportunity to get an insight into an innovative company doing things differently.
You're bound to leave in good spirits, feeling encouraged and maybe even inspired to support businesses focussed on giving back. Cheers to that!
If you're interested in taking a tour, make sure you organise transport. You'll enjoy quite a few samples as well as full glasses of beer, so it's best not to drive.
The Byron Bay solar train operates from town to North Beach and trips are $4 each way. The Sun Bistro is located across the road from the North Beach station and offers a courtesy bus to the Stone & Wood brewery.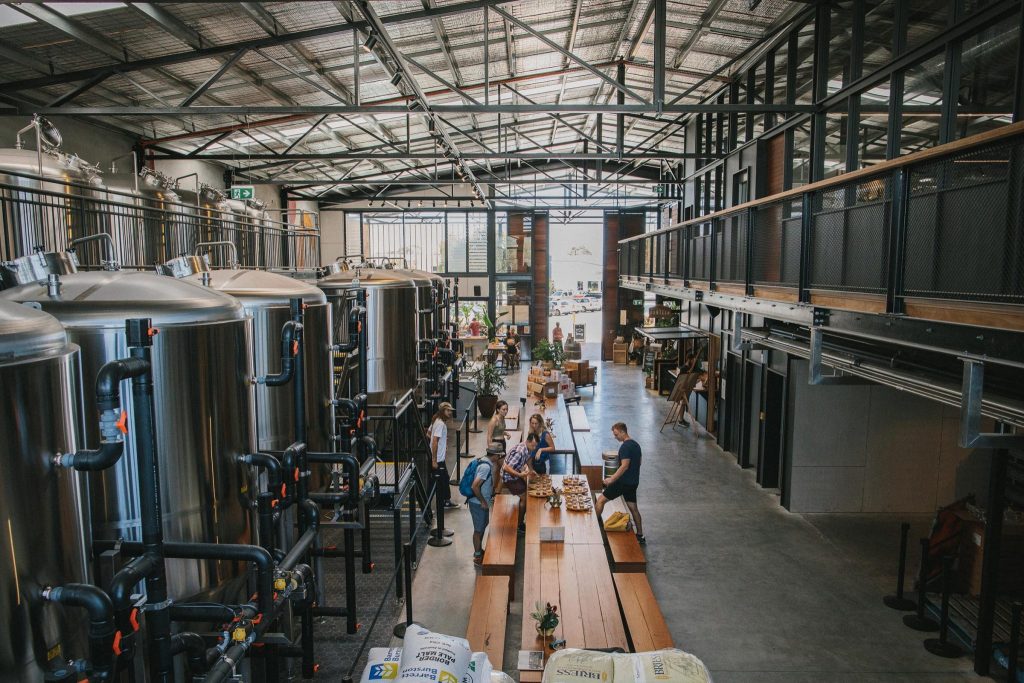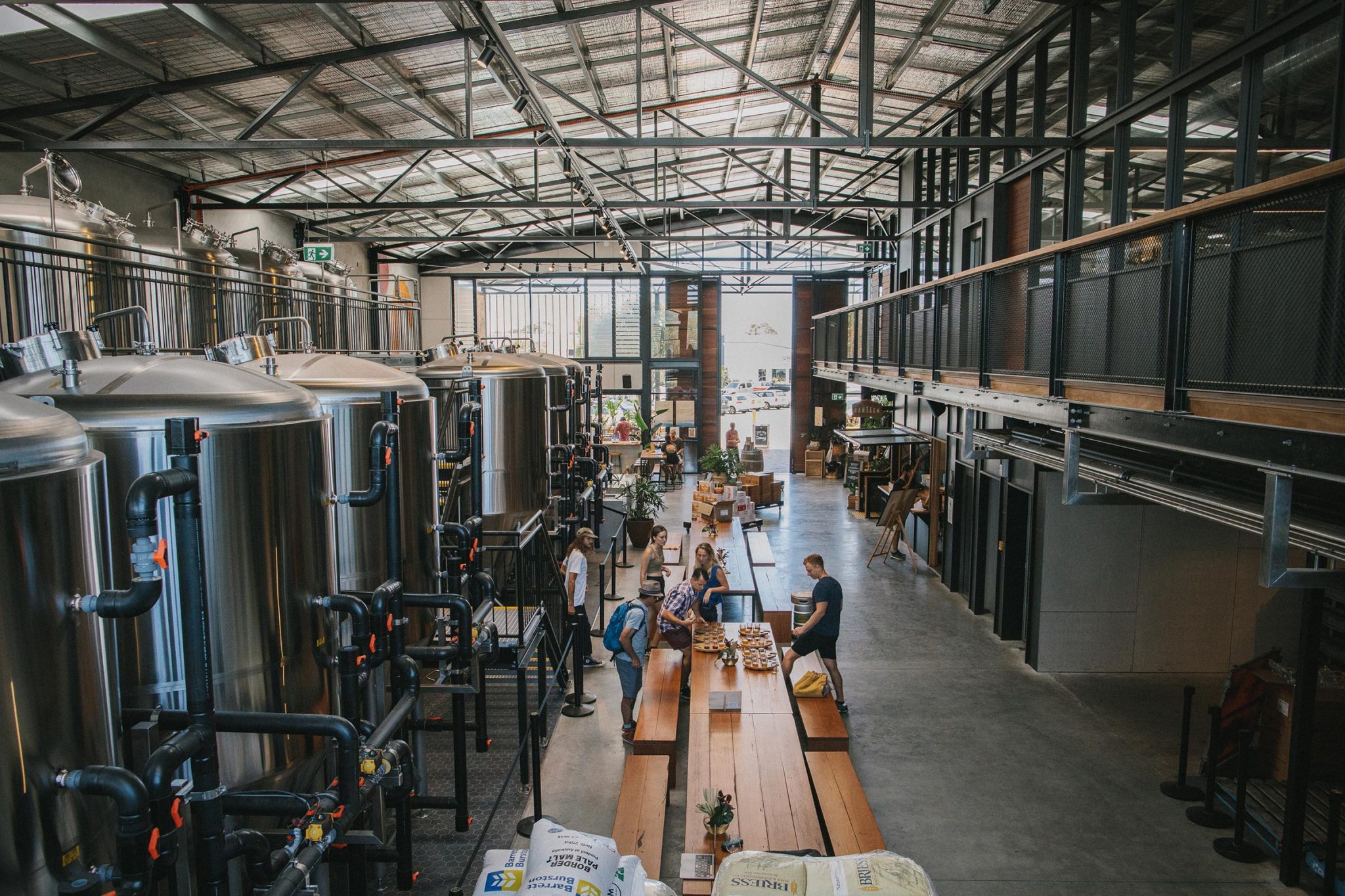 A brewery, bar, cafe and store under one giant roof
Tours run every day except Tuesday and you can book here.
Read more about the Coastbeat's favourite north coast pubs and all things foodie and fabulous!