Spring Flowers at Pansabella
Do florists have favourite flowers? For Kristi Mulhall, owner of Pansabella Providores, it changes every day. Right now, she's excited about spectacular new season local roses and plants. While Kristi and Pansabella's head florist Maki enjoy using old-fashioned, European blooms, they like to add a modern twist. See how they do it and learn what keeps Kristi enamoured with flowers.
Coastbeat: Which flowers are you excited about right now?
Kristi Mulhall: My favourites change every day because we get new products every day. The joy and frustration of working with something from nature means it's never the same and we get slight variations on products because they're grown outside. I will eternally be obsessed with green and white; I absolutely love that combination. I can't go past the roses at the moment — they're really beautiful, they're spectacular! Because they're grown locally, they last really well in the home at this time of year. We source locally wherever we can, and it just makes such a difference.
Cb: What's popular with your customers?
KM: Indoor plants are still really popular, and we have a local supplier. We can confidently say to people that this will survive well in your home because they're from this area. Fiddle leaf fig, monstera deliciosa and peace lily are gorgeous. They stay around for a reason. The dried flower trend is not going anywhere. We dry a lot of our flowers here; you just hang them upside down. They're great as a gift. We have $18 bunches and $25 bunches. Then we do great big $150 displays. We always have little scraps, so we make beautiful cards. They're all handmade. Oh, and there was a fortnight where all we sold was blue gum. Hilarious! There's a popular trend where people hang it in the shower. The essential oils of the eucalyptus come out and make your shower smell really good!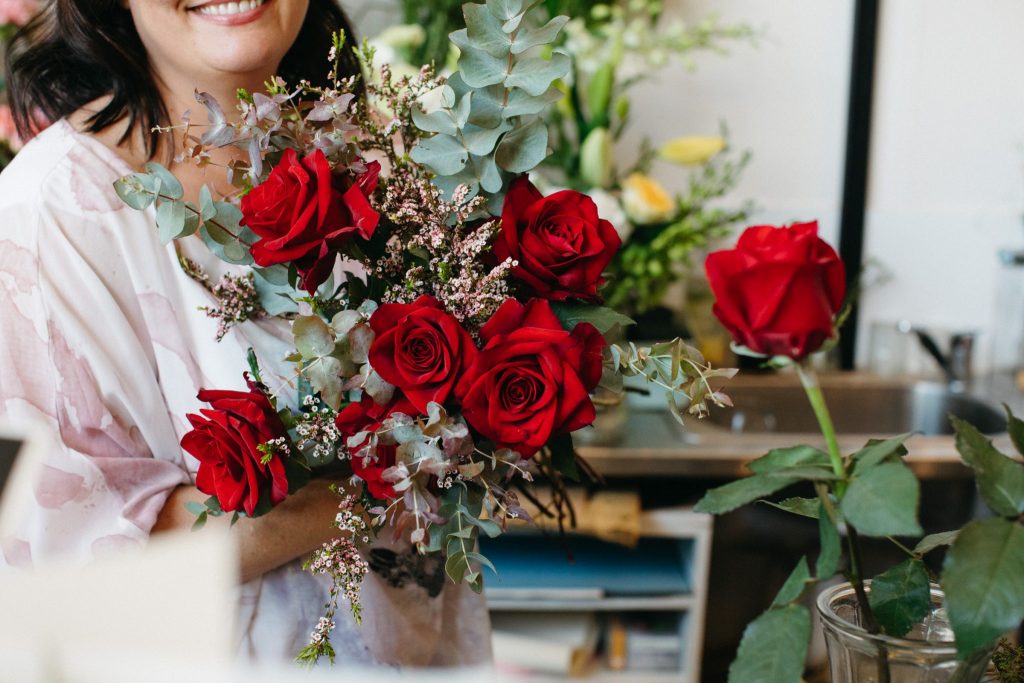 Cb: How can you give traditional flowers a modern twist?
KM: It all comes down to what you put with them. For example, we'd never put a rose with baby's breathbecause that would date it. We'd do a bunch of just baby's breath because that on its own is gorgeous. Our beautiful red roses are very traditional, but they look gorgeous with blue gum. The juxtaposition between that bright blue colour and that deep red is an amazing combination. The yellows we would pair with something white and crisp to bring the freshness out in them. Queen Anne's Lace is a spring flower; it epitomises spring. It's spring in a bunch, it's just divine! 
Cb: How do you make these blooms look so good? Can you share any tips or tricks with us?
KM: Everyone wants that voluptuous look and there are ways to achieve that. Take carnations, one of the longest lasting flowers. You can fluff them out with another carnation to make them beautiful and open and green. You just give them a little twist at the base and then use another head to open it up and it becomes much bigger.
Reflexing is another technique. The older the rose the better this is, so you want them to be a bit soft. You take the petals and bend them over. We blow on the rose and spin it to help it open up a bit, just really gently open it up. You do have to be gentle especially with the paler colours. This is popular for weddings or displays — it looks more like a garden grown rose. That's the difference between a well grown rose that is acclimatised to Coffs Harbour and the little packets you might get from somewhere else that are really tight and will never open up. That's what you get from the florist, that's the difference.
Cb: How can we get the most out of fresh flowers?
We have one flower fridge that's not very big because we like to turn over the flowers quickly. We have deliveries at least every second day if not more. Flowers aren't in the shop for more than three or four days at the most and you're going to get at least a week out of them. Once you have them, change the water, cut the ends and make sure there's no leaves below the water line because that will turn the water more quickly. Make sure they're not being belted with sunshine and not under an air conditioner or a fan.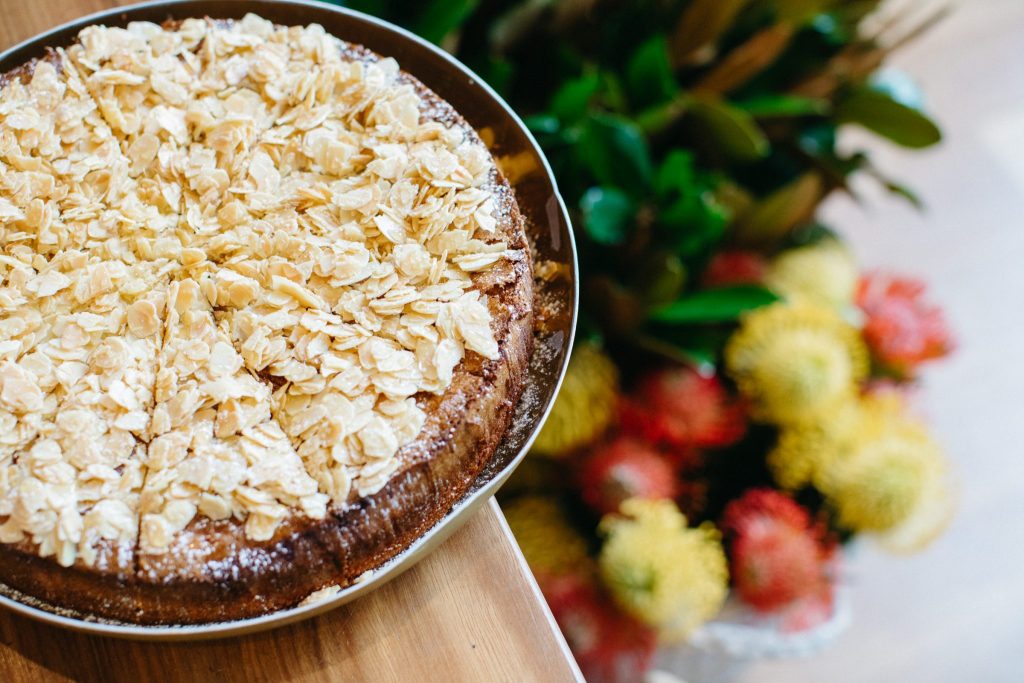 Cb: Kristi, you're clearly so passionate about flowers and floristry. Has this always been the case?
KM: I've been doing this for 12 years, but I've always loved flowers and gardening. I had a cactus collection when I was 11 — that was my first foray into the plant world. I asked my sister to look after my cactus collection while I went on my year six excursion. I said just water them once. But she thought I meant once a day. So she over watered them and I came back and they'd all split and exploded. I was devastated because I'd saved so hard to buy all of these cactuses at the Sunday markets! I love my garden now, every spare second, I'm out in my garden. I don't feel like I'm really working, I'm just doing what I love every day.
Visit Pansabella on the ground floor of Coffs Central seven days a week. Find local flowers, gift hampers, handmade cards and natural beauty products. Relax and enjoy the French-inspired cafe – serving breakfast, lunch, coffee and delicious housemate cakes.
Meet the florists bring raw beauty to Port Macquarie here.