Spend a weekend in Woolgoolga on the Coffs Coast
When it comes to the Coffs Coast, you've probably explored the Jetty Foreshores, browsed around Bello and whiled away time in Sawtell but what about Woopi? That's what those in the know call the wonderful beachside community of Woolgoolga. Come with Coastbeat as we explore this little gem of a village and the gorgeous beaches to the north of Coffs Harbour.
Nature and Activities
Holidaying for a few weeks? With so much to see and do in this part of the coast, you'll need it. Woolgoolga Beach is a family-friendly, patrolled beach close to the shops with rockpools to explore at the southern end. Wander along the beach to see if the remnants of Buster are visible – she washed ashore in 1893. Close by you'll find Woolgoolga Lake, a wonderful spot for a picnic.
It's also worth venturing up the hill from town to Woolgoolga Headland to whale watch in season and for stunning views out across the ocean and Solitary Islands. Check out the painted water tower too. Back Beach can be accessed from the headland – it's a lesser-known, dog-friendly beach and a great location for experienced surfers.
Surfers also flock to Emerald and Shellys (aka the northern end of Moonee Beach) and Arrawarra has a long, peeling right-hander that's well-suited to mal riders. Low tide at Arrawarra exposes the ancient stone fish traps. The traps are thought to be at least 1,000 years old and like the plants and animals of Arrawarra Headland, are protected and respected as a site of Indigenous significance.
Red Rock and Moonee are both highly recommended for estuary exploration be it by SUP or kayak. Nearby operators can help you with hire if you didn't pack your adventure gear. The shallows of Moonee are perfect for younger ones and with a shaded, grassy area adjacent to the shore, this is a popular area for families to get together. The estuary is fringed by Moonee Beach Nature Reserve.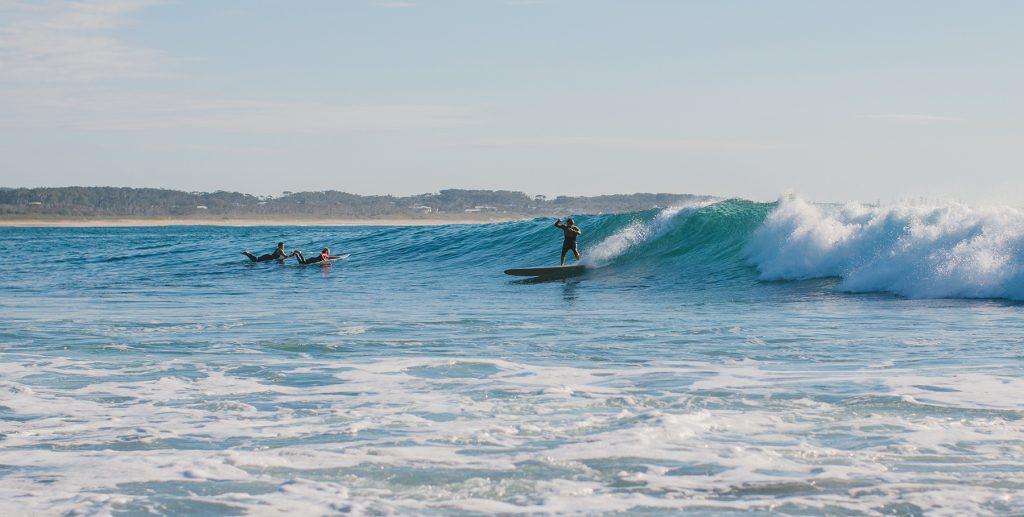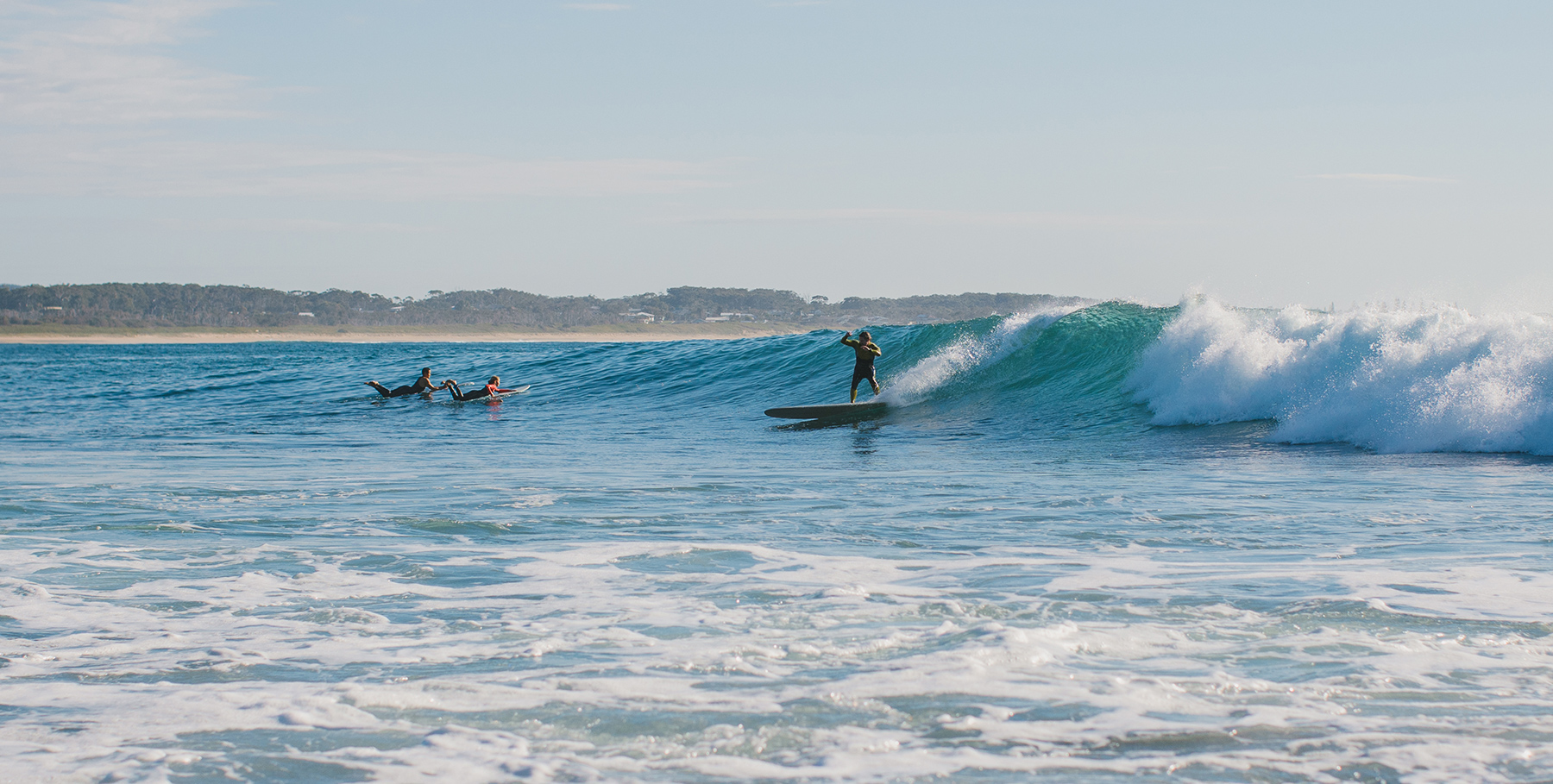 Arrawarra (less than 10 minutes north of Woopi) is loved for its long, peeling right-hander 
Another jewel in the crown of the northern beaches is Look At Me Now Headland at Emerald Beach. It's a short and level walk to the end of the headland, known for its kangaroos aplenty. It's also a superb vantage point to appreciate the long, golden stretch of Moonee Beach on your right and the vast Pacific Ocean before you.
If you're all beached out, head to the Sherwood Nature Reserve and take shelter under the lush-green tree canopy. Take an easy walk through the rainforest to the Woolgoolga Creek Falls it's 3.6kms return.
Nature lovers might also wish to experience this coastal strip by bike on the Woolgoolga Coastal Loop. This single-track ride between Woopi and Arrawarra provides cyclists with varied terrain and terrific views along the way.
Love hiking? Woolgoolga and the northern beaches of the Coffs Coast form part of the larger Solitary Island Coastal Walk a 60km walk stretching from Sawtell in the south, all the way up to Red Rock. It's an incredible way to fully experience the wonders of the region.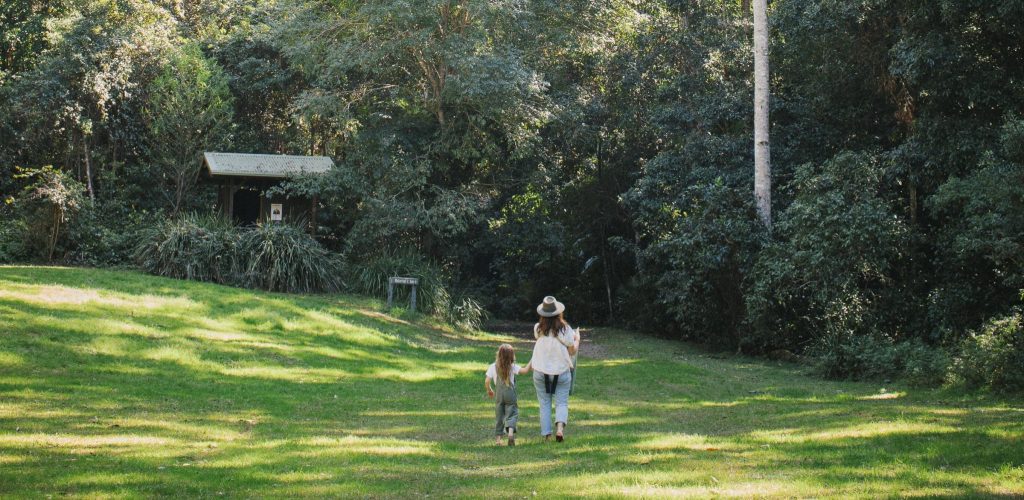 Take the time to do the easy walk through rainforest to Woolgoolga Creek Falls 
For foodies
Weekends away often mean dining out and experiencing cafe life the way locals do. Here are some of our recommendations.
Woolgoolga's Market Street has established itself as a location offering a great variety of food. From classic cocktails at the Sunset Room to tasty vegetarian and vegan specialities from Ground Earth or a spicy curry from Woopi Tandoori Nights, you'll find something very satisfying.
Just around the corner on Beach Street is The Box Factory Burgers. Loaded fries and a generous burger (a Chick Norris Burger anyone?) will surely hit the spot. Nearby, Bluebottles Brasserie is a long-standing and popular eatery in the heart of town. The more tucked away Beachouse Cafe also draws a good crowd.
We appreciate that no beach holiday is complete without sand between the toes, a picnic rug and fresh fish and chips. Both White Salt and Sea Salt can cater beautifully to any seafood cravings.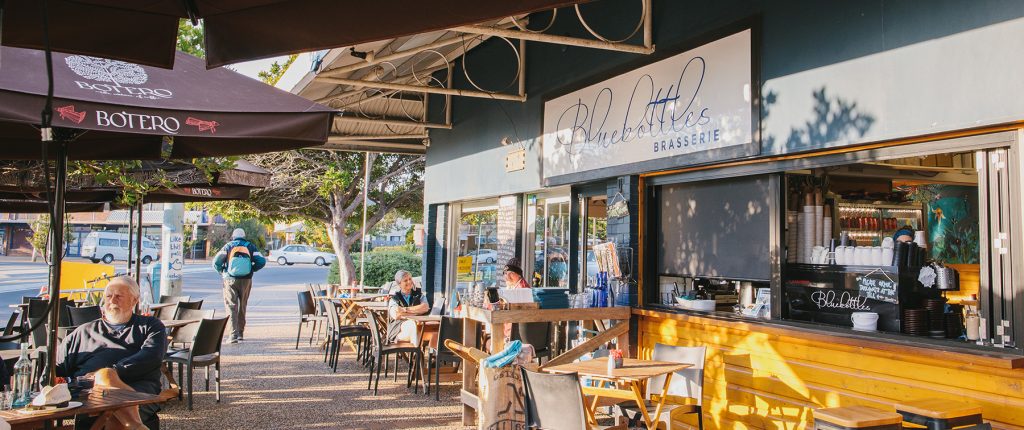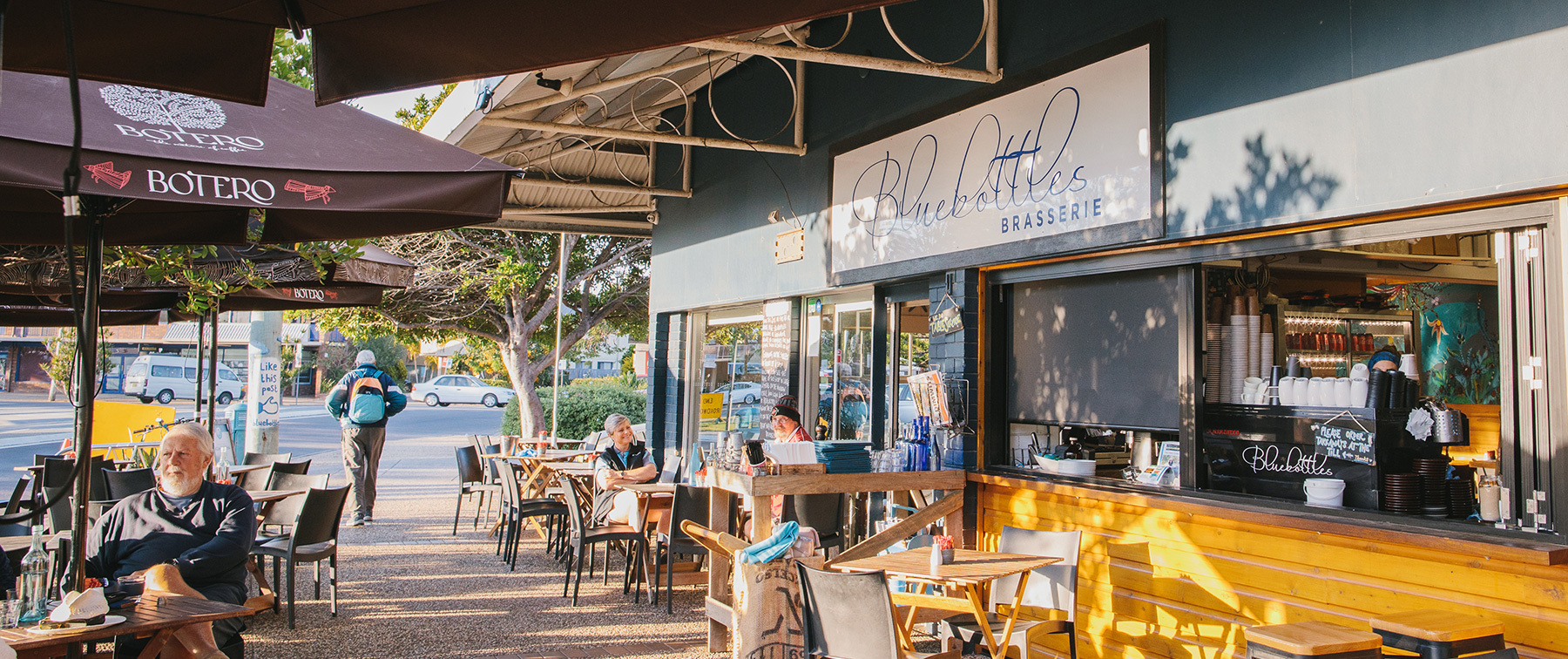 Bluebottles Brasserie is a long-standing favourite in the heart of town
Neighbouring beachside suburbs also have yummy offerings such as Sunken Chip in Sandy Beach. Sunken Chip is a community hub with a relaxed atmosphere and fresh, homemade food.
At nearby Emerald Beach you'll find Surf St Cafe. Surf St is the ideal venue to enjoy a lovely meal while soaking up ocean views. Emerald Beach General Store is also a popular hang-out. One Sydneysider recently came to stay with us and declared the hot chips from Hugh and Louis the best ever!
A little further south you'll find Beachstone Bar & Cafe set among coastal bushland behind the dunes of North Sapphire Beach. This stylish cafe has the added advantage of being positioned right by a large and very inviting playground so parents can relax over a coffee or meal while the kids play. 
Moonee Market at Moonee Beach is home to newly opened, The Black Apple which specialises in healthy wholefoods with a delicious twist sourced from local producers. And if you're holidaying with your pet, Maggie's Dog Cafe, Shop & Salon should top your list. It's believed to be the only indoor dog cafe in Australia. You can brunch while your pooch gets pampered!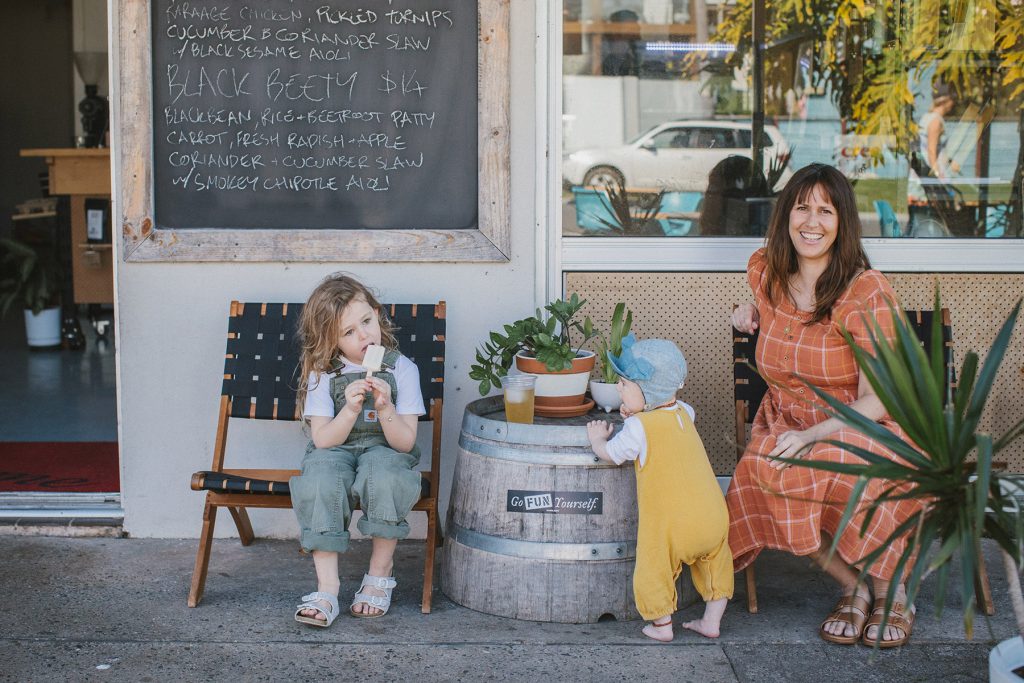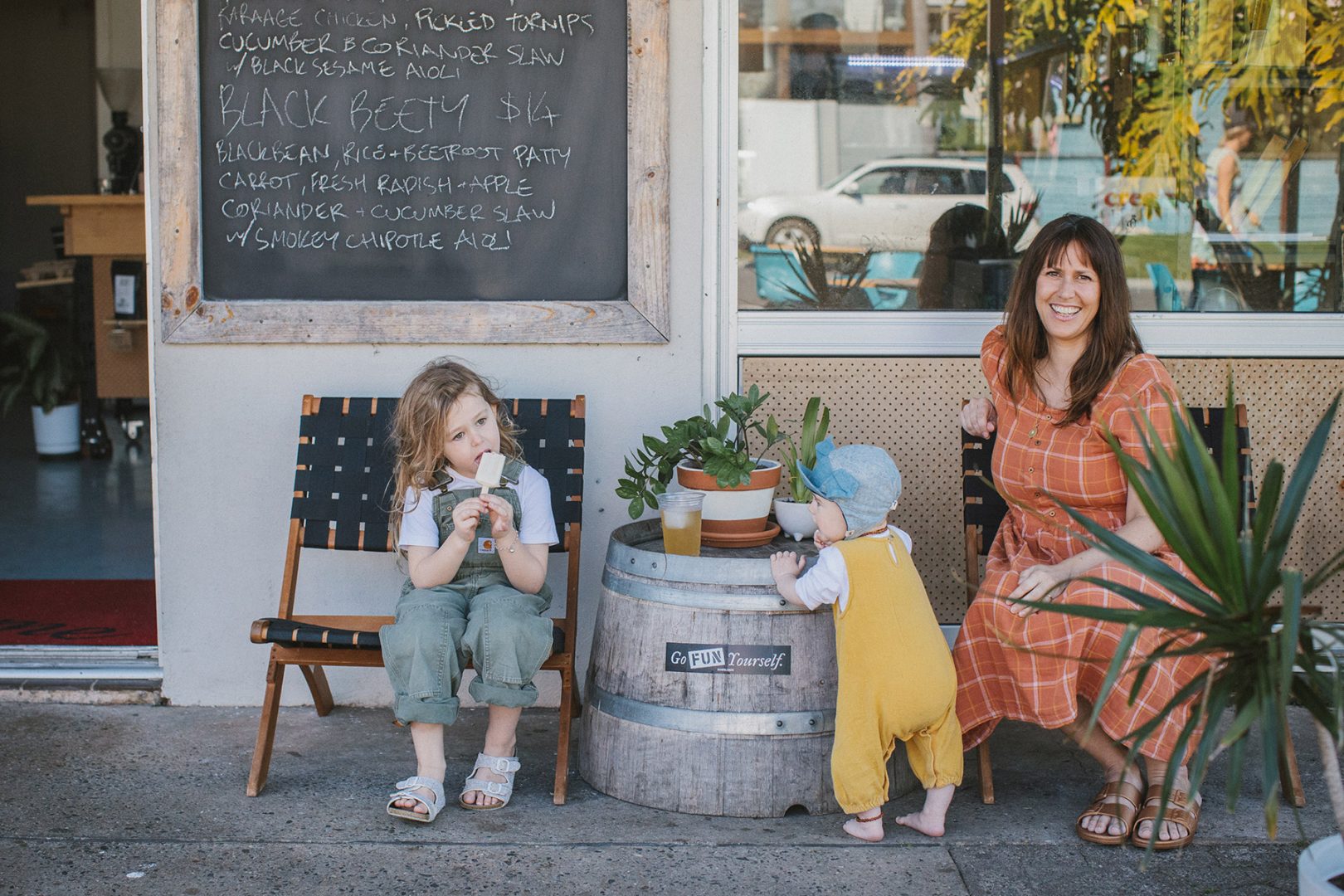 One local family (left to right is Sabine, Augy & Alyssa) at the Emerald Beach General Store
Culture and Festivals
You may not be aware that Woolgoolga has the largest regional Sikh/Punjabi population in Australia and is home to two large Gurdwaras (temples). Each Spring the main street and beach reserve come alive with colour, music, food and dance for Curryfest. This vibrant annual festival has been running since 2006 when local resident, acting legend Jack Thompson came along to help launch it.
Opposite the temple on River Street is an exciting new addition – the Sikh Heritage Museum of Australia. Step inside for a fascinating look at how the first Sikhs came to be in Woolgoolga and immerse yourself in learning more about the Sikh identity and religion. The exhibit also details the important role Sikhs have played in our ANZAC history, shows Victoria Cross recipients and displays musical instruments and weaponry such as spears, shields and swords.
In addition to Curryfest, Woopi is also home to other fun festivals and events. Another family-friendly spring event in this seaside gem is Blues and Berries Festival. As the name suggests, this is a day focussed on food and music. Toe-tap to blues and roots tunes and tuck into some delicious blueberries – one of the region's most successful exports.
The seaside village also hosts Eat Street a night of outdoor dining, street food and entertainment. Dine under the stars from food trucks and the restaurants of Market Street as they present their favourite dishes. It's on again in August 2020.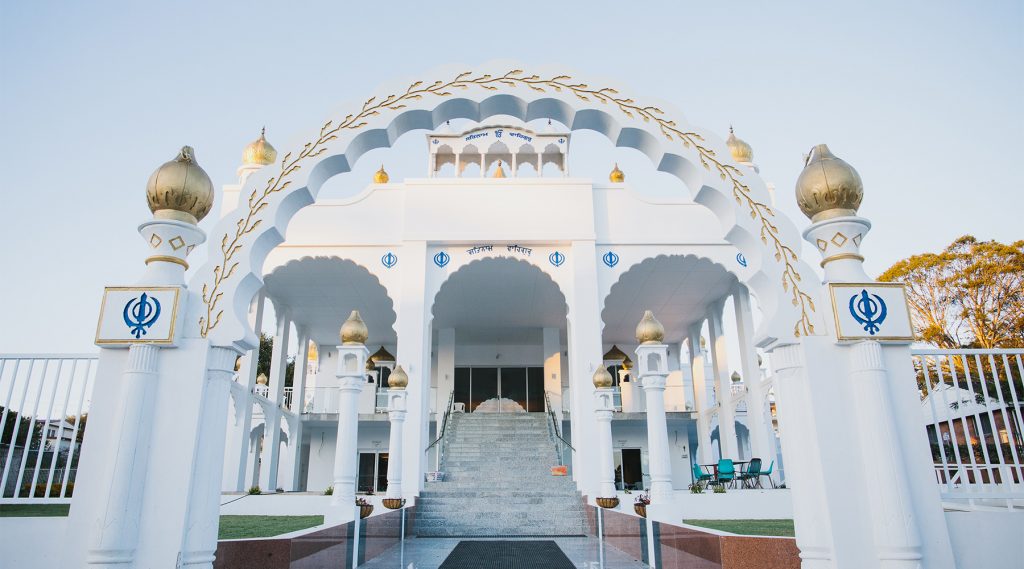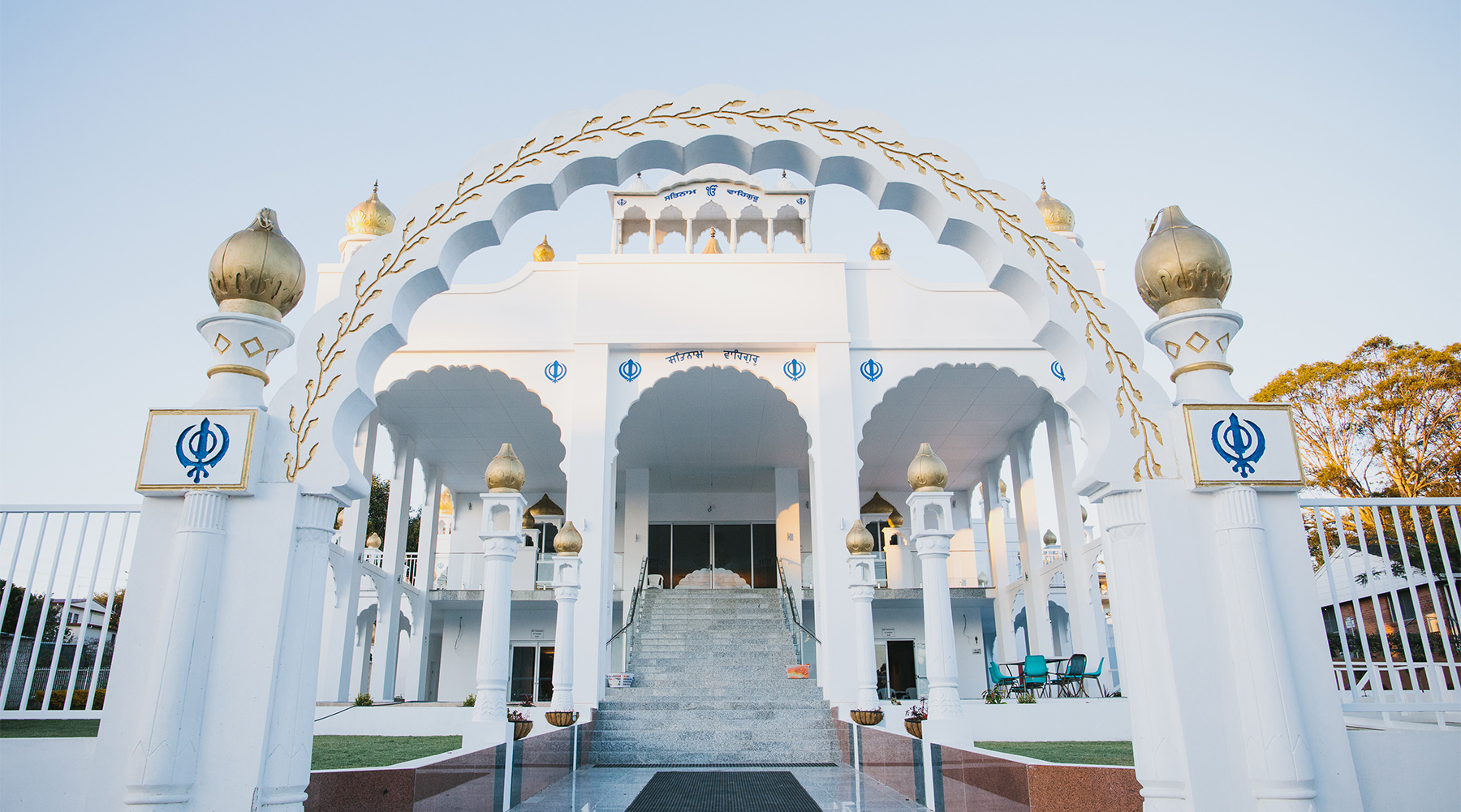 One of the two large Gurdwaras (temples) in Woolgoolga
Happy exploring in Woopi and the neighbouring villages!
Coastbeat has experienced lots of wonderful day trips and weekends away.
Discover our recommendations for Forster-Tuncurry and The Great Lakes, Port Macquarie, Sawtell, Yamba and South West Rocks or see the Getaways section on our website.