Cheap and easy schnitzel recipe
What's not to like about a schnitzel? A breaded cutlet fried in oil, it's hard to go wrong with a schnitzel. Most people are too lazy to make their own opting to get them at a pub or restaurant, or buy the pre-made versions from a butcher, these people are missing out. Not only are schnitzels easy and cheap to make, when you make them at home they are often better than those you can buy.
The recipe below is the simplest way you can make a schnitzel (you could even leave out the garlic). Feel free to add spices (paprika goes well) to the flour, and parmesan cheese, or herbs (parsley, sage) to the breading mix. Some people add milk or water to the egg wash to loosen it up. This recipe uses chicken but you can also use pork, lamb, or beef. For a vegetarian option, eggplant would be nice. When experimenting with the recipe, the main thing to ensure is that the bread coats the schnitzel well so whatever's inside will be sealed when cooked.

Ingredients
2 chicken breasts
1 egg
1 cup of flour
1 cup of breadcrumbs (ordinary or panko both work well)
Salt and pepper seasoned to taste
*Optional
1 clove of garlic crushed
Handful of parsley for garnish
Slices of lemon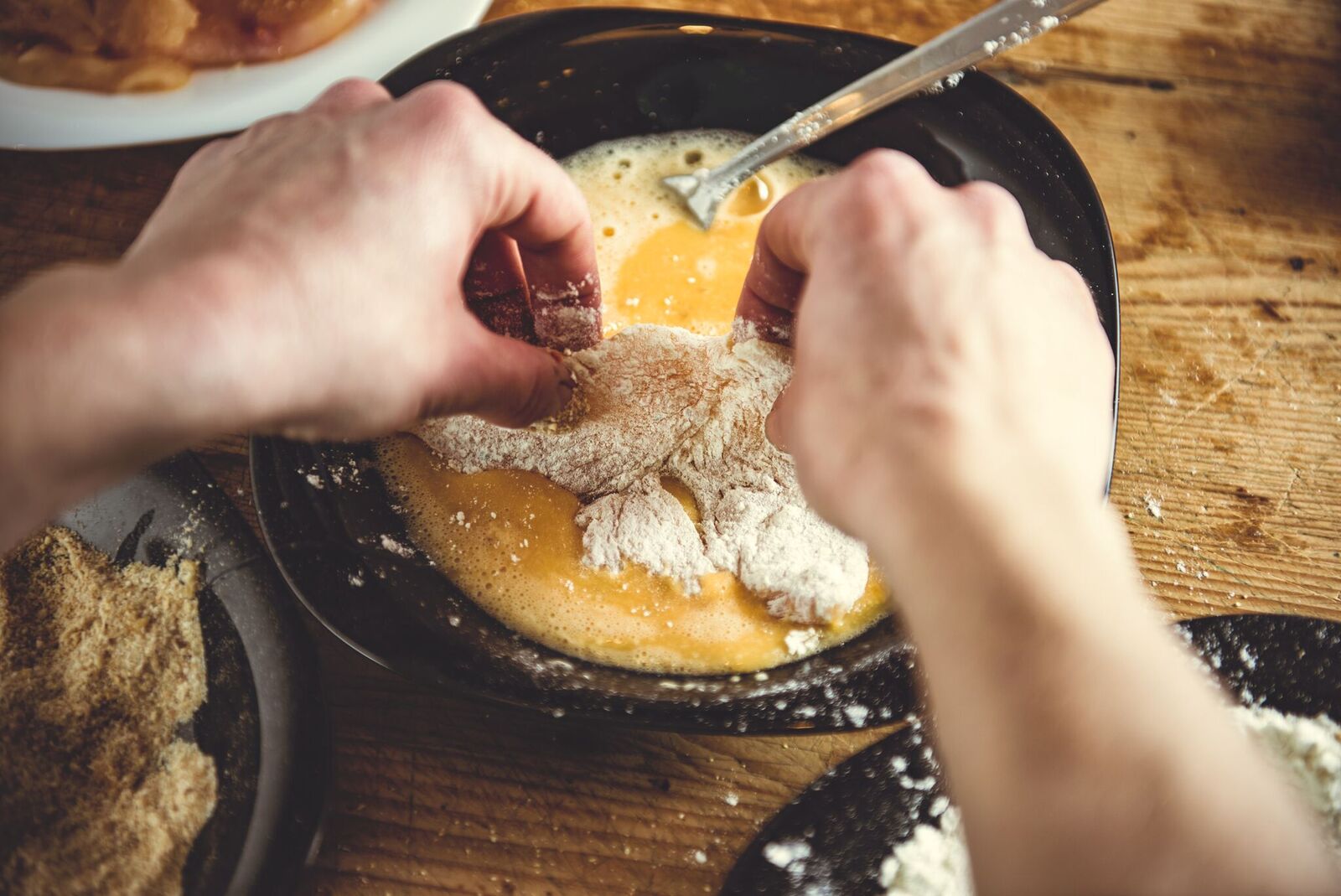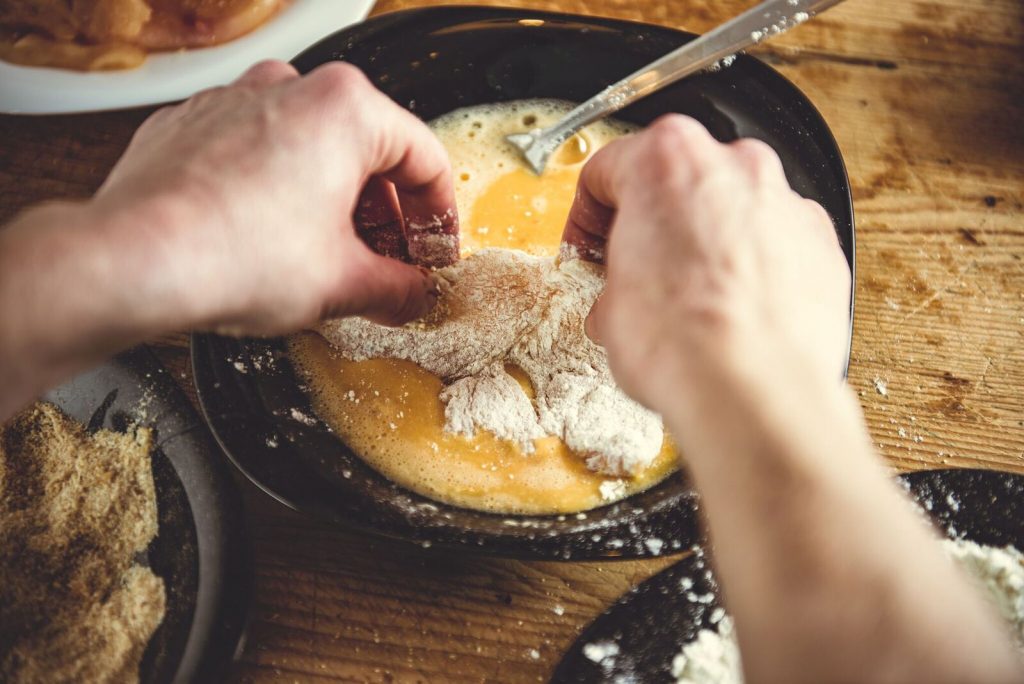 Method
Cut each breast into 2 or 3 pieces horizontally depending on the size of the breast. Make sure your knife is sharp.
Flatten each piece using a meat mallet, if you don't have one you can use an empty glass bottle, a rolling pin, or your hands.
Get out two plates and a bowl for the flour, egg wash, and breading.
Add the flour and any seasonings to one plate.
Crack the egg/s into the bowl as well as the crushed garlic.
Put the breading mix on the other plate.
Now flour each piece, then coat it in egg, before finally breading it. A good tip here is to use one hand for the flour and egg and the other for the breading, this stops your hands from becoming breaded. Set aside.
Heat oil in a heavy based pan. This will ensure the schnitzel cooks evenly. Use any kind of oil with a high smoking point I find the canola or vegetable oil works well, although you could use clarified butter or lard.
You can tell if the oil is hot enough either with a thermometer aim for around 180'C. Other ways of checking include placing a wayward breadcrumb in and see if the oil bubbles around it, or using a wooden spoon or chopsticks if the oil is ready it will bubble around the wood.
Once the oil is heated simply place one or two pieces of the schnitzel in and a time and cook until golden brown on each side, be careful not to overcrowd the pan as this will cause the temperature to drop and you'll have soggy schnitzels.
Place the cooked schnitzels on another plate on top of paper towels, this soaks up excess oil. Add seasonings once off the heat immediately this ensures they combine with the breading. Repeat for the rest of the schnitzels.
Serve with a garnish of parsley and a slice of lemon.
Do you want to try this recipe? Forget the long lines in supermarkets and buy fresh and high-quality chicken from Fresco here.
Latest Posts