Riley Saban Introduces PolySpine
In January, we introduced you to Riley Saban, Young Citizen of the Year for Coffs Harbour. Now Riley will introduce his latest project: PolySpine. PolySpine is a multi-functional support designed to facilitate people with physical disabilities participating in a variety of activities. It is
conceived and developed by Riley's father, Clint Saban, and road-tested by the ever-adventurous Riley.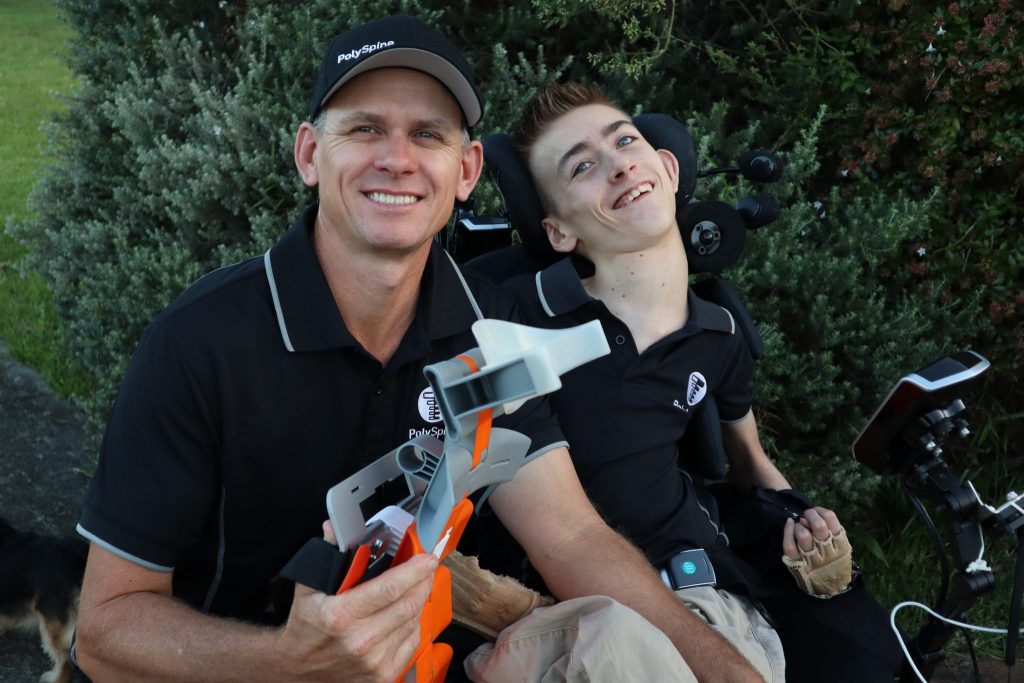 PolySpine gives external structural support to the wearer, with enough flexibility within its design to adapt to multiple activities. Team Saban's intention is that their patented modular exoskeleton design will offer a library of attachment options, to support activities like independent floor sitting, physiotherapy, aeroplane travel, paddle boarding, or something as simple as sitting in a camp chair.
Coastbeat checked in on the progress of this life-changing invention. Riley tells us that the in-house occupational therapists are currently in the final stage of user trials.
Road Testing PolySpine
Riley is integrally involved with the development, offering valuable critical feedback to his father.
"Road testing this invention took a lot of time and energy as I constantly put myself in many new, and sometimes extreme, situations to test the boundaries (which I loved)," said Riley. "We have worked very closely with a Sydney industrial design company and also the University of Technology, to ensure PolySpine meets all safety requirements. This has allowed us to obtain TGA approval."
Clint's background is in construction but he has always been interested in industrial design. Years of adjusting and modifying available equipment for Riley led Clint to conceive and develop PolySpine.

Who's the Boss?
Working with a family member can be challenging, especially when the design engages with something that is personal, but with such potential in the public arena. What works for Riley may not work for everyone else. We asked if navigating this while remaining objective was difficult for Riley and Clint.
"Working with Dad has been an amazing experience," Riley tells us. "We work well as a team and continually challenge each other with our new ideas and different views. This pushes us both, ensuring PolySpine is a supreme product. I have learnt so much from working with my dad and I appreciate how much he listens and values my input."
There are so many rules and regulations that apply to any product used for disability support. Yet innovation with new fabrics and 3D printing technology is ongoing. We asked Riley where their product fits in with existing devices.
International Appeal
"The concept and design is unique. There is currently nothing like PolySpine in the world. We intend to release in Australia first, so we can gauge the response and fine tune the product. Then we will launch internationally.
"There are some big disability expos to attend in Sydney this year where we will be able to showcase PolySpine. Covid had definitely slowed down our user trials, although we were able to work our way through it. Anything is possible in the future and PolySpine will continue to evolve. We aim for our product to have many applications and hopefully change many lives," says Riley.

Congratulations to Clint and Riley Saban, their family and the whole team. They are helping people with disability all over the world. To learn more you can visit the PolySpine website or follow them on Facebook. Read our article in January Coastbeat about Riley's Australia Day award.