Author Di Morrissey – Returning Home
Di Morrissey is a publisher's dream, producing a bestselling book each year from her idyllic home in the Manning Valley. Coastbeat caught up with Di to talk about her greatest passions – family, the environment and the self-funded community newspaper that is making waves in her region.
Most high-profile people are relatively guarded, limiting media interviews to superficial subjects. Not Di. She invites us into her home, taking us on a tour through the renovated farmhouse she shares with her partner, Boris.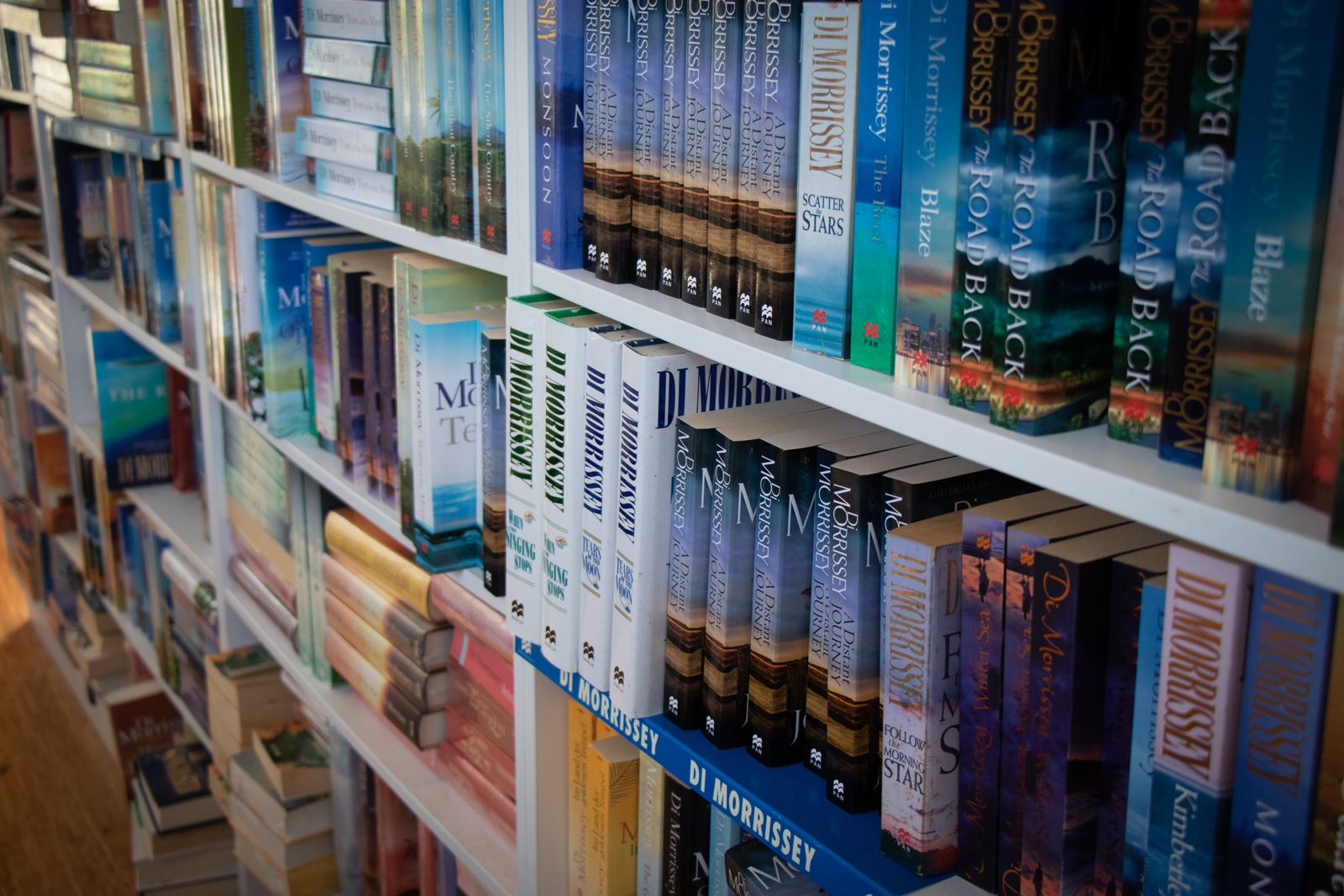 It's clear Di doesn't care for the current trend of minimalism: this is a house that spills over with personality. Newspaper clippings compete for wall space with treasured photos of grandkids and Indigenous artworks; every spare surface is filled with vases of fresh flowers and books. Di's two-storey writing studio is a dream with expansive views of the Manning River, an exercise bike, a huge library and entertaining room. As we descend the stairs, she points out the life-size portrait of herself (a finalist in the Archibald prize) by artist David Andrews before showing us a favourite op shop find. It's a house that, like its owner, refuses to be stereotyped.
We settle in for a chat, complete with nibbles and a glass of chilled white wine and delve into Di's incredible life – a story that could easily grace the pages of one of her novels.
After spending her first five years in the Manning Valley chasing chooks and taking walks with her grandfather through Wingham Brush, Di's family moved to Lovett Bay, an eclectic waterside community in Sydney's north where her father ran a water taxi service. It was here she met many creative characters, including famed poet Dorothea Mackellar, who encouraged Di to write – a dream that would never leave her. Her neighbour, actor Chips Rafferty became her godfather, telling her whatever she did in life, "make it Australian."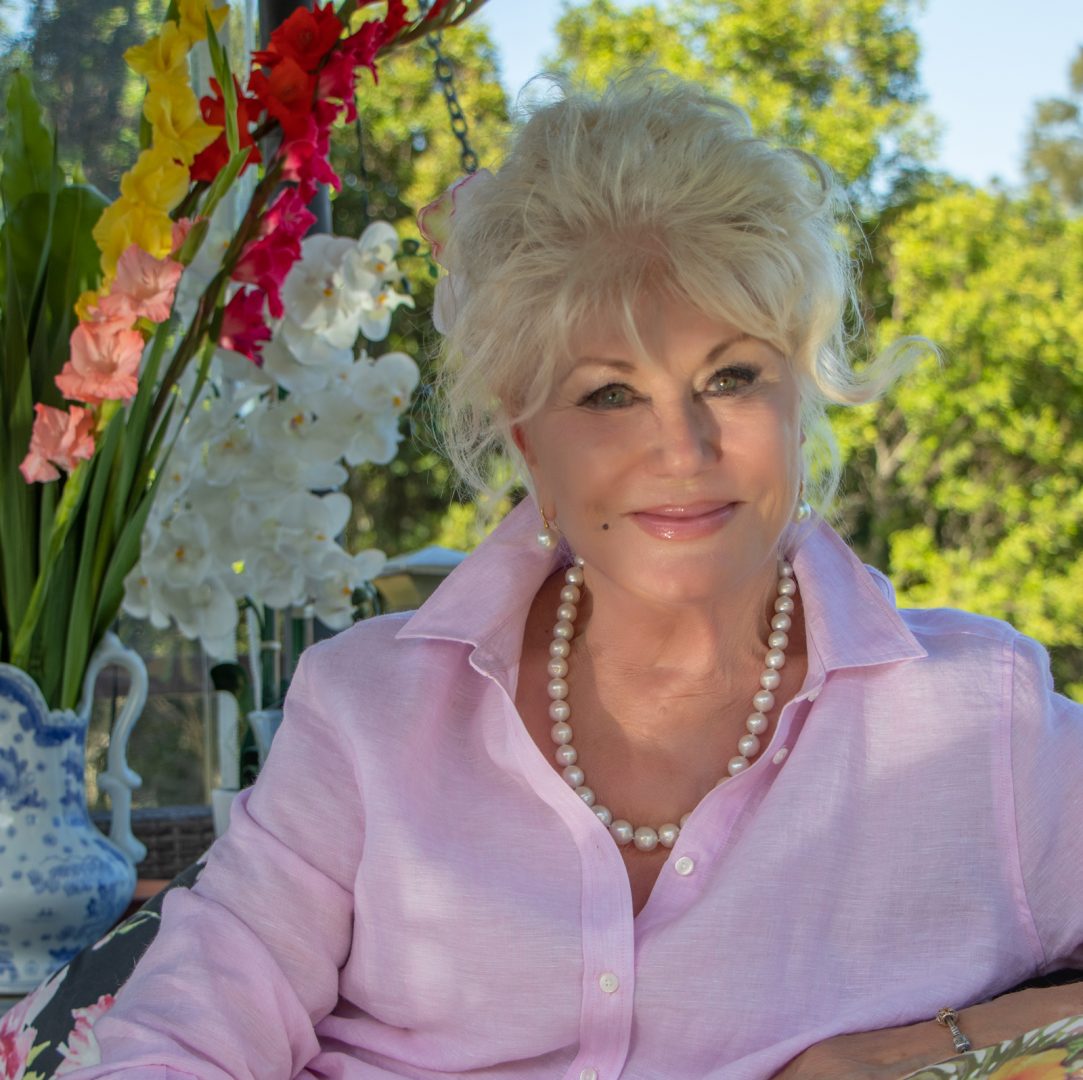 Di relaxing in her beloved Manning Valley home
"Di was 10 when she returned home from school to learn that her father and 18-month old brother had drowned in a tragic boating accident." 
With their world turned upside down, Di and her mother, Kay, went to stay with her mother's sister in California where her mother, at Chip's suggestion, did a TV production course, returned home and worked her way up to be Australia's first female commercial TV/film director.
Di would grow up to train as a journalist, marry diplomat Peter Morrissey, become a mother of two and travel the world, living in exotic destinations and working as a journalist and television presenter.
It was a beautiful life, but Di felt the dream of becoming a writer tugging at her heart and, at the age of 40, she divorced, moved home to Australia and began to write earnestly from a rented cottage in Byron Bay. After nine years of struggling on her own and writing numerous bestsellers, Di reunited with Boris, a handsome cameraman she'd met at a Christmas party when she was 15. They felt an instant connection and have been together ever since. As Byron Bay began to change from the place they fell in love with, the couple decided to return to the place Di was born – her beloved Manning Valley.
"All the people of my ilk and era were leaving Byron and I was ready for a change," she says. "When we came here and saw this view of the river, we fell in love instantly. People think I'm rich, but they don't realise that I've been poor most of my life. I've struggled, and I feel very fortunate to be where I am now."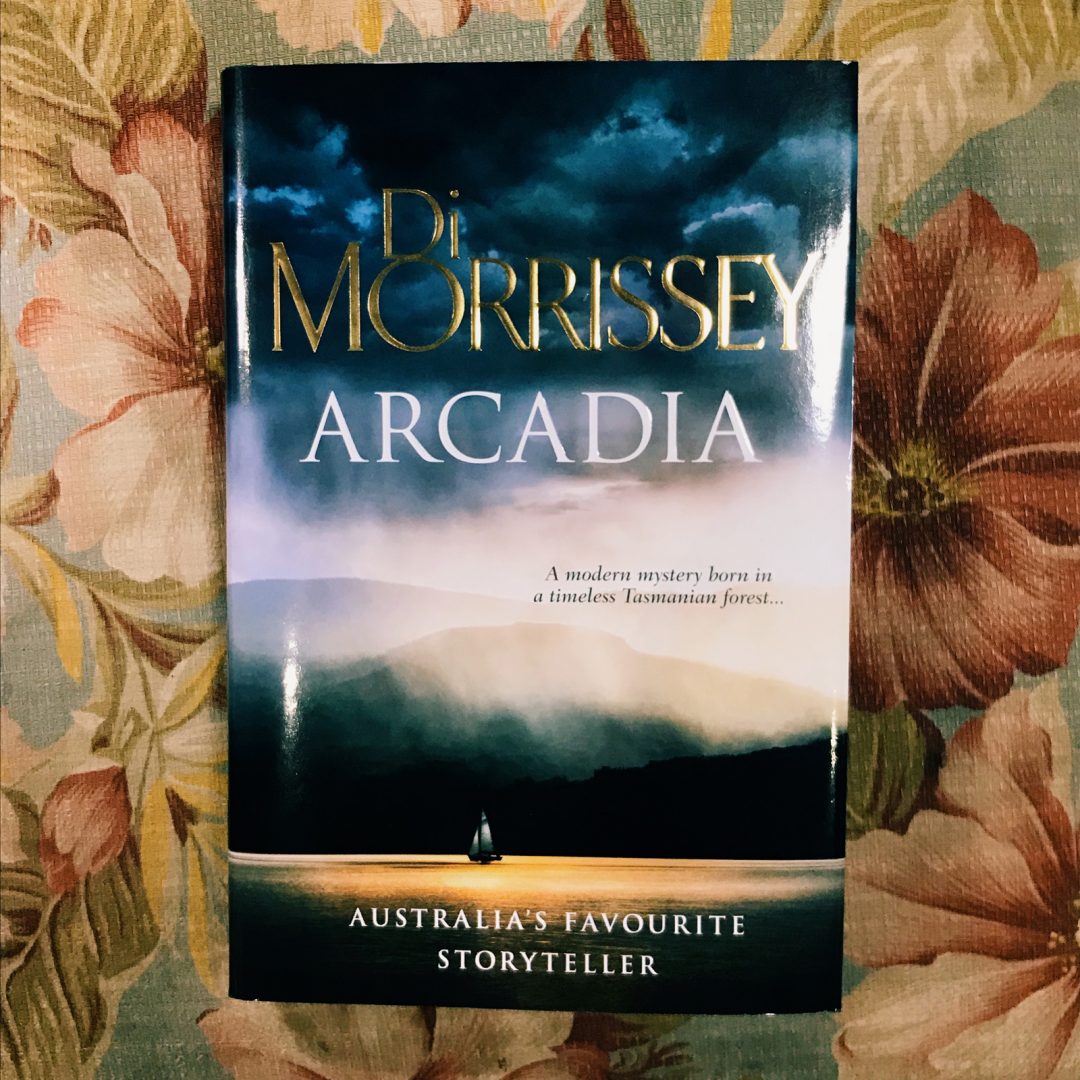 Arcadia image courtesy of Book Face, Port Central
Di still produces one book a year, an admirable feat considering the amount of research that goes into each story. While she adores her peaceful home, Di also enjoys the balance provided by her yearly research trips, the most recent of which saw her travel to Tasmania for her latest book, Arcadia.
"My stories are always inspired by a place," she says. "I can come home and close my eyes and I'm back in the cold mountains of Tassie. I've always immersed myself in places to research my books – as a journalist I believe you can't write about a place you haven't been to. Boris is always with me and he records interviews and takes photographs."
On top of her rigorous publishing schedule, Di also manages to produce the monthly Manning Community News, a community newspaper she funds herself and distributes with the help of Boris and a band of loyal volunteers.
"I started the newspaper in 2015 as I felt the local papers were not covering very serious issues," she says. "I'm a journalist in the thorough old-fashioned way as I trained as a cadet at Australian Consolidated Press and am prepared to stick my neck out because, unlike regular newspaper employees, I don't need to be afraid of losing my job!"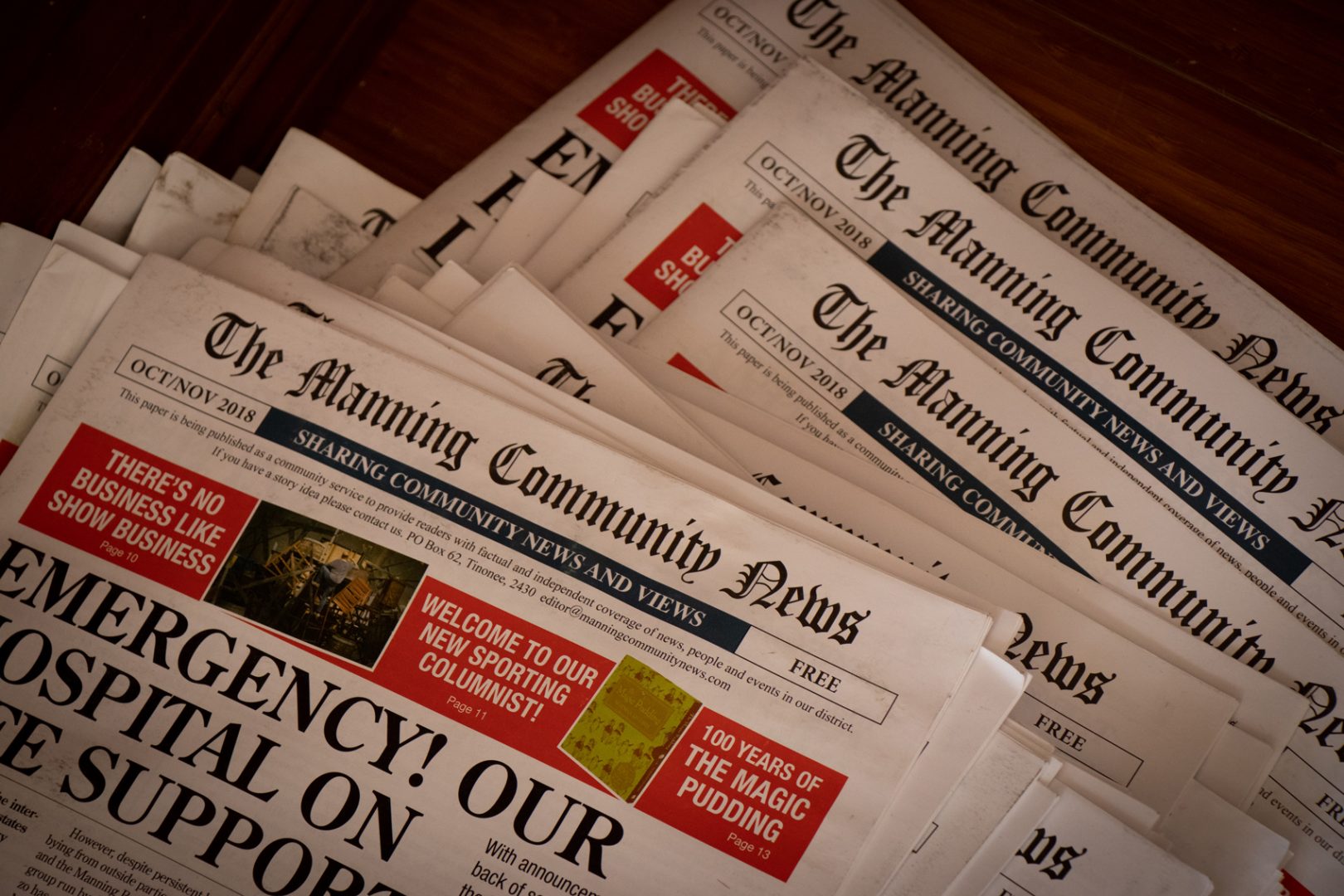 The Manning Community News covers issues that Di feels are excluded from mainstream the local media, as well as book reviews and environmental news (Bob Brown and Tim Fischer are among leading figures who have contributed while former Manus refugee Imran Mohammed, also writes for her regularly). It's Di's way of giving back to the place she loves and feels a fierce need to protect.
"I'm playing my part in empowering people to stand up for what they believe in," Di says. "As a child, I was taught that if you could make a difference, you did so.
Whether it was my grandmother working in the CWA or going down to Purfleet and helping with Aboriginal health issues. Everyone needs to contribute to the place they live in – even if it's just picking up litter on Clean Up Australia day. I've always been of the mind, 'if you can, you should'."
The desire to meaningfully contribute to the world is a thread that runs through Di's life and work – a trait she is proud to have passed onto her children, Gabrielle, a well-known sexuality and relationships educator, and Nicolas, a professor of Asian art and religion. Despite all her incredible achievements, Di says the thing she is most grateful for is that her children are good people.
"I'm really proud of my children," she says. "I feel like we have a duty to encourage our children to be good people and I'm so happy that mine are. They're philanthropic, they're brave and they speak up and do good things, and I see them passing this onto their own children. This sense of contribution is the legacy I want to leave."
For more info, go to www.dimorrissey.com Arcadia is stocked at Book Face in Port Central and Kmart in Coffs Central. Book Face also stock several other Di Morrissey books.