Delicious healthy raw desserts by Sharna Lindsay, exclusive to Go Vita
You'd be forgiven for thinking the brightly coloured cakes and slices filling the cabinet at Coffs Central's Go Vita in Coffs Harbour are out of place in a health food store. Surely they're full of chocolate, cream and sugar, right? Wrong!
Coastbeat: Sharna, be honest with me. Are these raw desserts really healthy?
Sharna Lindsay: Yes! Most of the products I use are organic wholefoods and I always use quality ingredients. Cashews make up the cheesecake and I bind them with a sweetener – rice malt syrup or maple syrup. The other ingredients are things like coconut oil, almond milk, dates and coconut.
Every product I make is dairy free, gluten free, refined sugar free and vegan. I'm trying to expand into the Keto market and the Paleo market. There are so many different diets out there, so I want to diversify and be able to give my customers more information about what's in each product.
Cb: How did come up with the recipes?
SL: I love healthy food and experimenting in the kitchen, so I decided to combine them. All of the recipes are my own and they took years and years to develop. You have to use the right ingredients in the right way and you get there with a lot of trial and error.
I created my hemp slice because my husband is a cyclist and he was looking for something full of natural energy. It's made with oats, hemp protein, hemp seeds, almond butter… I don't want to give away the entire recipe! It's so wholesome. You could have it for breakfast, lunch or dinner and you'd feel full and know that you're getting all of your nutrients and antioxidants.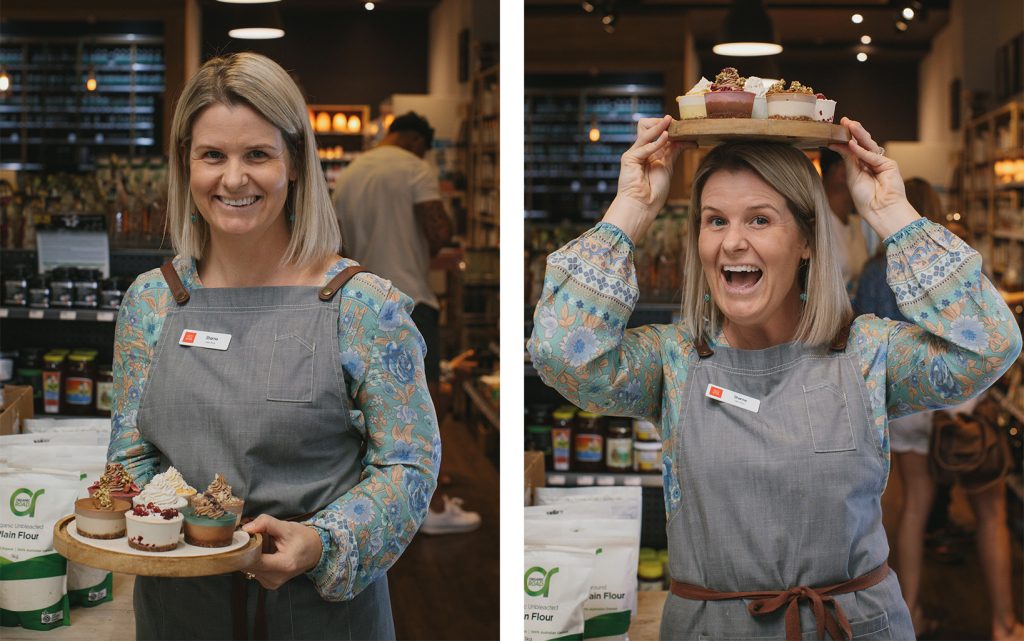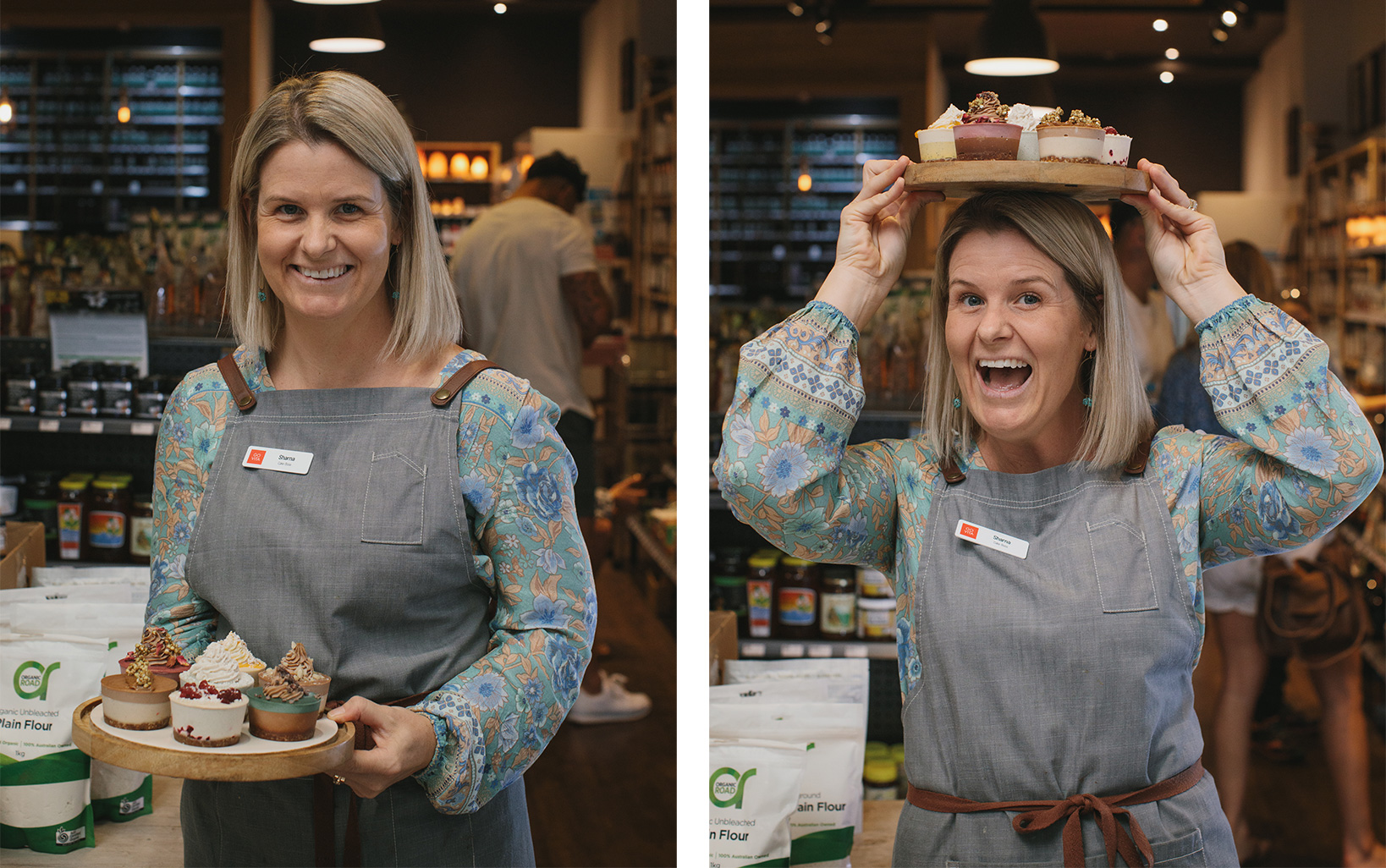 Good food and good fun – Sharna Lindsay clearly loves her job 
Cb: What are your best sellers?
SL: The hemp slice is very popular. People come from far and wide for that one so I'm quite proud of it. The lemon and passion fruit cake is my personal favourite and it's a customer favourite as well. My versions of Snickers and Mars Bar are pretty popular too.
Cb: I see your name badge says, 'Go Vita Cake Boss'. How did you end up with that title?
SL: When I first started making raw desserts, I supplied them to Split Cafe in Sawtell. I only had two or three different desserts, but more and more people came to buy them, so I started supplying to other cafes. I was stocked in cafes from Scotts Head to Lismore.
The next step was to go huge, but I felt that would change the love I had for what I did. I thought if I'm still going to keep producing a high-quality product, I don't want it to be just slapped out and sold everywhere.
I decided to make my products exclusive to Go Vita here at Coffs Central. It wasn't an easy decision, but I have kept up my friendships with all of the other cafe owners. I love working under the Go Vita banner and the staff here are like family. The owners, Tracy and Clinton have been very supportive, and Tracy provides all the quality ingredients.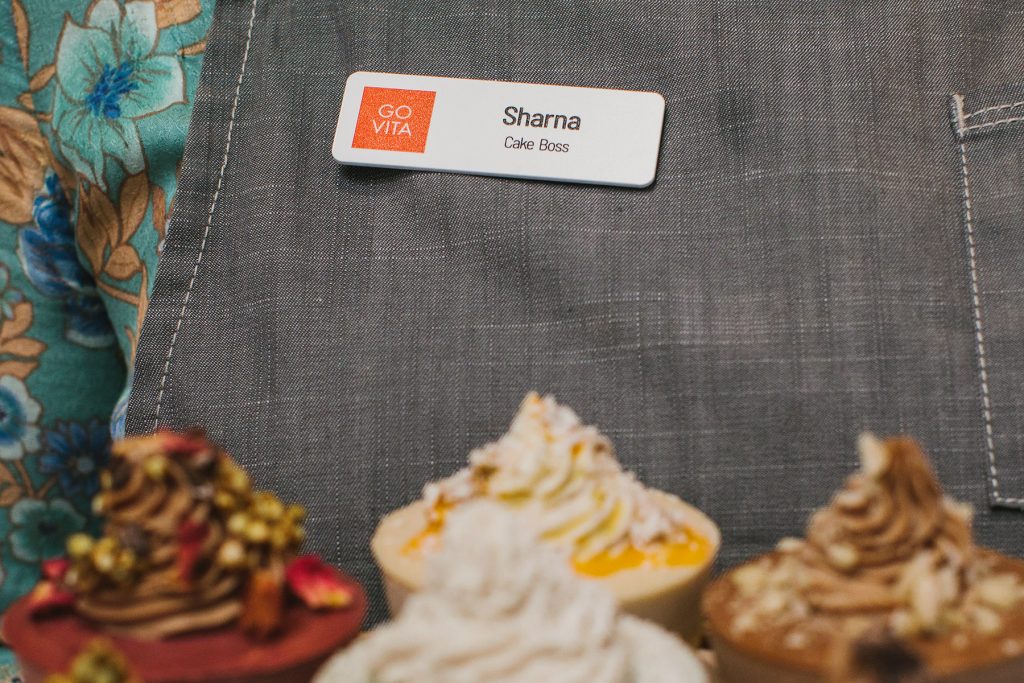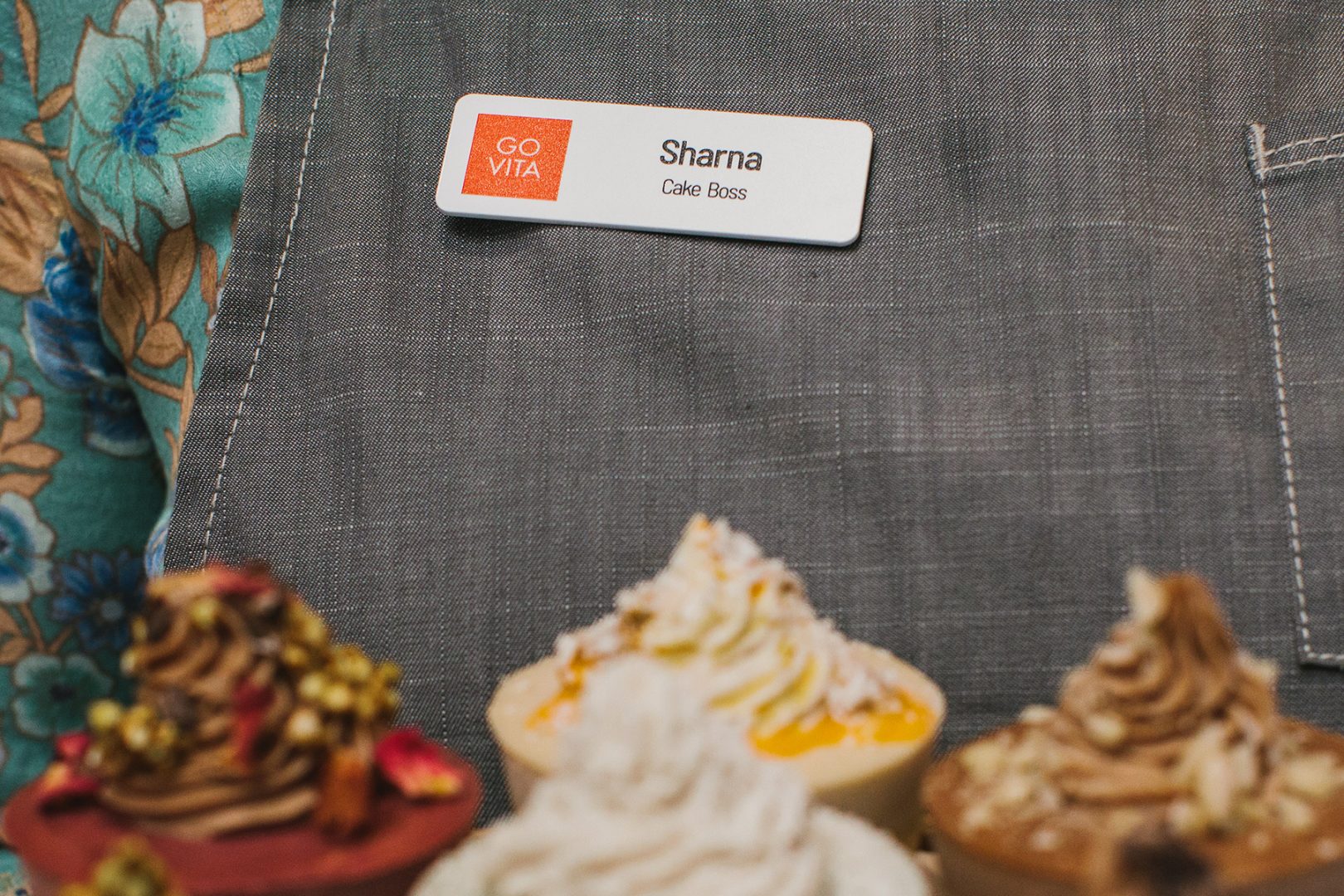 Sharna's raw desserts are exclusive to Go Vita Coffs Central 
Cb: It sounds like you've really found your niche.
SL: Yes, I work here three days a week and it's a fantastic balance. We live near the beach, so I want to be able to enjoy that and do my yoga. I'm very fortunate to have found the balance between work and family life. I know not everyone can have it.
I also make larger cakes to order. People come into Go Vita or contact me through Instagram. A lot of my clientele are repeat customers. People come from pretty far afield so that's really rewarding for me.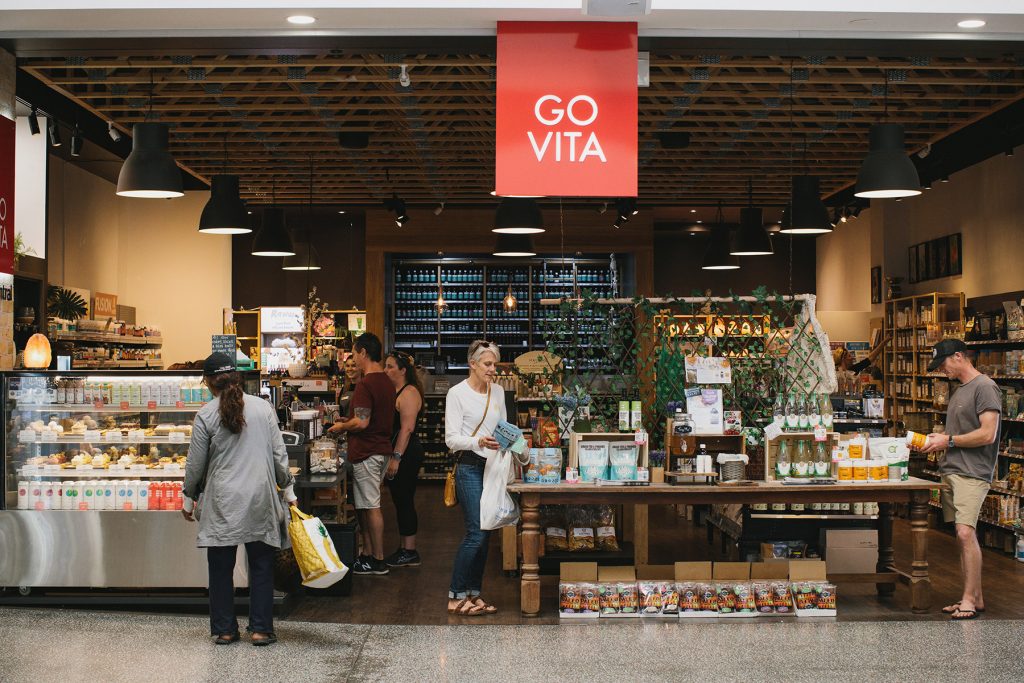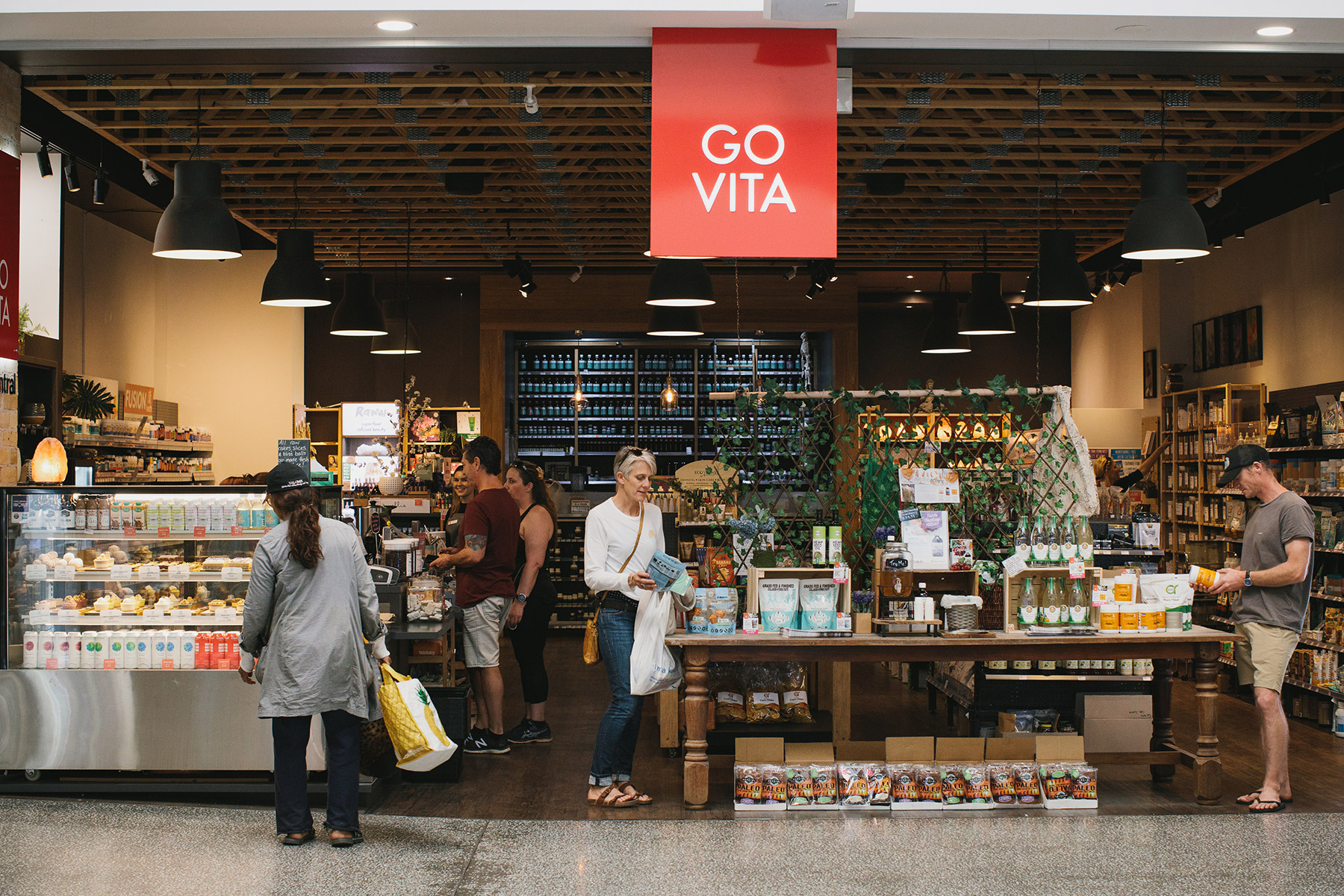 Sharna says the supportive team at Go Vita Coffs Central feel like family
Check out Sharna's creations in store at Go Vita Coffs Central or on Instagram @happyandwhole_
Hungry for more? Visit Coastbeat's favourite Coffs Coast Cafes and check out All Things Foodie and Fabulous on the North Coast