Meet a local – we chat to a dedicated RFS volunteer and business owner from Port Macquarie
Through the week, Aaron Hall from Baker's Delight in Port Central starts work by 3am. You'd assume he'd love nothing more in his downtime than a sleep-in but he's more likely to be on duty with his fellow Rural Fire Service members. We find out more….
Coastbeat: Aaron, tell us a little bit about yourself?
I'm coastal born and bred (Forster). Before stepping into this role as franchisee here in Port Macquarie in 2013, I worked at Baker's Delight in Forster for several years. I started there as an apprentice baker.
Buying into this business was a great opportunity. I usually work six days a week; five days in store and then a day of admin. Running the business and being hands-on is hard work but it's rewarding work. We make everything in store from scratch and receive wonderful feedback from our customers.
I love fishing but between work and my commitment to the RFS, I don't get much time to myself. My partner Tara is a theatre nurse, so it seems we both enjoy looking after others!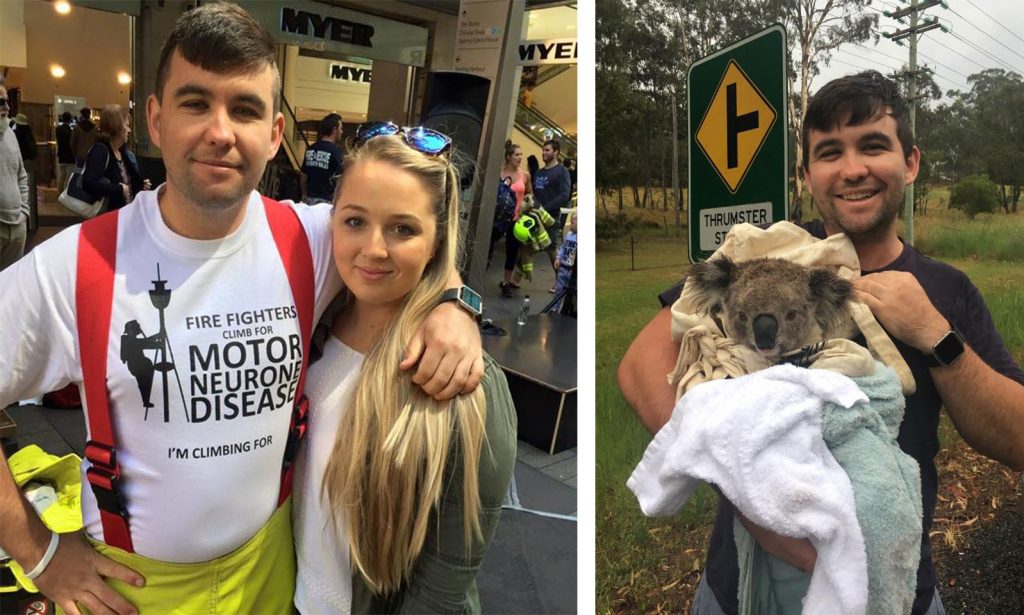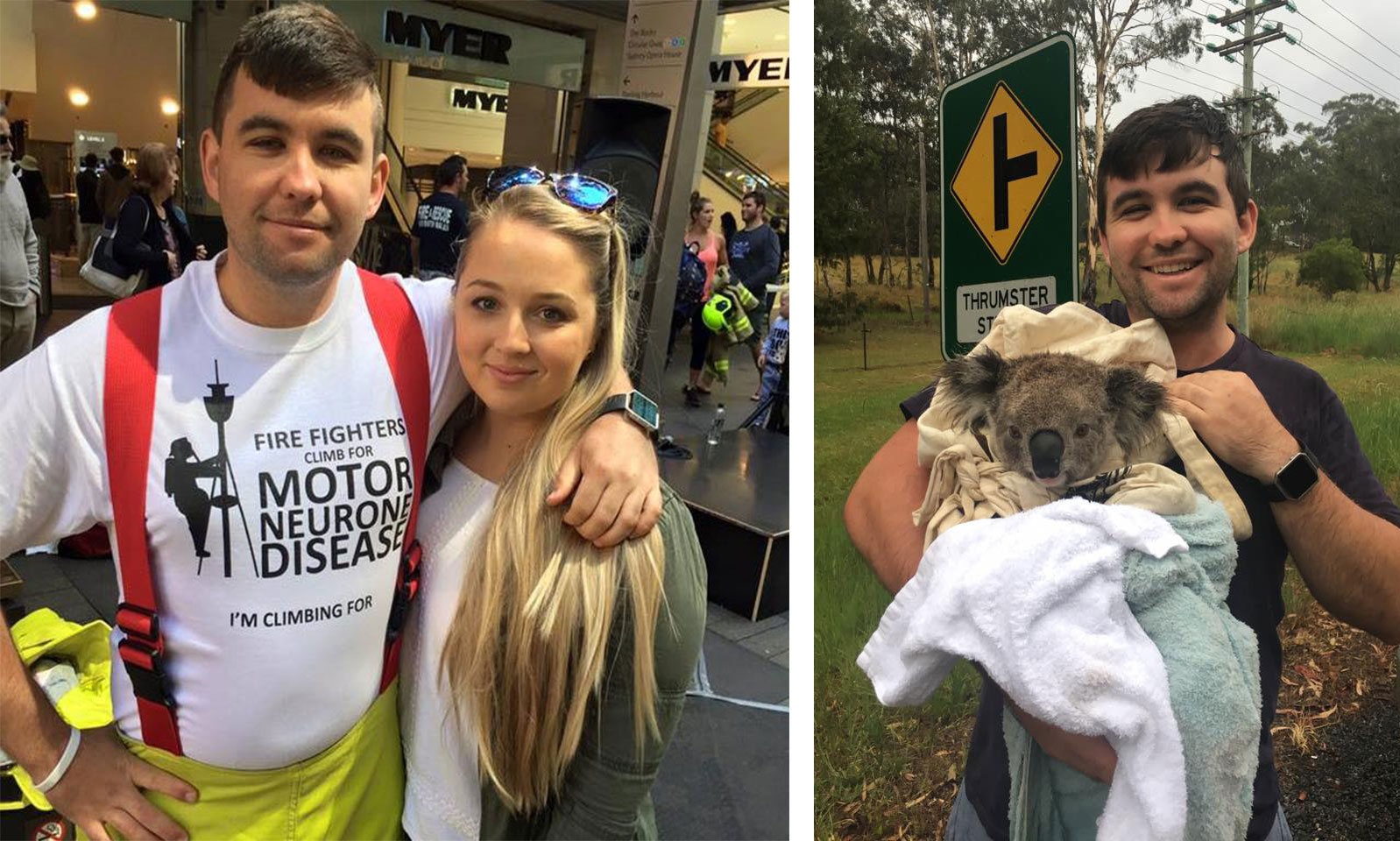 Aaron with partner Tara and rescuing a koala in Thrumster
Cb: What motivated you to join the NSW Rural Fire Service?
I didn't really know anyone in Port Macquarie when I moved up, so I decided to join my local RFS – the Sancrox-Thrumster Brigade.
Cb: Can you give us a little insight into the RFS and this summer particularly?
People may not be aware that those RFS members on the frontlines are all volunteers. The vast majority of the entire organisation is made up of volunteers.
Generally, big jobs through summer impact one area at a time whereas this summer, fires have spread across an entire region at once. This makes resourcing particularly challenging as crews can't call on support from elsewhere.
Our brigade is part of the Mid Coast District. It has 91 brigades and comprises volunteers from Gloucester, Great Lakes, Taree and Port Macquarie. Collectively, we cover a massive area – all the way down to Karuah and up to Kempsey. Sadly, some of the towns and villages across our district have been subject to the worst fires across this part of the state.
Cb: Have you stayed local in recent months?
Yes, we've been very busy locally. Some guys from our brigade have taken trucks and headed elsewhere in the state for a five-day deployment but I can't really take off more than a few days of work at a time.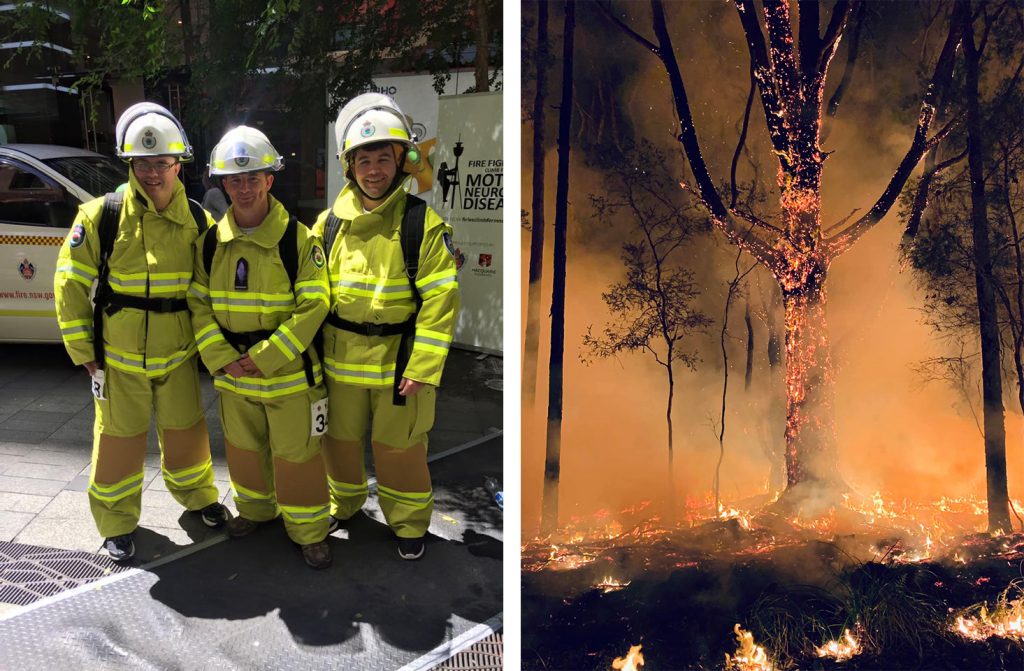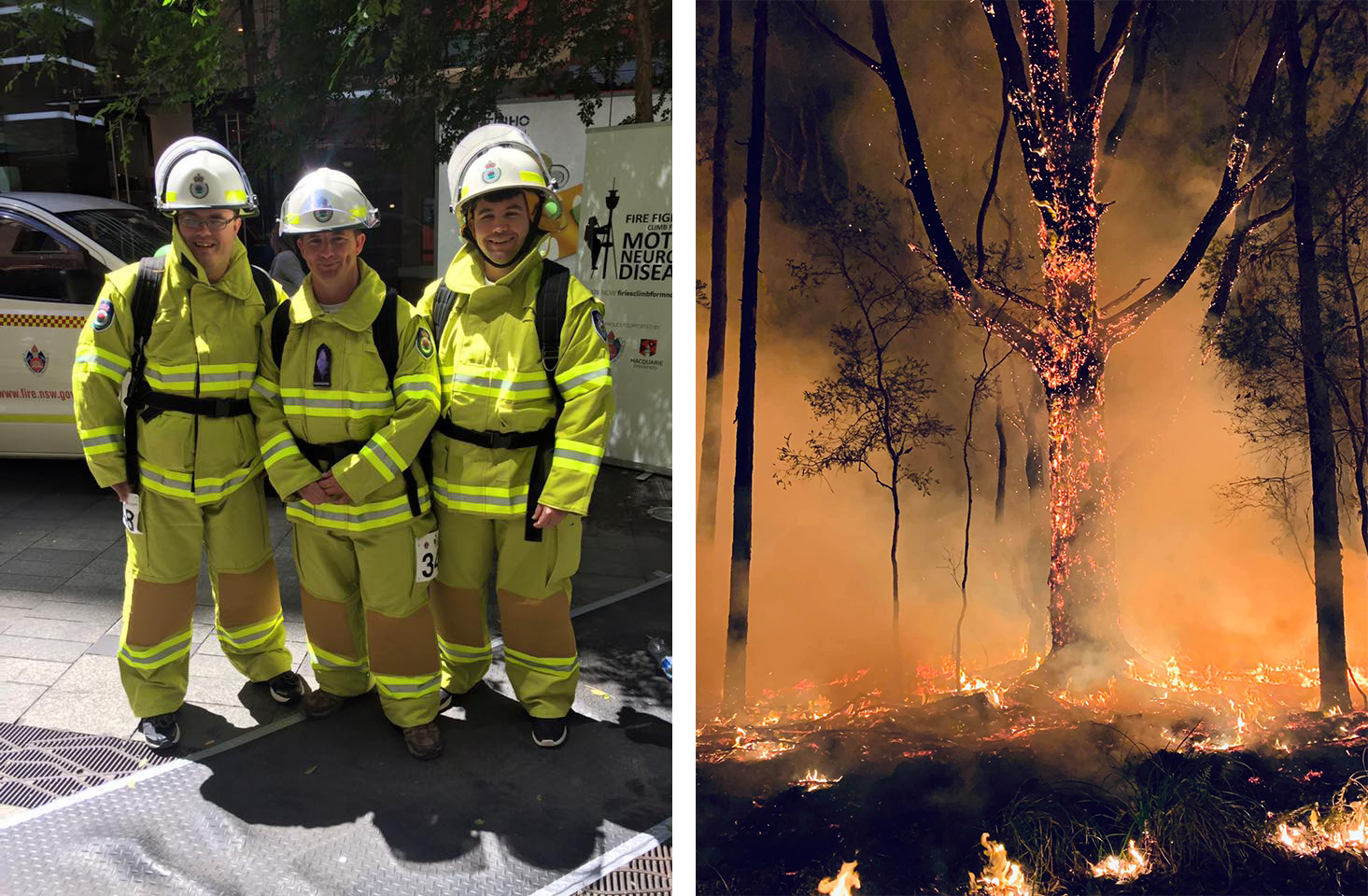 Aaron with fellow RFS volunteers and fire sweeping through local bushland
Cb: So, it's been a balancing act between running the business and assisting the RFS?
It has but I'm fortunate to have great staff who step up in my absence. Alternatively, I pay a casual to do the baking. Sometimes, there's no other way around it if I'm needed to help with the fires. It's often about assessing the needs of the business versus those of the local community.
Cb: Do you always feel well-prepared for the bushfire conditions you face?
Yes. We have a very solid brigade. We all know one another's strengths and weaknesses and I've never really felt unsafe. It's stressful at times and can be dangerous, but I've never feared for my life with the guys in our brigade.
There's also an important rank structure within any crew with captains and deputy captains at the top. Naturally, they are more experienced and well trained in managing dangers and fatigue and in knowing know what to look for to keep crews safe.
We know what we sign up for. I'm lucky that our brigade does a lot of fundraising throughout the year, so we have a decent set of equipment. Some of the smaller brigades out west who don't get the exposure or have as much fundraising don't have the equipment we do. Our members are really proactive in approaching people for funds and in creating fundraising opportunities.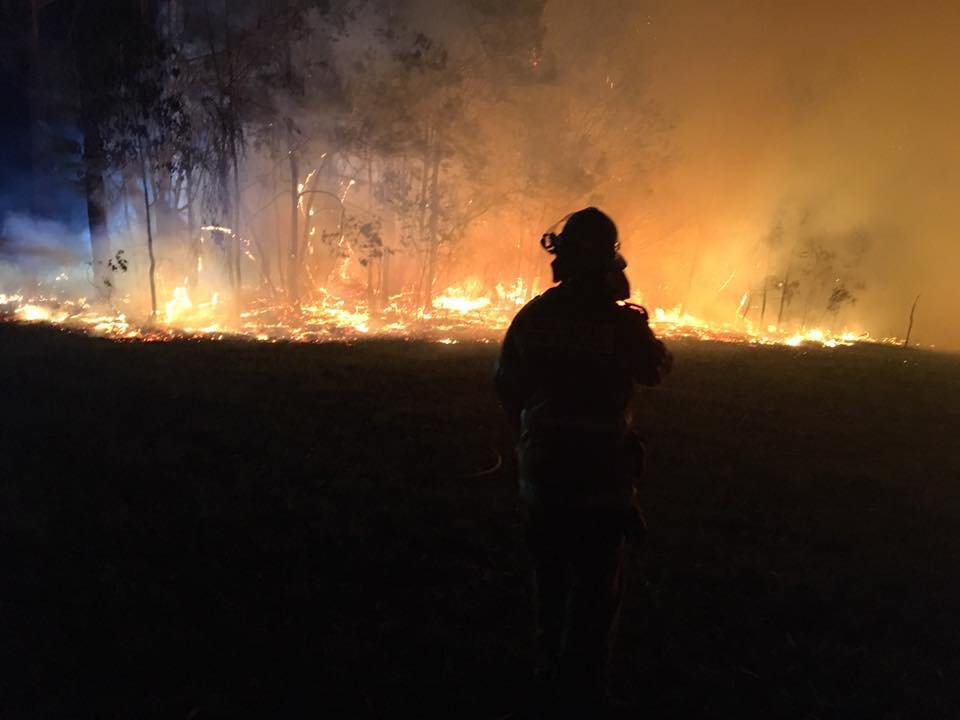 Aaron on the job in the recent north coast bushfires
Cb: You must have witnessed some heartbreaking circumstances?
Yes, over the past few years we've been to a lot of incidents where there have been deaths and property loss. Tragedy can bring out the worst in people and alternatively, you can see people who, despite the awful circumstances find great strength and resilience.
It does get easier to cope, too. The more incidents and training you attend, the more you learn the best ways to deal with things and the easier you find it to work through difficult circumstances. Each and every situation is different so it's a constant learning curve and things are always evolving and changing. It keeps you interested all the time.
At the end of the day it's very rewarding to be part of the RFS, to give back and help others.
Cb: And fortunately, conditions have eased somewhat?
Yes. There are still fires around but they're not spreading. Conditions have improved and hopefully the threat is over for our region.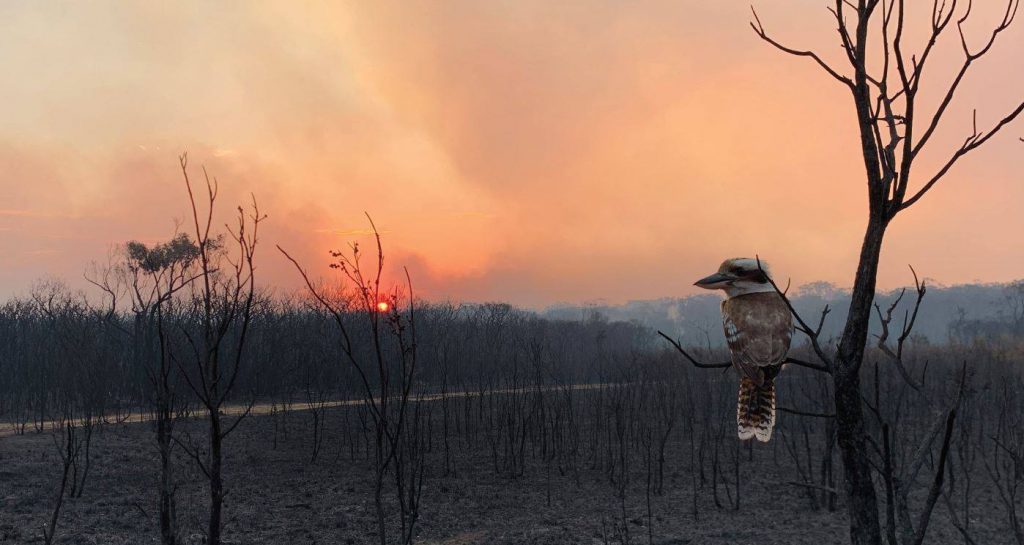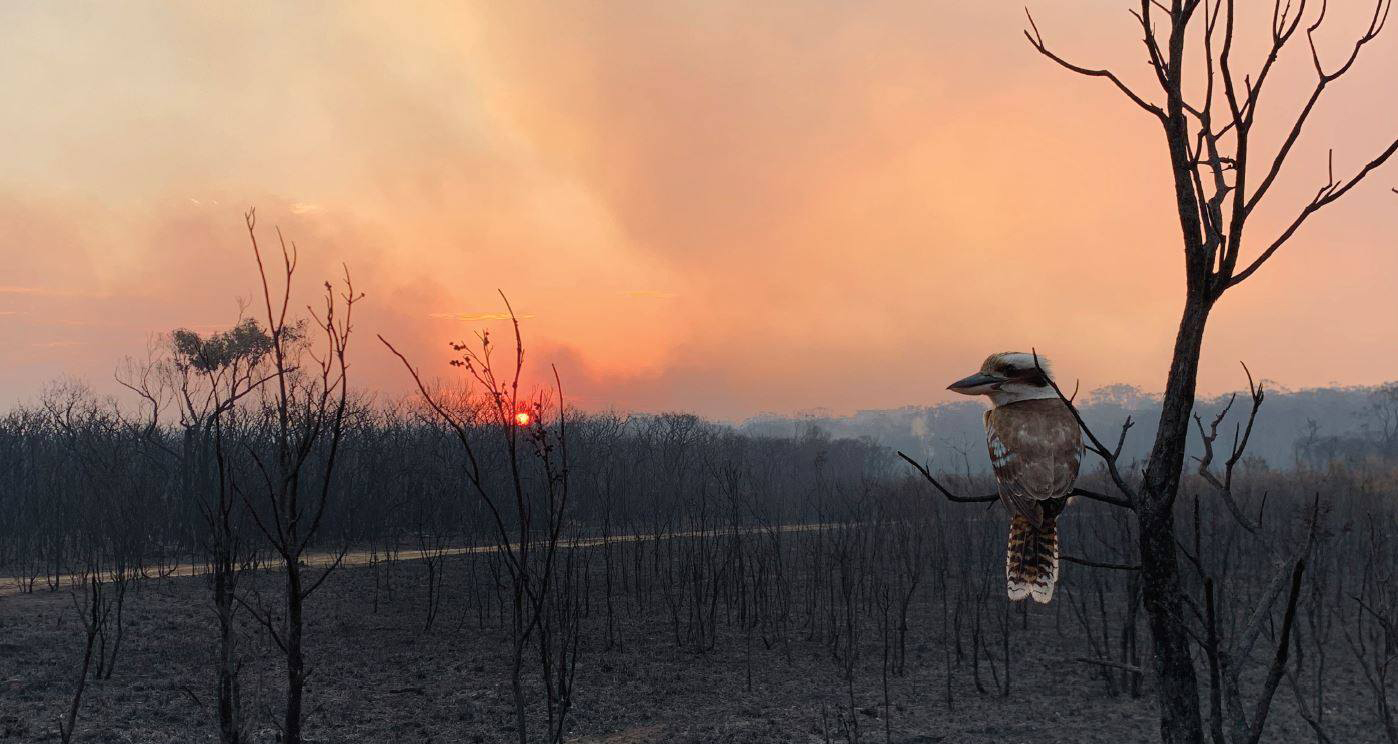 A kookaburra surveys the destruction – image by NSW Rural Fire Service
Cb: Who can join their local RFS crew?
We encourage people from all walks of life to come and see what it's about.
It's perceived as a very physical job but there are roles for everyone. People will only be required to do what they're physically capable off – we're not going push someone to do anything they're not comfortable with.
The vast majority of our members have been involved for a long, long time. From the moment you're trained up and on the truck, everyone works well together with a common goal. We're all deeply committed and want to do the very best we can.
It's a great community – lots of families are involved– fathers and sons, mothers and daughters. We're generally getting more female members than we used to which is fantastic. When family members are crewed up together, they know instinctively how their loved one will react which is helpful in many ways.
Our brigade has 30 active members. Since the fires, we've had at least 100 people offer to join. People have seen the horrible footage and want to help. For those keen to get involved, there's three to six months of training to do before they can jump on the end of the hose, but they'll be all set for next season!
More rain would be a blessing heading back into the warmer months. With drought and a complete lack of moisture in the ground, fires that would otherwise move slowly just roar through because of how dry it is. All it takes is a little wind and heat to get beyond our control.

Harrington – image by NSW Rural Fire Service
Thanks so much for your time and great insight Aaron.
Call into Baker's Delight at Port Central Shopping Centre to say hello to Aaron. Better still, show that you appreciate his service to our community by popping some money into the RFS collection tin he has in store.
Want to support bushfire relief efforts? Here's how you can help.