Port Artists Connecting the Dots
The work of Port Macquarie/Birpai Country creatives is on show in the centre of town. Three impressive productions are being projected onto the Historic Courthouse throughout December and into 2022. 'Connecting the Dots' is a stunning sound and light installation celebrating the region's performing arts community. Coastbeat went along for a sneak peek.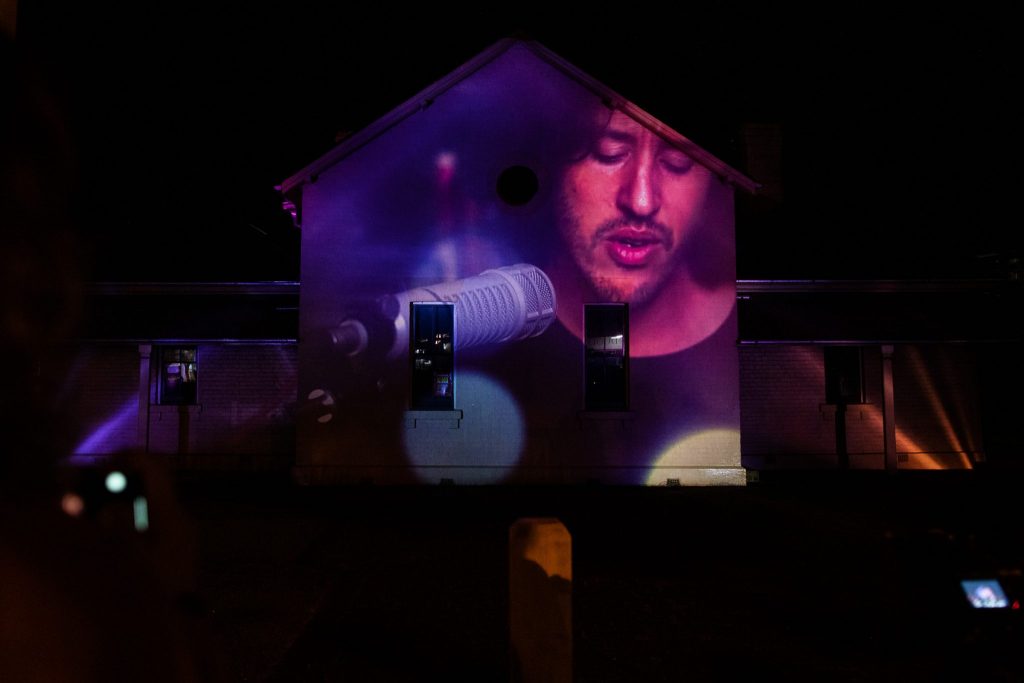 Showcasing Local Talent
'Connecting the Dots'– Mara Nyiirun.gay Barrayga Nyaagi Djuyal (Come With Us on Country to See Story) features more than 15 local creatives. From visual art to poetry, dance and music, it shines a light on the region's unique talent. The emersive sound and light installation flows seamlessly from one medium to the next, providing a sneak peek for a longer production due to premiere at ArtWalk 2022. See it at 9 o'clock every night until December 19.  
Talent featured includes:
Aunty Rhonda, local Birpai Elder & Gathang language teacher
Mel Streater, local Wiradjury woman, Artist/Designer Marramarra Creative.
Jo Davidson, Artist
Lucy Gamsby-Frost, Artist and performer, Good Time Merchant.
Jeff Streater, Artist
Josh Moses, Poet, Writer, Performer
Got Ya Back Productions, Performing Arts & Producers
Gordon Gamsby, Performer, Good Time Merchant.
Fiona Joy Hawkins, Musician
James Bennett, Musician
Nana Klumpp, Band/Musicians
Dhoongang Dancers
La Vive Studios, Dancers
Port Macquarie Performing Arts, Dancers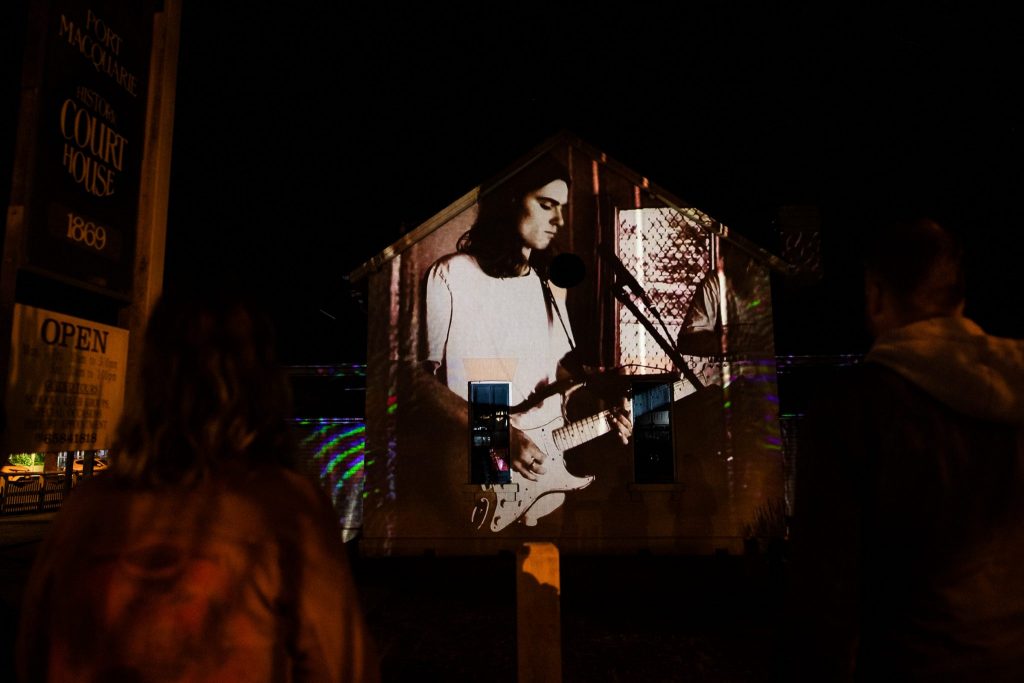 The Christmas Bell – A Moment for Us All
Connecting the Dots is one of three productions on show each night. ATt8 o'clock, see The Christmas Bell – A Moment for Us All. The Port Macquarie-Hastings Council launched this special online production in 2020 as a way for the community to come together after a challenging year. Local producers, Got Ya Back Productions, created a 15 minute 'director's cut' and share in the wonderful local talent celebrating and enjoying the places and stories which connect us all. The Christmas Bell screens until January 3, 2022. 
Screening at 8:30 seven nights a week,  Wakulda is a 10-minute production that envelops the audience. Originally launched during the Bicentenary Event, Wakulda tells the important stories that make up the rich history of Port Macquarie. It begins with the traditional owners of the land, the Birpai people, and runs right through to the current day of the Bicentenary of European settlement.  
ArtWalk 2022
ArtWalk will once again take pride of place in the region's annual events calendar in 2022. The magical main event evening will be on Friday June 10 with the Queen's Birthday long weekend full of interactive satellite events. With creative projection events running from December 2021 through to June 2022 and beyond, visitors will be entranced by the creativity and vibrancy of the destination. ArtWalk has become the signature cultural arts event with exhibitions, activations, illuminations, live performances, artist markets, workshops, creative installations, and more.