Peita Blythe – Map Illustrator
Coastbeat is pleased to showcase the work of talented young artist, Peita Blythe. She's created wonderful maps of Port Macquarie and Coffs Harbour. Here, Peita tells us why she's so mad for mapping!
Cb: You admit to being obsessed with maps. Why do you find them so much more interesting than static illustration?
Oh yes, I'm totally obsessed with mapping because it combines all of my passions; travel, research, illustration, design, hand lettering and storytelling. I love the versatility of maps. Anything and everything can be mapped and the possibilities are endless – be it a specific street, memory, travel route, country, experience, person, song or even a conversation.
Cb: What are some of the challenges in mapping a destination?
Making maps can be very challenging because there are so many different elements to consider and a map needs to be geographically accurate. It involves a lot of research, planning and problem solving which is why I love it! The main challenge is deciding on the layout and the perspective to adopt for the map. For instance, when I was working on the Port Macquarie map, I initially sketched it from a north-facing perspective but when I started to add in the buildings and icons, various problems started to arise. After lots of testing, it became clear that the south-facing perspective was the best orientation to properly capture the city.
Cb: At just 25, you've already created quite the niche market…tell us about that leap of faith to leave full-time work and pursue your passion?
I still pinch myself that I get to make maps for a living! After finishing my visual communication degree at UTS in Sydney, I began working full-time as a graphic designer at a creative studio which I really enjoyed. It was a small team and I learnt so much during my time there about design and running a small business too.
After doing various freelance projects at night, I soon realised there was a demand for illustrative maps. With the encouragement from the creative studio and their assurance that I always had a job to come back to if everything went pear-shaped, I made the decision to go out on my own. It's been eighteen months now since I took that leap and it's the greatest thing I've ever done.
Cb: What is your favourite map?
It would have to be a map that I created last year when I took a scenic flight over Antarctica. It only takes three hours to get to Antarctica from Sydney (crazy right?!) and in those three hours I started drawing a map to get a better grasp of the continent and to document the trip. I included iconic landmarks, base stations, stories from other passengers and fun facts from the information pack we received.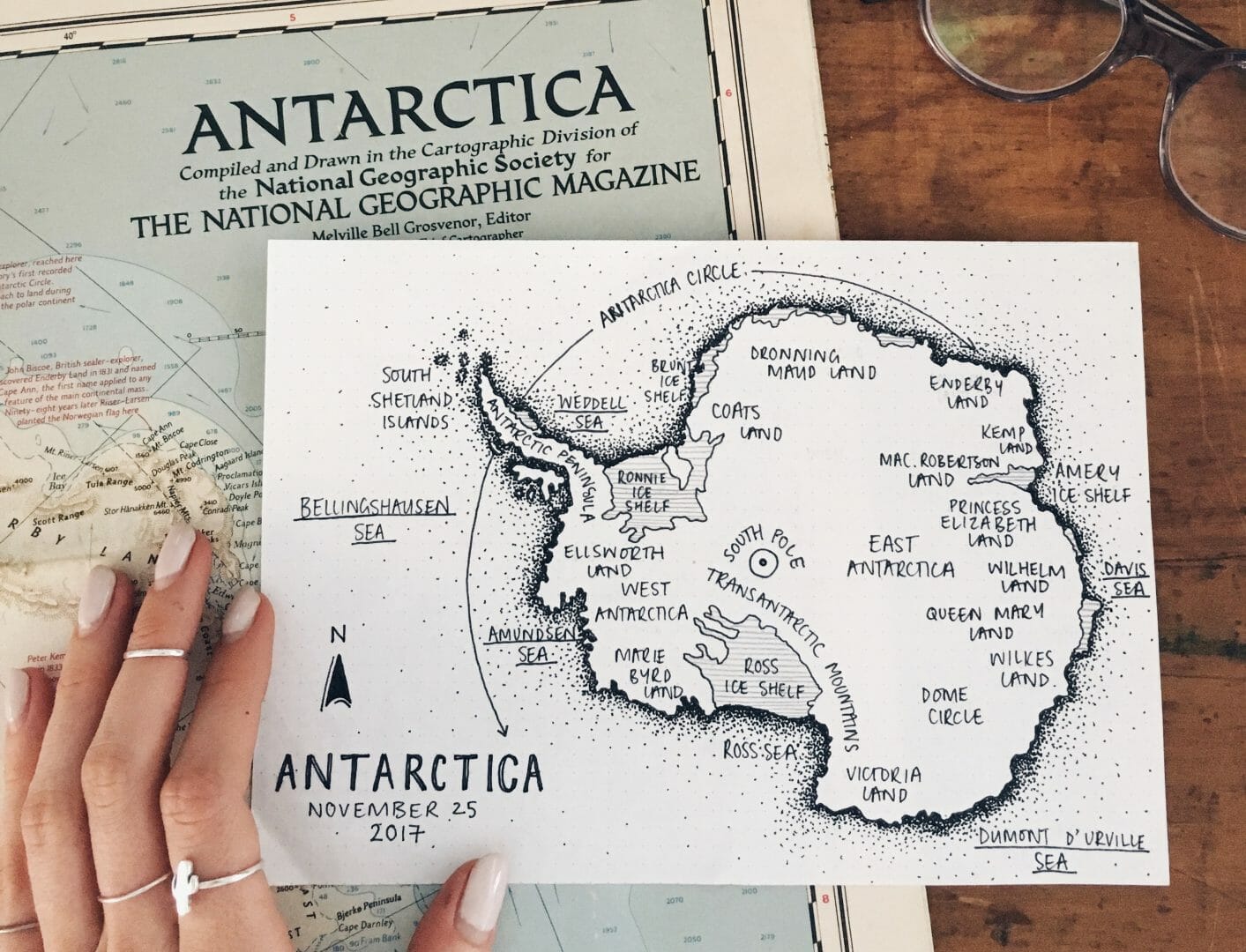 The flight's captain walked by and was intrigued by my map illustration. He then explained our route (which of course I quickly added to the map), pointed out landmarks to keep an eye out for and referenced his favourite places. He was kind enough to share some of his stories and reflections on 20 years of flying to Antarctica. Soon enough, we had a crowd gathered around us, listening to the captain and watching me add details to the map as he spoke. It was so lovely to see the map come together so organically and to have a memento that captured such an incredible experience.
Cb: How does your creativity change the way you look at a city or experience somewhere?
It has made me look for the quirky and unusual. When I make maps of new destinations, it helps me orientate myself and gives me a better grasp of the place in question. It helps me slow down and learn new things about somewhere. When I'm travelling, I love making maps because it means I really soak up the spot I'm in.
Cb: You're an adventurer. What's on the travel wish list for this year?
This year, my partner and I are going to the Faroe Islands, a collection of 18 islands located between Scotland and Iceland. My partner is a geologist and environmental scientist and has found some incredible places that I'm very excited to explore and map out.
Cb: Is there somewhere that would be a standout to map?
Oh, there are so many places! It has been a dream of mine to live in Copenhagen for a year and when that happens (fingers crossed), I would love to illustrate a huge and really intricate bird's eye map of the city to document my time there.
Cb: Thanks so much Peita. 
Grab a free copy of one of Peita's maps of Port Macquarie or Coffs Harbour at the concierge desk at Coffs Central or Port Central shopping centres. To contact Peita or see more of her work go to www.peitablythe.com