Peak Coffee
Meet the people who make two tons of coffee a week
Can you imagine what two tons of coffee looks like? Enough to keep the whole North Coast awake!
This is the amount that passes through the expert roasters at Peak Coffee, who supply over 200 cafés on the mid-north coast.
Peak Coffee was started 12 years ago by Kristine and Sean Edwards, who were already knee-deep in brew as owners of Café Biz and the Café Culture magazine. Sean had consulted for many successful roasting houses, so the obvious next step was to back their own expertise and start Peak Coffee. The risk has paid off.
Self-confessed coffee fanatic ZJ interviewed Kristine for Coastbeat.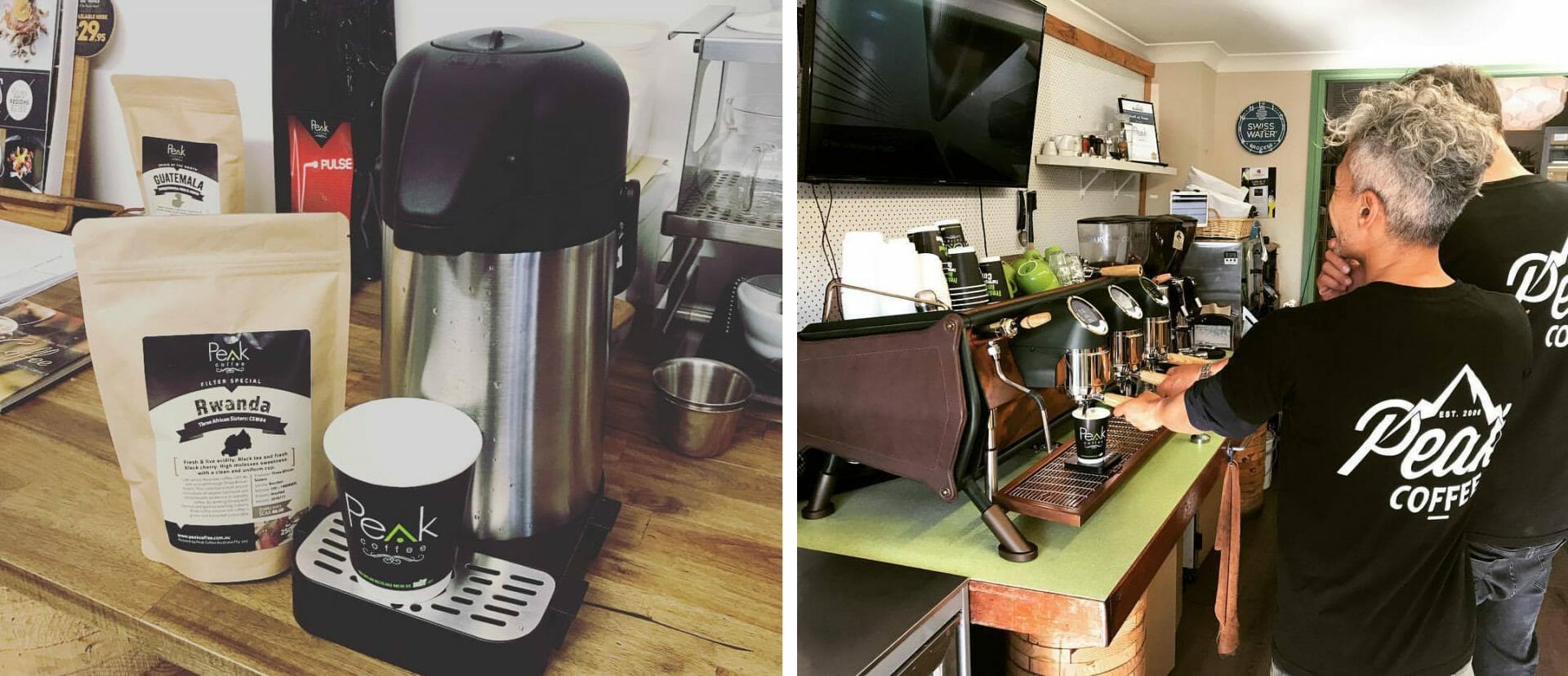 Cb: What kind of experience does Peak Coffee offer?
Kristine: We are exceptionally focused on customer service and education. Our experienced brew-lab baristas Ken Seno and Jeremy Wall will send you on a sensory coffee journey!
Cb: Great – I'm packing already! What is Café School?
Kristine: That's our purpose-built teaching café in Port Macquarie, where we also offer barista courses.
Cb: Do you have an over-arching philosophy?
Kristine: We're all about education and amazing coffee, and forming authentic business partnerships to assist café owners grow their businesses.
Cb: Where does your coffee come from?
Kristine: 90% of our green beans are from direct trade relationships in India, Guatemala and Colombia. Buying directly allows for better quality coffee and allows us to buy ethically. We give back a percentage of each pallet of coffee to assist with the growers' basic needs, like education, water and health.
Cb: It sounds like you set very high standards?
Kristine: Literally! We have affected the whole shape of the Australian café industry by writing the original coffee standards.
Cb: Is that why Australians serve the best espresso in the world?
Kristine: We're proud of what we've achieved. The team at Peak fully understand Australian café culture: it's a fun business that draws people together over a cup of this mysterious, enjoyable brew. We've set up offices in London and America, consulting on Australian café culture, and recently Ken Seno spent six months in Japan, showcasing what we do. We love the fact that Port Macquarie has embraced the café culture. Staying true to our customers is the best success formula.
Peak Coffee welcomes all coffee lovers, so drop in. They are at 30 Jambali Road, Port Macquarie NSW. https://www.peakcoffee.com.au/