On the Farm with Thistle Flowers
Last year we introduced you to Matt and Chris, the floral stylists showcasing raw beauty. When the country boys left Inverell and went coastal, they opened Thistle Flowers in Port Macquarie. They were determined to seek out locally grown flowers. Enter Rosamarie and Fred Sidler, the Byabarra couple with a farm full of proteas and banksias. It may or may not have been their cheese tarts that initially interested Matt and Chris. But they stayed for the friendship and flowers.
"It seems like we're here every week getting flowers," says Chris as he follows Fred through rows and rows of protea plants.
"They're the staples," adds Matt as he accepts a flower Fred's just cut. "If you've got your proteas and your banksias you just add to that."
Matt and Chris relish the opportunity to connect with their growers. They value the relationships they're building as well as the quality of just-picked flowers. It's something Fred and Rosamarie appreciate, too. Rosamarie remembers the early days when local florists didn't hold them in high regard and proteas weren't too popular.
"Sometimes it was heartbreaking, but we just kept going and kept going," she explains. "After the last couple of years, we can say we are getting a reward."
Matt recalls spotting Fred and Rosamarie at a market in Laurieton early last year. After initially being enticed by the delicious Swiss cheese tarts the couple bake and sell, Matt and Chris bought a bunch of their flowers for home. The Thistle boys then introduced themselves at the Port Central Real Food Market and the weekly farm visits began.
"We could see how much they both loved it – they just have that vibe at the markets," Matt explains. "But they also work really hard."
"I call it playing with my flowers!" Fred chimes in. "You can change your attitude towards work – if you call it playing then it makes more fun."
Fred and Rosamarie plan to keep "playing" for at least another ten years. The plan is for their son to manage the farm after that.
"We're here to stay for a while and hopefully these two are too," concludes Chris.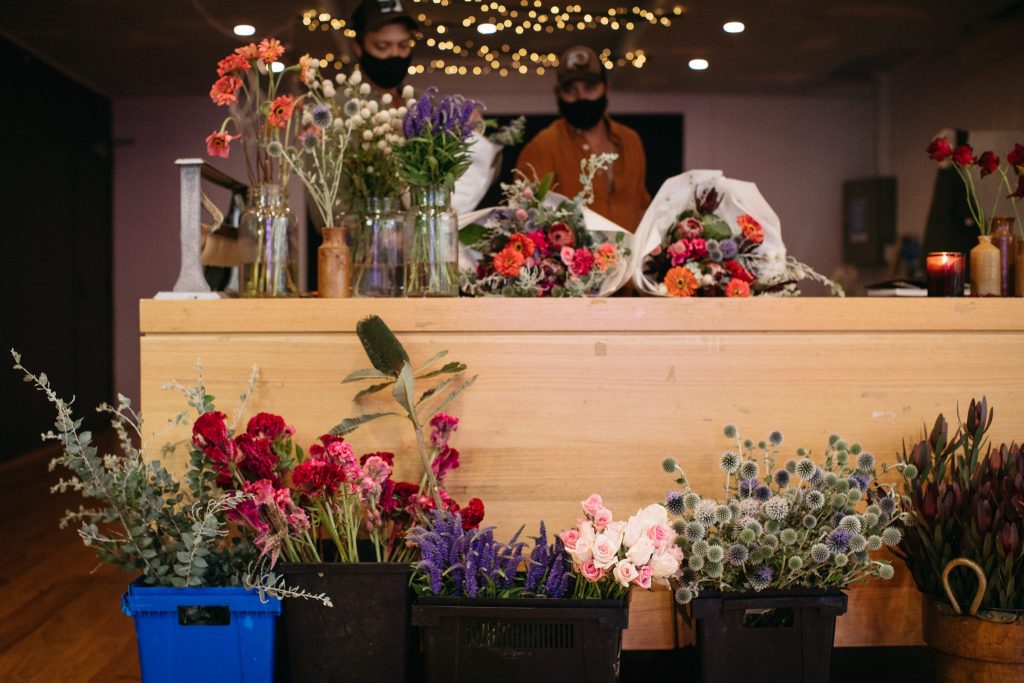 If you're wondering where to get your hands on a Thistle Flowers bunch, you'll be happy to know they've set up shop at Port Central for February. Find them on Level 1 near the escalators. Follow Thistle Flowers on Instagram and Fred and Rosamarie on Facebook.