Ocean Pools of the NSW North Coast
Ocean Pools of the NSW North Coast
Almost 100 ocean pools have been carved into the New South Wales coastline since 1820. They were initially constructed by local councils, private individuals and in some cases, groups of residents working together. They were made to provide competitive and recreational swimmers with a safer place to compete and do laps; a shelter from rough seas…and sharks! The north coast is home to four of these very special pools…
Yamba Rock Pool
This 33-metre pool sits at the southern end of Yamba's main beach. It was built by the Maclean Shire Council in 1969, making it one of the last to be carved out in Australia. Before this pool existed, residents and visitors would swim at the town's now closed quarry. That pool became polluted and was declared a health hazard before it was eventually filled in. The Yamba Rock Pool is well placed to enjoy a view out to sea, across the river mouth towards Iluka or back up the hill where the Pacific Hotel looms. I'm not sure if that's a help or a hindrance as the thought of a cold beer may just prompt some swimmers to cut their training session short.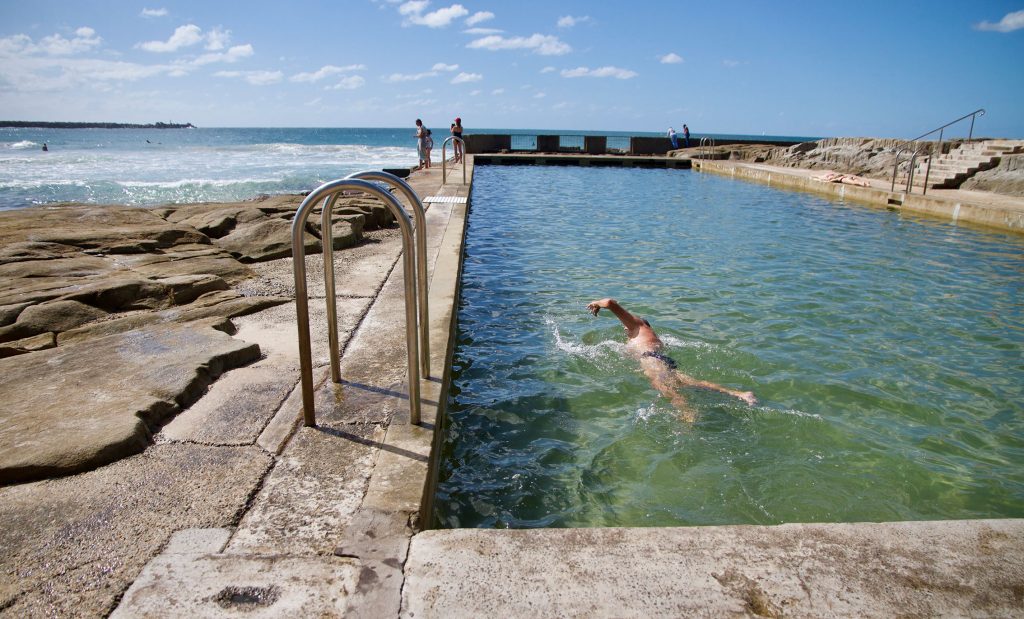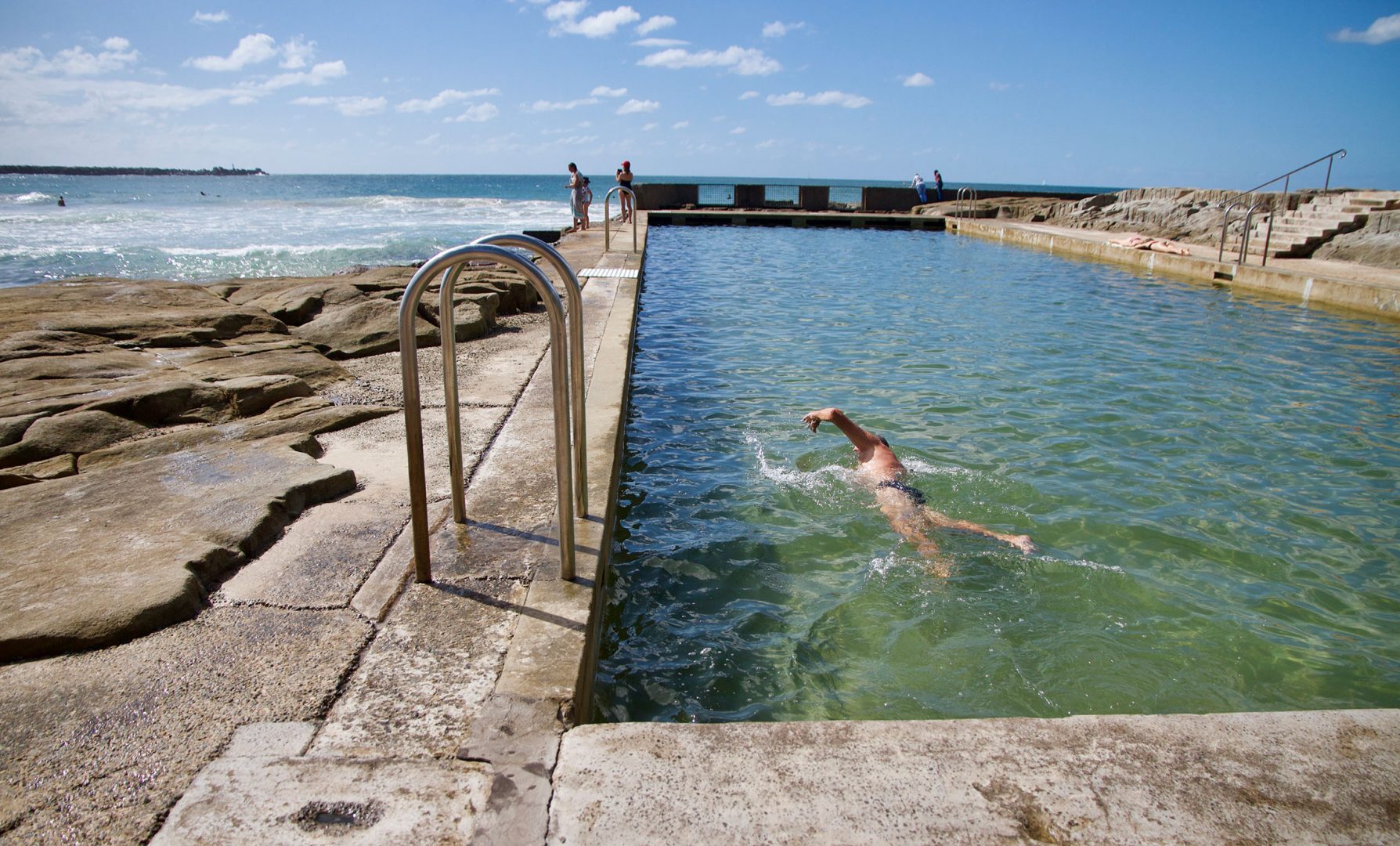 The Yamba Rock Pool is located at the southern end of Main Beach. Image by Deb Novak
Sawtell Memorial Rock Pool 

Build your Dream Home in
Sawtell Commons
A Natural Fit – Meet the New Owner of Go Vita
Naturopath Nalia Kirkaldy has long relied on natural remedies and supplements for her family's health. As the new owner of Go Vita Coffs Central, she's excited to offer the same level of care to all customers. Coastbeat chatted with Nalia about her passion for natural health and got some tips on how to fight cold[...]
Created more than 50 years ago, this much-loved local landmark is situated on the south side of Bonville Headland at Sawtell. The pool is built in a way that offers great protection from the rip that runs out past it from the mouth of Bonville Creek. With ocean temperatures fairly mild all year round, the pool is perfect in springtime. There are a lot of war memorial public pools in Australia, but it's rare to find an ocean pool dedicated as a war memorial. If you look closely, you'll find a simple granite inscription plaque set into the rocks. In 2000, the pool was listed on the Coffs Harbour Local Environment Plan as a Heritage Item.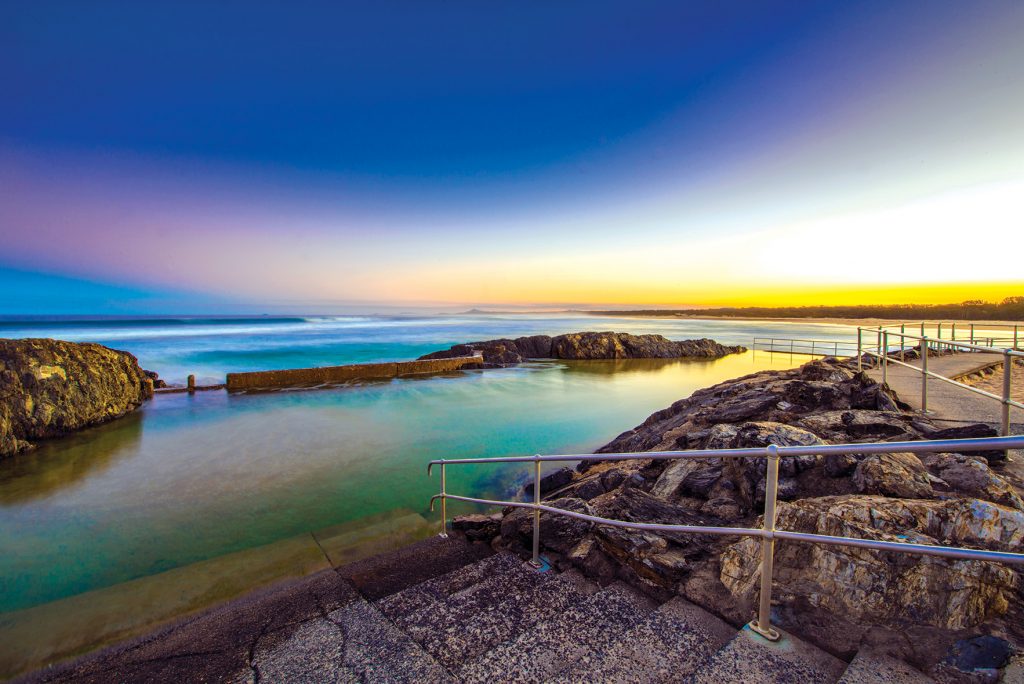 The Sawtell Memorial Rockpool at sunset. Image by Brendan Ray
Black Head Ocean Baths (Hallidays Point)
Coastal towns know just how special their ocean pools are and, in many cases, residents fundraise and pitch in to keep them in good working order. The Black Head Ocean Bath at Hallidays Point is taken care of by Dad's Army – a group of local volunteers who regularly drain, sweep, hose and refill the pool. There's no entry fee, but Dad's Army will happily accept donations to fund their tireless efforts. The baths opened on Boxing Day in 1941, with a competitive swimming carnival marking the occasion. The main pool is approximately 30 metres in length and there is an adjoining wading pool for small children.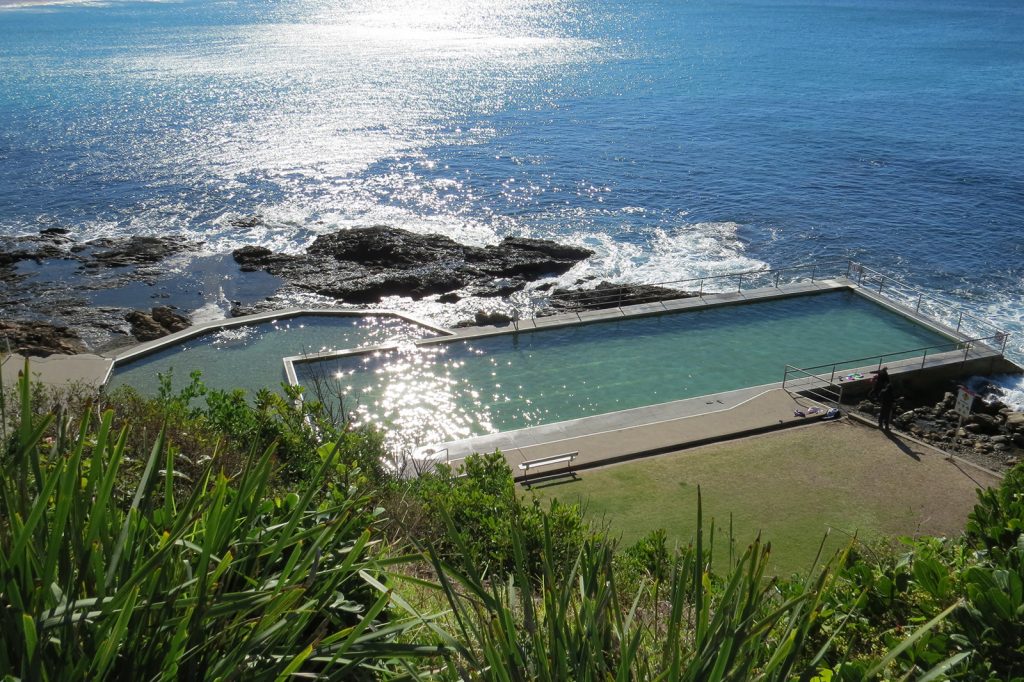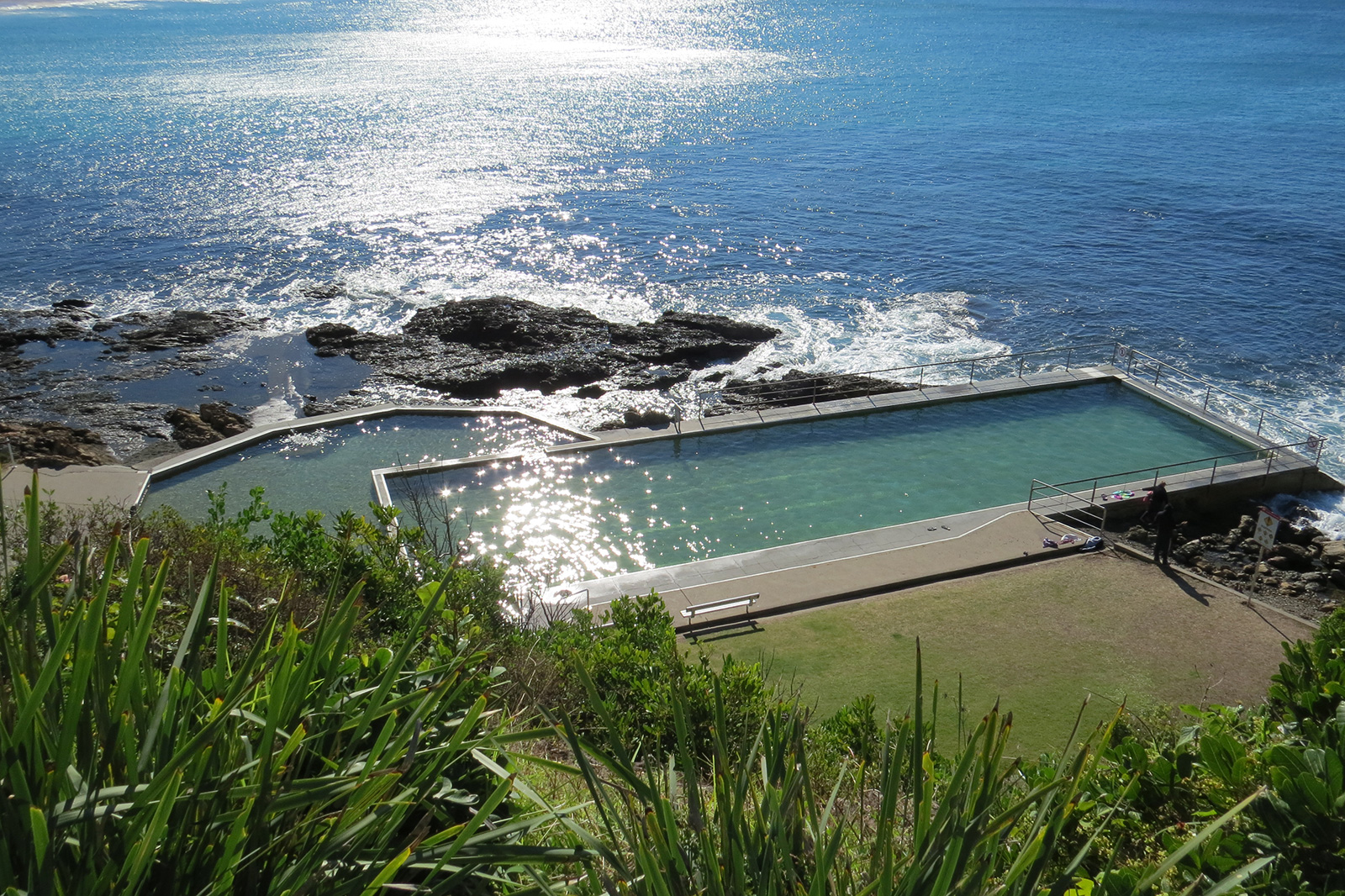 The Black Head Ocean Baths. Image courtesy of Mid Coast Council
Forster Ocean Baths
Cast your mind back 80 years and imagine this expansive ocean bath and its facilities as Forster's central tourist attraction. Complete with a busy cafe and accompanied by a thriving dance hall, the local council was praised for "laying the foundation for a tourist industry of inestimable value to the Shire and District". War time tested this prediction and the dance hall eventually had to close and was later demolished. The baths remain a popular spot for tourists and locals alike and work is currently underway to upgrade the surrounding amenities and barbeque areas.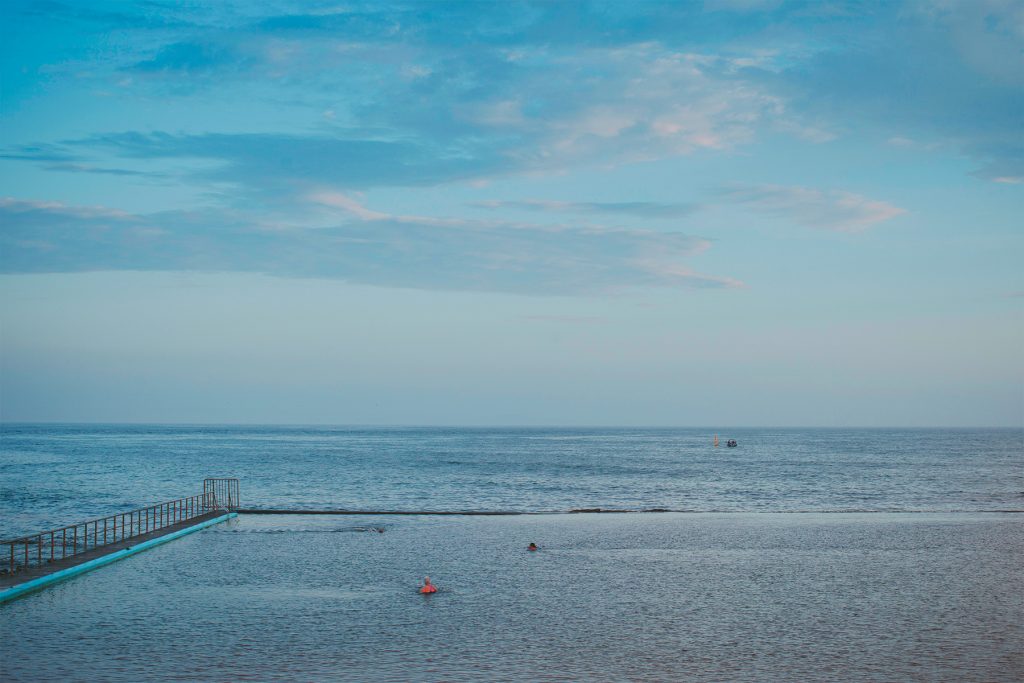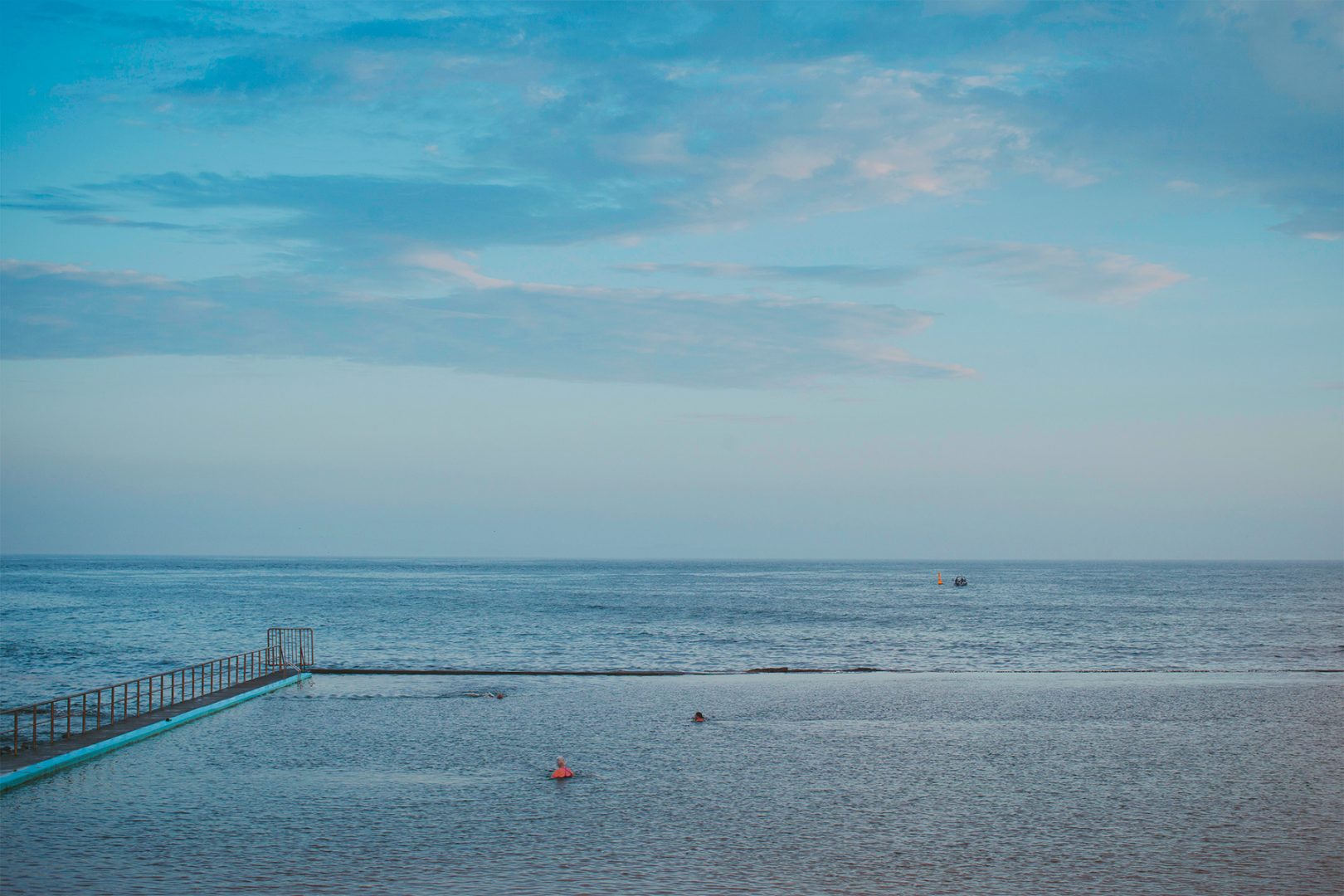 The best way to start the day is in the Forster Ocean Baths. Image by Elize Strydom
Keen to discover more great ways to experience these gorgeous coastal towns? Check out the Coastbeat Day Trip series for Yamba, Sawtell and Forster.