Nusa Indah Surfboards by Forster-based Jada Stanley
Jada Stanley's surfboards have found a market with local women and international brands alike, with those who want to ride the waves and those who want to decorate their space. Incorporating traditional Indonesian textiles and collaborating with established artists, Jada's Nusa Indah label is taking surfing to new frontiers.
"It's amazing that I've been able to combine the two things that I love: surfing and textiles," says Jada Stanley from her beachside home in Forster. "The boards I make are all so special to me and it's incredible to see them resonate with other people."
In 2013, Jada had three children under the age of five and an old yellow surfboard gathering dust in the corner. She was certain that a colourful new board would motivate her to get back in the water. Taking a treasured piece of green batik fabric to a local surfboard shaper and glasser, she created a beautiful board she'd be happy to ride and equally as pleased to look at when it wasn't in use.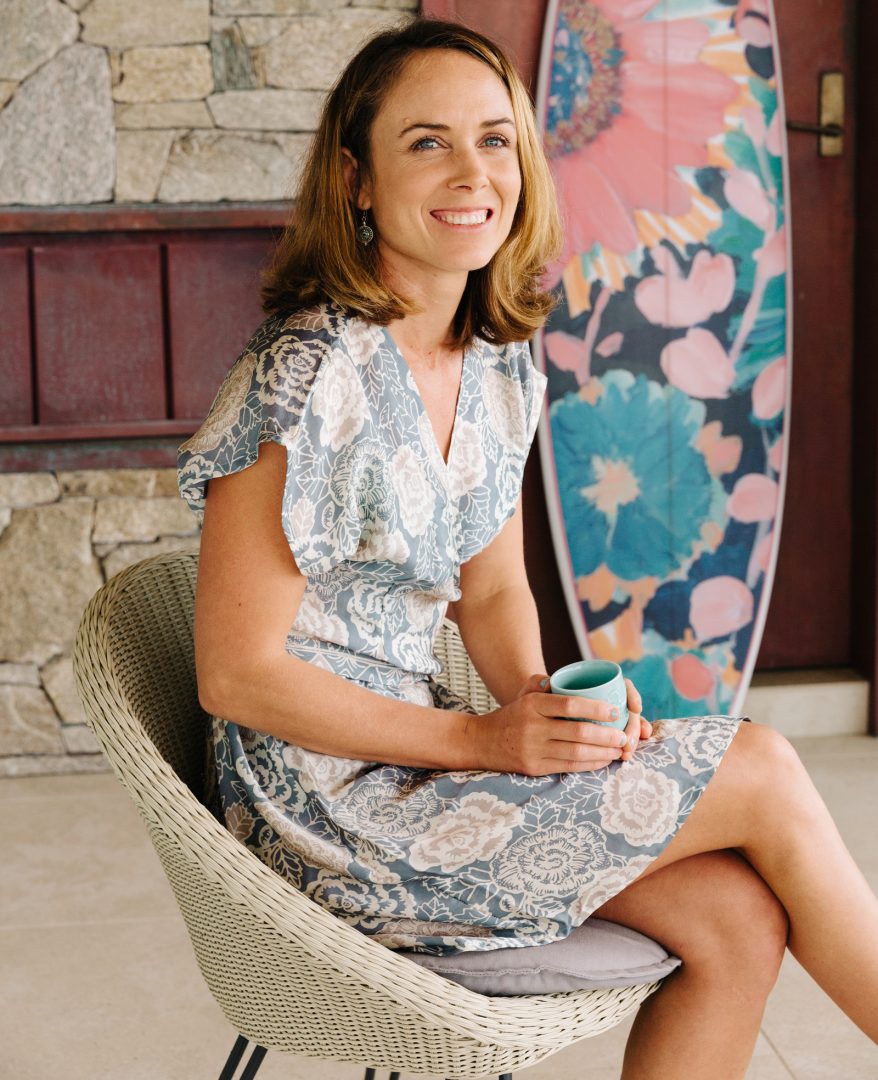 Jada in a Nusa Indah silk dress
"I put a photo of the board on my Instagram profile and received a bit of attention," she explains. "I thought it was cool that something so personal struck a chord with so many other people."
To Jada's surprise and delight, the photo was then shared by billionaire businesswoman – and granddaughter of cosmetics royalty Estée Lauder – Aerin Lauder. "I don't know how she ever laid eyes on it, but it brought in a whole new market for me –American women seeking surfboards as interior products for their stores, resorts and advertising campaigns," says Jada.
At that point, Jada was designing and making boards for close friends and family but her big break came in an email she received while on a family camping trip.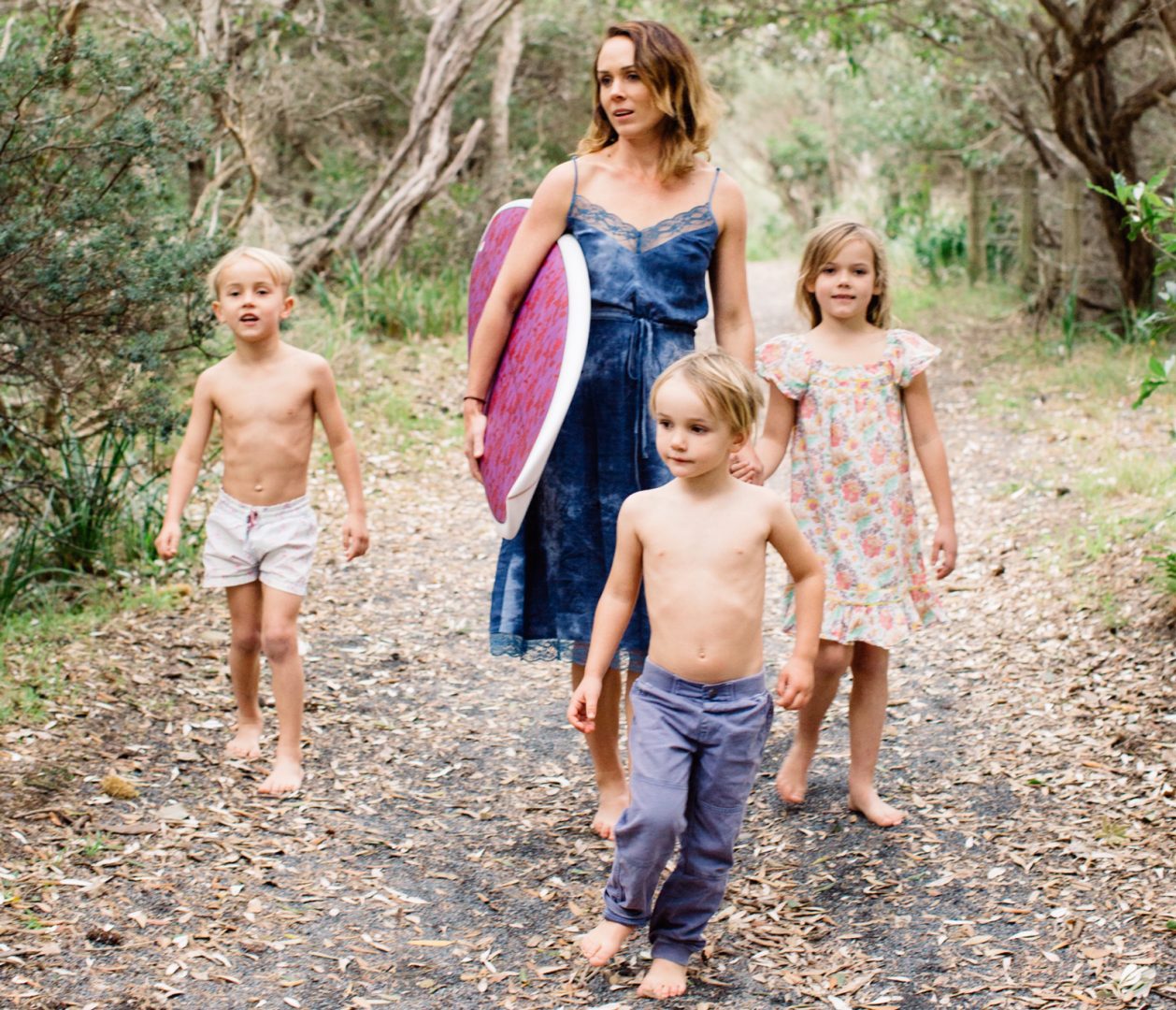 Jada and kids on a bush track near home
"US designer and artist Lulu de Kwiatkowski of Lulu DK wrote to say she was redesigning a luxury hotel in the Bahamas," Jada explains. "She asked me to put her artwork on 20 surfboards that would be used as décor in the pool cabanas of The Cove, Atlantis!"
It was then Jada realised she had the opportunity to turn Nusa Indah into a successful business. But far from being yet another brand profiting off the back of surfing's popularity, she knew her lifelong connection to the ocean would shine through.
Growing up in Taree, her mum and dad would often take the family to a small island off Bali for months at a time. "From the main island it was a four-and-a-half-hour boat trip on a rickety old wooden outrigger full of chickens, motorbikes and seaweed," Jada remembers. "Mum struggled with seasickness so she made sure we stayed on the island for at least a month so she could recover."
Jada and her siblings spent their time surfing and hanging out with the local kids. They became very close to an Indonesian family on the island and still visit them regularly.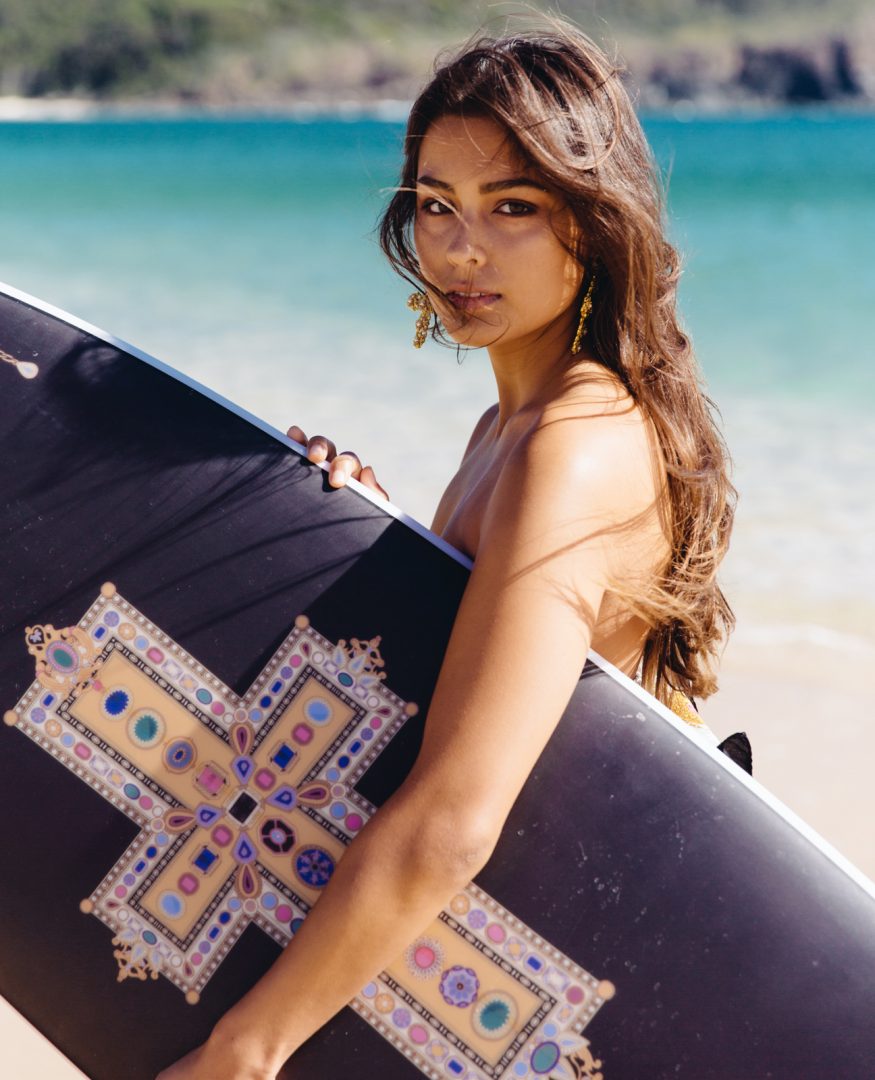 The 'Madonna' board for the 'Meet me at the Met' campaign
Compared to overseas adventures, sitting in a high school classroom in Taree didn't rate very highly. "I started Year 12 and then dad bought an old bus and decked it out," she says. "He took my brother and I surfing down the south coast and over to Western Australia."
When Jada got home some three months later, she informed the school that she wouldn't be sitting the HSC. Her parents didn't mind too much as they knew the value of life experience, but Jada says her mum not-so-subtly hinted that she'd need to find herself a job, quick smart.
"I'd been working with a professional surf coach in Old Bar, Martin Dunn," she says. "I would film his coaching sessions and sit with him while he analysed the videos." With the support of Martin and her parents, Jada got her surf coach qualifications and started the Saltwater Surf School at Wallabi Point. She also took a Special Tertiary Admissions Test and was accepted into a Bachelor of Psychology at university.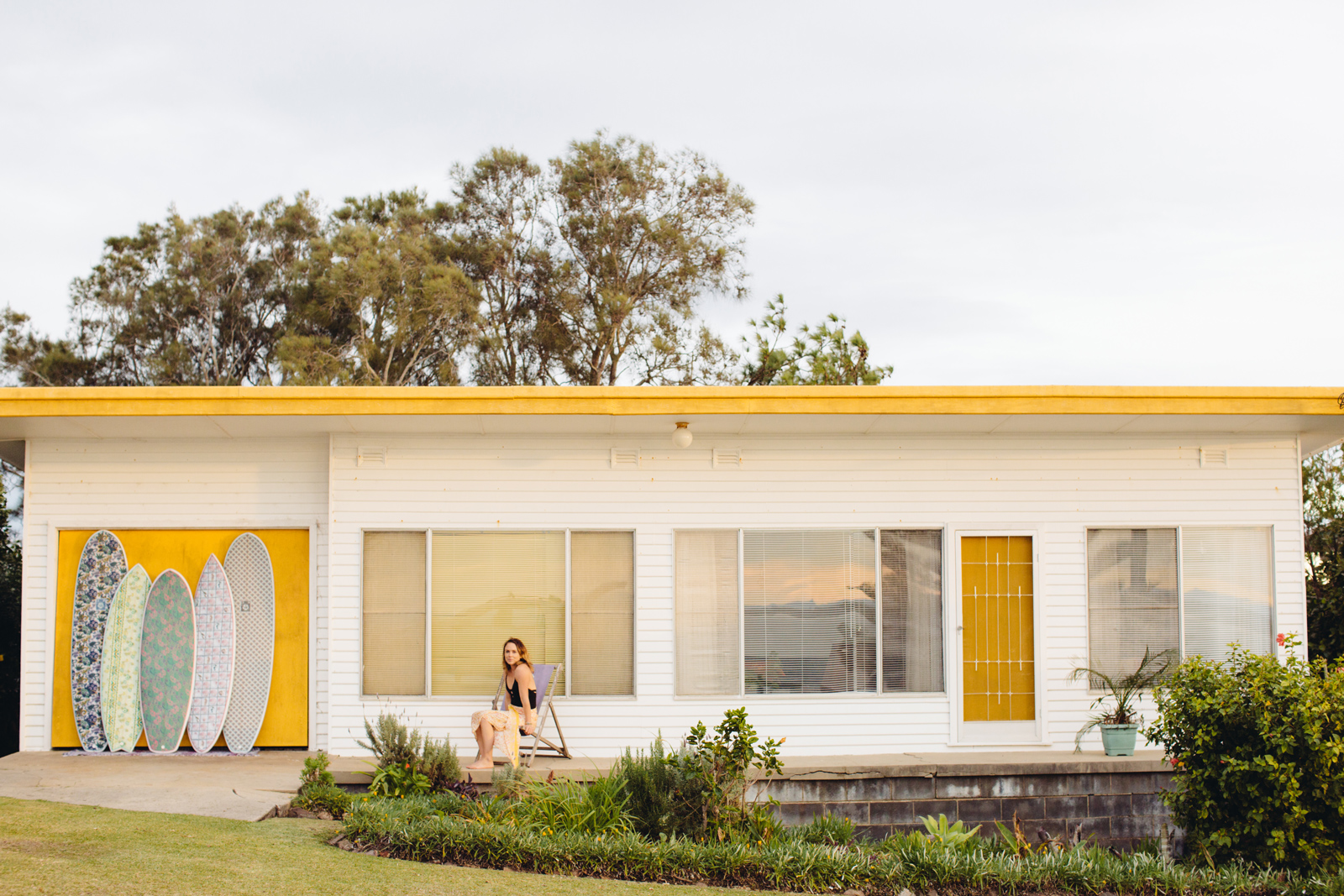 Jada with a range of surfboards she designed for lifestyle brand Bluestone Lane
Jada says her surf coaching experience has given her a clear idea of the specific needs of female surfers and what's required at different stages of the learning process. She tailors boards to suit individuals and to ensure they have the ability to catch the maximum amount of waves.
"I offer a personal level of contact that people appreciate," she says. "I want them to feel that their board has been specifically crafted for them."
As Nusa Indah's reputation has grown, so have the number of emails Jada receives from international brands and artists wanting to collaborate with her. "I've been quite selective because the process takes time," she says. "The jobs are getting bigger so I'm starting to have to narrow down what I say yes to."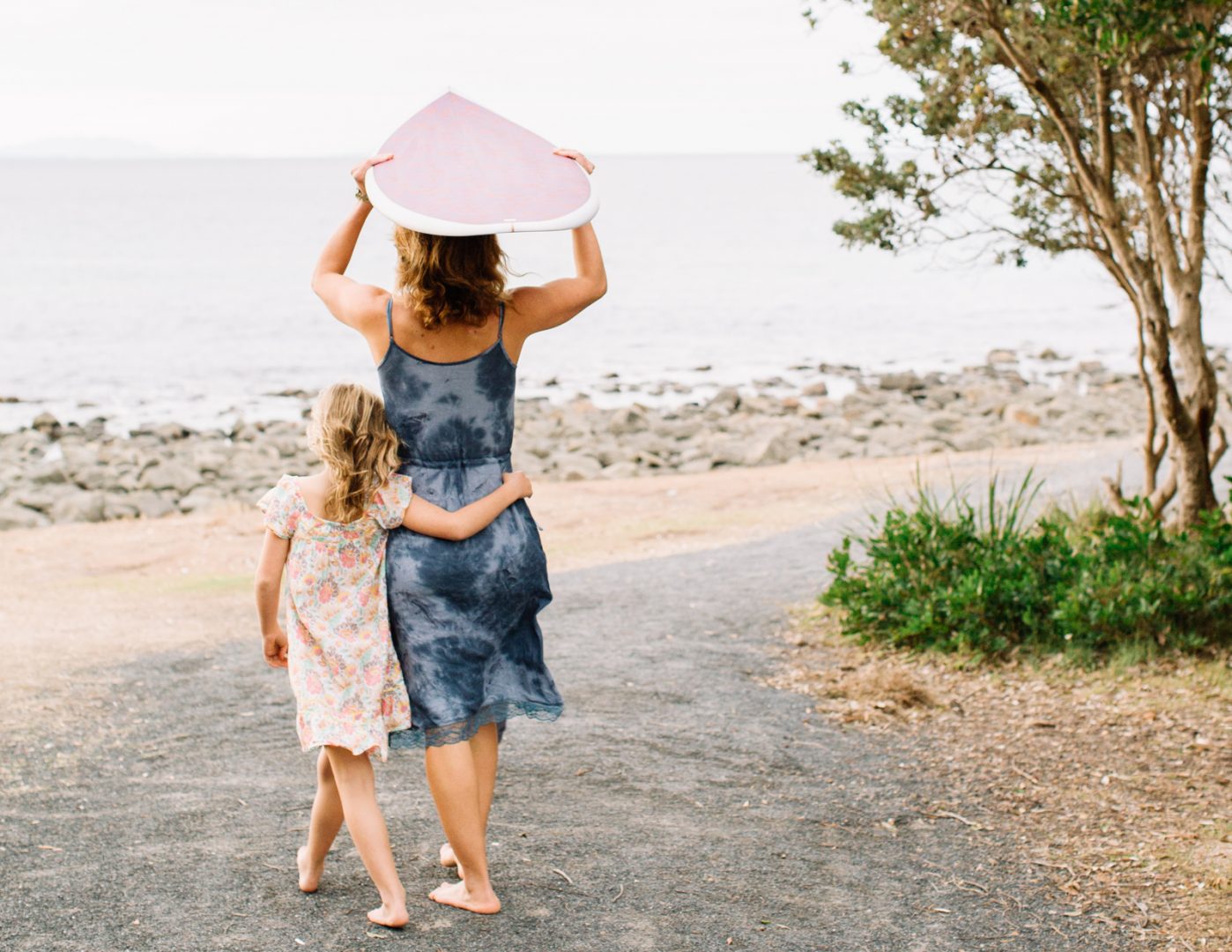 One of those "big jobs" involves a certain global fashion empire. It goes by the name Vogue – perhaps you've heard of it? While the nature of the partnership is hush hush at the moment, Jada reveals that she has been to New York City to speak with Vogue's brand director and is continuing to work out the details.
"I will say that they love my products and have been very warm and welcoming – they've surprised me with a few favourable magazine articles already!" she says.
Jada admits that she sometimes has trouble believing where she is and what she's doing. A friend recently suggested she make a timeline of her life to get some perspective. "I recommend everyone do it," she says excitedly. "I realised that everything that had come before – my experiences and my passions – had prepared me for this exact moment in time. It's amazing!"
Check out Jada's surfboards on the Nusa Indah website and follow her adventures on Instagram