Our A to Z of the NSW North Coast
Wow! There's so much to see and do in our region but here's the Coastbeat guide to the places that reflect the spirit and diversity of the NSW North Coast.
A is for…Arrawarra
Arrawarra is best known as a long, gentle right-hand surf break but it's also a terrific spot to enjoy a family picnic on the sloped, grassy stretch that overlooks the beach where you'll observe boaties and fishermen bring their craft to and from the beach by tractor. The area is also home to a couple of much-loved holiday parks, both located on several kilometres of untouched beachfront – NRMA Darlington Beach Resort (on 110 acres) and Gateway Lifestyle Lorikeet.
B is for…Byron Bay
As one of Australia's most famous towns and a hot-spot for celebrity sightings, Byron Bay needs no introduction. While it may have lost the laid-back vibe of its hippy days, Byron has made up for it by becoming the epicentre of wellness, spirituality and gourmet food – all enjoyed amid the unsurpassed beauty of this special stretch of coastline. Read our recommendations on great activities in Byron Bay.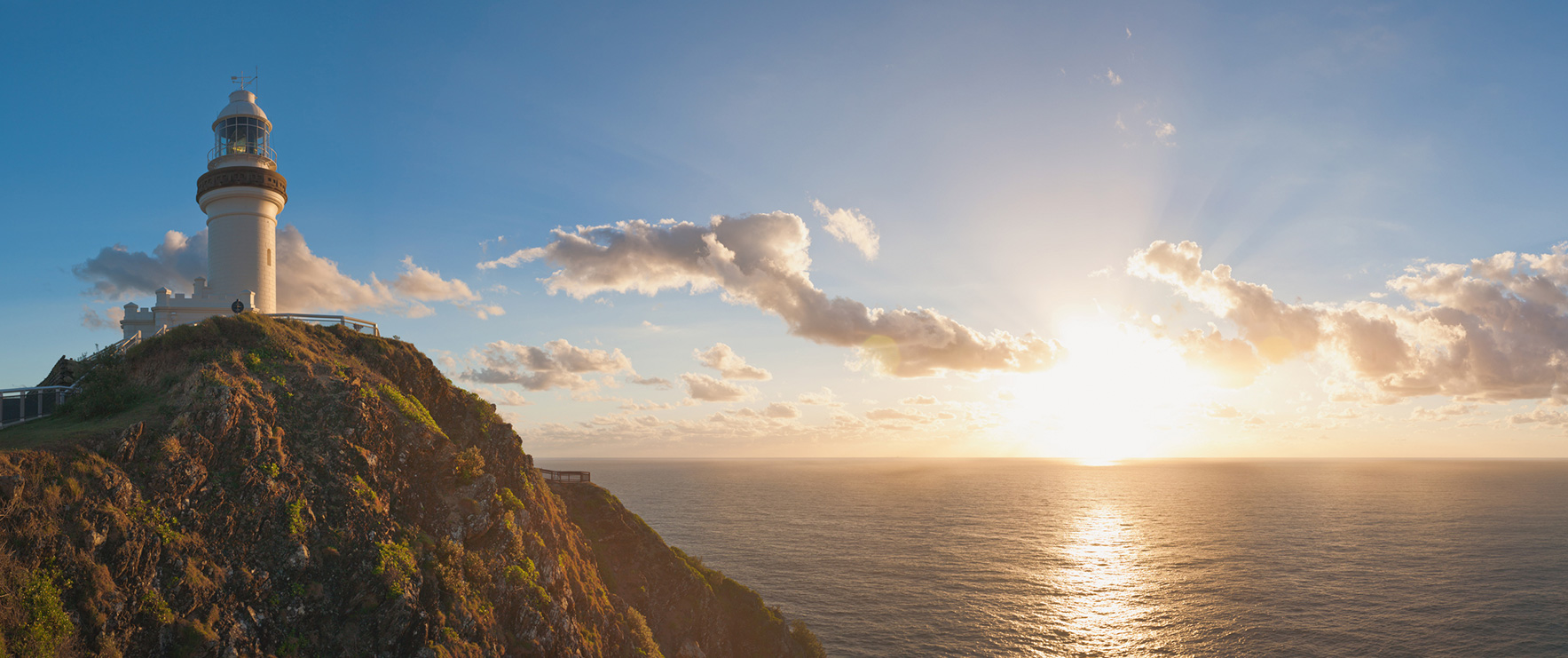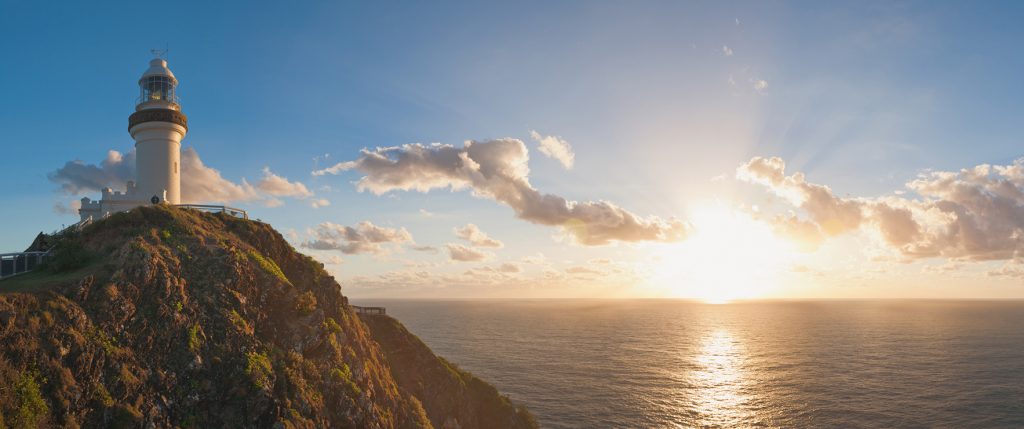 Byron Bay Lighthouse at sunrise
B is also for…Bellingen
Surrounded by World Heritage-listed rainforest and lush farmland, Bellingen is a delightful village full of delicious locally produced food, eclectic boutiques and charming riverside B&B's. 'Bello' is located along the Waterfall Way, making it the perfect base for exploring the natural wonders of the Coffs Coast hinterland.
C is for…Coffs Harbour
Coffs Harbour is the beating heart of the thriving Coffs Coast region. The city combines both man-made attractions like the famous Big Banana with the natural beauty of the Solitary Islands Marine Park and surrounding national parks. Be sure to check out our article on great attractions and activities in Coffs Harbour.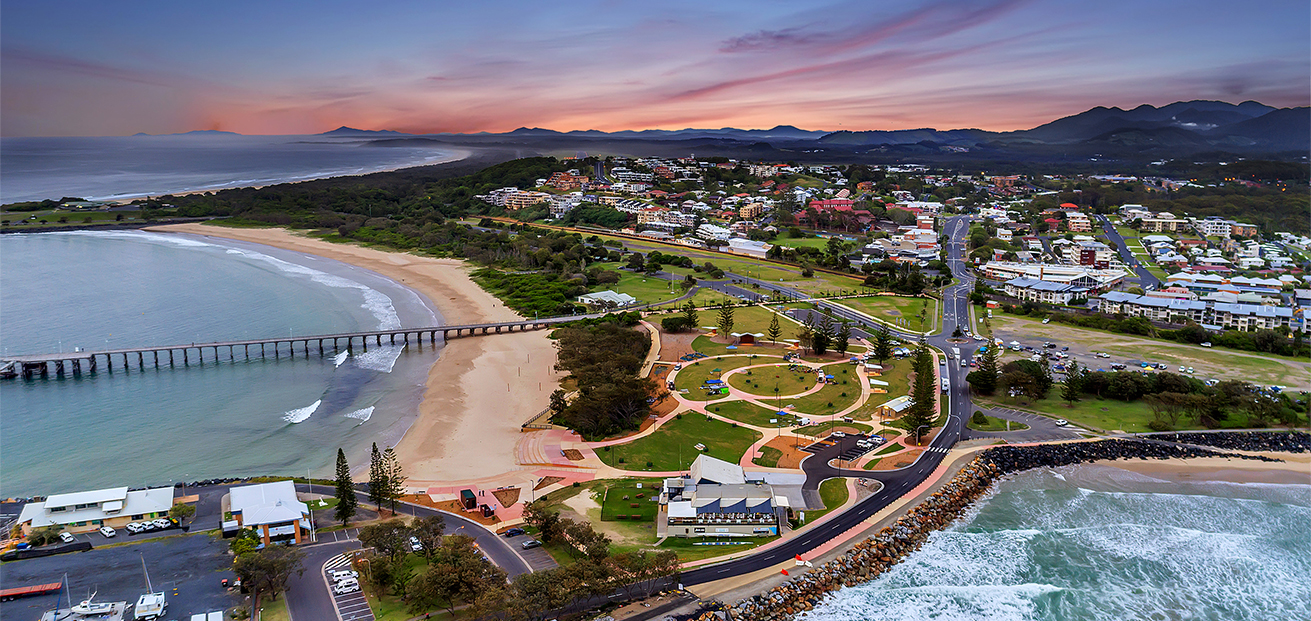 The jetty foreshore and view of Coffs Harbour. Image courtesy of coffscoast.com
C is also for…Camden Haven
Located 20-minutes south of Port Macquarie, the Camden Haven region is a nature lover's paradise of snaking waterways, quiet beaches and bushland walking trails, all dwarfed below the imposing North Brother Mountain. If you happen to visit on a rainy day, the Plaza Theatre in Laurieton is also one of the best cinemas around.
D is for…Dorrigo
A short and winding drive along Waterfall Way up the mountain from Bellingen leads to this quaint little town that is home to the Dorrigo Rainforest Centre and Skywalk. The town is also close to some beautiful bush walks in the Dorrigo National Park and around Dangar Falls. Dangar Falls themselves are also well worth visiting.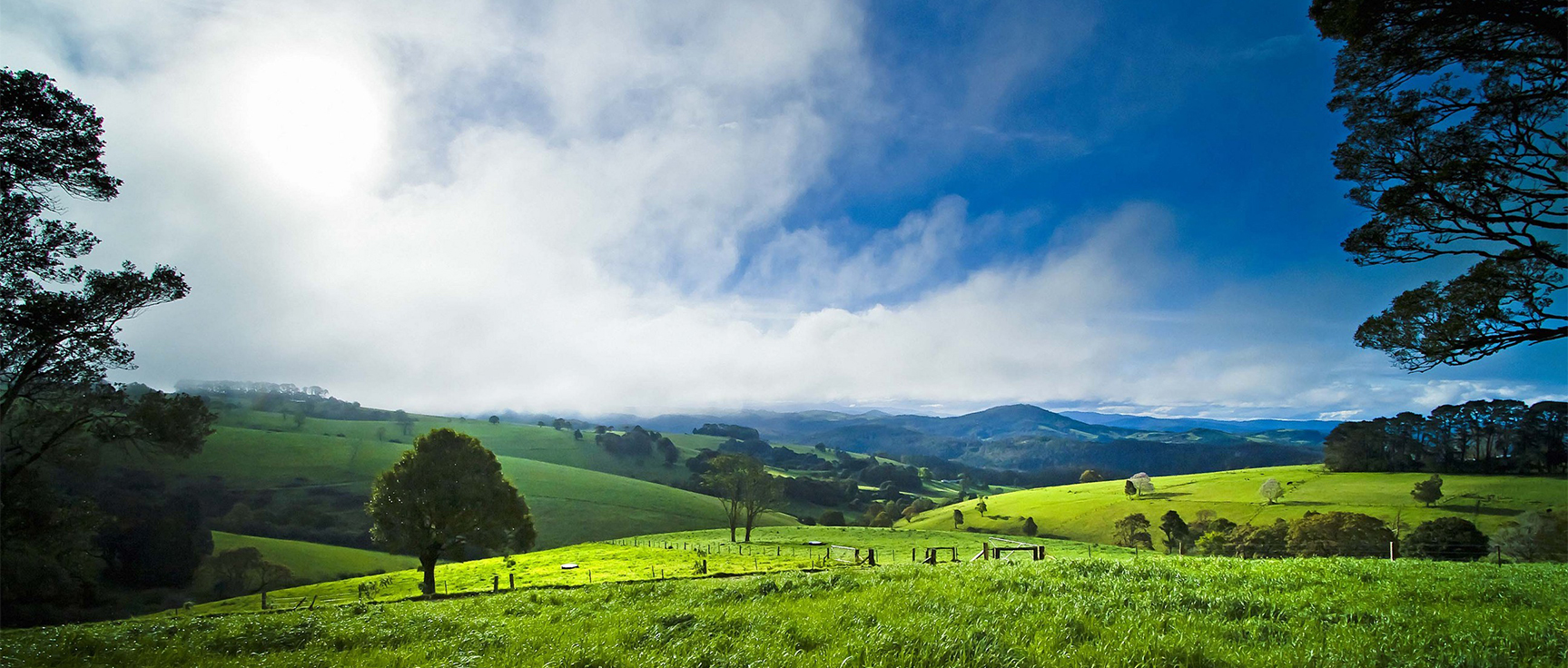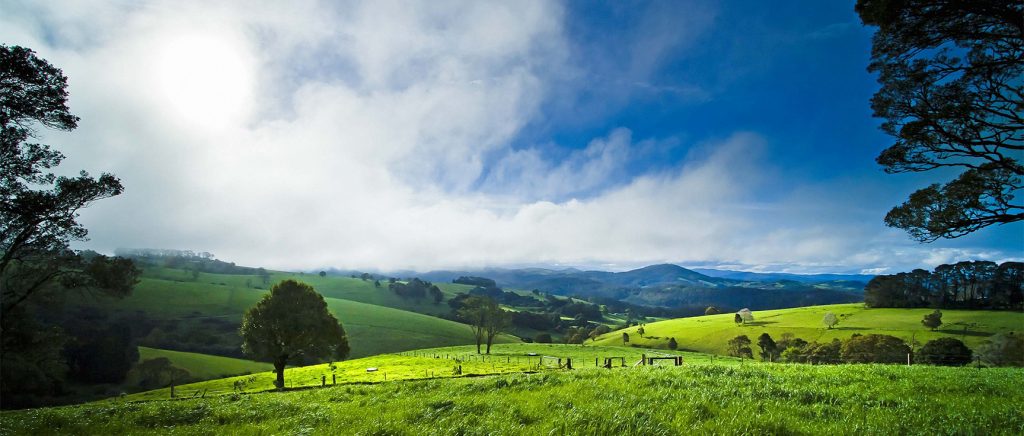 Green and gorgeous in Dorrigo. Image courtesy of Gethin Coles / Bellingen Shire Council
E is for…Emerald Beach
Emerald Beach is a fab little spot loved by locals with just a few shops and restaurants and access to three gorgeous beaches. When visiting Emerald Beach be sure to take the time to do the Look At Me Now Headland walk. It makes a wonderful vantage point during whale-watching season but is most renowned for the kangaroos that call the headland and surrounding bushland home.
E is also for…Elizabeth Beach
Framed by a scenic backdrop of the imposing Booti Hill, Elizabeth Beach in Pacific Palms is arguably one of the prettiest beaches on the coast, appealing to fisherfolk and families. If it's surf you're after, head to the neighbouring beaches of Boomerang and Blueys. We also recommend doing as Coastbeat has done and hiking the Booti Hill/Lakeside walking track in the Booti Booti National Park, which can be accessed from the beach.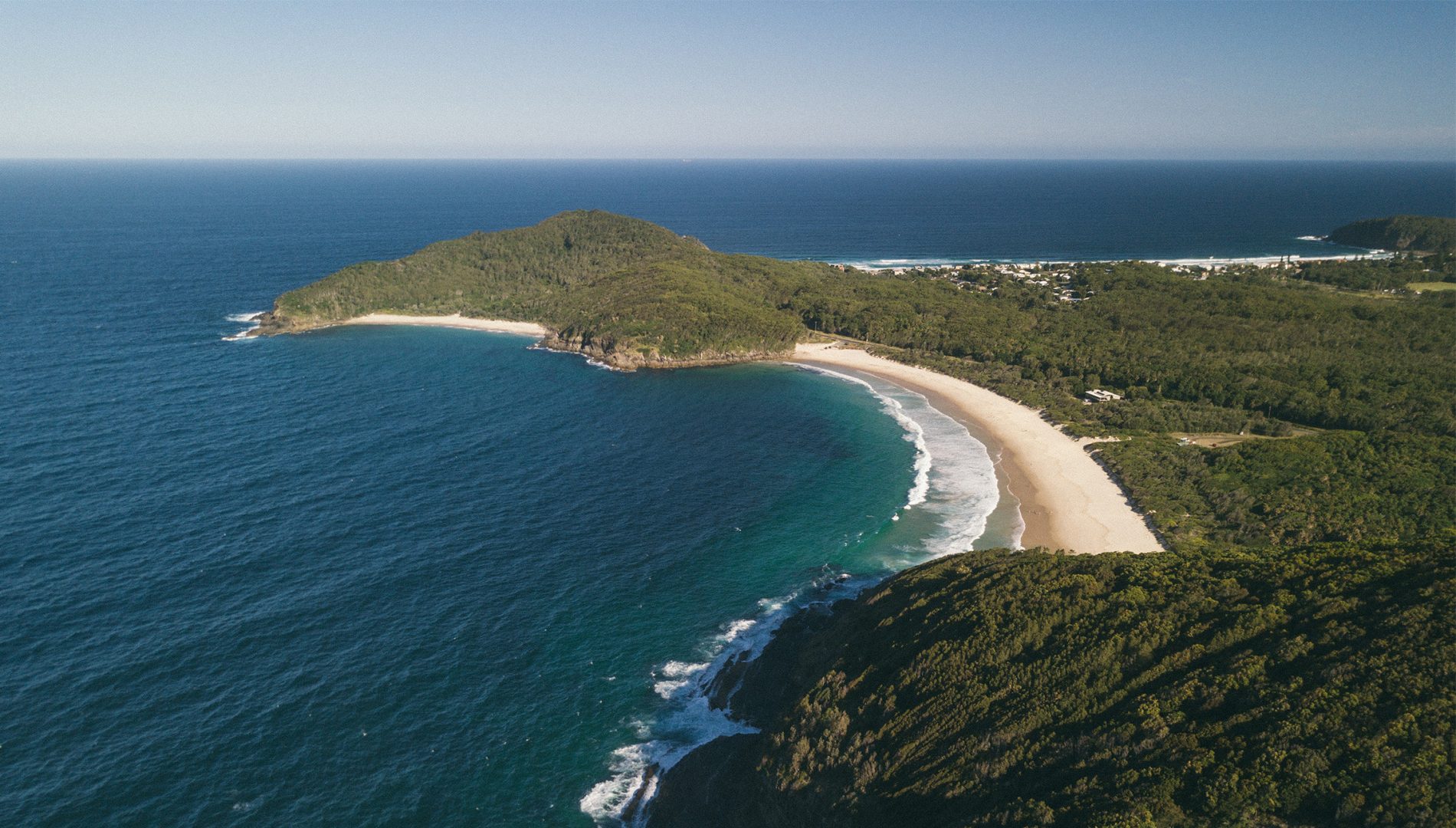 Elizabeth Beach view on the Booti Booti walk. Image by Cain Pascoe
F is for…Forster
Forster is best known for the turquoise lakes and national parks that surround it. A popular tourist destination, it's a place that never fails to deliver on perfect beaches, amazing seafood, outdoor activities and cultural events. Read our Forster 'best of' here.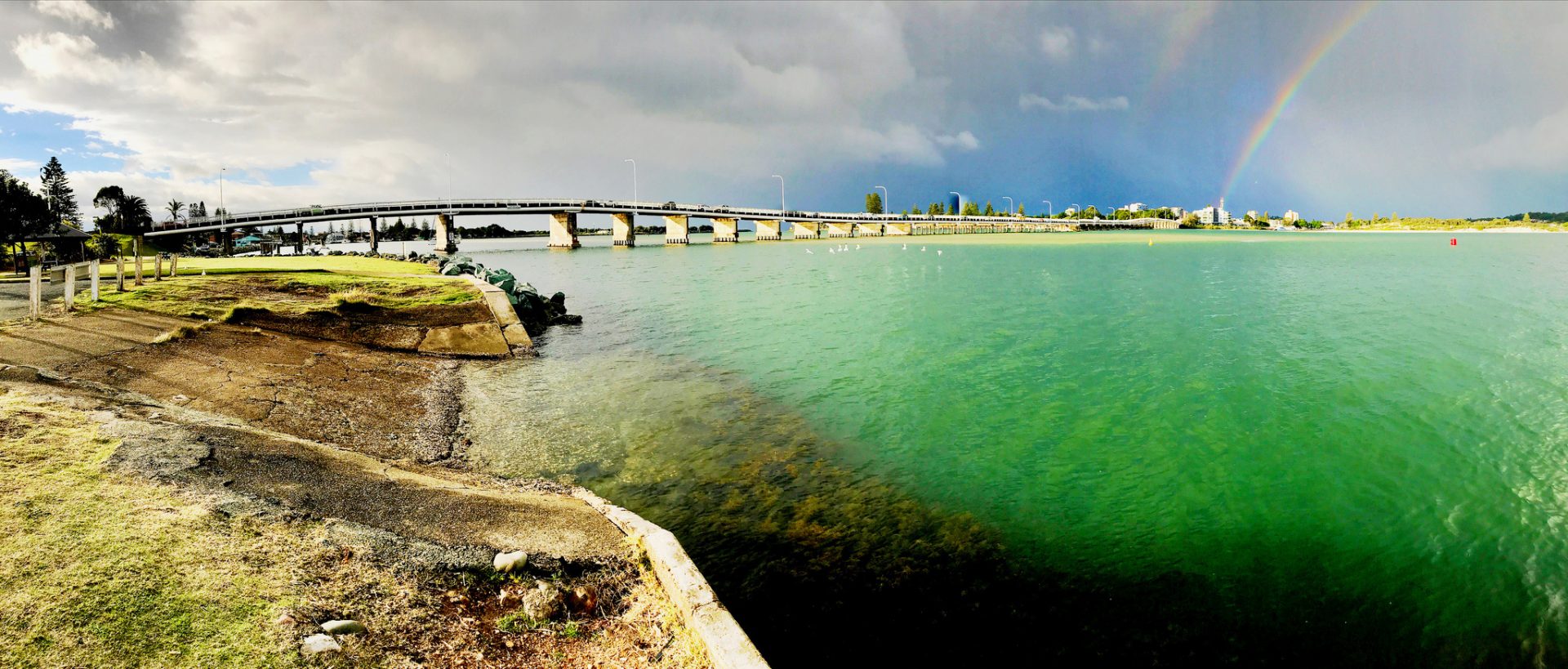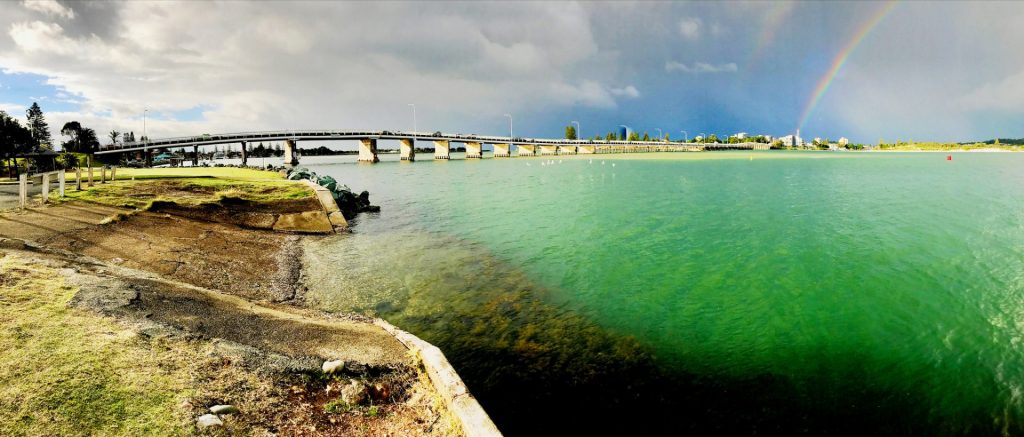 The Forster-Tuncurry Bridge. Image courtesy of Black Diamond Images
G is for…Gladstone
As the unofficial artist's village of the Macleay Valley, Gladstone beckons those who love art, heritage and funky boutiques. It's also home to the famous Gladstone Quality Market, a celebration of fine food, groovy tunes and artisan stalls set up beside the Macleay River and held on the third Saturday of every month. Find out more about the fabulous big red building, The Gladstone Hub.
H is for…Hat Head
While it's known as a top fishing village, aided by the fact that it's the closest place in Australia to the continental shelf, Hat Head also boasts one of the most gorgeous headland walks on the coast. The sleepy village comes alive every Summer when families make the pilgrimage to camp beside the crystal-clear Korogoro Creek.
I is for…Iluka
Iluka is a small town with a great reputation among fishermen and surfers. It's also home to some pretty spectacular campgrounds including Coastbeat favourite, Woody Head, and is one of the best places to spot dolphins and whales whilst strolling along uncrowded beaches or exploring the Clarence River in a kayak. Check out our Iluka Top 10.
 J is for…the Jetty
The Coffs Harbour Jetty and Marina has become a destination in its own right – a place to swim, wander or grab a bite of fresh fish whilst watching the action at the busy harbour. It's also the starting point for the walk up Muttonbird Island and where whale watching boats are launched in-season.



Coffs Harbour jetty and marina courtesy of coffscoast.com
K is for…Kempsey
Kempsey is the largest town in the Macleay Valley and the gateway to an untamed hinterland as well as the more popular seaside villages of Crescent Head and South West Rocks. Campers are spoiled for choice in this region, with an ample choice of pristine beachside campgrounds from Crescent Head to Point Plomer or along the Macleay River.
L is for…Lennox Head
Lennox Head can be distinguished from other coastal villages due to its proximity to the beautiful Lake Ainsworth, a tea-tree lined oasis that is perfect for swimming and water sports. The village is also home to one of Australia's few surfing reserves at Lennox Point as well as a thriving main street chock-full of trendy cafes, surf stores and boutiques.
M is for…Maclean
Maclean is famous for its rich Scottish Heritage, exemplified by painted tartan street poles and the annual Highland Gathering that has been held during Easter for the past 110 years. The town is located along the Clarence River and is also known for its high-quality estuary prawns and Botero Coffee.
N is for…Nymboida
Situated beside the Nymboida River, the little town of Nymboida is the first stop on Australia's longest whitewater trail. It's also surrounded by beautiful mountains and waterways and boasts an abundance of wildlife, including the elusive platypus.
O is for…Off-the-Beaten-Track
It's no secret that we're always looking for out-of-the-way destinations that promise new adventures. Read about some of our favourite off-road drives in Yuraygir National Park, along Point Plomer Road and Georges Junction.
P is for…Port Macquarie
One of the few cities on the north coast, Port Macquarie has it all – from big family attractions like the Billabong Zoo and Stoney Aqua Park through to back-to-nature activities and endless pretty beaches. It also hosts the much-loved Tastings of the Hastings and Festival of the Sun festivals (in October and December respectively) and is home to a burgeoning foodie scene. See Cb's guide to Port Macquarie's best attractions and activities for families.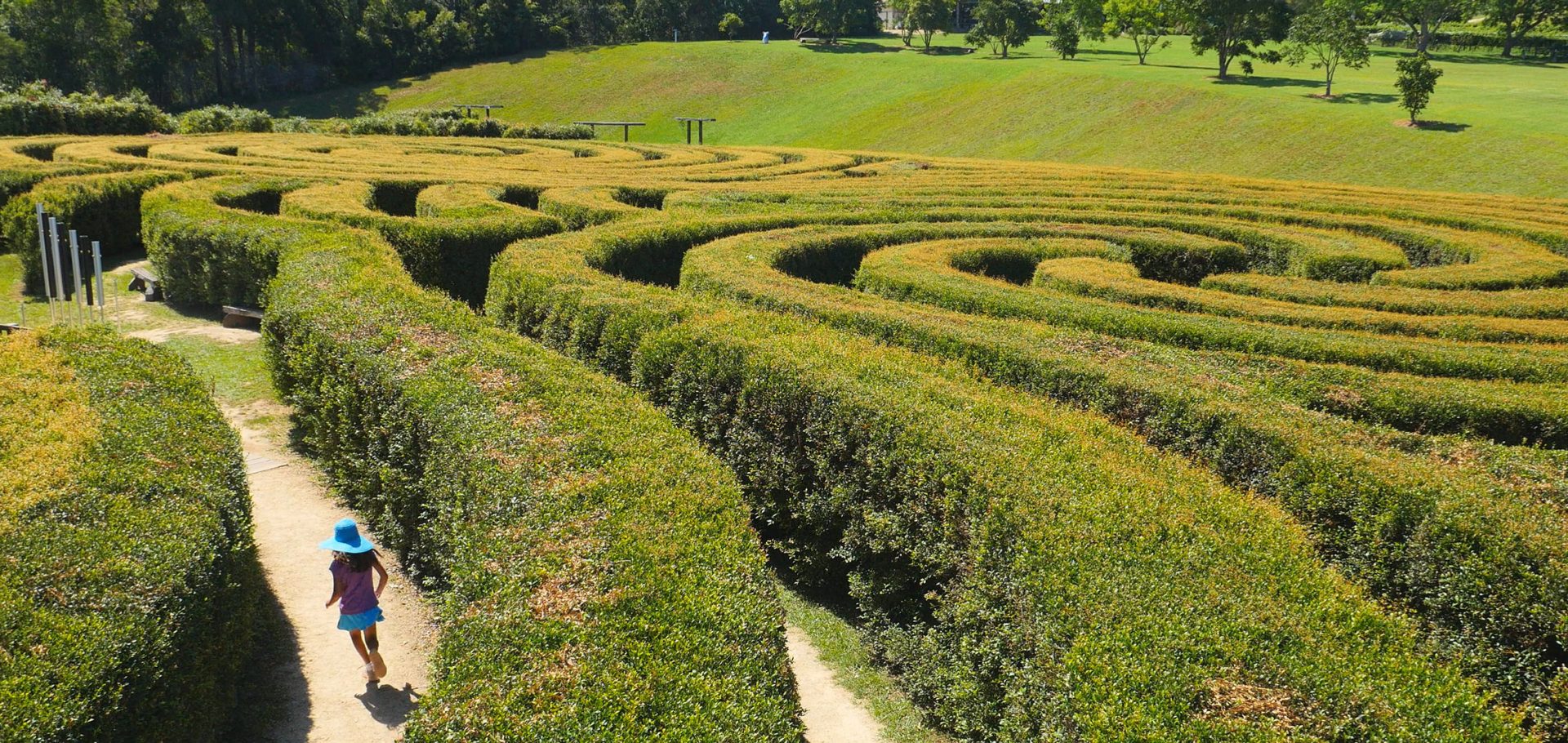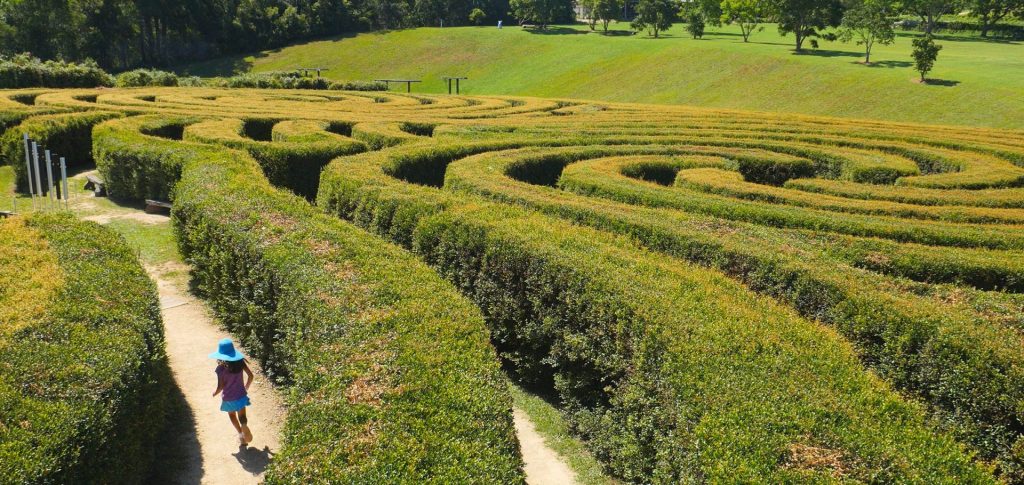 The maze at Bago Maze and Winery offers 2km of trails
Q is for…Quirky Facts
Thought you knew everything about the region? Coastbeat has unearthed some quirky facts on the Clarence Valley, Byron Bay and the Macleay Valley that will surprise you.
R is for…Red Rock
Red Rock, the northernmost point of the Coffs Coast, is named for the striking colour of the rock found here. Situated at the beginning of the 60km Solitary Islands Coastal walk, Red Rock itself is a 20-metre high headland made of 300 million-year-old jasper, a form of red quartz. This location is also of great significance to the local Gumbaynggirr people. Capable swimmers – kids and grown-ups alike get a thrill from floating along with the current in the estuary. See gorgeous Red Rock video footage here.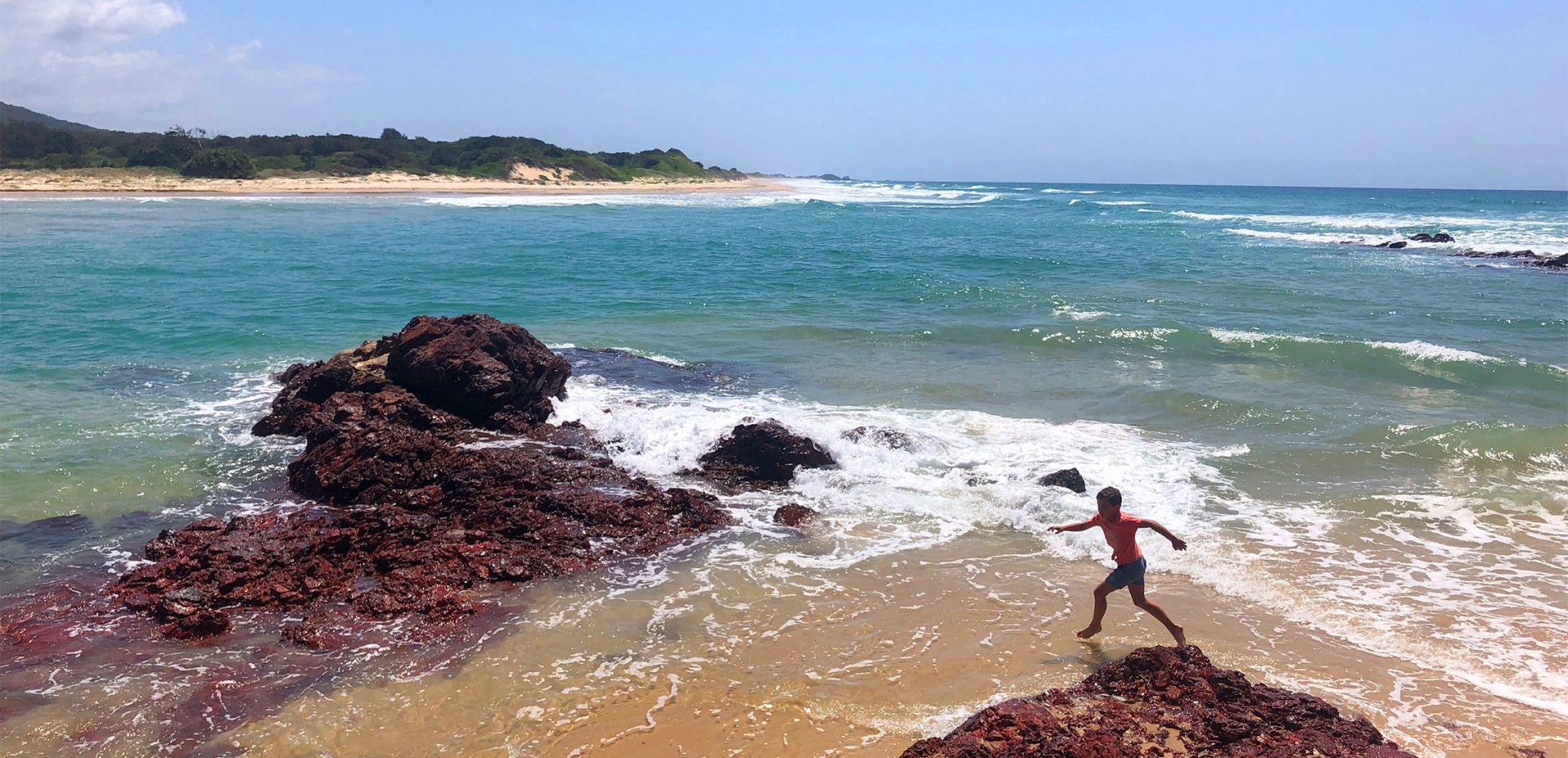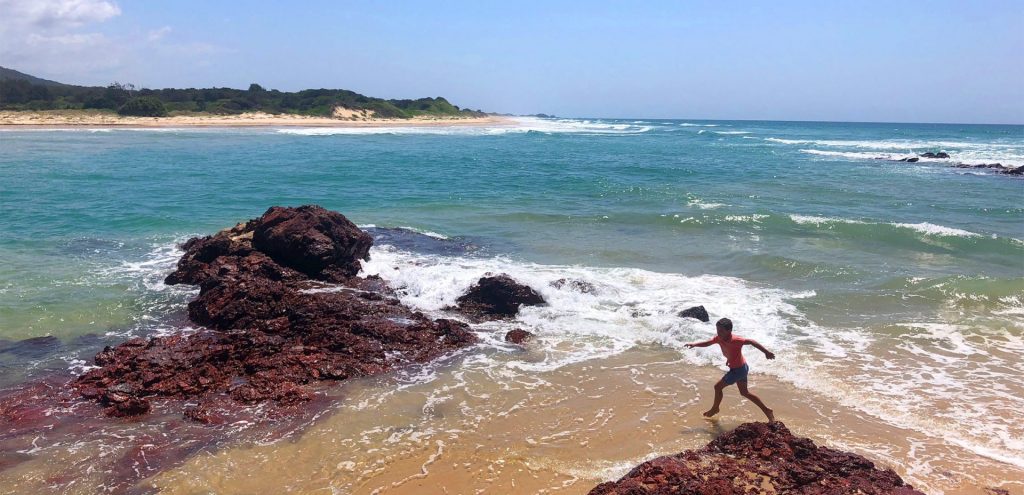 One happy local plays at Red Rock estuary
S is for…Seal Rocks
If you haven't visited Seal Rocks, put it firmly at the top of your list! A decent drive off the highway, Seal Rocks feels a world away from civilization — a place where you can truly disconnect and enjoy hiking to Sugarloaf Lighthouse, surfing the array of top-class breaks, fishing or diving in one of the most pristine sections of the north coast.
S is also for…Sawtell
Sawtell is more than just another pretty village – it has its own distinct and vibrant culture, showcased by the fig-lined café strip. Take the time though to step beyond the cinema, cafes and boutiques of First Avenue to enjoy the beach and only ocean pool in the region which also has sweeping views of the estuary and Boambee Beach. This July also marks the 21st birthday of the much loved Sawtell Chilli Festival. For more info, Coastbeat has done the work for you with our Sawtell Top 10…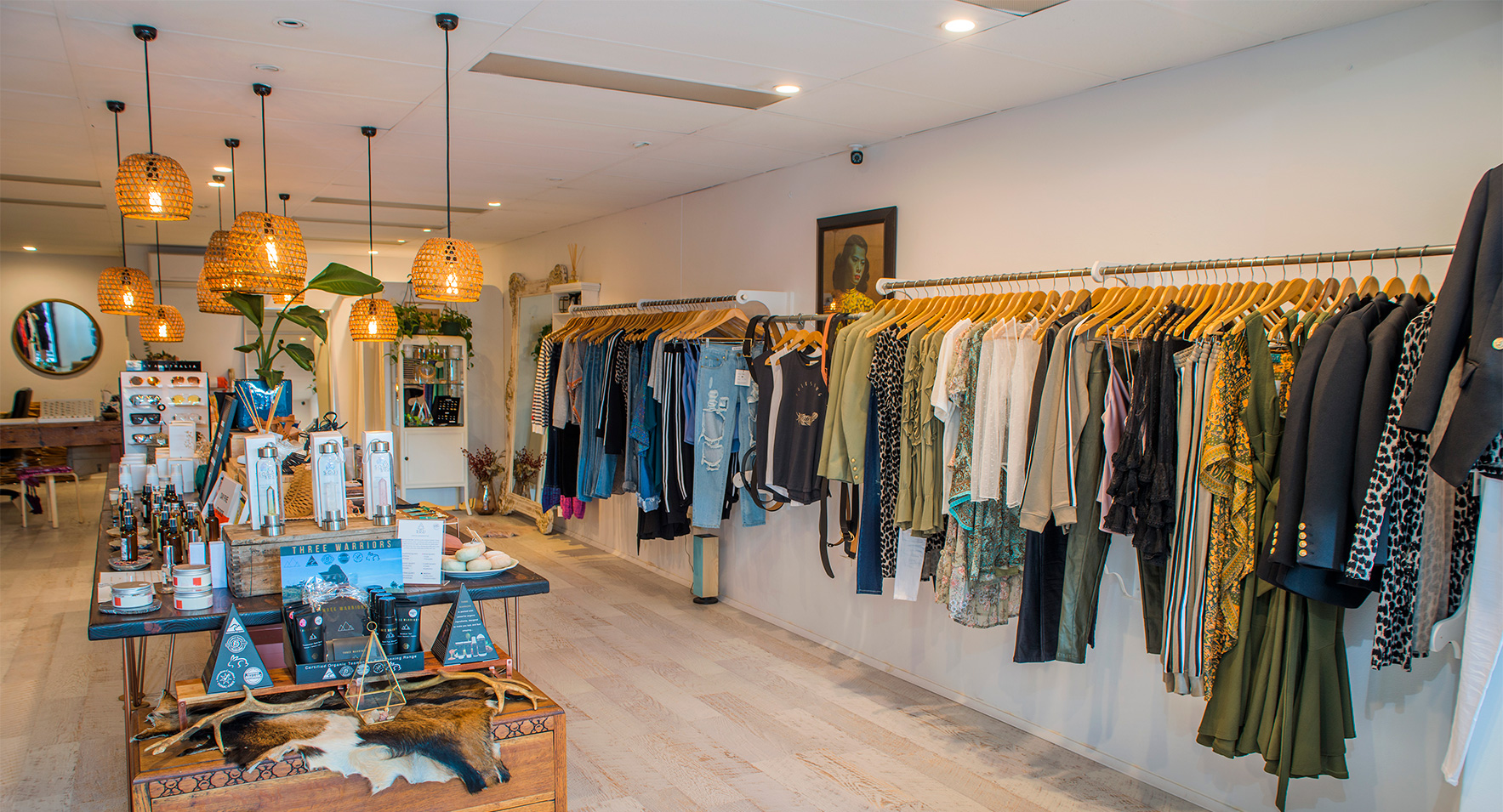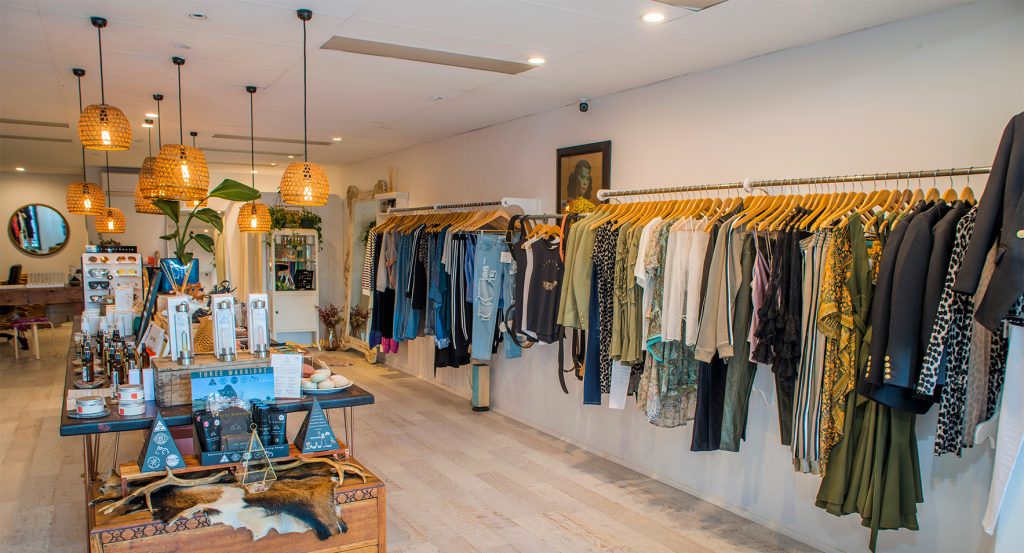 First Avenue Boutique in Sawtell. Image by Brendan Ray
T is for…Taree
Taree is the regional centre of the Manning Valley, which opens out to include the lovely historic village of Wingham (home to one of our favourite cafes, The Garden Grub and Wingham Brush – a lush forest where you can take a boardwalk and watch the resident flying fox colony). The quiet coastal towns of Harrington and Old Bar are also worth a visit.
U is for…Urunga
Urunga's main attraction is its one-kilometre long boardwalk that passes along the banks of the Kalang River to the junction with the Bellinger River and out to the ocean. The boardwalk is considered one of the best on the east coast. While you won't find much of a party scene in this tranquil town, it's an ideal location for those who love water-based activities like boating and paddle boarding and boating. For more, see video footage here.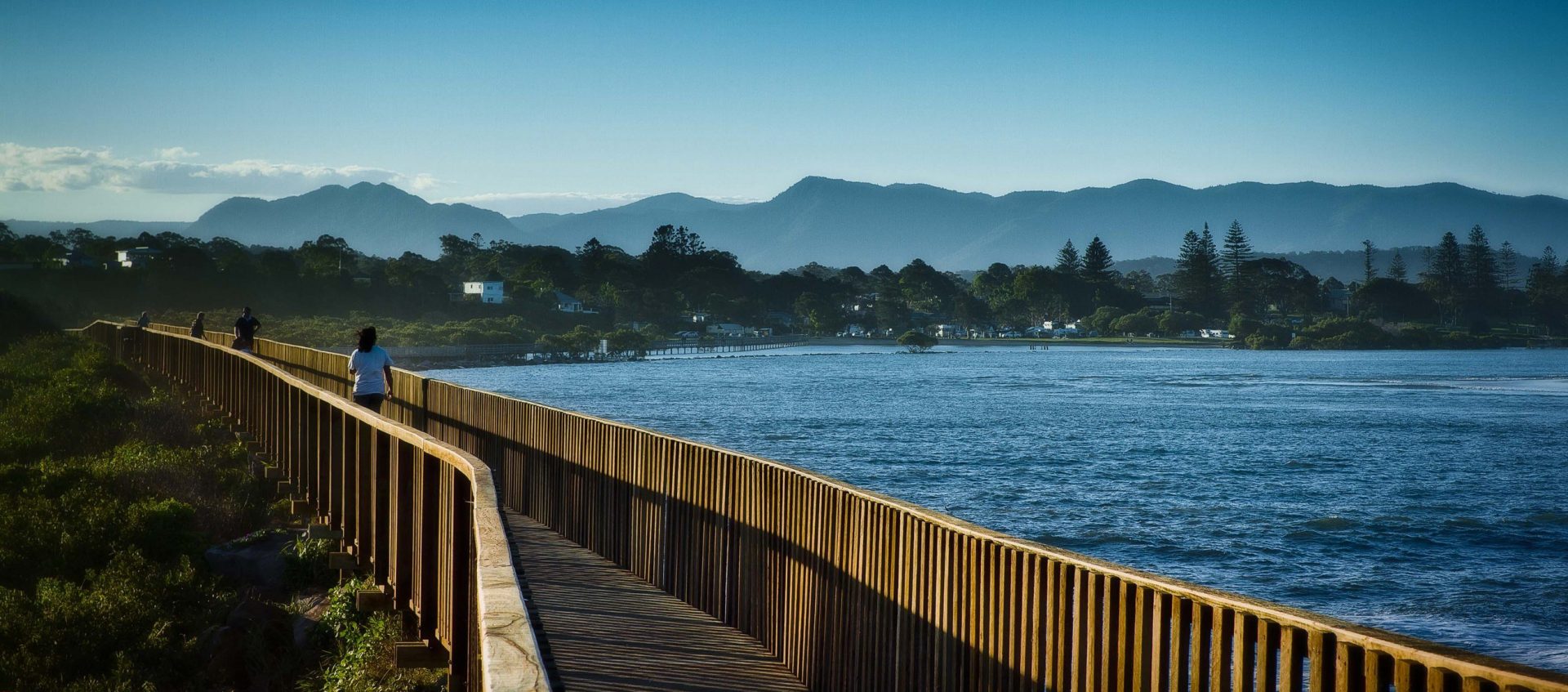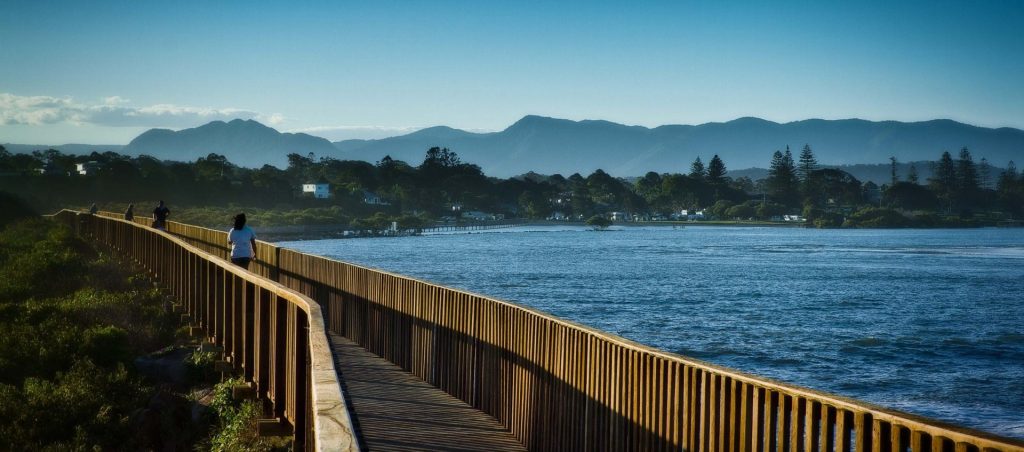 The 1km boardwalk in Urunga. Image courtesy of Gethin Coles / Bellingen Shire Council
V is for…Valla
Valla Beach lies just to the north of Nambucca Heads and is home to untouched beaches and the yummy Beach House Providore cafe. The town hosts a variety of yearly events such as the Volkswagen Spectacular, The Hot Rod Tour and the Loggerheads Surfing Competition. Nearby Nambucca Heads is also a popular spot – don't miss the V-Wall, a long breakwall full of colourfully-painted rocks.
W is for…Woolgoolga
About 25 minutes to the north of Coffs Harbour, Woolgoolga has a village feel and also boasts popular cafes and restaurants. The main beach is family-friendly and perfect for those just getting started with their surfing. 'Woopi' is also home to the largest Sikh/ Punjabi community in Australia with an eye-catching temple often open to visitors. The annual Curryfest is popular as is the Blues and Berries Festival.
 X Marks the Spot
Enjoy a fresh view of Coffs Harbour and Port Macquarie with these creative maps by talented local artist Peita Blythe.
Y is for…Yamba
Despite being one of the most popular tourist towns on the north coast, Yamba still retains its relaxed and cheerful Summer vibe. Highlights include world-class surf breaks, top-quality prawns, riverside and beach activities. And be sure to check out the view from the pub – it's a cracker! To learn more about this cool coastal town, read Coastbeat's Top 10 on Yamba.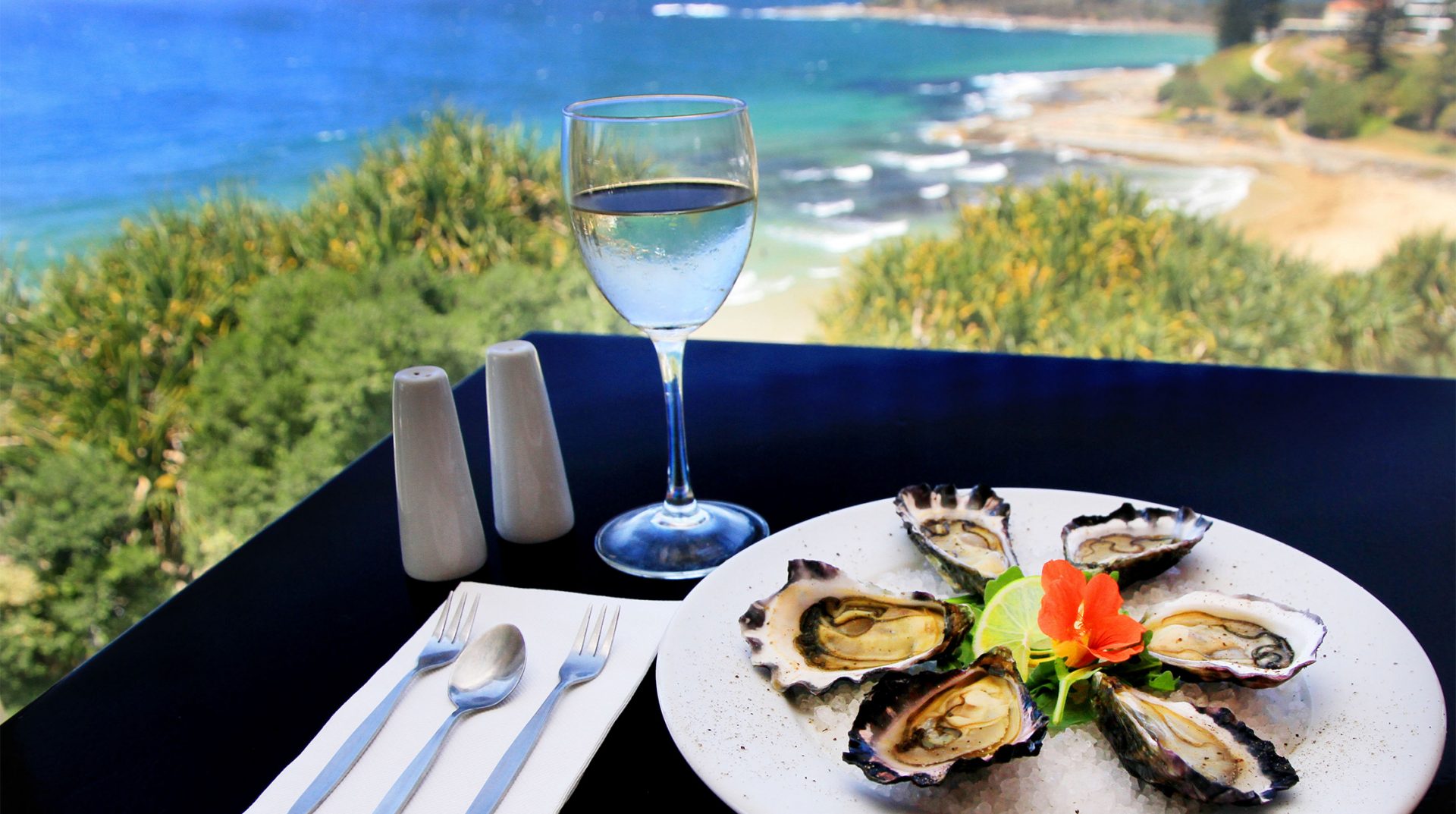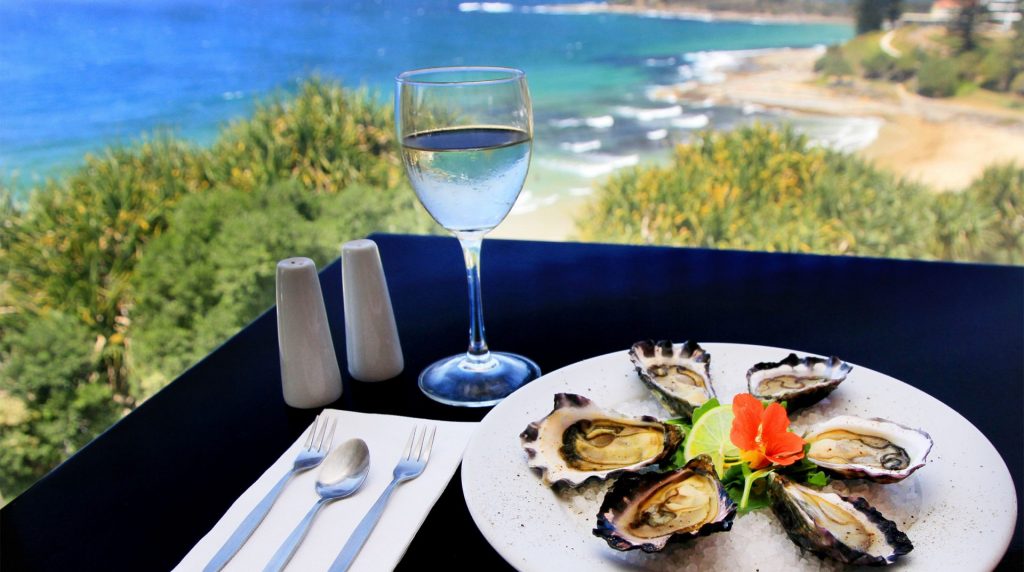 Lunch with a fabulous view. Image courtesy of The Pacific Hotel in Yamba
Y is also for…Yuraygir National Park
One of our favourite national parks on the north coast, Yuraygir is a playground for campers, hikers and 4WD enthusiasts. It's a beautiful and untouched part of the north coast. Read about the fabulous 60km Yuraygir Coastal Walk here.
Z is for…Zephyr Horses
Finding a town within Coastbeat territory starting with a Z was a challenge so instead, we're highlighting Zephyr Horses – a unique coastal horse ranch in the picturesque town of Byron Bay that offers small personalised horse tours on the beach, in the forest and at The Farm.