More Than Meats the Eye, Russells Prime Quality Meats
In today's convenience culture it's refreshing to make a considered purchase from someone who knows their products and where they've come from. Russell Greenwood has been a butcher on the Coffs Coast for close to 19 years and recently opened a purpose-built shop at Moonee Market: Russells Prime Quality Meats. Coastbeat spoke with Russell about the new venture, his range of gourmet products and the importance of quality.
How long have you been in the meat industry?
Too long! My father was a butcher and yes, I got dragged into it, but I've always loved the meat industry. I've done all aspects of it – export, wholesale and retail. It's been very interesting.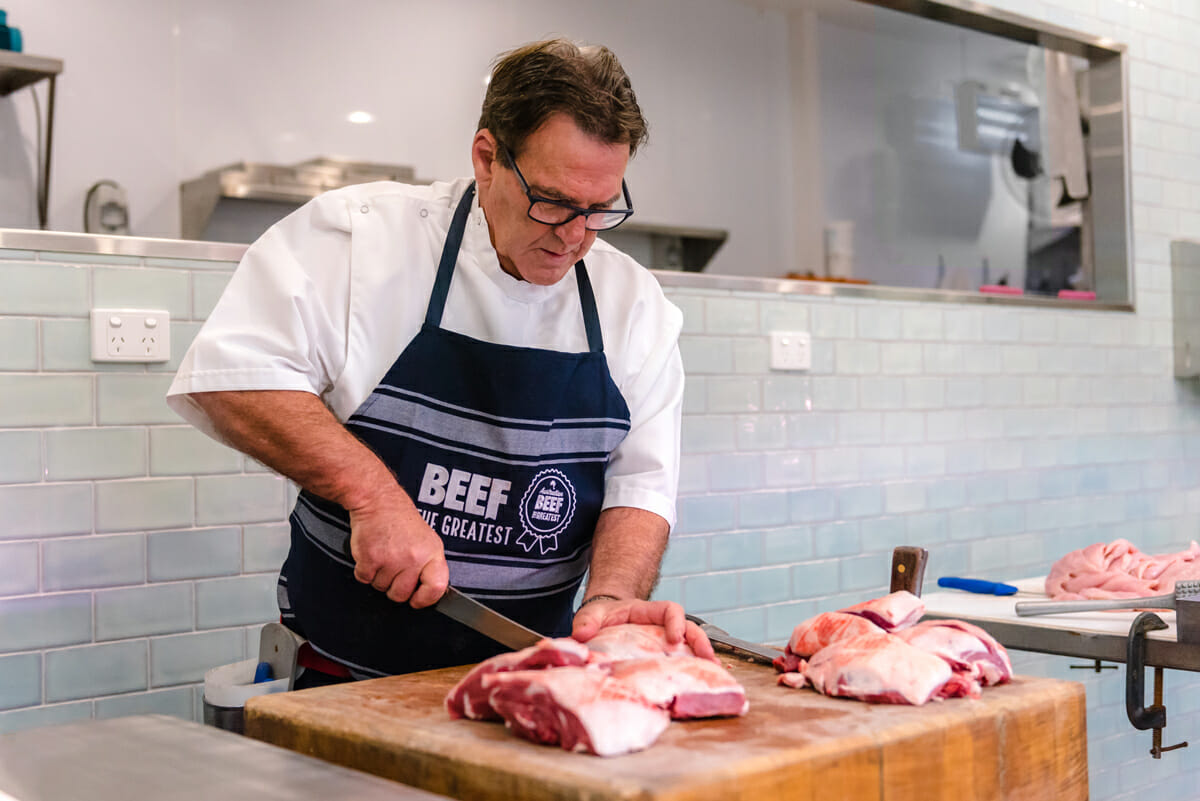 Image of Russell at work by Rob Wright
My wife Deborah and I have been in Coffs for 19 years and we had another shop for 18 of those years.
How did you end up at Moonee Market?
I came here and looked at a vacant shop and there was another vacancy beside it. I saw a great opportunity to take on both shops and make them into something altogether different. There was potential to expand and diversify. I value the good relationship I have with my landlords too, they really listen.
How have you diversified?
We sell much more than meat now. We've got sauces, German smallgoods, cheeses from around the world, olives, jams, relishes and oils. It's very gourmet!
Our dry aged beef is done in a Himalayan Salt Dry Aging Unit for up to 60 days. We're the only ones from Newcastle to the Tweed to offer meat that has gone through the aging process in this particular unit.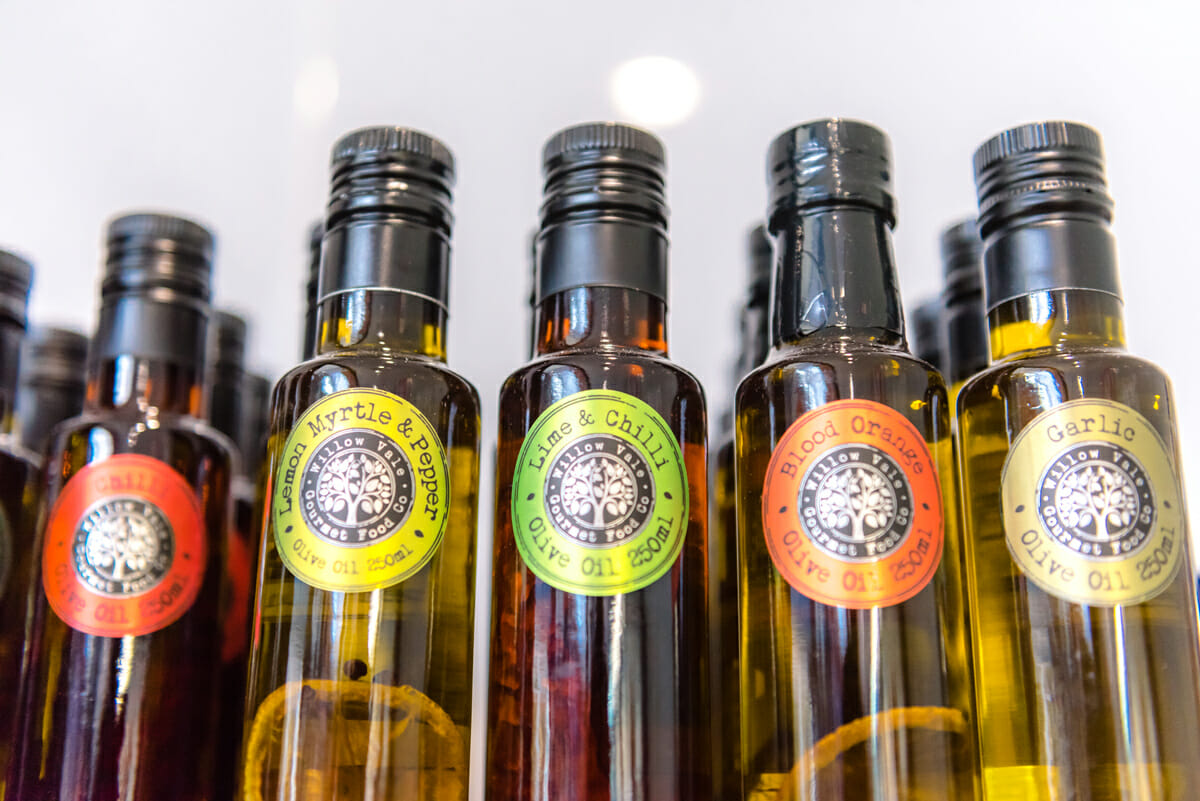 Russell also sells oils, sauces, cheese, jams and relishes
Have you had a good response? A lot of our former customers have followed us here and the new customers of Moonee have been absolutely fantastic as well. In general, people have cut down on their consumption of meat but they're focusing on quality rather than quantity. We came to Moonee Market for the friendly atmosphere. It's a beautiful shopping centre!
Tell me about the design of the shop?
It's quite long and you can see everything from outside. Customers can look through the windows and decide what they'll buy before they even step inside.
When they do come in, they're greeted by my wife Deborah, who is my right hand. She's very friendly and efficient. There are self-service units to the left and right of the main counter. I want customers to be comfortable and feel they can make their own choices.
What sets you apart?
We take pride in what we do. We wouldn't sell anything that we wouldn't eat ourselves and that's the way we've always done it. I don't like to sell rubbish so I'm very particular about what we put out over the counter. We've been doing it for 18 years, so we have the right people to buy from. Many of our customers want to know where their meat comes from and we can answer them with confidence.
When asked for a great recipe, Russell suggests
www.australianbeef.com.au. Here is one tasty dish:
Sausage, Kale, Mushroom and Feta Frittata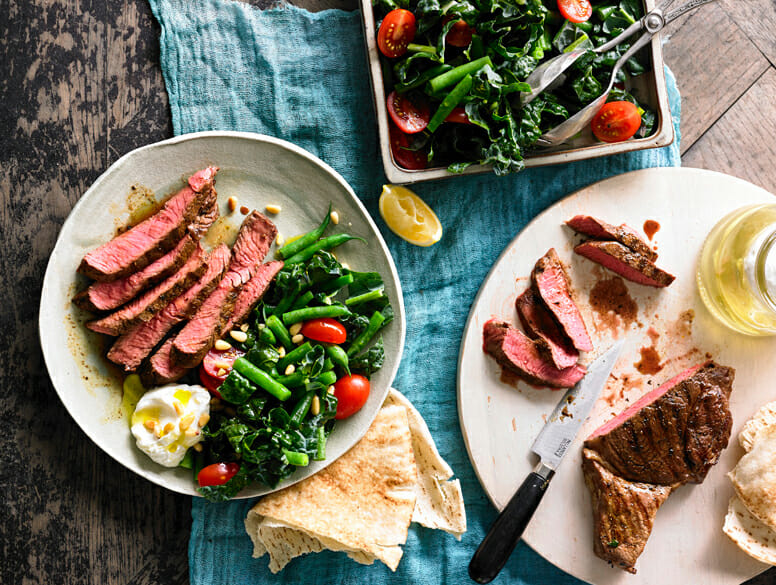 Ingredients (serves 4)
4 x 200g beef rump steaks, trimmed
1 tbsp extra-virgin olive oil
1 tbsp ras el hanout or Moroccan spice
1 cup labneh
1 tbsp pine nuts, toasted
Kale salad
1 bunch Tuscan kale (cavalo nero), trimmed, washed and shredded
Juice of half a lemon
1 tbsp extra-virgin olive oil
250g grape or baby roma tomatoes, halved/quartered
200g green beans, 4cm lengths
Lebanese bread, to serve
Method
1. Brush steaks with oil and sprinkle both sides with spice, salt and pepper. Preheat a char grill or BBQ to very hot and cook steaks for 4-5 minutes per side or until cooked to your liking. Rest for 5 minutes. Slice.
2. Place kale in a large bowl with lemon juice, salt pepper and oil and turn to coat. Pour boiling water over green beans, leave for 5 minutes, drain. Combine kale with tomatoes and blanched beans.
3. Serve beef rump with kale salad and labneh topped with pine nuts, drizzled with a little extra oil if you like.
Russells Prime Quality Meats is located at Moonee Market. Chat with Russell and Deborah in store or reach them via Facebook – Russells Prime Quality Meats