Mel's Picnic Chili: Making Grown Men Cry
If you think you can handle the heat, consider this: Mel's Picnic Chilis have made grown men cry. Ranging in heat levels from 2/10 to a fiery 16/10, there's a jar to satisfy every spice lover. You'll now find Mel Angove and her chilis at Port Central's Real Food Markets every Tuesday from midday.
"You get the really over-confident people who muscle up and say they can handle their chili," Mel Angove says. "Then their faces turn bright red, and they don't say a word before quickly walking off."
"I have made grown men cry!"
Before Mel started making chili relish in 2016, she could hardly handle pepper. These days she's comfortable with the Birdseye Picnic Chili – heat level rating 7/10. She doesn't find the Habanero (9/10) or the Reaper (16/10) particularly pleasant, but she will sample them when required.
"I wouldn't put them on a sandwich," Mel adds. "It's definitely an experience but it doesn't make for easy eating, let's put it that way."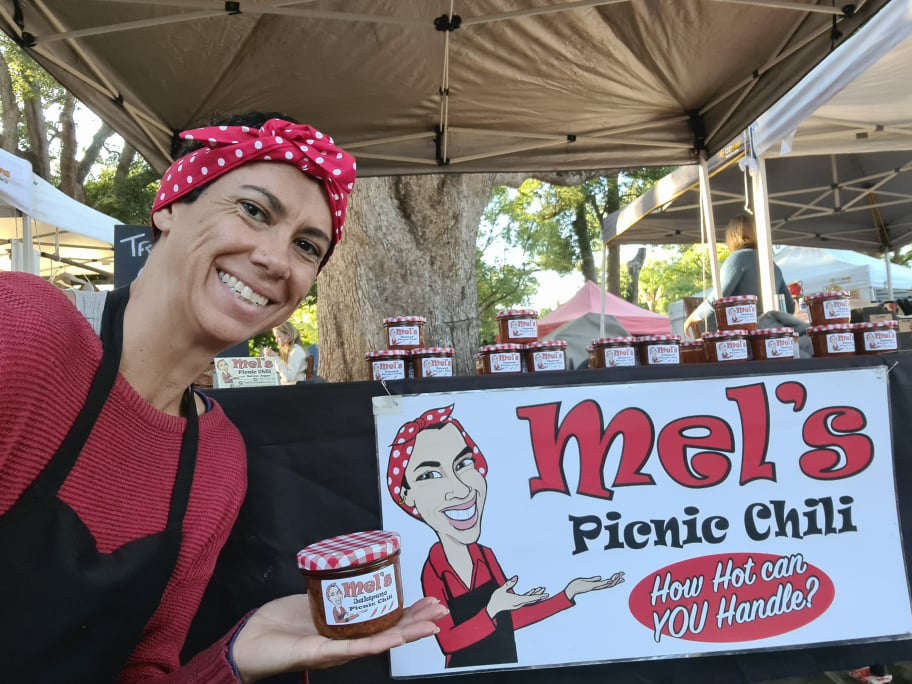 A Home at the Real Food Markets
The popularity of Mel's chilis stretches far and wide. She enjoys meeting customers and getting feedback. Mel regularly travels to markets as far north as Brunswick Heads to sell to her loyal chili lovers. But a friend encouraged her to get involved in "a beautiful little market" outside Port Central. 
"The quality of food from the growers at the Real Food Markets is fantastic," Mel says. "The pasta company next door to me is delightful and there's such a good atmosphere and vibe." 
In the few weeks Mel has been at the market, she's already had customers return to buy extra jars as one a week just isn't enough.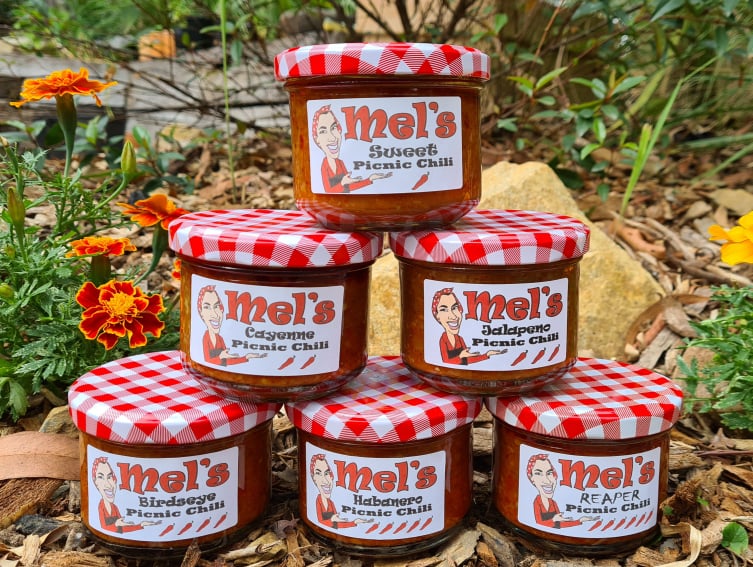 This Goes With That
Mel's Picnic Chilis can be added to almost any meal. The Sweet Picnic Chili works well on a platter with crackers or on eggs and toasted sandwiches. It has just enough kick to let you know you're eating chilis. The Jalapeno is good on tacos, pizza bases and burgers. Mel says the Birdseye and Cayenne varieties are delicious through pasta sauces or as a pasta sauce, as well as in stir fries and curries or as a marinade. 
"They all have the same recipe base – chili, onion, garlic, a bit of ginger, secret herbs and spices and a little apricot jam to finish it all off," Mel explains. "But each chili gives a completely different burn, heat level and flavour." 
Well, it looks like you'll just have to try them all!
Visit Mel at the Port Central Real Food Markets every Tuesday from midday.