Meet three passionate foodies from the Coffs Harbour region
From highlands to hinterland and harbour, Coffs Coast local produce is renowned for its outstanding quality. We hear from three local producers who are creating something special from this bounty.
Tatyana Kennedy – Rolling Hill Organics
A passion for healthy living and quality foods led my partner Michael and I to purchase our farm in Missabotti (west of Nambucca Heads). A couple of years down the track, after a lot of hard work, we now commercially market our produce under the banner of Rolling Hill Organics.
One of our most popular products is Black Garlic, which is not only super tasty, it's also super healthy and can be eaten every day without the fear of garlic breath! Fermented from our organically grown garlic, it has an amazingly sweet flavour and soft texture. Black Garlic is incredibly versatile and can be used in complex dishes or simply served with cheese and crackers.
For lovers of luxurious chocolate who want a delicious and healthy product, try our Organic Dark Chocolate which is gluten, soy, dairy and refined sugar free. We use only the finest ethically sourced and certified organic ingredients, giving you the ultimate experience in guilt-free pleasure.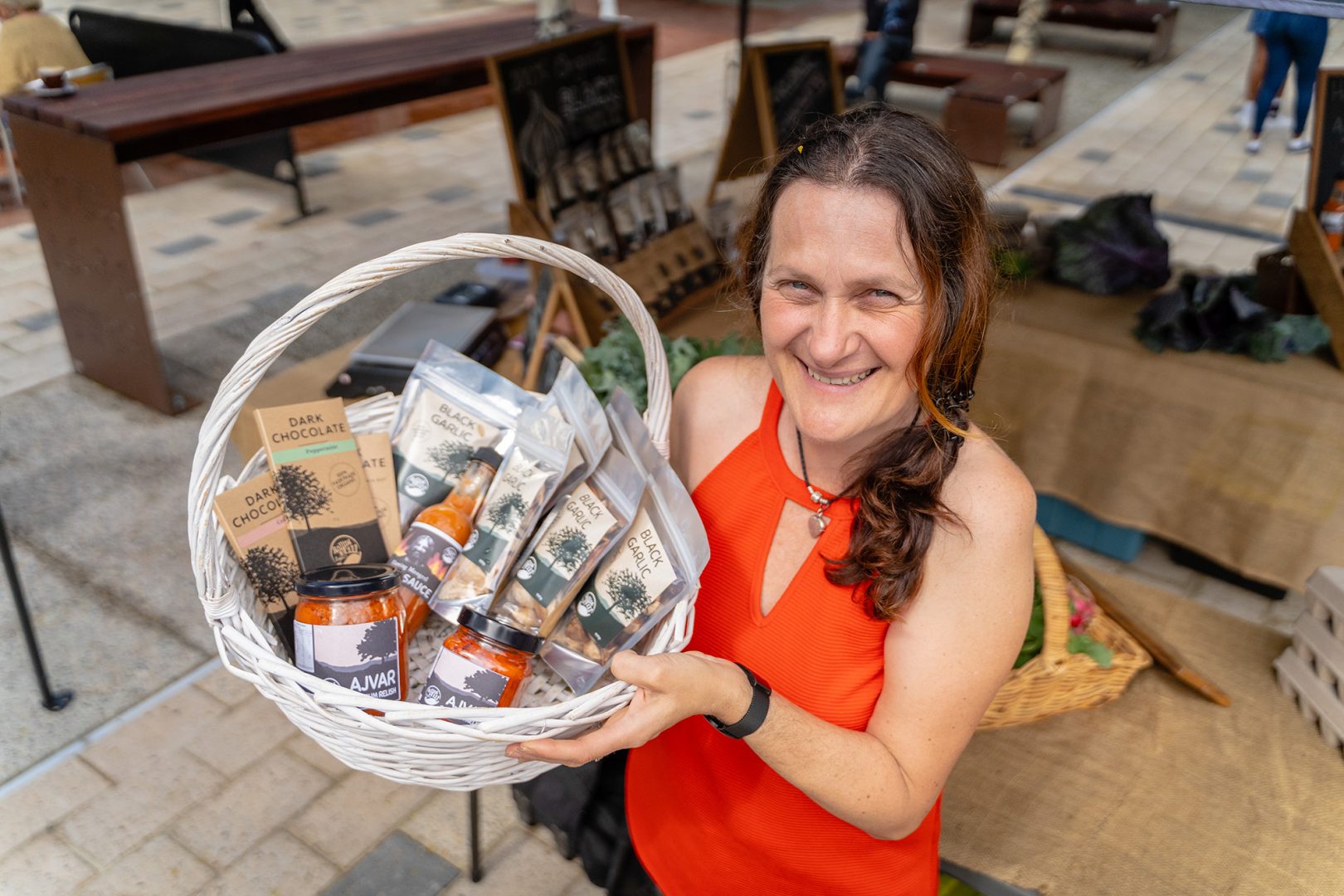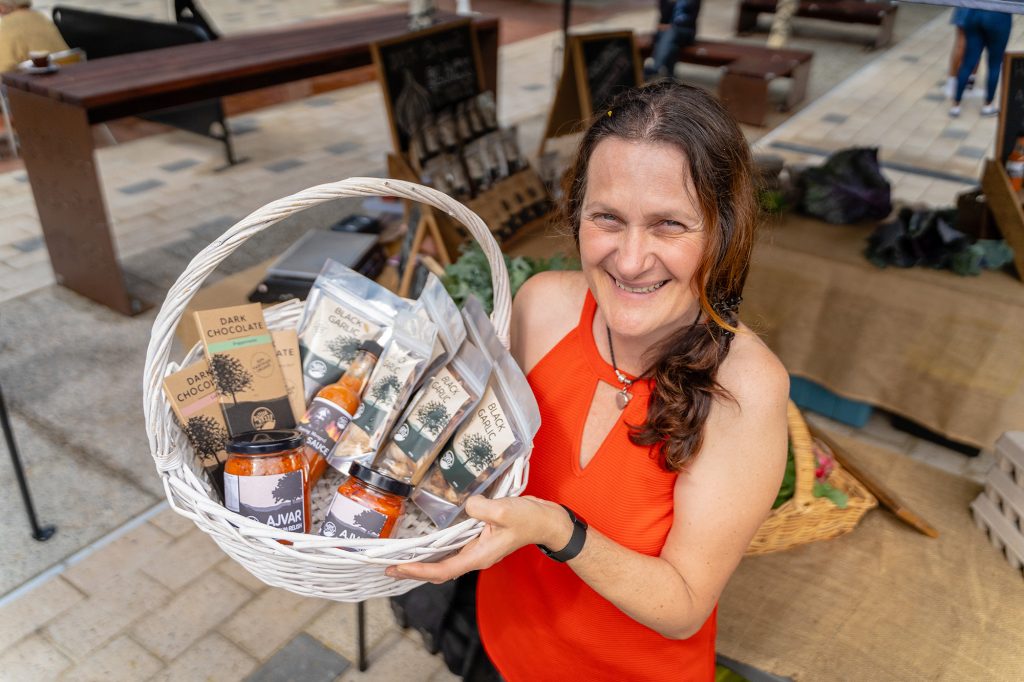 Tatyana Kennedy showcases some of her delicious and healthy organic goods
Allan Wray – Coffs Coast Honey
I've been keeping bees for 41 years now, ever since I purchased my first two hives when I was 13.
My grandfather at Coramba (west of Coffs Harbour) had bees and they always fascinated me. Bees are just such amazing creatures and are of utmost importance in the food chain. Estimates say that two of every three mouthfuls of food consumed is due to bees pollinating crops. Like all agriculture, the seasons and climate affect bees and honey production, with some trees only flowering every few years. Ground flora and shrubs also contribute to honey in the Coffs Coast region.
Brush Box honey is my personal favourite. It's very light in colour and has a generous, buttery flavour. It doesn't flower every year, but when it does, bees collect copious amounts of nectar. This time of year is also good for Ironbark, Grey Gum, Bloodwood and several other varieties. You can find these at the markets along with my creamed honey, which is always popular. I also make a beautiful lip balm using beeswax and propolis… my customers swear by it!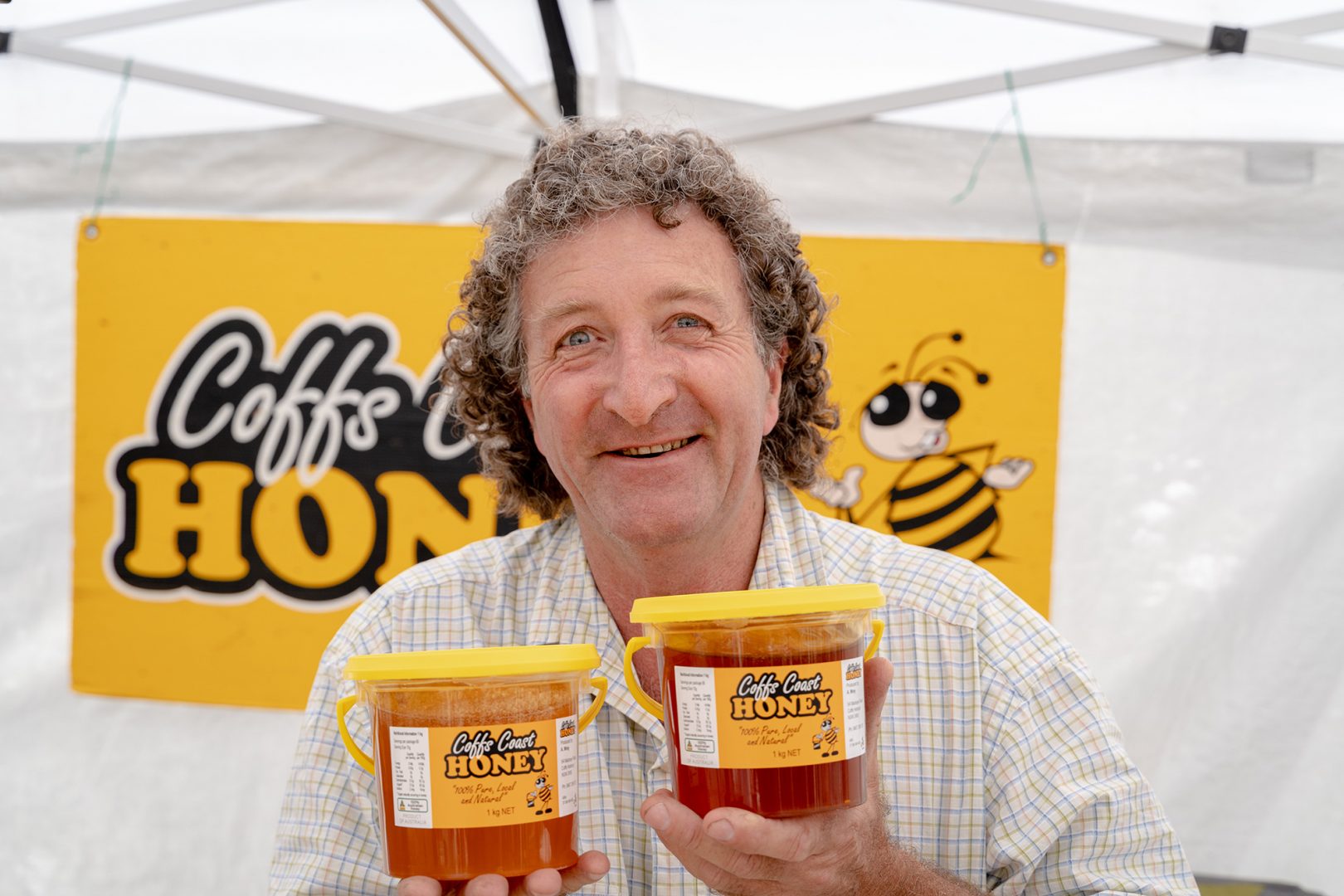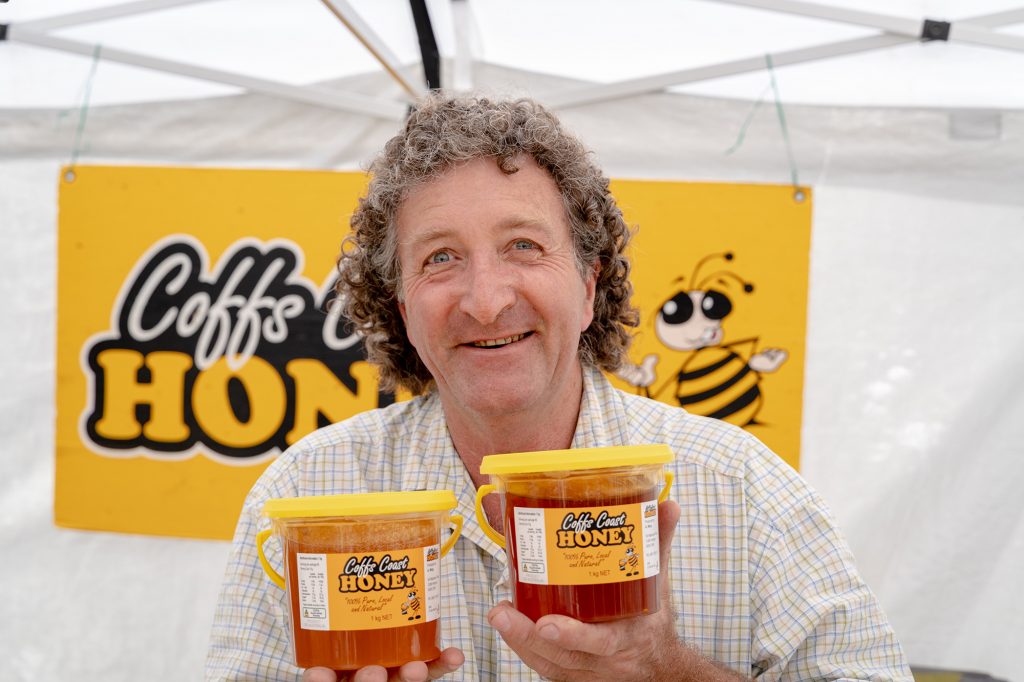 Allan Wray's love of bees was inspired by his grandfather
Ian Gentle – Bakarindi Bush Foods
My wife Manda and I bought a property at the back of Corindi Beach (north of Coffs Harbour) about 10 years ago (hence the name Bakarindi) where we started with just three Finger Lime plants. This created a passion for growing native and bush foods and making our own sauces, jams and preserves.
We now have hundreds of Finger Limes in ten different varieties. The planting and harvesting is ongoing with a number of other native plants including Davidson Plum and Lemon Myrtle. The garlic and chillies used in our products also grow on the property.
We love explaining the benefits of eating native foods to our customers, especially as all our products contain no artificial colourings, flavours or preservatives. Many of our products have won medals at the Sydney Fine Food Awards over the past few years including Finger Lime Pickle, Davidson Plum & Chilli Sauce, Lemon Myrtle Butter, Macadamia Satay and Lilli Pilli Jam. Winning awards like this keeps us inspired to cook up new and delicious bush food creations!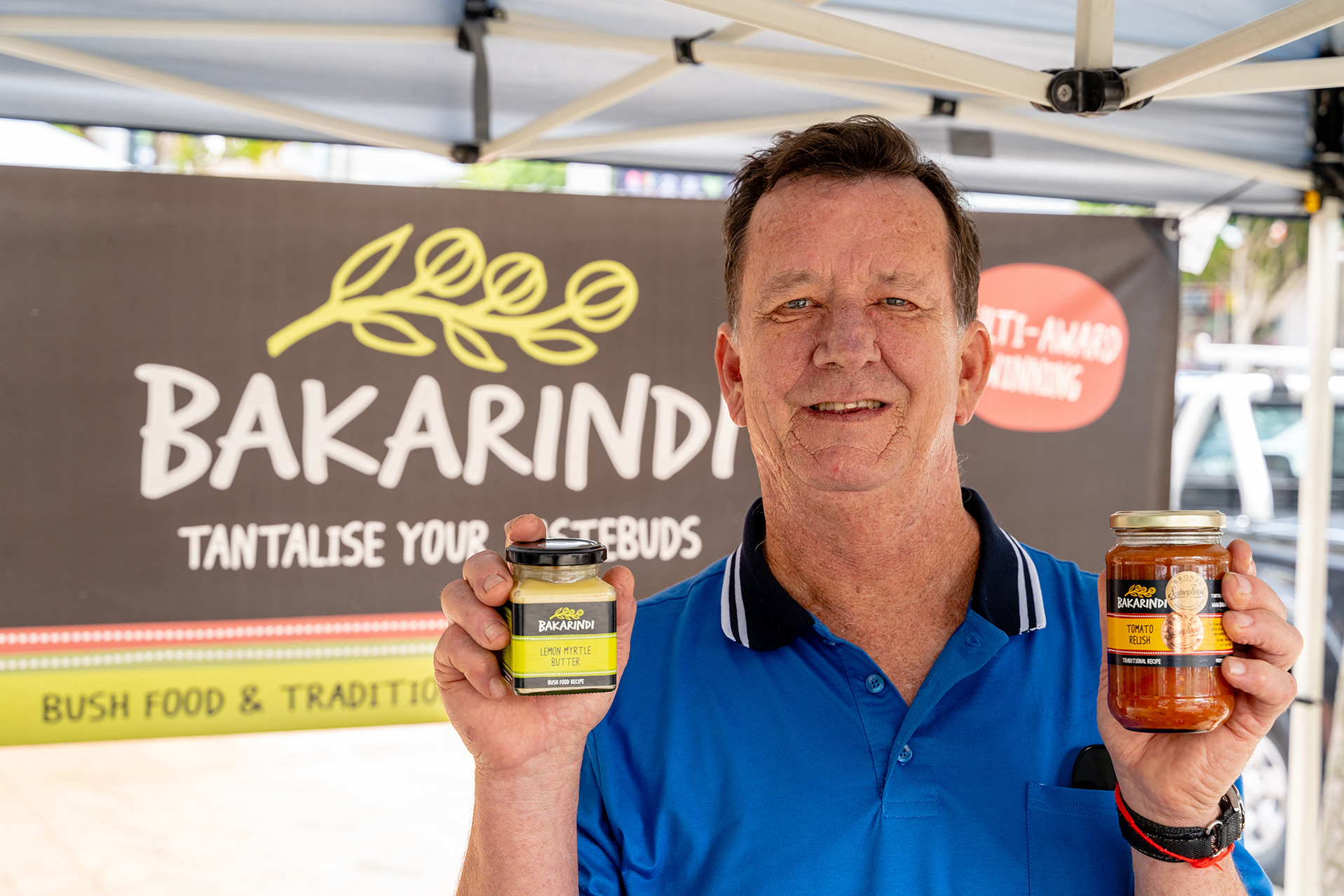 Ian Gentle with some of his homegrown products
Find these producers and more at the Coffs Coast Growers Market, Thursdays in City Square, Coffs Harbour. 
Follow the markets on Facebook @coffscoastgrowers