Meet the Maker: Sandy Beach Candles
Scents and fragrances have the power to connect us to very specific memories. Smelling a rose can transport you to your grandmother's garden. A whiff of eucalyptus can carry you back to a spectacular bush walk you took a year ago. Jules Cruickshank describes herself as a sucker for a fragrance. The Coffs Coast creative found a way to contain her favourites and share them through Sandy Beach Candles. Her pure soy botanical candles are made in her home by the sea. First crafted when Jules' was in a vulnerable space, she has released a product that brings warmth, comfort and light.
"I was diagnosed with terminal cancer six years ago," Jules Cruickshank reveals. "I had a big operation and apparently it's the largest procedure a human body can undergo."
"So, it took me a long time to recover, a few years actually."
When faced with a personal health emergency, it's rare for life to continue as it did 'before'. Perspectives shift and values realign. For Jules, it meant finding a creative outlet that brought her joy. She wanted to devote her time and limited energy to something she loved.
"So, I thought, okay, I'm going to make candles," she says matter-of-factly. "As long as can walk up and down the steps to my workspace, I'll keep making them."
Candles for Kaleidoscope
Completely self-taught, Jules picked up tips and tricks from suppliers and her own experiments. The learnt that her candles take at least 48 hours to set but it's best to allow two weeks for the fragrances to really permeate. She now knows which premium wax to use with which shaped candle and how to blend two to create a firm wax. She must monitor the temperature of the wax, temperature of the pour and even the ambient temperature in her workspace.
When Jules' health began to improve, she took her creations to Coffs Coast markets. Now she is stocked in numerous stores including Coffs Central's Kaleidoscope. But she wasn't quite prepared for the overwhelming response she experienced at the makers' emporium.
"Over Christmas I couldn't keep up with Kaleidoscope!" she recalls. "I had to get friends in to help box, but we did it and it was a good challenge."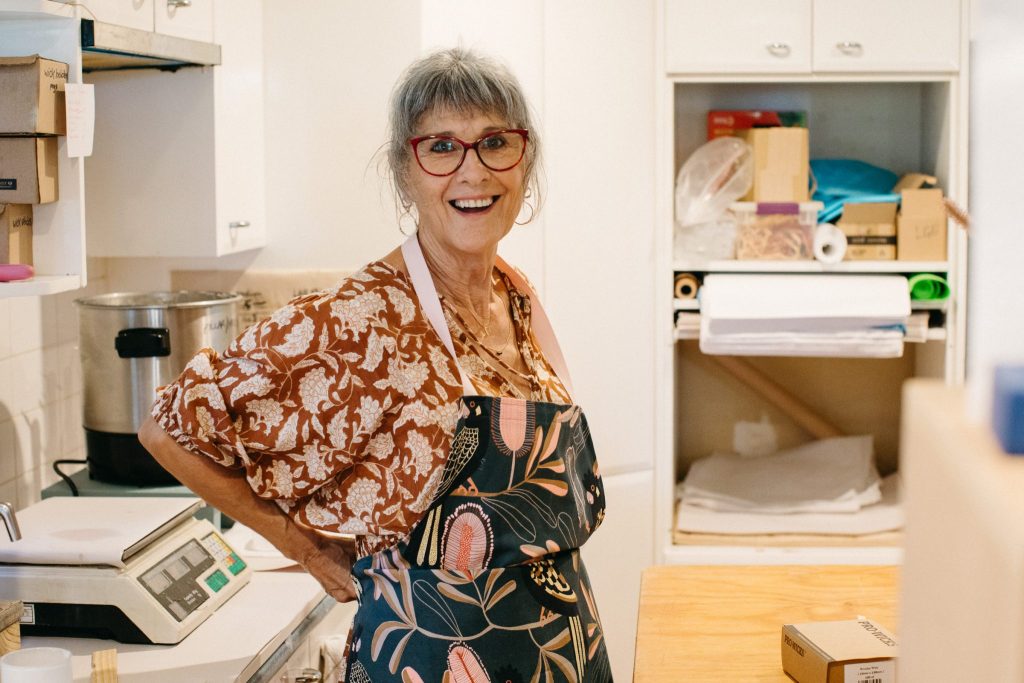 The Gift of a Lingering Rose
This St. Valentine's Day, Jules is highlighting two special candles that encapsulate a warm and familiar nostalgia. Japanese Honeysuckle and Red Rose Ruby Plum were among her original collection and have remained popular. She's especially fond of roses but points out her candles can act as lingering roses – and gives a not-so-subtle hint to her husband!
"My mother loved red roses and she had some rose bushes along the front fence," Jules explains. "That's what I remember, and the scent of these candles connect me to that memory."
Speaking of memories, Jules has so many more to make. She has been cancer-free for five years and plans to continue filling her life with things she loves and enjoys.
"I've decided I'm going to live to between 85 and 95 then I can drop off the perch!" Jules laughs. "As long as I can see my grandkids grow up." 
Jules' Candle Tips
Make sure you're burning your candle in a totally safe environment. Don't go and light a candle near paper, curtains, blinds or anything flammable – even plants.
Burn them to their circumference, blow them out and let them go cold then re-light them and they should burn down nicely.
If you have a pillar candle and it's burning more on one side, you just rotate it each hour. If they're on an uneven surface they're not going to burn down properly so you can rotate them or make sure they're on a nice flat surface.
Keep watch of your candle but close your eyes every now and then and let its delicious fragrance satisfy your senses!
Follow Sandy Beach Candles on Instagram and shop for your very own at Kaleidoscope.