Meet the Host: Sarah Lyttle Shares Her Love of Painting
A year on from lockdown, Coffs Coast artist Sarah Lyttle, reflects on the changes it brought about, and the return to local community. On August 7 she will host Paint + Sip – a new creative workshop at Coffs Central.
Sarah Lyttle has long been known in the art world as flossy-p; artist, illustrator, and maker of lush cushions, pillowcases, and children's décor. But when the COVID-19 lockdown descended upon us last year, Sarah was among the many whose work came to a grinding halt. Having successfully worked from home for the past 10 years, the sudden need to home-school her two young children left her little time (or access to her own computer). Along with the suppliers of her fabrics and printing either going out of business themselves or becoming inaccessible, she was left with few options. It was during this time that she embraced a shift towards local.
"I have always tried to use local businesses myself, yet my own work and products were often sold in far off places and tourist hot spots around the country," Sarah says. "So when travel and tourism dried up, so did my work.
"However, turning to my local community ended up being my saving grace."
Sharing a Love of Art
2020 was to become a year driven by creativity. Sarah took on a teaching role at local paint and sip parties. Run by Paint Your Town, the art classes are for adults new to art – or just a bit rusty – who are looking for a fun, social, less-serious way to try their hand at painting.
"There are so many things to love about this role," Sarah tells us. "Firstly I get to witness people who arrive saying 'I can't even draw a stick figure', then leave with a proud smile on their faces.
"The other great part is that we are supporting our local venues at the same time.
"We bring clientele to pubs on quiet nights and create a great vibe for them while we're at it."
The parties have become enormously popular with tickets selling out in a blink.
A Mural for the Community
Another exciting project was yet to come. Bendigo Bank had recently relocated to a new premises, creating a space to support the community. The pop-up shop at the front of their Harbour Drive branch invites local artisans to sell their creations, free of charge. Sarah was commissioned to paint a large mural during business hours. That allowed staff, customers and members of the community to be involved in the process and chat to her as she worked. Many locals returned each week to watch it evolve.
"The concept I came up with for the mural is all about Coffs Harbour," Sarah explains. "It is titled Home to Roost in honour of the many Coffs locals who return to bring up their families, much like the shearwater birds that return to nest at Mutton Bird Island each year."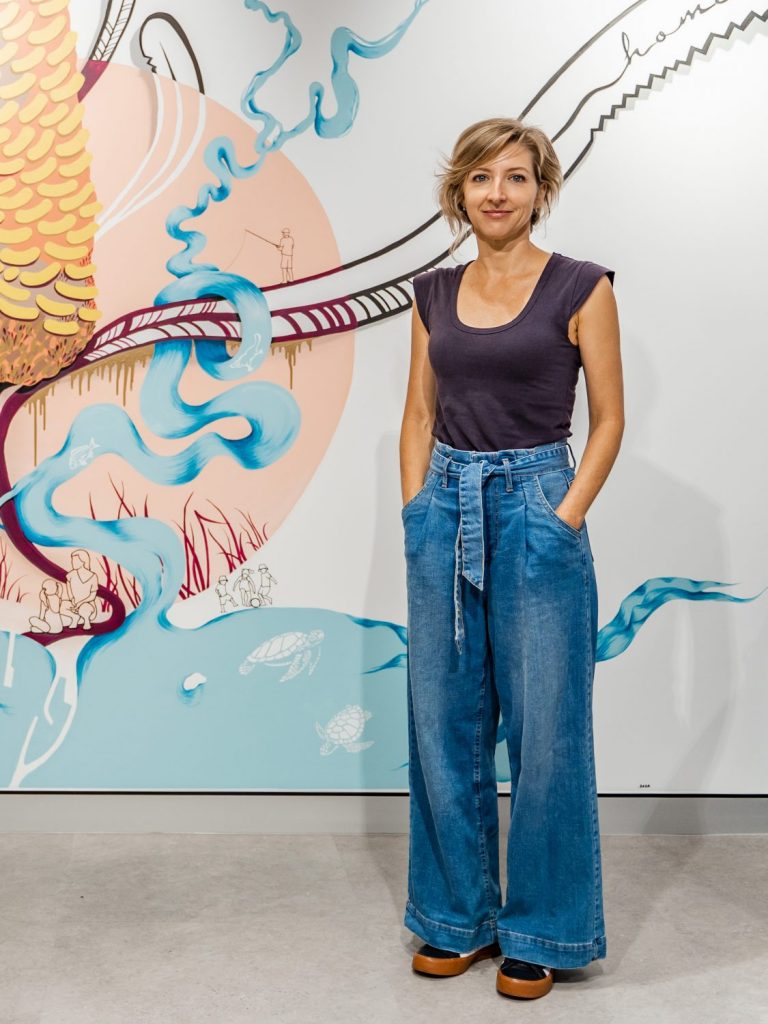 There are many other familiar elements in the mural including the coastal banksia flowers that line our headlands, plus recognisable marine life and recreational activities. Central to the mural is a map of Coffs Creek.
"I see the creek as being the ribbon that ties our town together, from the mountains, through the outer suburbs, the centre of town, and out to the marina and ocean beyond".
Sarah will host Paint and Sip at Coffs Central on August 7. Book here!