A family holiday in South West Rocks
Coastbeat Editor Yvette Harper reflects on a winter beachside break in South West Rocks.
It's surprising just how fabulous a beach holiday can be in the cooler months. Of course, day after day of cloudless blue skies certainly helps. Our recent trip away was an important reminder of how magical the north coast is and how worthwhile it can be to explore your own backyard.
It may only be 90 minutes door to door for us from the Coffs Coast, but we hadn't ventured to South West Rocks for a family stay in years, certainly not since one son became three…And what was the holiday verdict from our boys? One of them declared the Macleay Valley his favourite new location in Australia, even topping our amazing Fraser Island experience last year.
Here are our highlights, some of which can also be found in the South West Rocks Day Trip feature article from our 2018 Autumn issue.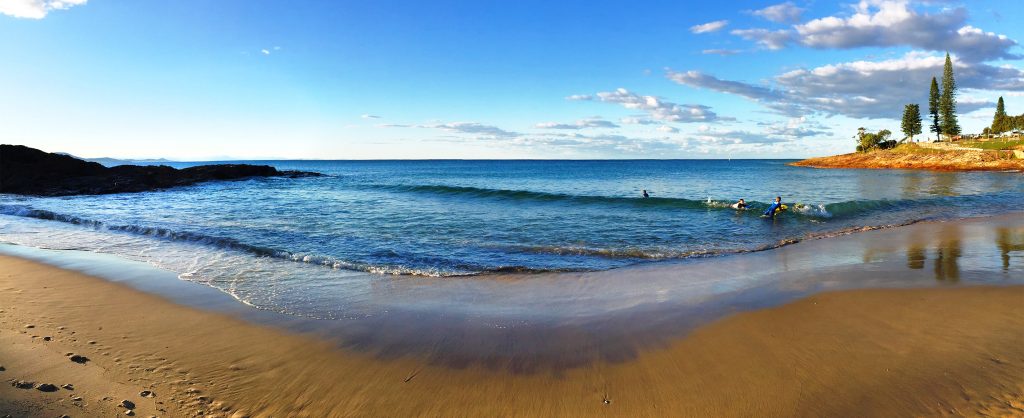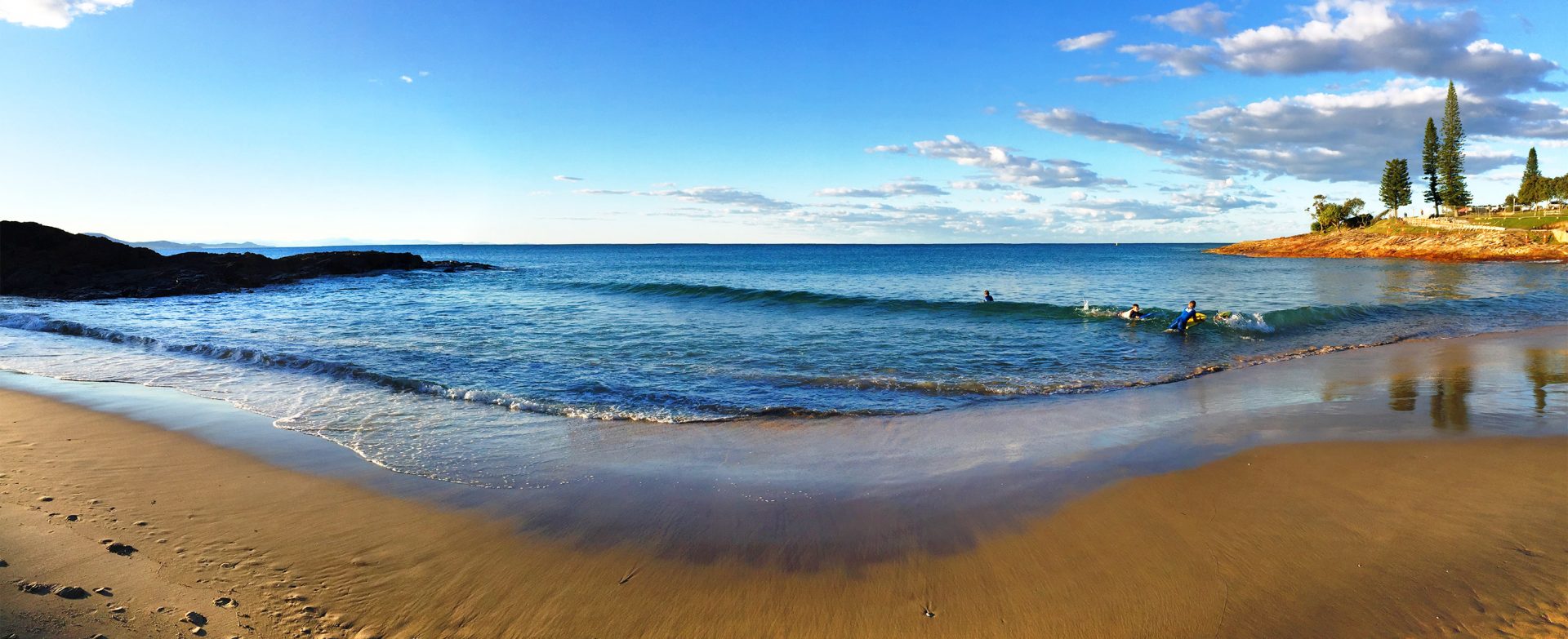 The kids with yet another beach to themselves at Horseshoe Bay
North Smoky Beach
This little adventure was our pick of the week. North Smoky Beach is located just below the Smoky Cape Lighthouse and while most visitors to the lighthouse simply admire it from above, it's certainly worth making the 0.8km trip down to the beach. Apart from a large goanna that crossed the bush path on our walk back up to the lighthouse, we had this heavenly spot completely to ourselves for hours.
Little Bay to Smoky Cape Lighthouse Walk
Take my advice, start this trail (10kms / approximately 3 hours) from Little Bay as it is intended rather than starting from the lighthouse as we did. We got lost a few times and my son was quick to point out that I swore a lot but a very steep 35-minute detour to Green Island, as lovely as it was, wasn't really part of the plan. We concluded our walk at Gap Beach which was absolutely gorgeous – even if it was a detour we didn't mean to take.
We loved weaving along through the bushland and spotting whales in the distance. Like much of our week, we were often blown away by the beauty of our surroundings during the walk. This is certainly a trail worth doing (especially if you don't go wrong) and will be featured in our upcoming magazine.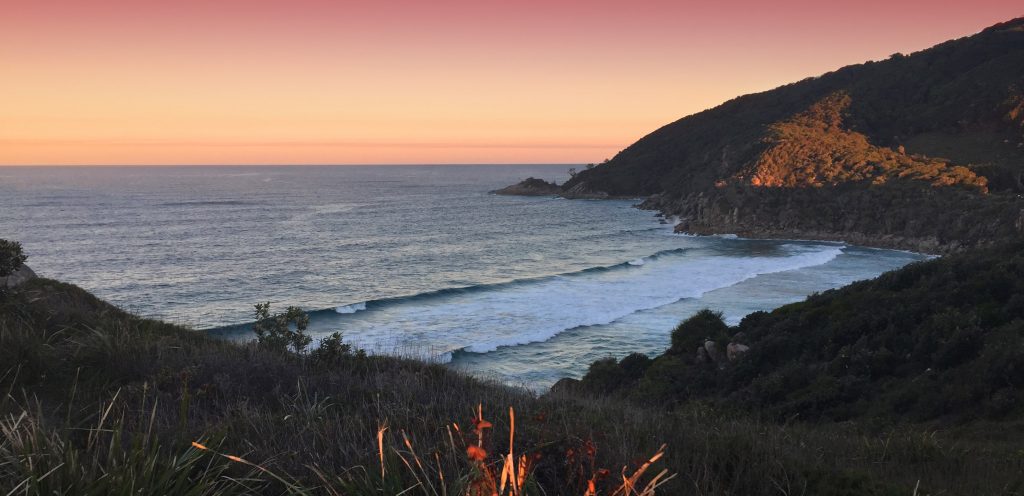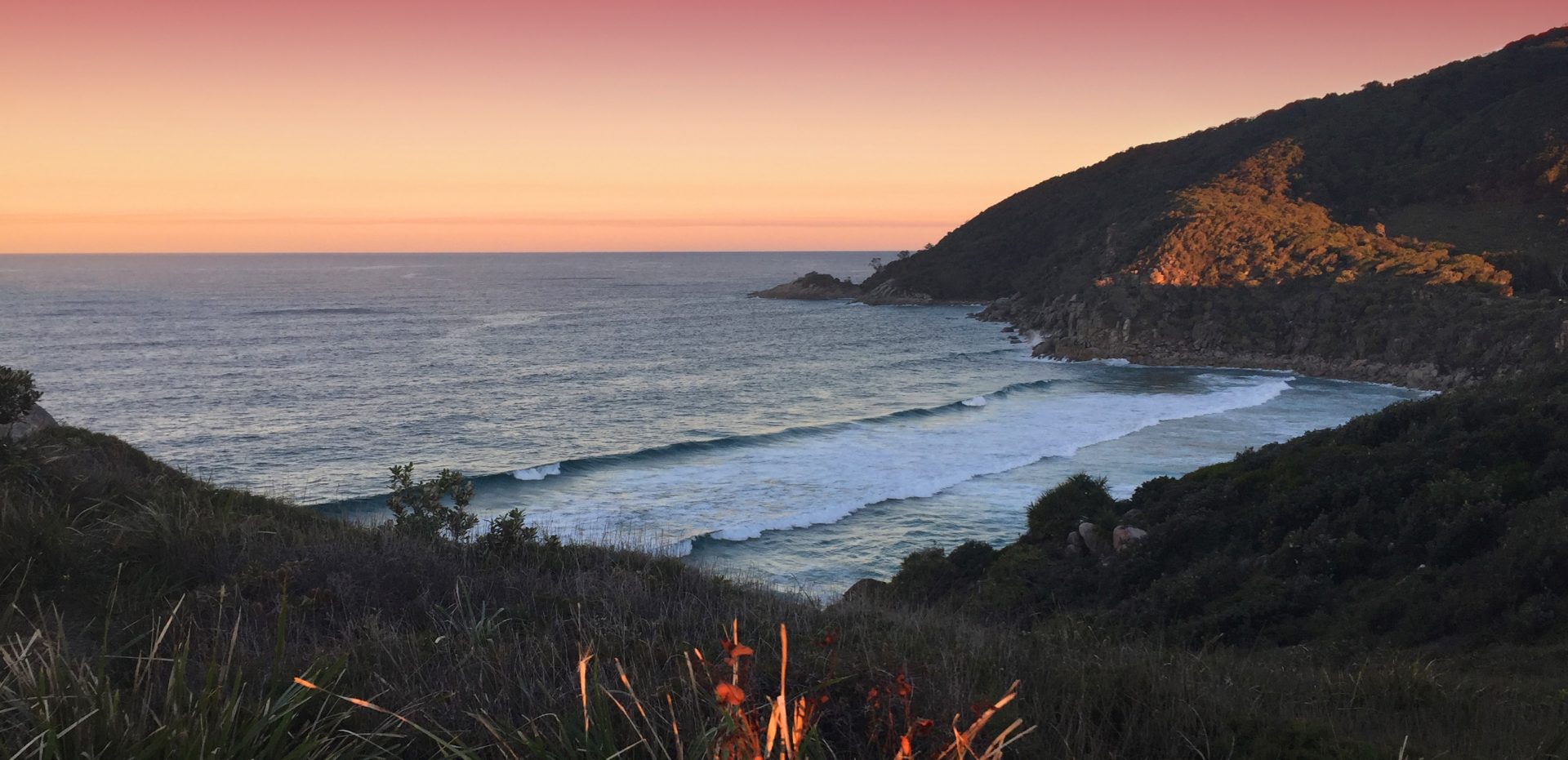 Overlooking Little Bay
Hat Head
Hat Head is a lovely holiday destination in itself or a very worthwhile side trip about 30-minutes from 'The Rocks'.
We had completed the Korogoro walking track this Summer but venturing here again in an off-peak period was a completely different experience. Last time, the caravan park was bustling, and the creek presented a typical snapshot of a north coast holiday; kids jumping from the footbridge, people floating on coloured inflatables and families picnicking on the grass. This time though the estuary was deserted, and we shared the beach with just one other family. The boys loved cruising along the gently flowing creek on their boogie boards from the bridge to the ocean. It's the kind of location where poor-quality photographs are almost impossible.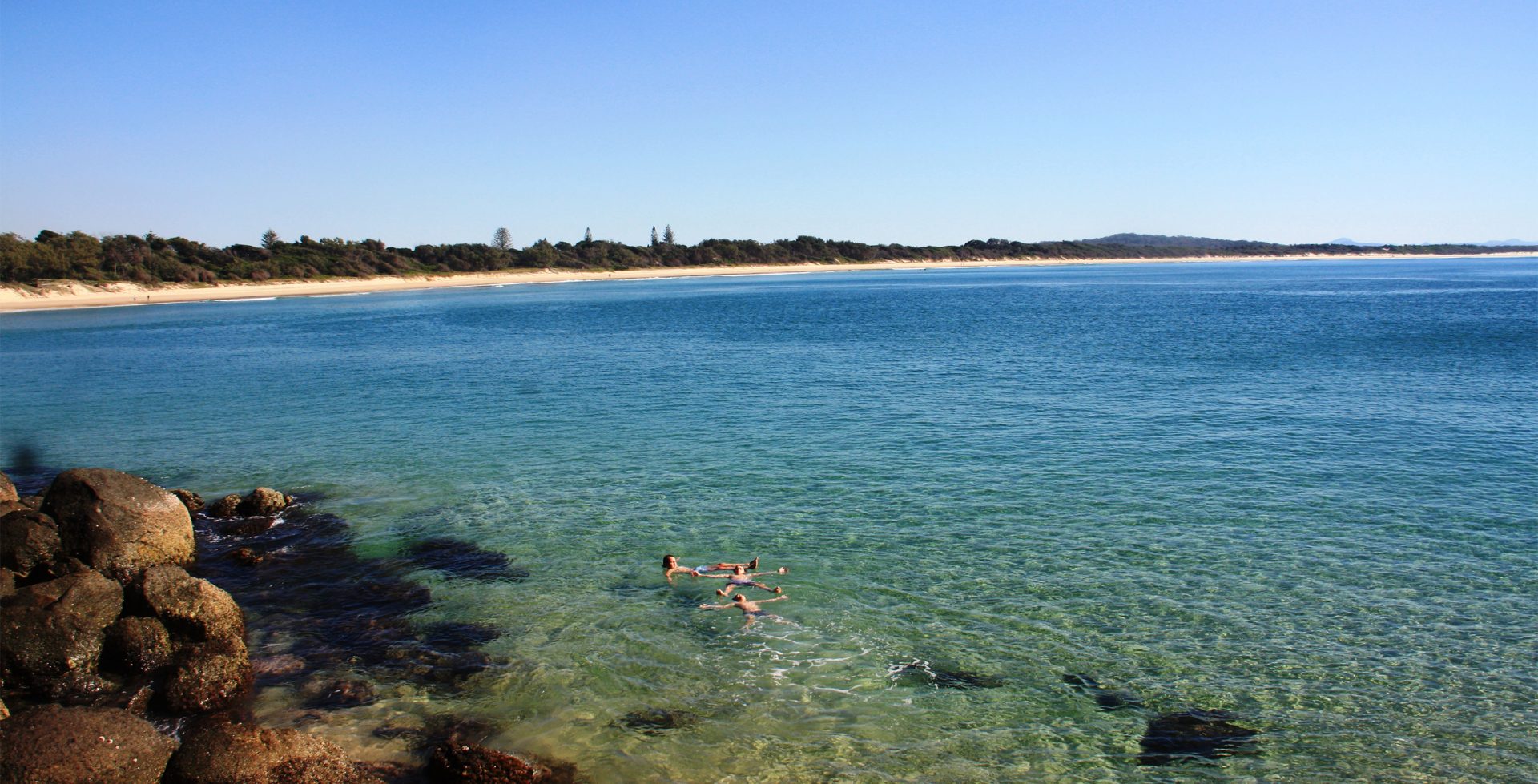 The boys take a dip at the start of the Korogoro walking track 
Gorgeous Gladstone
I had been keen to visit Gladstone for some time and it certainly didn't disappoint. The village, about a 20-minute drive from SWR has such a charming feel and the people we encountered were delightful.
It was great to see the vibrant red exterior of the Gladstone Hub which I'd only seen in photos. I loved chatting to local artist Deb Broughton who had popped in to restock some of her artwork. The Hub has many lovely goods available from clothing to jewellery to homewares and beauty products – plenty of which are handmade.
Whilst there I also met the delightful Beth and Dan from Steam & Cedar and discovered that Beth is a talented artist. She hosts Arty Afternoon Tea most Saturdays in her on-site studio where people are introduced to watercolour while indulging in high tea. Email [email protected] for more info.
We'd just gobbled up a yummy brownie and sipped on hot chocolates and one of the tastiest vanilla milkshakes ever at Steam & Cedar but next time we'll be sure to enjoy lunch at The Old Bank. This beautiful heritage building has a stunning riverfront location.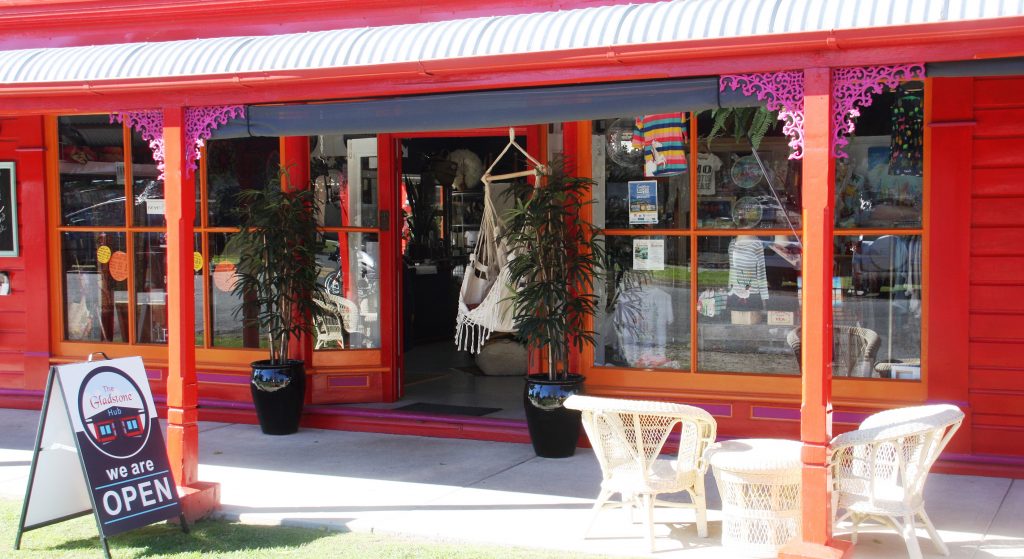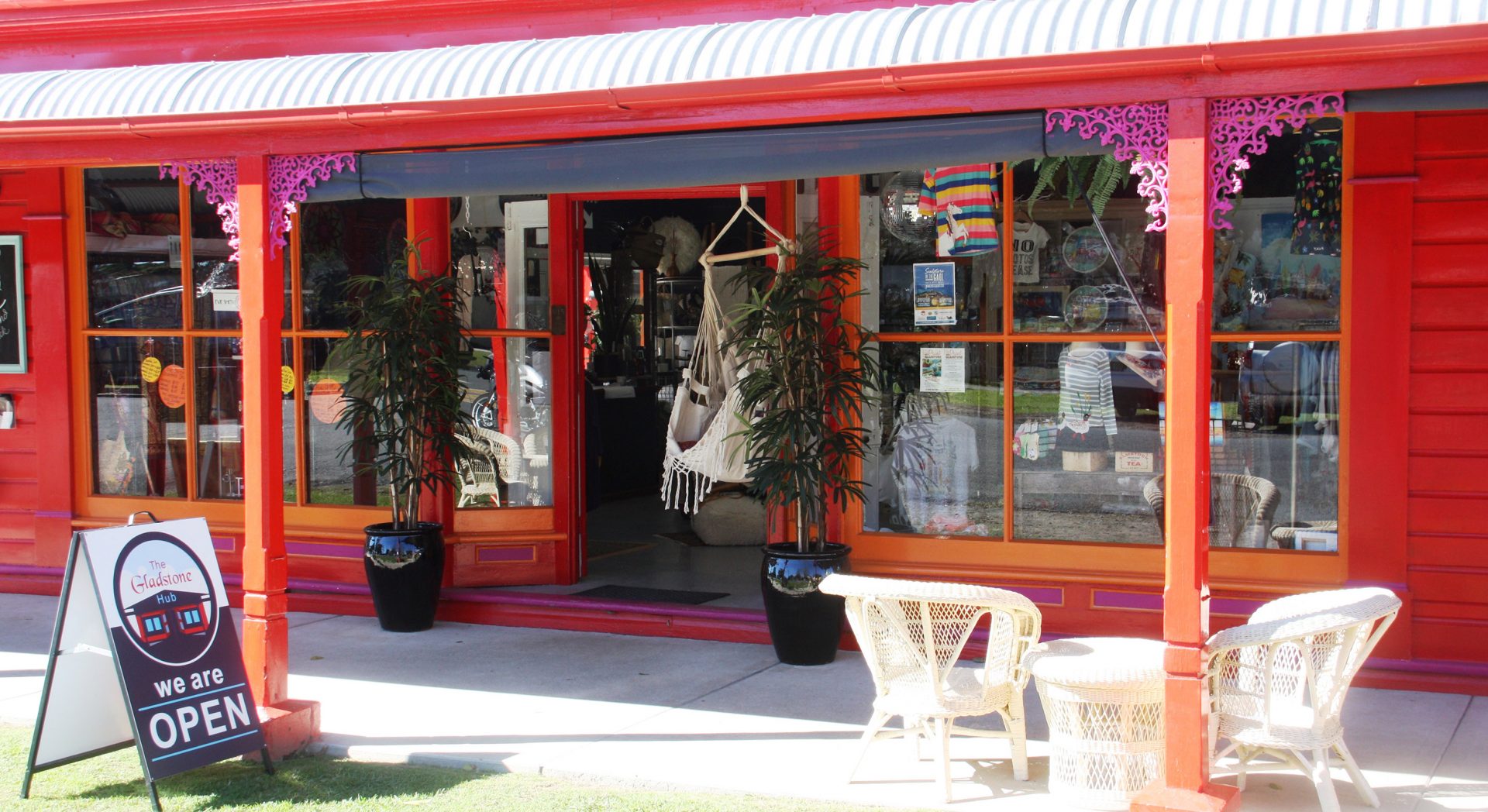 The Gladstone Hub community were warm and welcoming
A pub lunch
We enjoyed our pub lunch in the heart of town so much the first time we went back to the Seabreeze Beach Hotel again a few days later. On both occasions we soaked up the sun from the large timber tables out front. A cold beer overlooking the beach is the perfect reminder that you're on holidays. My husband was particularly happy with the size and taste of the pork knuckle lunch special (so much crackling!) even if he did trade much of it with one of the boys who found the spicy chicken wings too hot to handle.
Scoops of flavour
A delicious ice-cream at Chillati Gelato & Sorbet sure hit the spot after the pub lunch and needless to say, this store was visited more than once. Even better, while the kids were deciding what to order (a challenge given the 30 different flavours, all made on the premises) I happily browsed at the new antique shop next door.
Fishing
The boys loved fishing the Macleay River while perched on the rock wall at dusk. One even caught a yellowfin bream big enough to bring home for everyone to have a little taste. The rock wall is situated on New Entrance Road.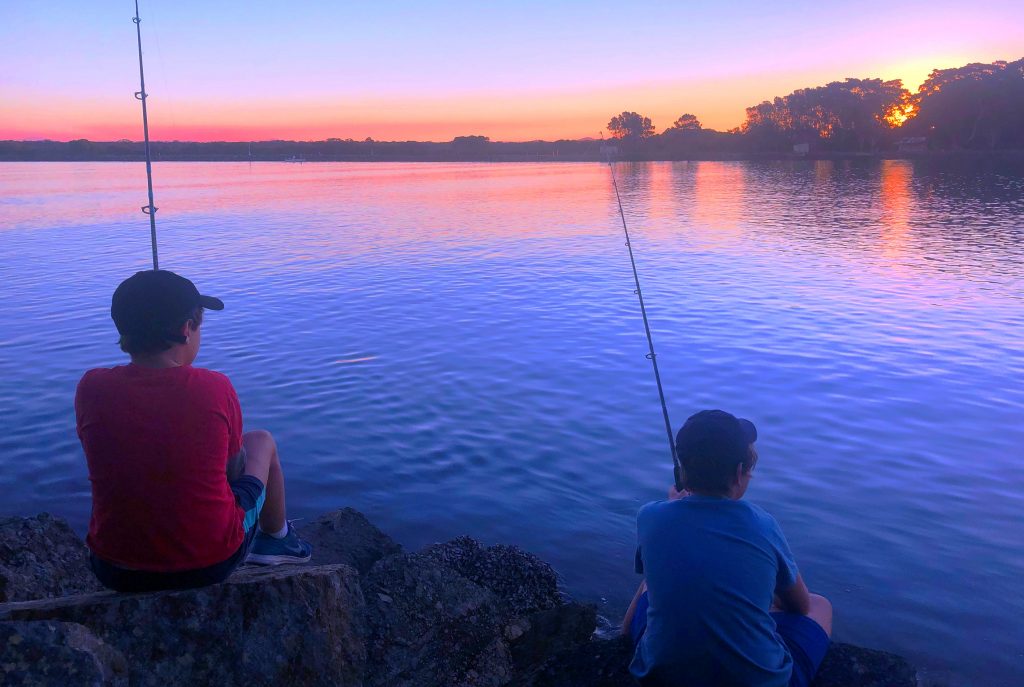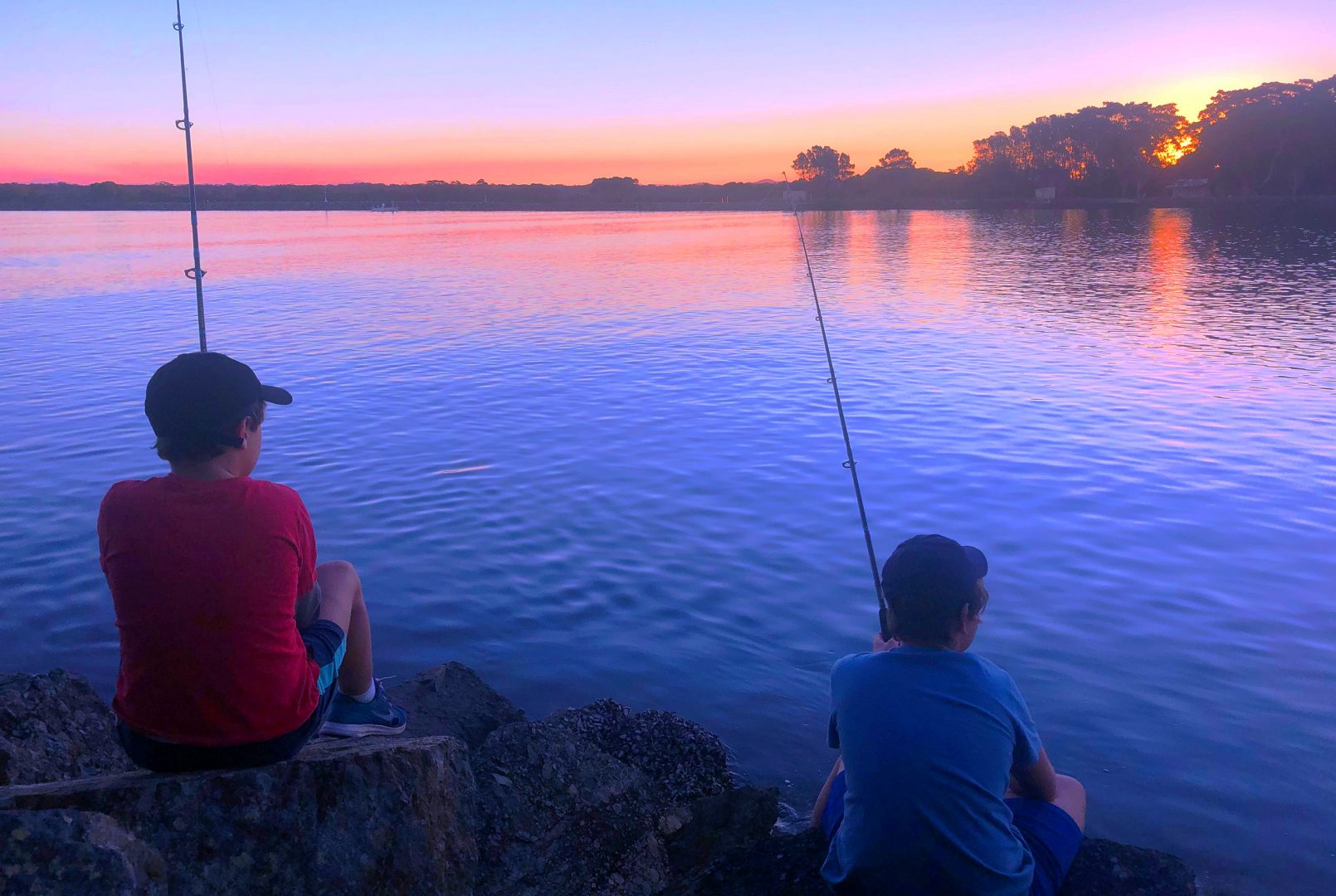 Enjoying a spot of fishing in South West Rocks. Image by Piers Harper
Soak up the sunset
The timing of our trip coincided with a full moon and it was lovely to watch the sun set in the east as the moon rose behind us. We took the Monument Hill path (that goes all the way to Trial Bay Gaol) from Little Bay and even tired little legs could manage the few hundred metres up the hill for the fabulous views that we shared with a couple of kangaroos. Trial Bay Gaol and the campground below are also recommended vantage points to observe the colours of a beautiful sunset.
All in all, what a wonderful week it was! We didn't quite get to everything we planned but look forward to returning to the Macleay Valley soon with Point Plomer and Crescent Head at the top of the list.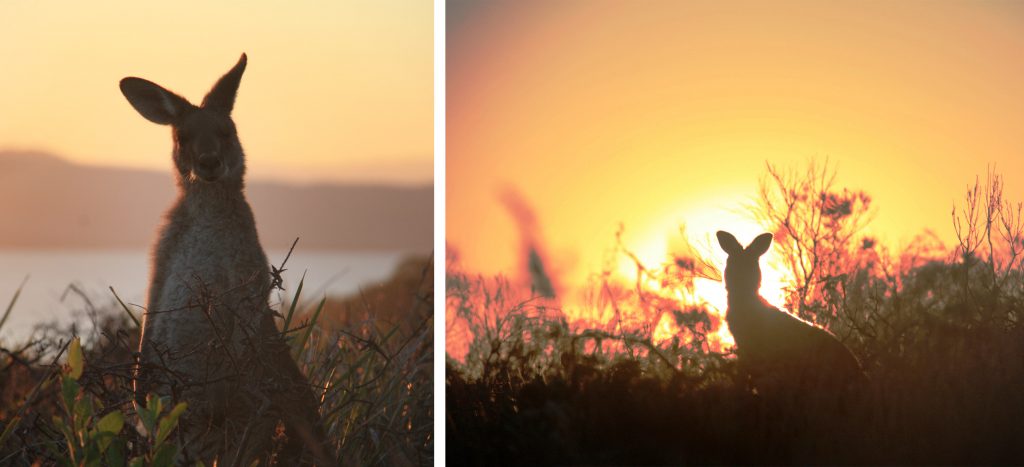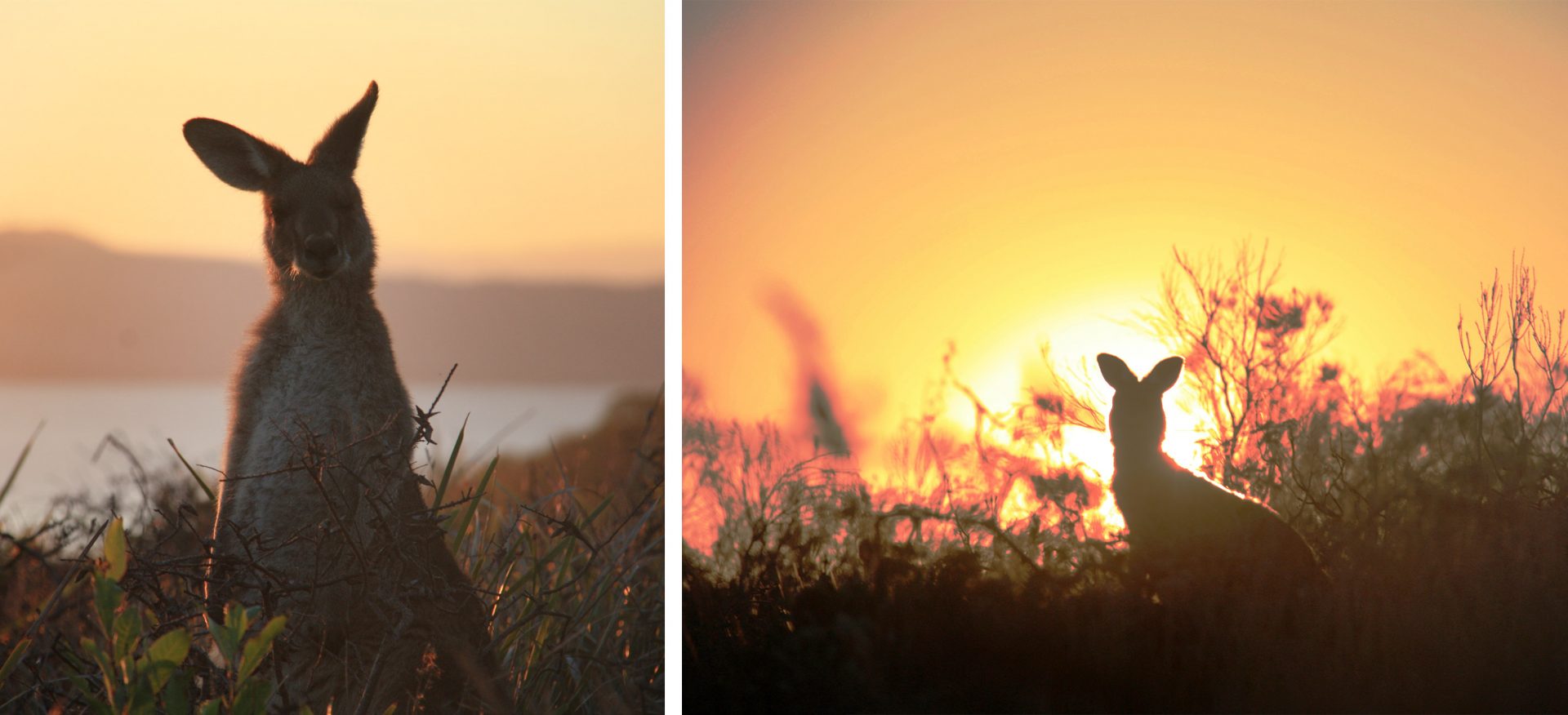 We shared our beautiful sunsets with a couple of locals. Images by Ellis Harper
Further information
Location: South West Rocks is about a 5-hour drive from both Sydney and Brisbane.
Accommodation: We opted to stay in Arakoon which is close to Trial Bay Gaol and just a few minutes' drive from the town of South West Rocks. Our rental was a large, sunny 3-bedroom home walking distance to Little Bay and Trial Bay beach (Wi-Fi included / Netflix available) that cost $120 per night for our 7-night stay. We made our booking through http://www.southwestrocksaccommodation.com.au/
For more info on this amazing part of the NSW North Coast, see Macleay Valley Coast