Local Anzac veteran stories
Every year on Anzac Day, we take a moment to remember and appreciate the sacrifices made by so many brave ANZACs. For many of us, this also means honouring our ancestors, male and female, who left their families to serve our country in the armed forces.
We wanted to share with you some of the personal stories as told to us by the proud family members of servicemen and women. Join us in commemorating their heroism in pursuit of freedom.
Ted Gowing, WWII Veteran
John Gowing – Managing Director of Gowing Bros Ltd. Holding a photo of his father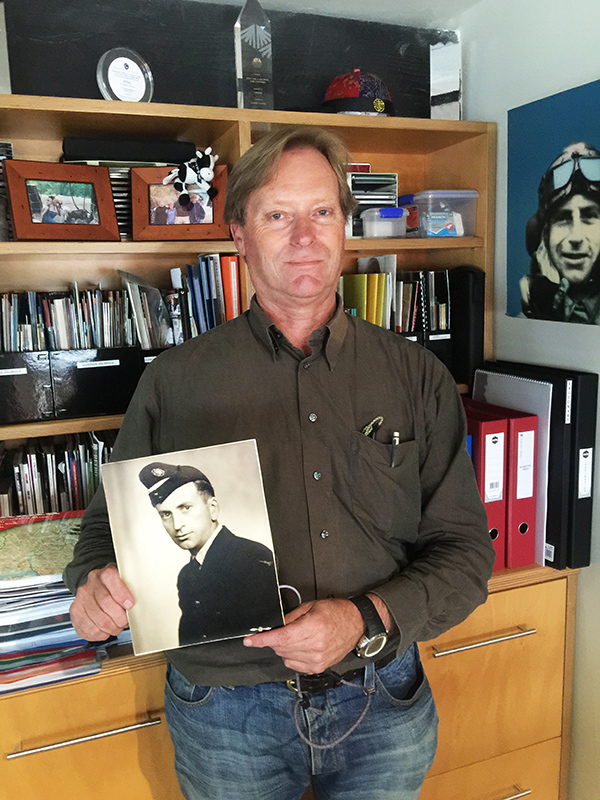 My father, Ted Gowing, joined the army pretty much on the day war was declared. He would have preferred to join the Air Force as a Fighter Pilot however he was deemed to old being 25 at the time. However due to the appalling casualties during the Battle of Britain the age limit was lifted to 25 so Dad resigned his commission with the AIF and joined the Air Force.
Following training at Narromine and in Canada as part of the Empire Air Training Scheme, he eventually ended up in the UK with 20 other successful Australian Flight Sergeants. Of that 21 young men, only two returned to Australia.
For a period of time, Dad was assigned to convoy duty. This meant you needed to attach long-range tanks to your aircraft and fly out to the extreme limit of your fuel, circle the convoy then fly home. The catch was of course if you encountered the enemy you needed to ditch your tanks and engage them. When you then ran out of fuel you had to ditch in the North Sea and hope someone from the convoy would pick you up.
I find it hard to imagine how brave it must have been for someone to fly out every morning knowing that there was a real chance that you would not return. My Father, along with so many other brave men and women, put their lives on the line for Australia every day. He was fighting to protect our way of life, and to fight against a great evil that was threatening to engulf the world.
Whenever I am feeling down or finding a challenge too hard I think of the great sacrifice so few made for so many, and realise my problems are really trivial.
My mother Barb also joined the armed services as a Physiotherapist, Lieutenant Barbara Crago. They were engaged before the war. However, he decided not to marry as Dad felt there was a real risk he would not return. After five years away with little communication, they were married very soon after Dad's safe return to Australia.
Edgar Arthur (Curly) Pascoe, WWII Veteran
Carina Pascoe – Graphic Designer at Gowing Bros Ltd. holding a photo of her grandfather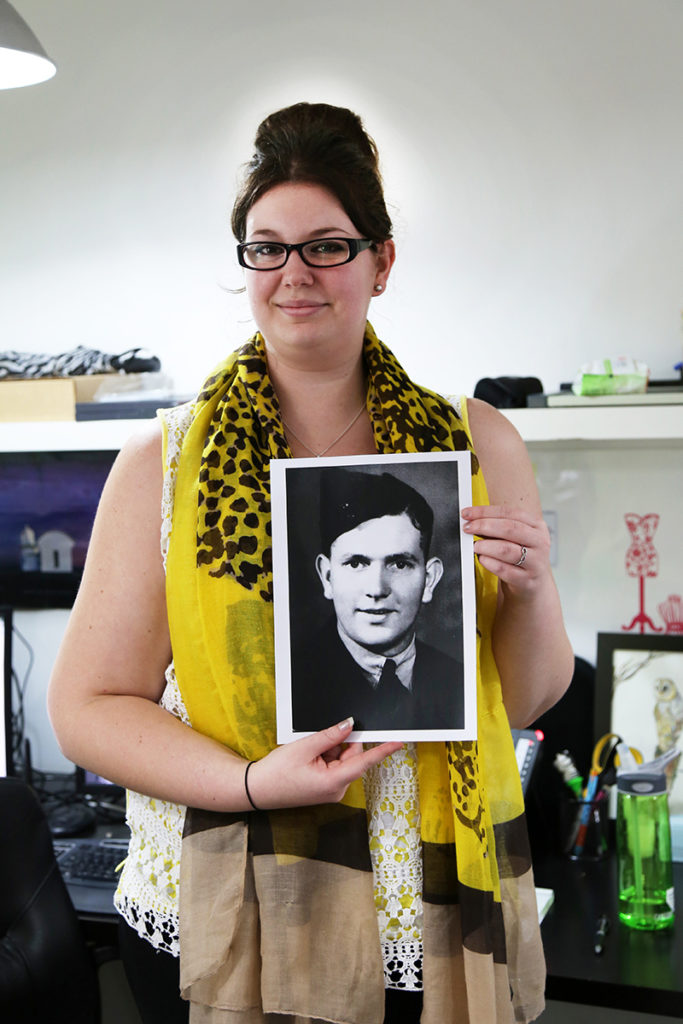 Edgar Arthur Pascoe was known by everyone as 'Curly', as he had a big curl at the front of his hair from childhood.
On the 17th September 1940 he enlisted in Sydney for service in the Royal Australian Air Force aged 22. He had to apply for service with the RAAF as they did not take enlistments without trade qualifications so he underwent an examination at Engineer School as a Fitter Class 11E and received a 75% pass.
He trained at Wagga, Richmond, Narromine, Canberra, Corowa and Sydney. He previously worked at the local Ford dealers as a mechanic for several years. Curly's rank was of a Leading Aircraftman Corporal and later a Sergeant. He was with the 33 squadron unit and served in New Guinea from 1944 to 1945.
He discharged from the RAAF as there were no local tradespeople available in his home town and the wheat harvest was underway and the country desperately needed food so the local garages requested his return.
With regards to his service in New Guinea, he often talked about the planes he worked on and the runs they would do. He was not in combat but a team of them kept the planes for the likes of airdrop deliveries. He knew how fast the different planes went and how well they handled and serviced
The No. 33 Squadron transferred to Port Moresby in January 1943, providing air transport to Australian forces involved in the New Guinea campaign. Transport needs were so desperate in New Guinea that even the Tiger Moths were employed, delivering a total of 77 kilograms (170 lb) per trip. In September–October 1943, the squadron began taking delivery of fifteen Douglas C-47 Dakotas to replace its assortment of aircraft. By the time it transferred to Milne Bay on 1 January 1944, it was operating Dakotas exclusively and continued to do so for the rest of the war.
---
Latest posts
---
George Leach, WWII Veteran
Damon Leach – Coffs Harbour City Council Member holding a photo of his grandfather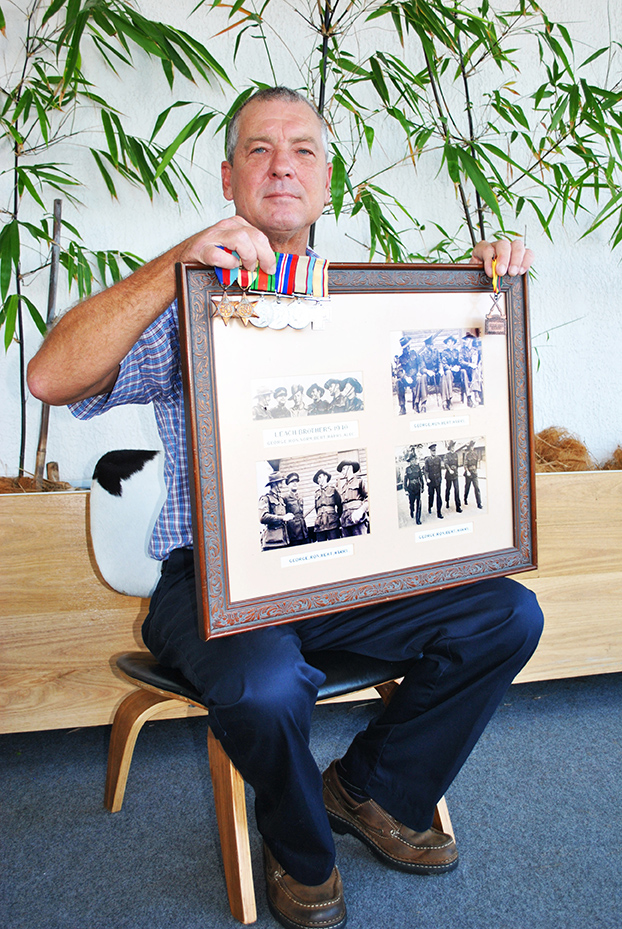 The Leach Brothers were all in World War 2. The Leach brothers, from Sydney – six in all – signed up to serve Australia in the AIF. Their sister also joined as a nurse.
All were sent overseas; five of the brothers going to North Africa and the Middle East to engage Rommel's desert forces (Afrika Korps) and the Italians. The youngest brother, Norm, went to Canada to train as a gunner in the Air Force.
One of the older brothers, Ron Leach, rose through the ranks to become a Major. He was assigned to General Staff.
Among his duties, he became a Commandant of the Z Forces and trained special service personnel to fight the Japanese behind enemy lines. He was awarded an MBE for his services at the end of the war.
George Leach became a Sergeant in the 2nd 13th Battalion, leading a patrol in the front line in fighting Rommel's forces across the Libyan desert and then in the defense of Tobruk. His brothers Ron, Harry, Alec and Bert were also involved in these battles. Bert was taken prisoner by the Germans but escaped by jumping off a Panzer tank when the guard was distracted. He rolled into the dust before running back to Aussie lines.
George was eventually shot in the shoulder by a German sniper and lay unconscious, severely wounded in an exposed position until one of his men, disobeying orders, crawled out and dragged him to safety. After many weeks in a field hospital, George recovered and was sent home where he was employed in training recruits in Queensland.
The youngest brother, Norm, was fortunate in that the war ended before he actively saw service, especially as gunners in the Air Force had a low survival rate.
The fact that they all survived (including their sister Maureen) and came home made headlines at the time of war's end as many families lost sons and daughters from the war effort.
They have all now passed on, but left many children, grandchildren and great-grandchildren, who cherish their memory. They are scattered throughout Australia and many live in the Coffs Harbour area.
George's son, David, married Penelope, the daughter of one of George's 2/13th Battalion comrades, (the late) Phil Jenkins. Damon is David and Penny's son, and the grandson of two 2/13th Rats of Tobruk.
George's medals: Infantry Front Line Service medal; The 1939-1945 Star; The Africa Star; The Defence Medal 1939-1945; The Australia Service Medal 1939-1945; Tobruk Siege Medal 1941.