Live Now – Simple and Effective Skincare
From rejuvenation to retinol, serums to scrubs, anti-aging to antioxidants and vitamins A to Z – there's no end to ads, advice and information on skincare. Cynics say marketers are playing on our insecurities and convincing us to fork out thousands for products that don't work. There may be some truth to that, but Coffs Coast nurse practitioner Ruth Lavell wants to cut through the noise with her honest and active range of skincare products. In a world of gimmicks and spin and supermarket shelves packed with "buff and fluff" lotions and potions, Live Now Skincare is backed by science and medical experience. Coastbeat met Ruth and learnt that quality skincare products can be both effective and affordable.
"I was using other products and eventually wound up disillusioned around what works and what doesn't," Ruth explains when asked what led to the creation Live Now Skincare. "I did my research and formulated a range I knew would be active and effective."
Ruth studied to become a registered nurse and worked at hospitals in Western Australia before landing a job in the pharmaceutical industry. In the early nineties she travelled around WA teaching doctors, nurses and plastic surgeons to inject collagen. That continued when hyaluronic acid was first introduced in Australia. Ruth was hooked and wanted to dive into the world of cosmeceuticals. That may sound like a made-up word, but cosmeceuticals can be defined as products with active ingredients that sit between a cosmetic and a pharmaceutical.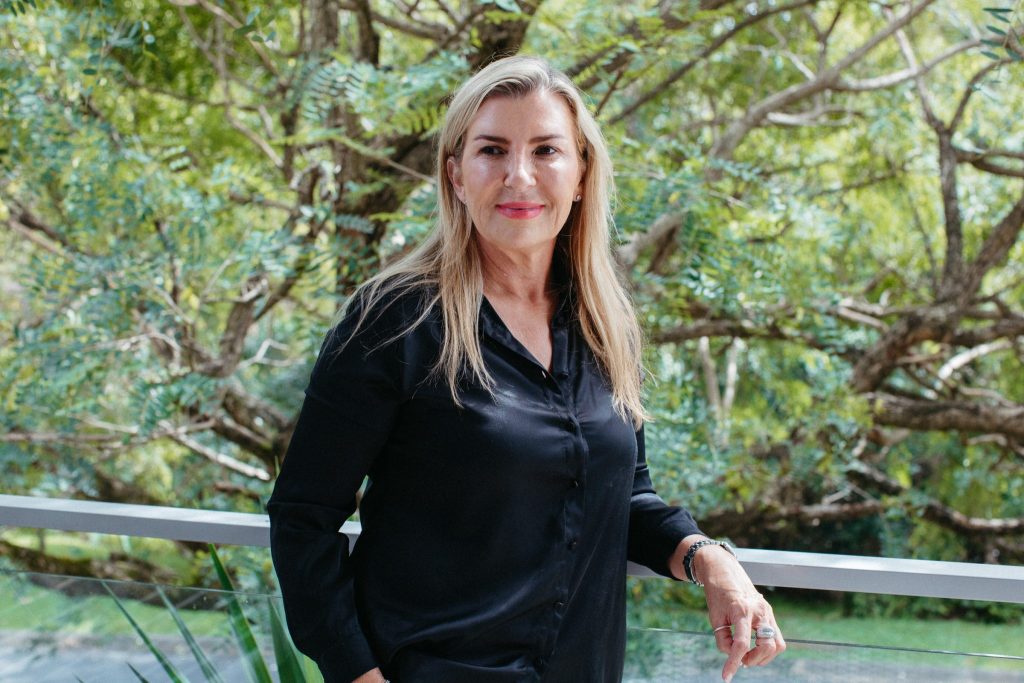 Beyond Buff and Fluff
"If it has an impact on the top layer of the epidermis, and can actually feed into the dermis, plus it's been clinically trialled and tested, then we can call it a cosmeceutical," she says. "Ingredients that will have an effect on the skin like Glycolic acid, Salicylic acid, Vitamin A, B and C."
But Ruth is careful to add that it's the amount of those active ingredients which makes all the difference.
"0.025% concentration of the ingredient is required to exert a photo ageing effect on the skin and anything less will not have a therapeutic effect," she explains. "We call those cosmetics "buff and fluff" – they will sit on the surface of the face but won't penetrate the skin."
Science Backed Hero Ingredients
Ruth achieved a master's degree in nursing six years ago and focused her research on the science behind cosmeceuticals. She conducted a meta-analysis of wide-ranging clinical studies and found key "hero" ingredients. Ruth worked with a compounding pharmacist to include them in the current Live Now Skincare range. First up are the alpha-hydroxy acids in the facial cleanser that break down the thick, hardened top layer of skin. From there, Vitamin C serum takes over.
"It's like a barge that goes across the river and carries all of the other fantastic ingredients into the dermis," she explains. "Vitamin C stimulates collagen and plumps up lines and wrinkles."
Ruth can't speak highly enough of Vitamin B3 – found in her Niacinamide serum – as it stimulates elastin, lightens, brightens and makes the skin strong. The Live Now Skincare Ultra Moisturiser contains Vitamin E and A as well as hyaluronic acid.
"That's what we inject lips, lines and wrinkles with to plump them up," Ruth explains. "It draws fluid to the cells and makes skin look really nice and dewy, fresh and hydrated."
Knowledge is Power
While the amount of skincare information on the internet can be overwhelming, Ruth acknowledges it can also be empowering. She says it's more important than ever to research products and ingredients and look beyond the social media hype.
"Often you're paying for the packaging or you're buying the brand name," Ruth explains. "It's coveted, and people want it because it's so expensive, but it may not do more than a product a tenth of the price."
"I created this range for busy women who don't have a lot of time to spend on skincare," Ruth continues. "You want to slap on some acids in the shower, dry your face and quickly put your vitamin C and B3 on, then your moisturiser and out the door!"
Confidence to Live Now
As she reflects on her journey to this point, Ruth agrees that she has experienced a sense of empowerment. As she got stronger, she was able to pursue further study and advance her career. Ruth is currently working as a cosmetic injector at Laser Clinics Australia Coffs Central and looks forward to growing her brand. Ruth prides herself on Live Now Skincare's accessible price point and clear yet comprehensive scientific backing. She's giving her customers the knowledge to make informed choices, choose products that are genuinely effective and feel confident in their skin. 
Follow Live Now Skincare on Instagram and find out more about the products here.