Let Them Play Toys: A Creative Success Story
In an unassuming shed in Coffs Harbour's industrial estate, you'll find a world of wood and wonder. Let Them Play Toys began when former childhood educator Julie 'Jules' O'Donnell saw the potential in trimmed tree branches. Jules, her husband Steve and their small team now design and produce unique wooden toys and activity sets. While only in business for two and a half years, Let Them Play Toys are stocked in 92 stores worldwide. Now Julie has joined Coffs Central's Kaleidoscope, making products just for locals. We caught up with Julie to hear about the journey so far and to find out what 2022 holds.
"It's been amazing and heart-warming to see that this is such a priority for so many people around the world," Jules explains. "For kids to have not just wooden toys but sustainable wooden toys that are totally plastic free."
It's tough to put Let Them Play Toys' stratospheric rise down to just one thing. Within weeks of setting up an Instagram account, Jules was fielding wholesale enquires from across the globe. She believes the company's success is a combination of consumers rejecting plastic throwaway culture and a desire to encourage open-ended play.
"The designs facilitate creativity and imagination," Jules explains. "Open-ended play and the child's imagination will determine how play happens and what learning occurs."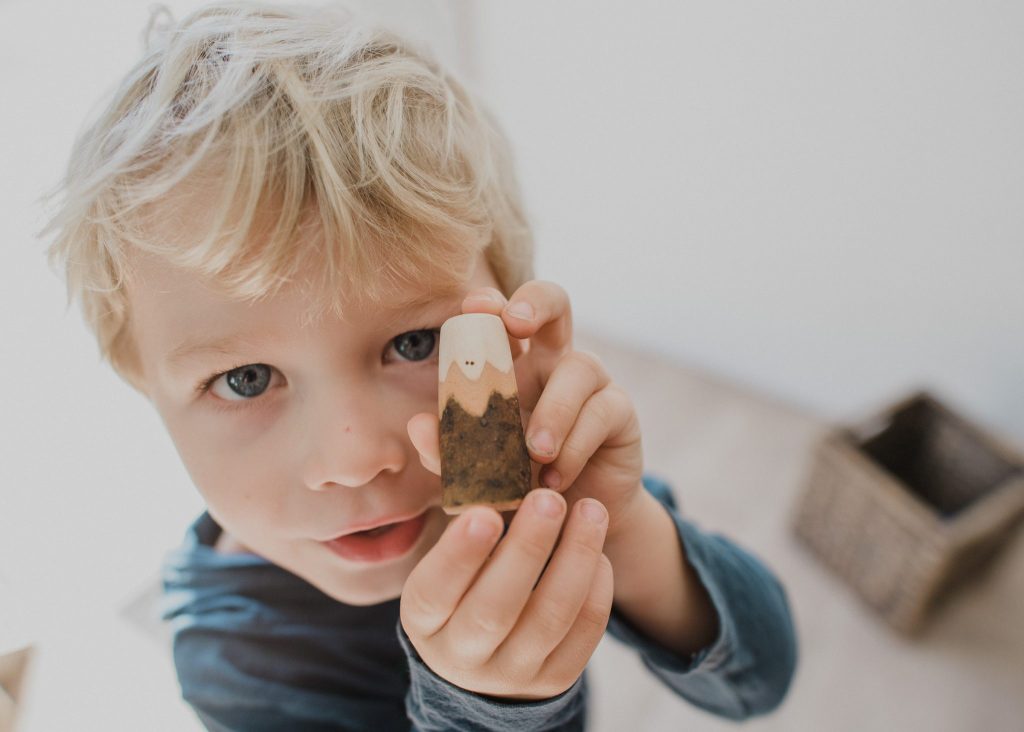 There are currently 182 stores on a waiting list, each one vying to stock the handmade, hand dyed, hand painted toys and story scenes. The team of six – including Jules' mum – certainly has its work cut out.
"Because the business grew so quickly, I didn't really have a chance to do much locally in terms of getting my name out there," says Jules. "It just took off and I've been holding on for dear life ever since!"
Despite having many Coffs Coast customers online, Jules says a lot don't even realise she lives and manufactures here. She joined Coffs Central's Kaleidoscope to connect with more local people and makers.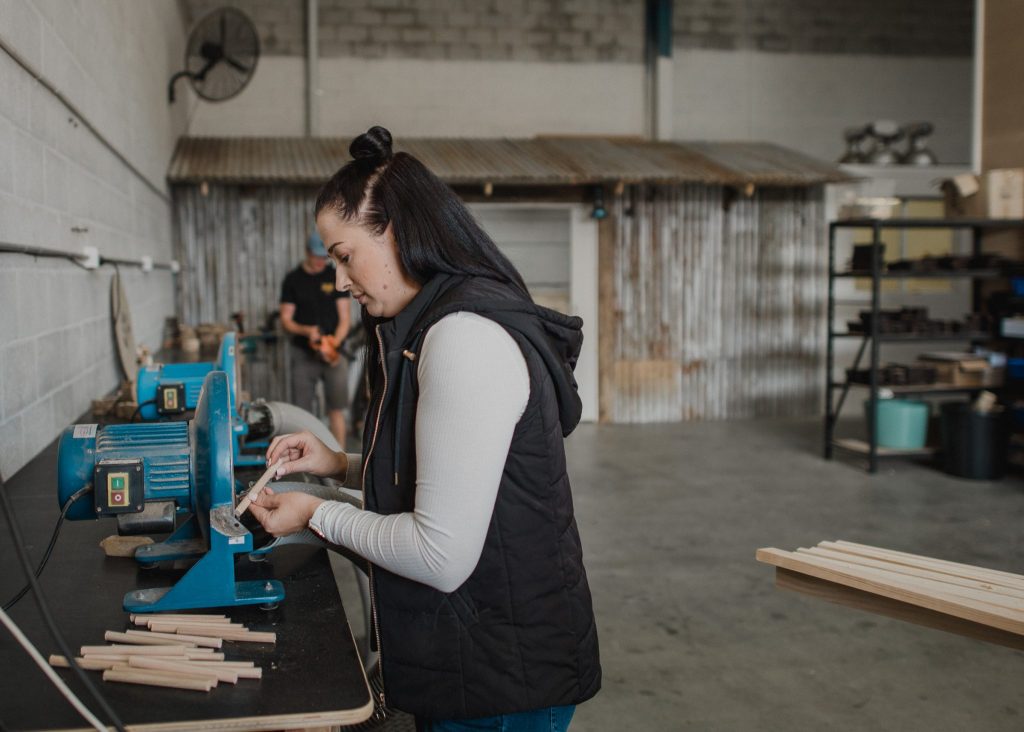 Tree Branches to Tree People
The process begins with camphor trees that need to be trimmed at properties around Coffs Harbour. Every branch is hand cut then collected, dried, heat treated and turned into a unique Tree Person or story scene. Jules and the team work with what nature has provided and fashion perfectly imperfect objects. She says that's what they want children to connect with.
"The whole concept with everything we do is connecting kids to nature through play," Jules explains. "The Tree People are neutral and come in all different shapes and sizes – because each one of us is a different size and shape."
"Our company aims to be as sustainable as possible which is why we use recycled cardboard boxes and biodegradable packaging, so we leave as close to zero footprint on our earth as possible."
Expansion and Collaboration
In 2022, Jules says she plans to refine existing products while launching a new company. Without giving too much away, she hints that it "won't be within the toy industry as such".
"I am looking at developing a range that is more designed for adults – more like decorations and gift-based products."
As well as that, she's continuing her collaboration with Gumbaynggirr artist Bernard Kelly-Edwards. Last year they created a collection of wall art pieces, stamps and symbols. They were designed to reflect the symbiotic relationships in nature and connect young minds to Aboriginal culture through play.
"Bernard's artwork is bringing Aboriginal culture into kids' lives in a more authentic way," Jules explains. "We'll be expanding on this a lot more."
That expansion includes a children's book which the pair hope to have completed mid-year. 
Let Them Play Toys started with a head full of ideas and a gifted scroll saw. It has become an international success story we can all feel good about.
Visit Kaleidoscope at Coffs Central to see the latest range of handmade wooded toys. Follow Jules on Instagram to stay up to date with announcements and new releases.