Leanne Prussing Makes a Home at MakerSpace
A Port Macquarie artist is inviting other creatives to make a home at MakerSpace. Leanne Prussing is the artist in residence at the Mid North Coast Community College's dedicated creative hub. She's painted a series of educational murals and hosts weekly workshops. Maker Space offers an impressive array of facilities, tools and technologies – all available to access for $20 per month. Coastbeat took a tour with Leanne and MakerSpace Manager, Sue English.  
"The future vision for MakerSpace is very much a creative precinct," explains Leanne Prussing. "We want markets, musicians, artists – all creatives – to have this address as their hub."
Leanne was living overseas on a boat when the pandemic prompted her to head home to Port Macquarie. She then attempted the monumental challenge of bringing her 25-year-old son – a professional circus artist – back from Russia. But that's another story for another time. Leanne has been making art all her life. Her first canvas was the entire back wall of her family's home. Leanne was four years old and decided to make use of her father's automobile paint while he watched the football on TV. Her career has taken her from the rag trade in Sydney's Surry Hills to art school followed by further study in Europe. Leanne is happy in Port for now and has enjoyed being part of a creative resurgence in the region.
Finding Your Inner Artist
"The pandemic has made people appreciate creativity and it has helped people through – I've never known people reaching for it the way they are now," Leanne observes. "I saw that creative desire so jumped on board with a paint and sip class."
Leanne's weekly workshops take place on Friday nights at MakerSpace which is part of the MNC Community College. She focusses on a particular masterpiece like Van Gogh's Sunflowers or Monet's Water Lilies. Participants get an art history lesson as they are guided through the process.
"They are difficult paintings, but I've broken them right down and we do it step by step," Leanne says. "Everyone is finding their inner artist!" 
Murals for Change
As the artist in residence at MakerSpace, Leanne is creating a series of murals with a conservation message. She has filled the walls of Crazy Maze play centre and café (owned by the Community College) with local endangered species. The larger-than-life scenes are depicted as if "looking through the lens in a David Attenborough documentary". The murals are part of a developing education program. 
"We'll eventually add sounds and smells – there will be a touch pad and you'll hear the frogs croaking," Leanne explains. "We'd like to include phrases in Gathang, the language of the local Birpai people."
Leanne has noticed an increase in the popularity and demand for murals around Australia. She recently participated in a mural masterclass with renowned artist, designer and mural aficionado, Mike Shankster.
"I met some wonderful local artists which was great because we don't usually get to work together."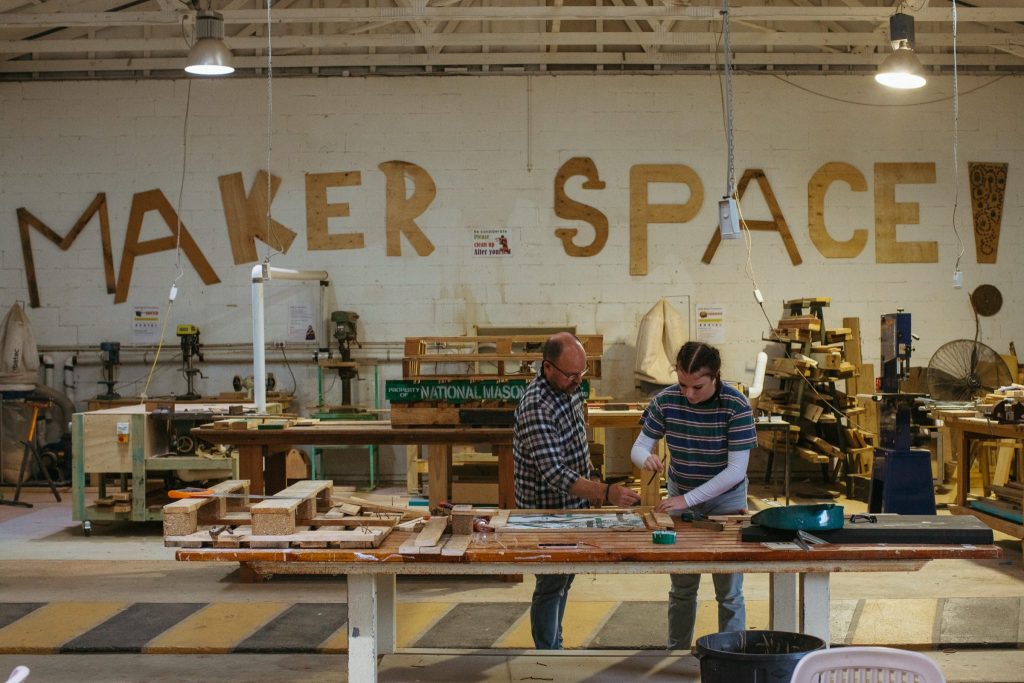 Making a Home at MakerSpace
That's something MakerSpace Manager Sue English would like to change. The space's impressive facilities, tools and technologies are currently used by Vocational Education and Training students from the MNC Community College. But Sue wants members of the public to know they too can access MakerSpace.
"We're trying to encourage musicians, artists and artisans of all kinds to come here and make this space home through a membership that costs less than a coffee a week," she says.
The space includes a visual arts room, a podcast and audio recording studio and a 'Fab Lab' for technology and textiles. There's a photography studio, a community shed for woodwork and street art as well as a tinker space. Sue envisages people coming to work on small engines, bike repairs, metalwork and restoration projects.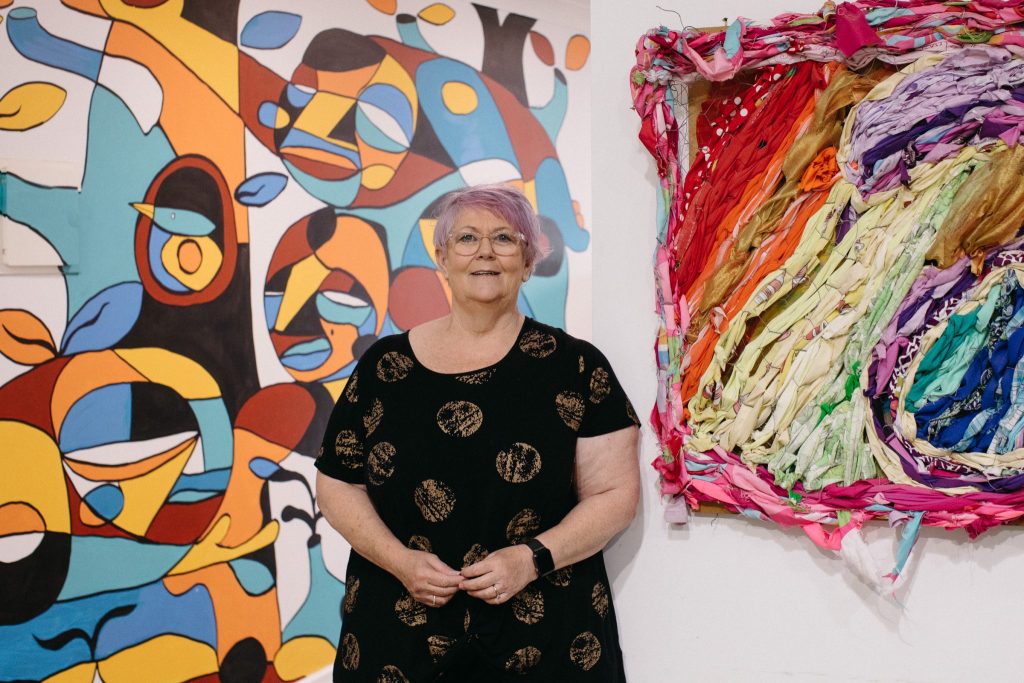 A collection of Leanne's portraits line the walls of Maker Space. Personalities like Cate Blanchett, Troy Cassar-Daley and Amanda Keller as well as the state's past Governors. There's Birpai elder Uncle Bill, William O'Brian and Professor Gillian Triggs, former President of the Australian Human Rights Commission.
"Leanne feels the beautiful artistic energy in this place," Sue notes. "She really believes in the mission to bring artists together and provide creative activities for people of all walks of life who would otherwise not have access to art."
Find out more about Leanne Prussing here and get info on MakerSpace here
Meet the People's Choice winner of STILL: National Still Life Award