Kev Goes Camping
I'm often asked for recommendations on great camping spots close to home and with the array of national parks, state forests, private stations and You Camp listings on the coast and in our hinterland, it's a tough choice but here are a handful of my all-time favourites.
I've selected two campgrounds by the beach, two hinterland destinations and a spot right on the river.
 By the beach
 Crowdy Bay National Park – Between Taree and Port Macquarie
Often I travel for days to find the perfect camping location but sometimes the best spots are right under my nose. I discovered Crowdy Bay National Park a few years ago and am a huge fan. Not because of the great 4wding or mass of activities but because of how peaceful it is.
At Crowdy itself you can explore the lighthouse on the headland or safely swim and fish in the bay, but my relaxation starts in the camping areas just away from the beaches.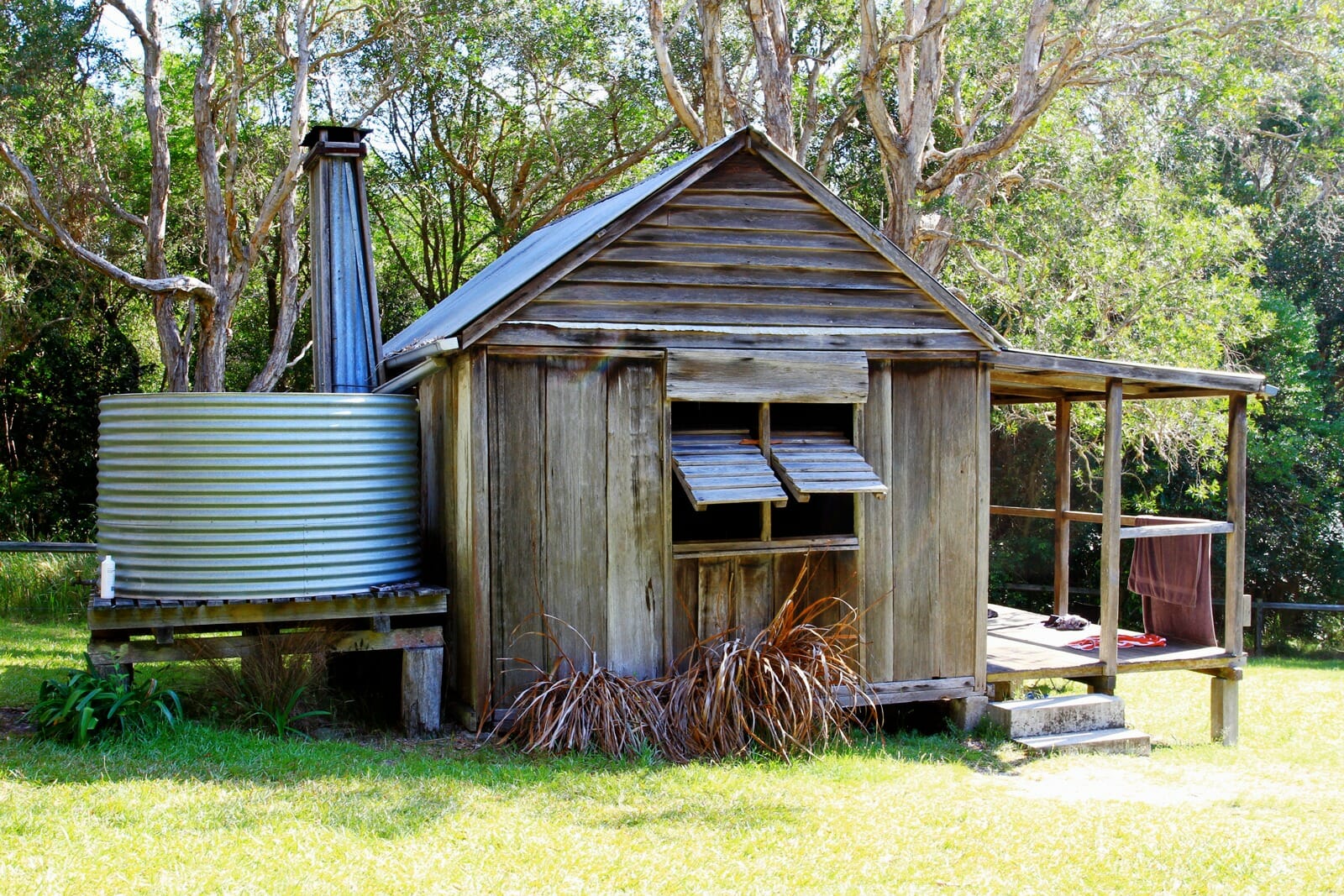 Crowdy Bay timber slab hut
There are two campgrounds; Crowdy Gap and Kylies, both with unique features. Crowdy Gap is my pick as there are large grassy areas, free barbecues and a track to the beach for an early morning fish or romantic evening beach stroll. Just up the road is Kylies Beach campground. It can get busy in peak times and it's first in, first served basis (no bookings available). At Kylies, keep an eye out for koalas and yellow-tailed black cockatoos.
A short stroll from the campground will lead you to Kylies Hut. This timber slab hut was built in 1940 by a reclusive local farmer, Ernie Metcalfe, for local author, Kylie Tennant as a writing retreat. The beach and hut are named after her. The hut has been restored by NPWS and there is walk-in camping around the hut.
Pebbly Beach – Between Coffs and Grafton
 Midway between Coffs and Grafton at the southern end of Yuraygir National Park is a fantastic beachside camp – Pebbly Beach. Because it's 4wd access only and getting to camp is dictated by the tides, it can be tricky to get there. But once there, it's pure magic.
The smell of the ocean, taste of salt and the stunning scenery lures you in every time. There's great fishing, whale and dolphin spotting, beachcombing for miles and a wonderful array of wildlife that calls this place home.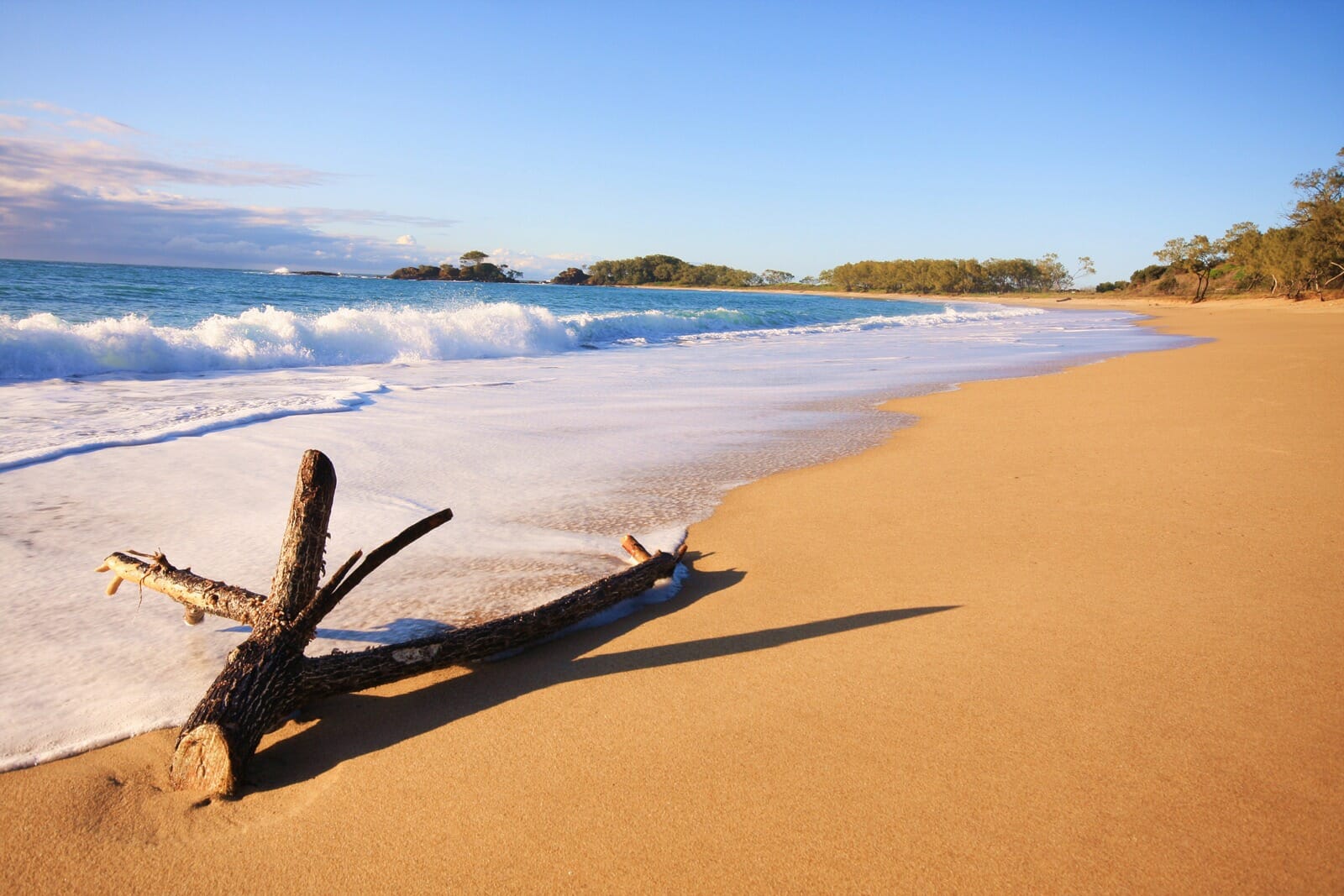 Pebbly Beach
The trek from the highway to the beach turnoff is 17km of dirt road but that's all part of the adventure! When spending time at Pebbly, we always head back into the Barcoongere State Forest to explore and pay homage to the mysterious keyman statue. Not hard to find along Yellow Cutting Road, this statue was made by a timber cutter back in 1957. The creator of the statue was a Lithuanian who migrated to Australia after the Second World War. The keyman statue is said to be a nod to his heritage and a celebration of his new life in Australia
In the hinterland
Daisy Plains – About 1.5 hours west of Kempsey
Not a lot of people have heard of Daisy Plains, tucked up in the Carrai National Park but I consider it a hidden gem. To get there from the Coffs Coast, we go west through Kempsey, Temagog and Willawarrin. The trip into the hills passes through stunning farmland and then twists and winds its way skyward.
Be sure to check out the restored buildings at Kookaburra where, back in the day, there was a small village supporting the local sawmill. Wander down to the creek to see the huge old timber water wheel.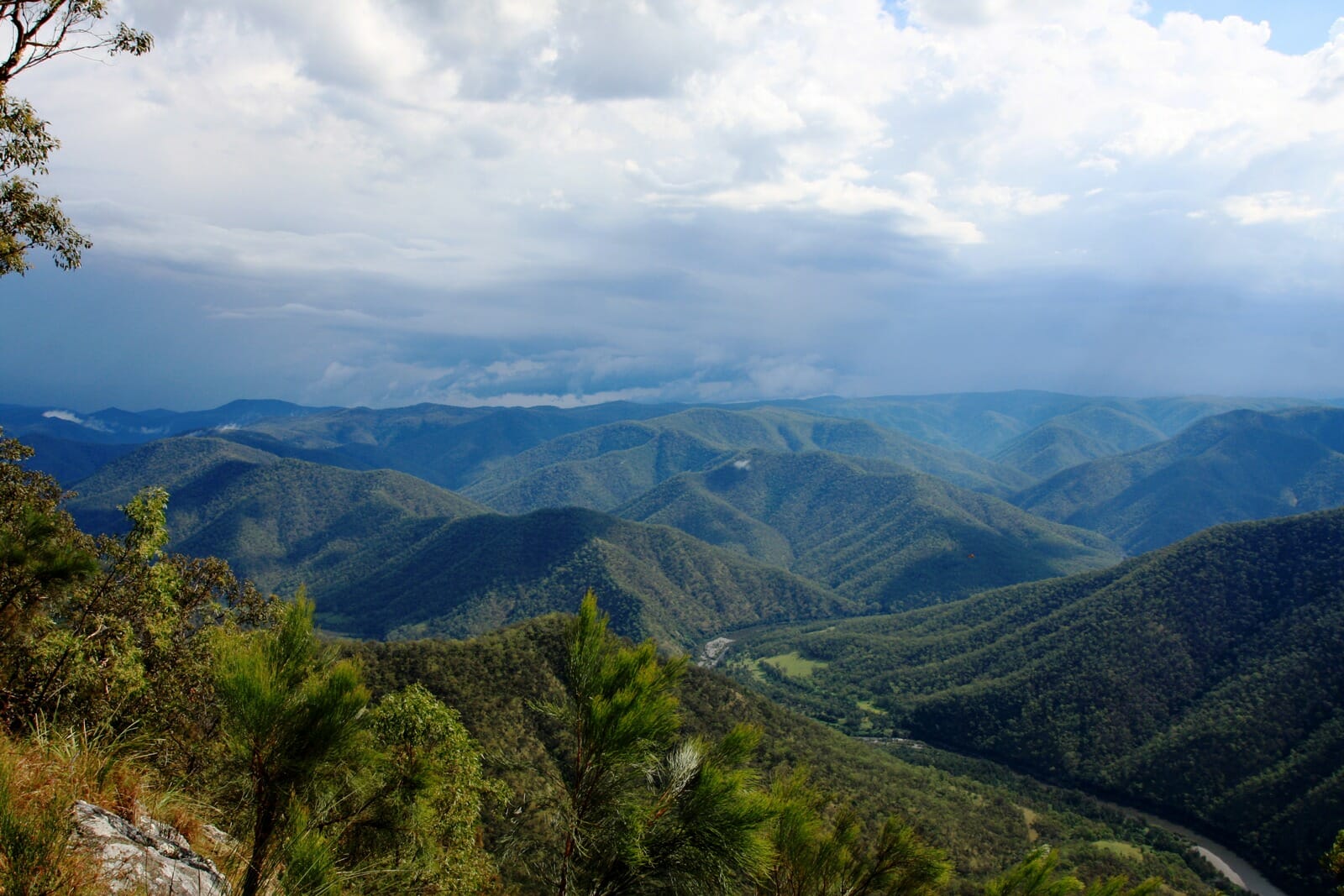 The lookout at Mary's View near Daisy Plains in the Carrai National Park
Further up the mountain we normally camp at the NPWS huts that are open to the public. Staying here is free and the huts are a great alternative if the weather gets nasty. Daisy Plains, now an abandoned town was once an area thriving with mines and a village. Look out for the mining gear, hut and sign beside the road.
I love this area as the forest is alive with bird calls, stunning tree ferns grow beneath massive gums and the views from Mary's Lookout down to the valley below and across the plateau will leave you speechless.
Mulligans – About 1.5 hours west of Grafton
West of Grafton up on the Gibraltar Range sits a special little place where you can explore local history, attempt one of the many world heritage walks or just sit back and soak up the serenity.
I first discovered Mulligans campground a decade or so ago and have visited many times since.
Hiking within the park is a popular activity with walks varying in length from 10 minutes to several days. The flora is diverse too ranging from stunning rainforest pockets and ancient grass trees to wetlands and dry timber forests.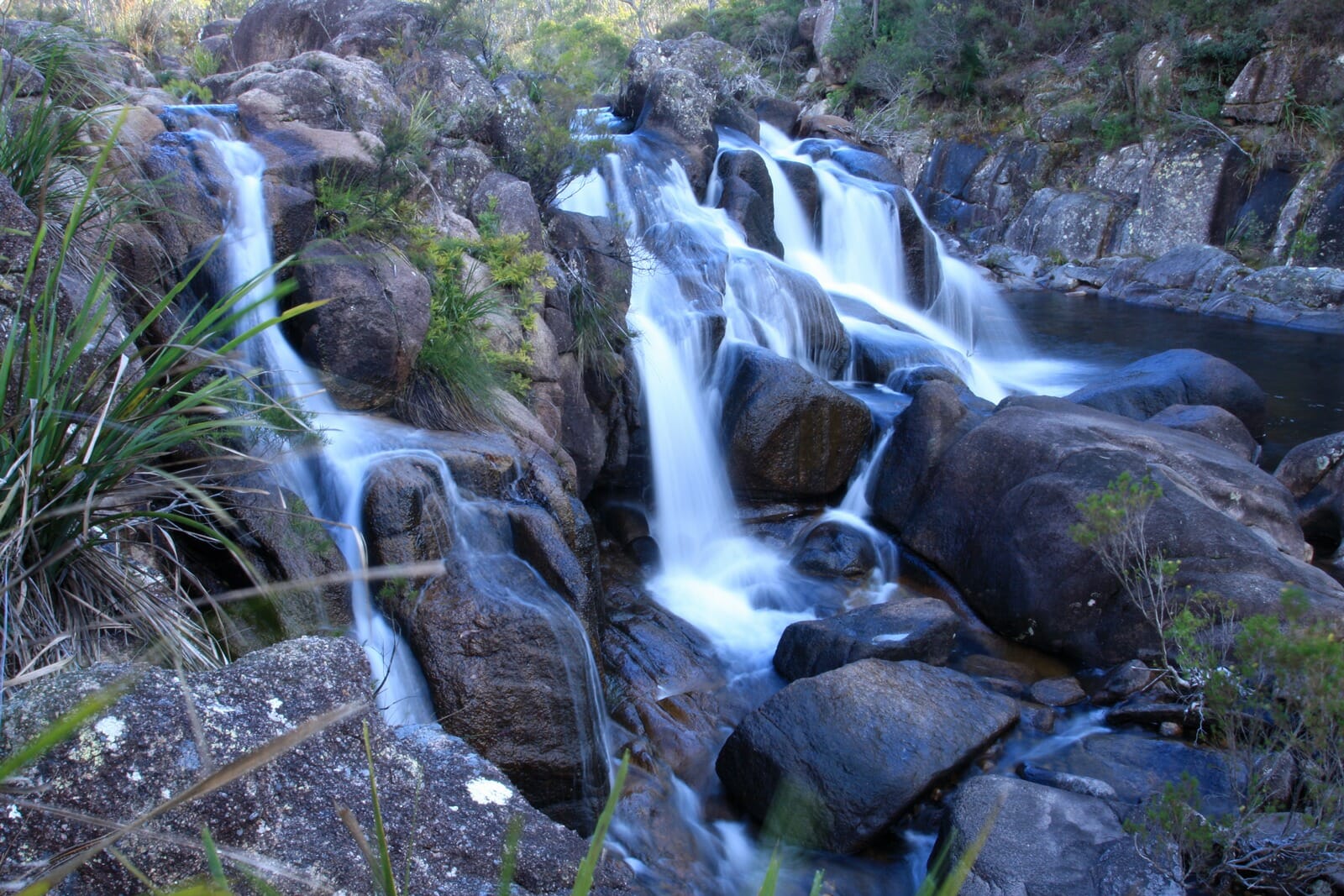 Falls near Mulligans Camping ground
Being granite country, there are a lot of unique rock formations within the park. The views on offer are magnificent as are the cascades. Check out Mulligans hut which NPWS have restored to its former glory. Even though this is a NPWS camp area it is extremely well set-up for day users, walking campers and off-road caravans.
On the river
Nymboida – About 1.5 hours west of Coffs Harbour
The Coffs Coast is such a great place but when I need to unwind and switch off, it's off to the hills I go, headed for the Nymboida region. Directly west of Coffs and only an hour or so inland is where the mighty Nymboida River cuts through gorges. It twists and winds its way north to join the Clarence River.
And while there are several fantastic camping options along the river, my favourite has to be Platypus Flats. Here, we often just spend the day watching and listening to the water trundling by, crashing over the rocks into huge pools of water. Swimming and rafting in the warmer months is the perfect way to escape the heat.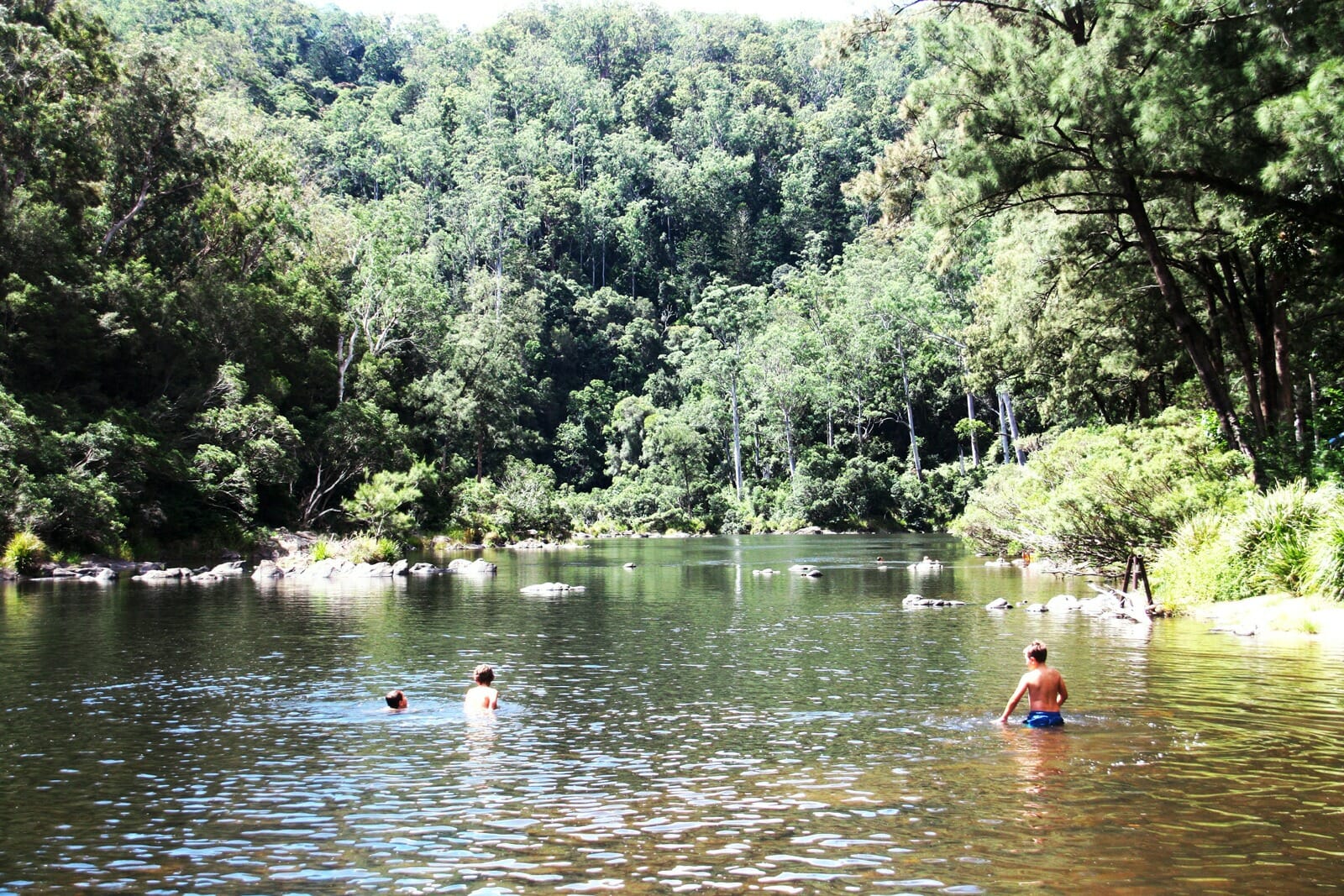 Nymboida Flats swimming hole
Morning walkers will often see the odd platypus popping its head up checking things out and possibly looking for a feed. Along the road to Platypus Flats there are many options to stop to observe old growth forests, heritage locations and waterfalls.
But what I like best about this spot is that you're so close to town, yet it feels a million miles away. And another plus? There's no phone service.
Kevin Smith is a mad keen fisherman, camper, mountain-biker, explorer and all-round adventurer. He has been based on the coast for the better part of 30 years and runs Woolgoolga Off Road as a sideline hobby. He loves getting out and about, be it by vehicle, kayak or SUP. Kev can be reached via Facebook and Instagram @ woolgoolgaoffroad