Kayaking in Byron Bay with Go Sea Kayak
Whether you're a tourist or a Byron Bay local, a Dolphin Kayak Tour with Go Sea Kayak will be an adventure to remember.
Owned and operated by Byron local, Kurt Tutt, Go Sea Kayak offers a chance to experience this stunning coastline, and the creatures who call it home, from a unique perspective.
As I drive towards Byron Bay's Main Beach, last night's dream is still running through my mind. I'd been attempting to paddle an unruly kayak across choppy seas but was being thrown around, struggling to stay upright. I was drifting up and over massive waves that threatened to capsize my vessel and toss me carelessly into an unforgiving ocean. As the beach comes into view, I let out a sigh of relief. The sea is calm and glassy, gentle waves lapping the shore.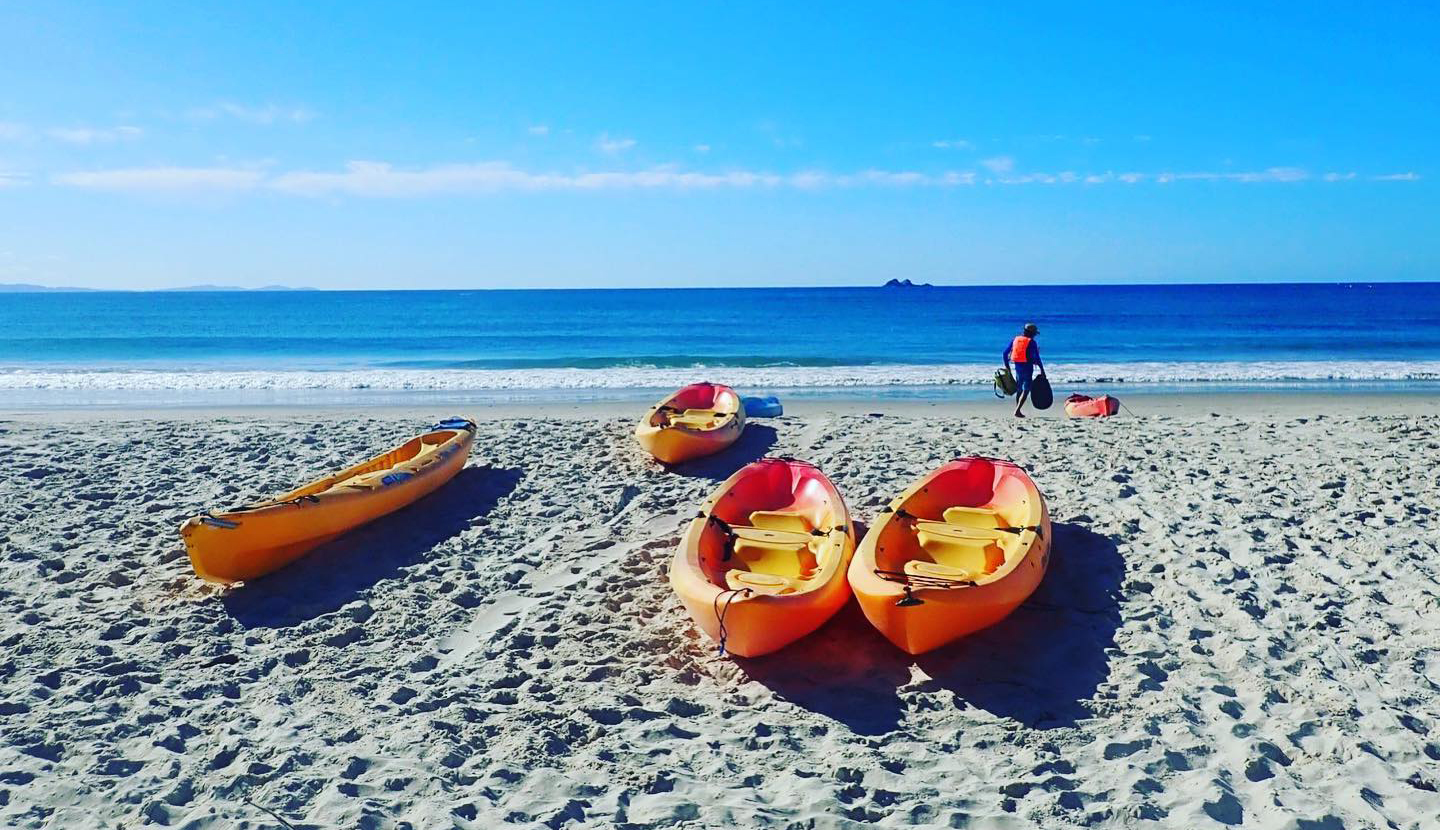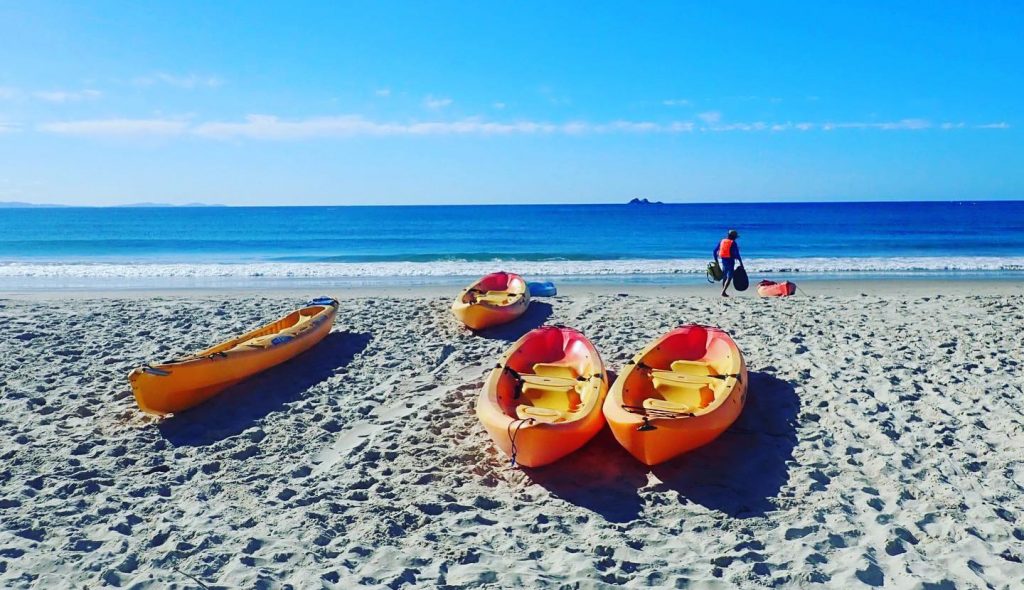 Calm and glassy conditions ahead of a Main Beach kayak departure
Safety first
I'm waved over to the colourful Go Sea Kayak trailer which is located on the reserve, a five-minute walk from the centre of town. Dougie greets me warmly and asks me to fill out an online waiver form. I'm fitted with a life vest and helmet then stand somewhat nervously with about 25 others who glance at the bright orange vessels lined up in front of us then out to the ocean. Sensing our trepidation, Dougie cracks some jokes and lightens the mood. I've come alone so I'm paired up with Nick, a young traveller from Germany.
We carry our kayaks down to the beach and Dougie calls us in close, demonstrating how he'd like us to form a cluster once we're out on the water. He explains that dolphins are more likely to stay around and perhaps even come in for a sticky beak if we stay together.
The likelihood of spotting the friendly and playful mammals is a major selling point of this tour and participants are promised a free rerun if they don't spot any dolphins, turtles or whales.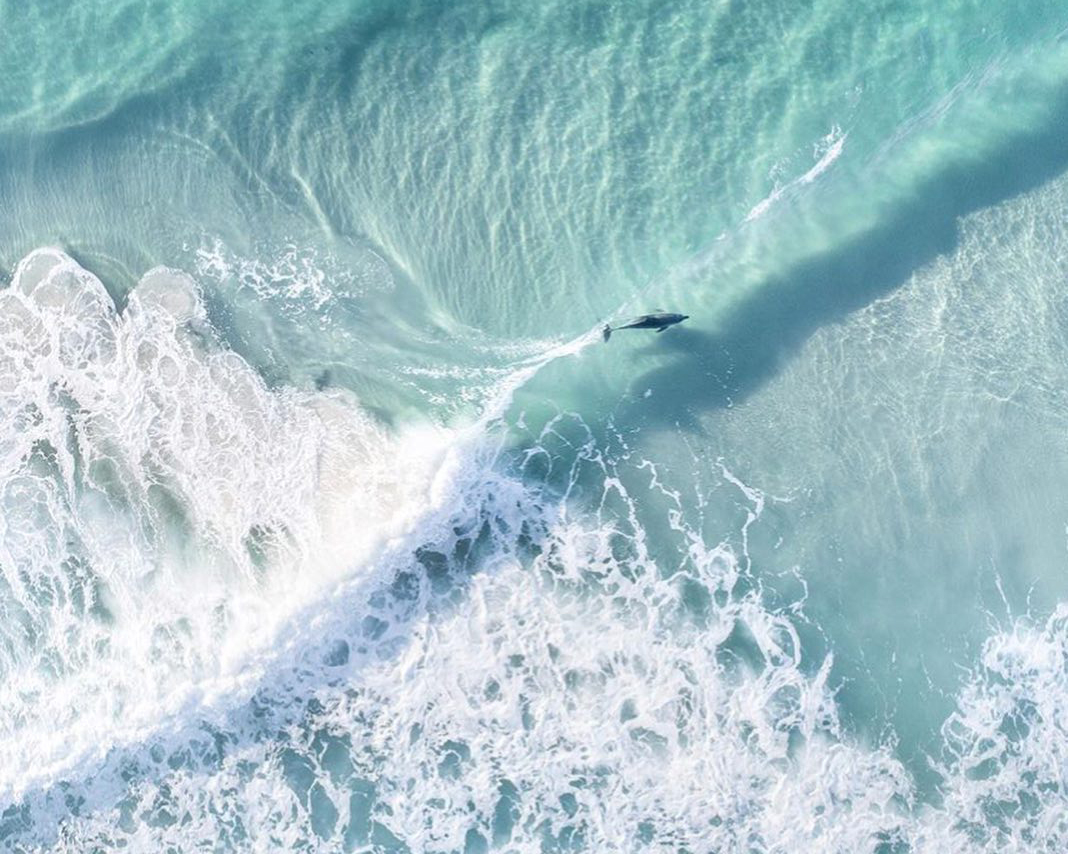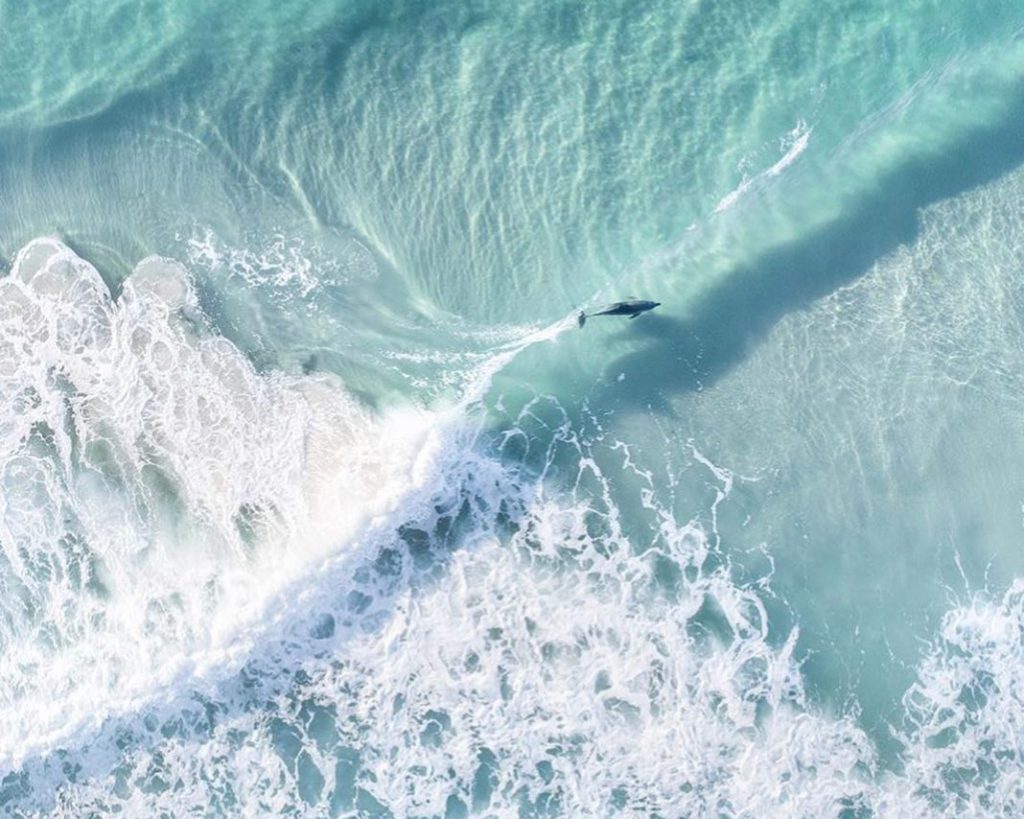 Seeing dolphins up close and personal is a major selling point of this activity
After Dougie runs through paddling techniques and a demonstration on what to do if we capsize, we're joined by three other experienced Go Sea Kayak guides – Dave, Chris and Phillipo.
On the water
One by one they drag our kayaks into the water and advise us to jump on and paddle, paddle, paddle! There are small waves forming close to the shore, but we're given an almighty shove and make it over into calm waters before they break.
We regroup and begin to strike out towards The Pass. Dougie advises us to take our time and pay attention to our surroundings. It isn't a race and there are no prizes for being the first person to Julian Rocks! Instead, he tells us to keep our eyes peeled for green, loggerhead or hawksbill turtles, especially as we drift over a rock shelf known as Turtle Town. We're reminded to point out any sea life we spot. Lots of us catch glimpses of green turtles popping their heads up to say hello and we even spot a rare hawksbill turtle.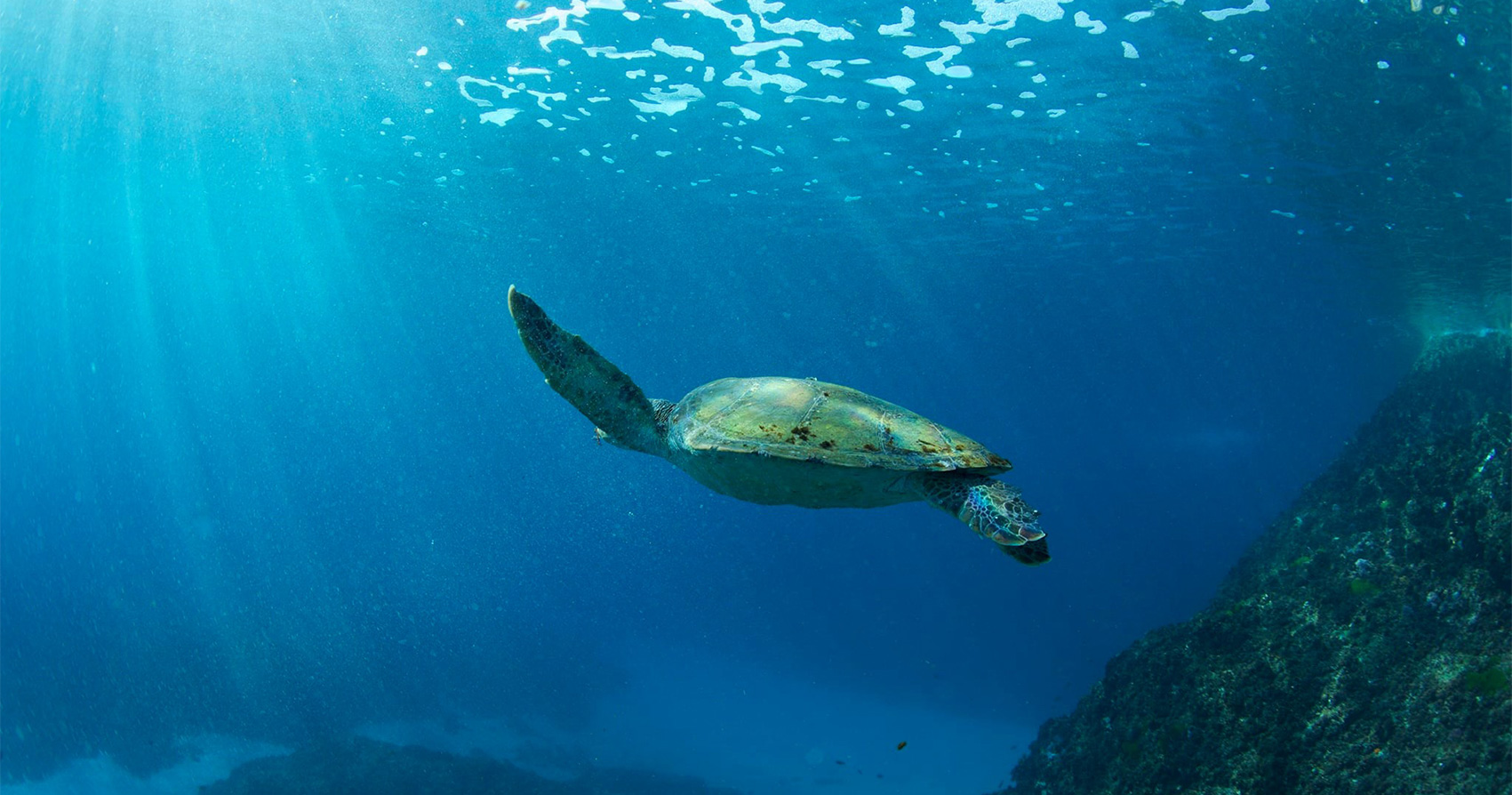 We were fortunate to see both green and hawksbill turtles during our kayak 
Patience in nature
The paddling isn't too strenuous, and we skim across the clear water with ease. Just when I do begin to notice a dull ache in my arms, Dougie advises us to pause and dangle our legs over the edge of the kayak. He repeats the mantra "Patience in Nature" as we gaze out in search of a possible dolphin fin. One of our other guides, Dave, begins to call out "Wajung, wajung!". The other guides join him, and I ask Dougie what they're saying. He explains that 'wajung' means 'dolphin' in the local Arakwal language. He says other clans within the Bundjalung nation call dolphins 'gwando'.
We're encouraged to release our inner dolphin and call to the beautiful creatures. We feel a little silly at first but then more of us begin to make various high-pitched pleas, smile, laugh and generally raise the vibrations we're sending out. As if on cue, two dolphins appear 20 metres from us and continue to frolic around for the next 30 minutes. We spot more in the distance and they also come in to check us out. At one point they dive down and swim below us – it's magical!
I've lived in Byron Bay for just over a year and have visited regularly since I was 12 but looking back over the bay and lighthouse from this unique perspective is truly spectacular and allows me to appreciate this familiar place in a brand-new way. Most of my fellow kayakers are tourists but I wholeheartedly recommend this adventure to locals as well.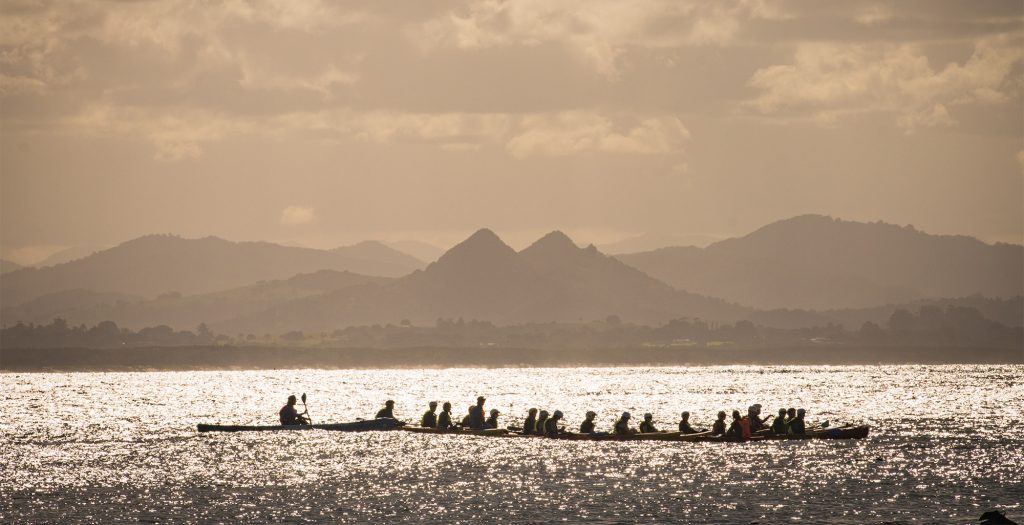 I wholeheartedly recommend this experience to locals and tourists alike
Award-winning adventures
Go Sea Kayak won gold in the Ecotourism category of both the 2018 and 2019 NSW Tourism Awards and is now eligible for recognition at the Qantas Australian Tourism Awards, held in March 2020. As a participant, it's not hard to see why the accolades keep rolling in!
Go Sea Kayak's enthusiastic and knowledgeable guides have a deep respect for nature and the well-being of animals, and the company's commitment to providing a genuine, well-managed adventure for people of all ages and abilities is clear.
Reluctantly, we begin the slow paddle back to shore. Dougie gathers us together once more to explain how to catch waves and the importance of leaning back in the kayak. We brace for collisions and an inevitable capsize, but we all make it to the sand unscathed, grins plastered across our faces.
After almost three hours on the water, we slowly drag our kayaks up onto the beach. However, the second Dougie pulls out packets of Tim Tams everyone automatically perks up. By the time I get back to the office, an album full of photos from our tour has been uploaded to Facebook and I'm able to relive the morning's hijinks once more.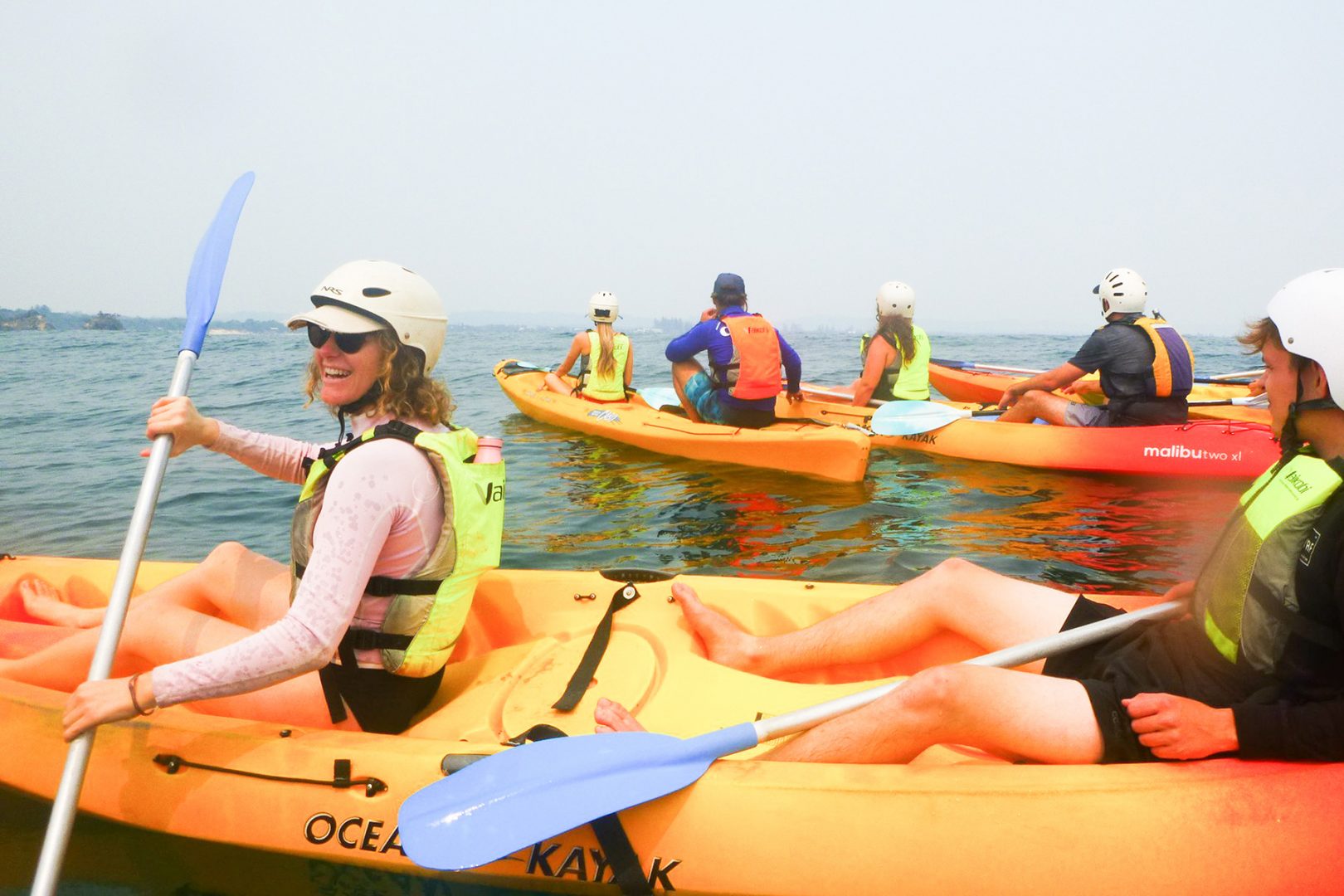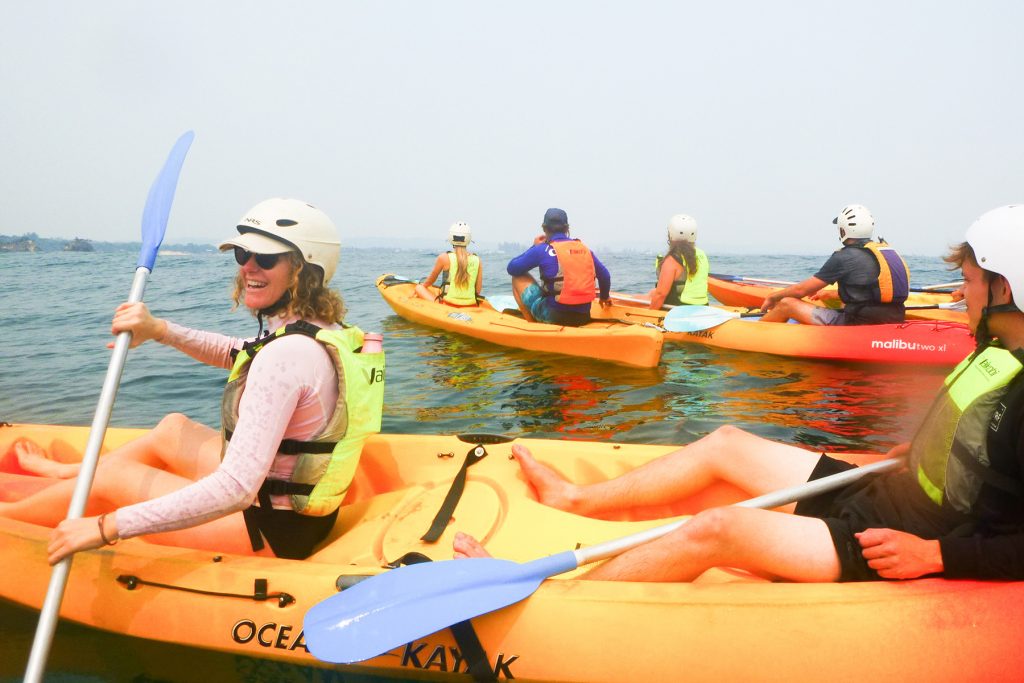 For better marine life viewing, we were encouraged to stick together as a group
Go Sea Kayak is located opposite 56 Lawson Street, Byron Bay and offers daily tours at 9:30am and 2pm (sunrise tours are scheduled when conditions allow). Book your Byron Bay Dolphin Kayak Tour. $1 from every customer is donated to Sea Shepherd Conservation Society and Southern Cross University Research Centre.
Check out the rest of Coastbeat's favourite Byron Bay activities!