Jim Stevens – Cleaning up the Coffs Coast
With his dog Buddha by his side, Jim Stevens walks the streets and beaches picking up the rubbish left behind by residents and visitors. He isn't paid, nor is he looking for recognition, but his commitment to cleaning up can't be ignored. We sat down with Jim and found out why he wants to make a difference.
Coastbeat: When did you first come to this area and what brought you here?
Jim Stevens: I came here in 1976. I'd just come home from overseas and there was nothing really holding me anywhere. I was riding a motorcycle from Melbourne to Cairns when I stopped off here on the northern beaches. I was with a friend looking at the kangaroos at Safety Beach and she said, "How would you like to live here?" And that's how we ended up calling this region home. I didn't make it to Cairns until 15 or 20 years later!
Cb: What was Woolgoolga like back then?
JS: We drove in on a BMW with sidecar. We pulled up at the newsagency and an older gentleman was outside. He had a little moustache and was wearing a blue polo neck jumper and blue beret. He said hello and asked about us. I told him we were from Melbourne and planned to stay in Safety Beach. I didn't find out until six months later that he was the retired local policeman and when anyone new came to town he would introduce himself. He'd then go home and write their details in his little black book. It was just a small country village and you couldn't go unnoticed. You knew everybody, and it was very peaceful and quiet.
Cb: What did you do to keep busy?
JS: I was fixing motorbikes in the backyard and came across a guy on the side of the road who couldn't start his bike so I suggested he bring it around for me to look at. If you fixed someone's motorbike and it didn't break down, then someone else would bring the next bike and the next and then suddenly there's 20 of them and you're in business!
Cb: When did you start cleaning the town up?
JS: When I stopped work I thought, "What am I going to do now?" I was wandering around one day with my dog and just started picking up rubbish. I'd been doing it for a while when the guy who used to run the caravan park came and said to me, "You can't keep doing this!" and he gave me a stick with the clamp on the end. The rest is history! I retired in 1998 so I've been doing this for over 20 years now. I have days off here and there, but I've done it every day, basically.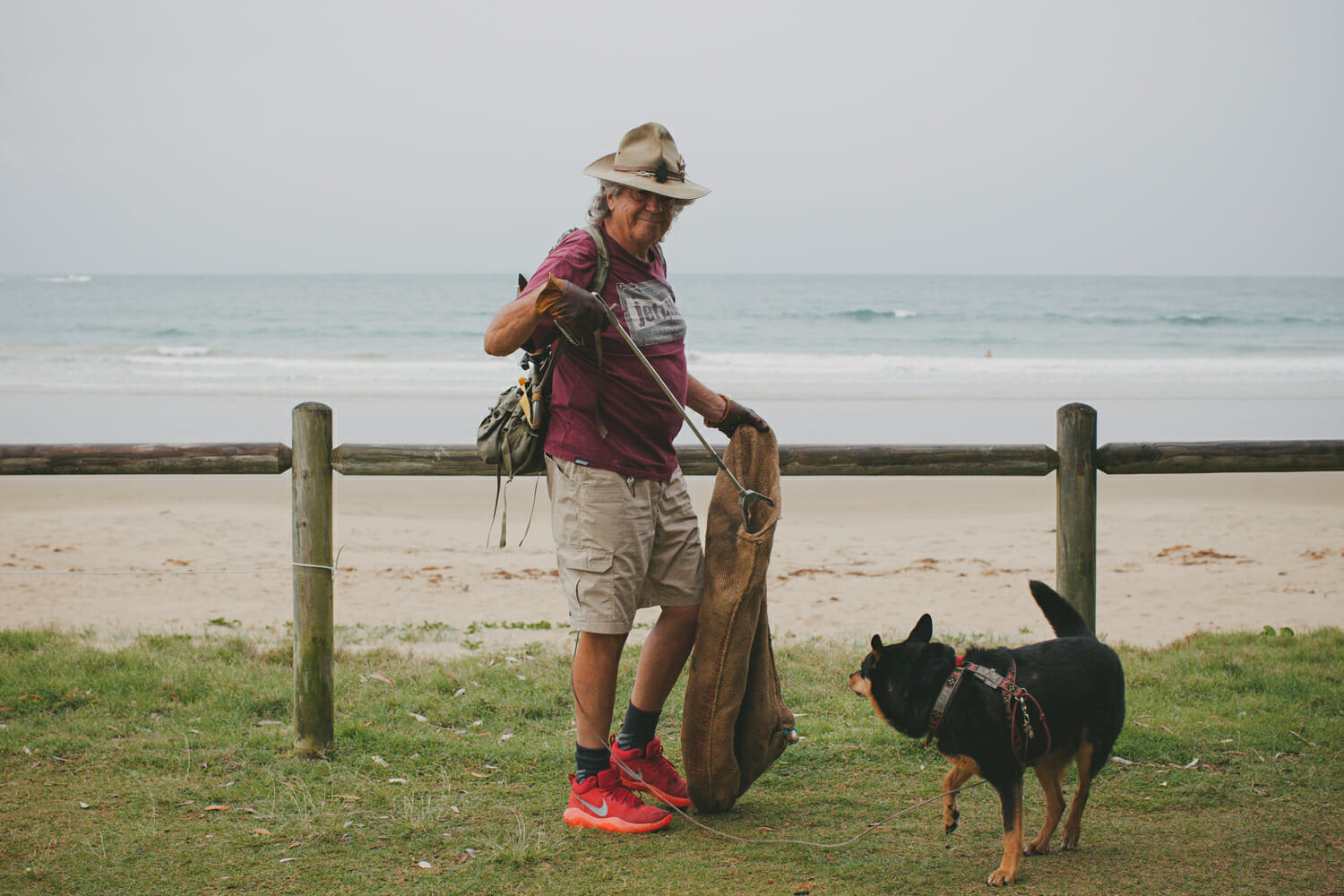 With Buddha by his side, Jim collects debris beachside at Woolgoolga
Cb: Does it frustrate you that people are still littering?
JS: If people drop rubbish in front of me, I never say anything, I just walk over and pick it up. Kids at the skate park come up and ask whether or not I get paid to do it. I say no and tell them that I live here, and it was clean when I arrived. A few minutes later I'll see them putting some rubbish in the bin or in my bag. Doing what I do gives young people something to look to. If anybody is going to do it, it has to be the older people. We had the planet and we didn't do too well so that's why it is the way it is. I'm in tears when I see all of the plastic.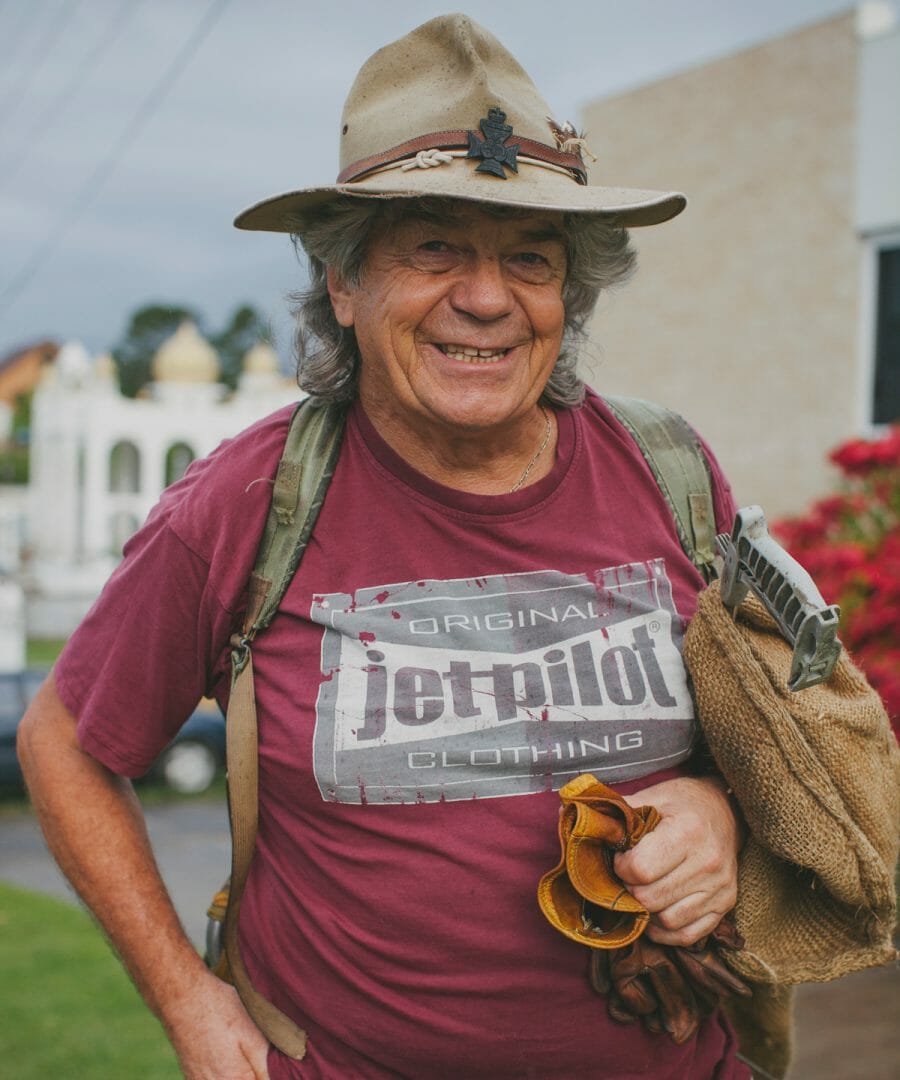 Jim Stevens has been dedicated to cleaning up his local community for two decades 
Cb: What keeps you going?
JS: I've got a reason to do it. This is the frontline. When it gets to the sea it's gone, it's too late. So we have to work here, we have to work in the streets. We've got to look after where we are, that's all you can do. I love it here, always have. While I can keep going, I'll do it. If you don't keep going, you knock over real quick. Life is a gift, it's not a right. I'm optimistically thinking that my contribution will make a difference.
We can all take inspiration from Jim and make a difference by collecting rubbish, cigarette butts and plastics – www.take3forthesea.org