Jazzing up Coffs Harbour's Pacific Bay Resort
New management, a fresh approach and an innovative team are proving the secret recipe at Coffs Harbour's premier resort property, Pacific Bay Resort.
Pacific Bay Resort offers the complete resort experience. Just 10 minutes from the heart of Coffs Harbour, it features superb leisure facilities with three swimming pools, tennis courts, a fitness centre, 9-hole golf course, a day spa, conferencing facilities and an à la carte restaurant. Situated beachside on the beautiful Charlesworth Bay, the property also has 40 hectares of subtropical gardens.
Pacific Bay Resort has seen a major turnaround since independent owners took the helm in early 2018. It joins a small group of well-renowned destinations including the award-winning Bonville Golf Resort and luxury Sydney property, Jonah's at Whale Beach.
Group Marketing Manager Christopher Winn says, as in any business, often it's about getting the basics right and that has started with the accommodation refurbishment program. The existing accommodation was tired and long overdue for a refresh, and it seems that's proving the key to winning new business.
"It's essential to the sustainability of our local tourism industry that Coffs Harbour maintains an adequate supply of quality accommodation of at least a four-star standard." Christopher says. "For a destination where domestic overnight visitation grew by over 16% in the past year, surpassing both Port Macquarie and Byron Bay, it's unacceptable for there to be an undersupply of suitable options for visitors." Christopher adds, "The owners within the strata signed off on a long planned $1.2 million spend on painting and upkeep of the Towers and Terrace Buildings. This forward momentum can be attributed to the strata committee, who, with a renewed confidence of the direction the resort is heading, have been right behind the upgrades."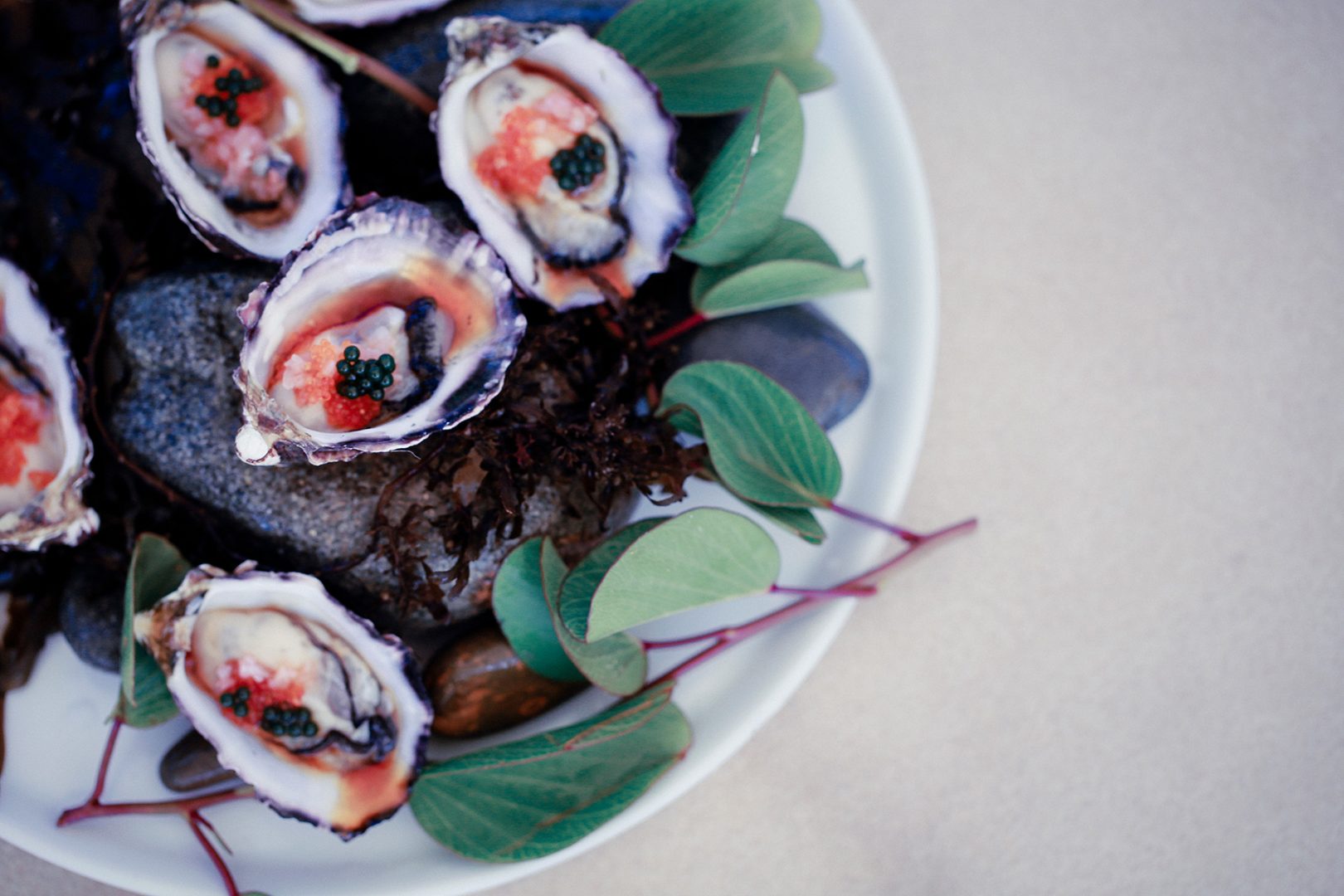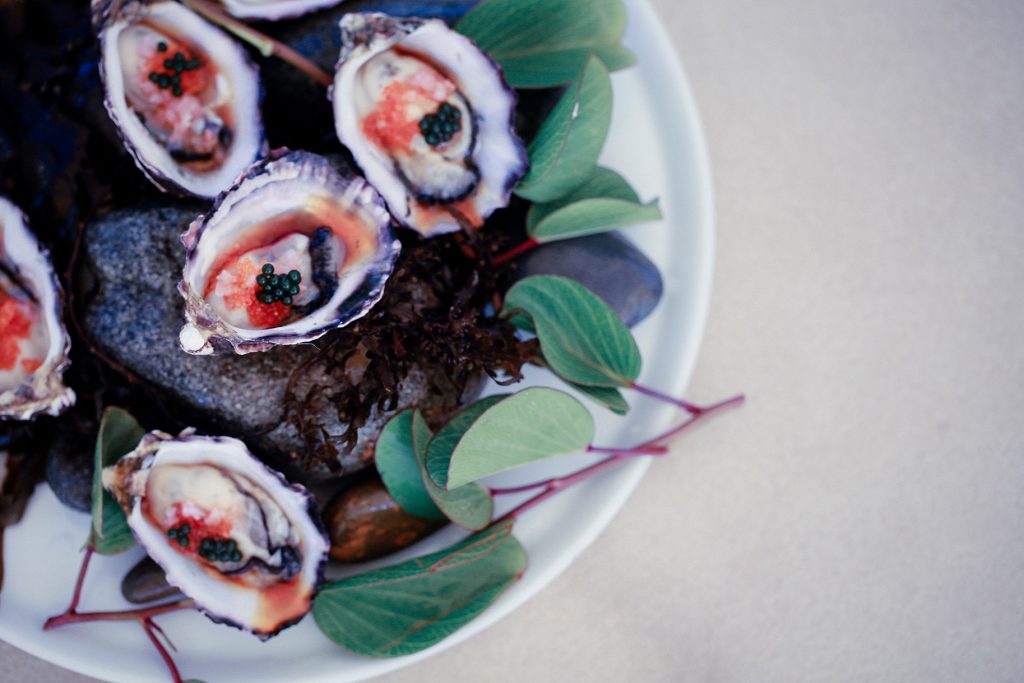 Enjoy beautiful fresh seafood at the à la carte restaurant
The room refurbishment program includes improvements such as fresh paint, new carpet, modern furniture, new lighting and fresh amenities, creating a range of stylishly appointed Executive and Deluxe style accommodation for guests. "The ongoing refurbishment program is delivering on the promise of a quality experience for guests," says Chris.
Pacific Bay has also quickly gained a foothold on the regional conference and events market by partnering with Destination North Coast NSW and flying the flag for the Coffs Coast as a destination of choice for conferencing and events. The group has also partnered with a selection of local operators aimed at adding offsite opportunities for conference groups and showcasing the region's amazing natural assets.
The resort's conferencing facilities can cater for up to 550 attendees and these too have seen recent improvements. The conference and events team can deliver an exceptional product for guests. The modular and versatile conferencing facility, including the tradeshow floor space has recently been completely refreshed. Each room is equipped with state-of-the-art integrated audio-visual systems, staging and lighting concept and design, high speed broadband internet and to ensure privacy between rooms, special acoustic panels are used to partition off individual break-out rooms.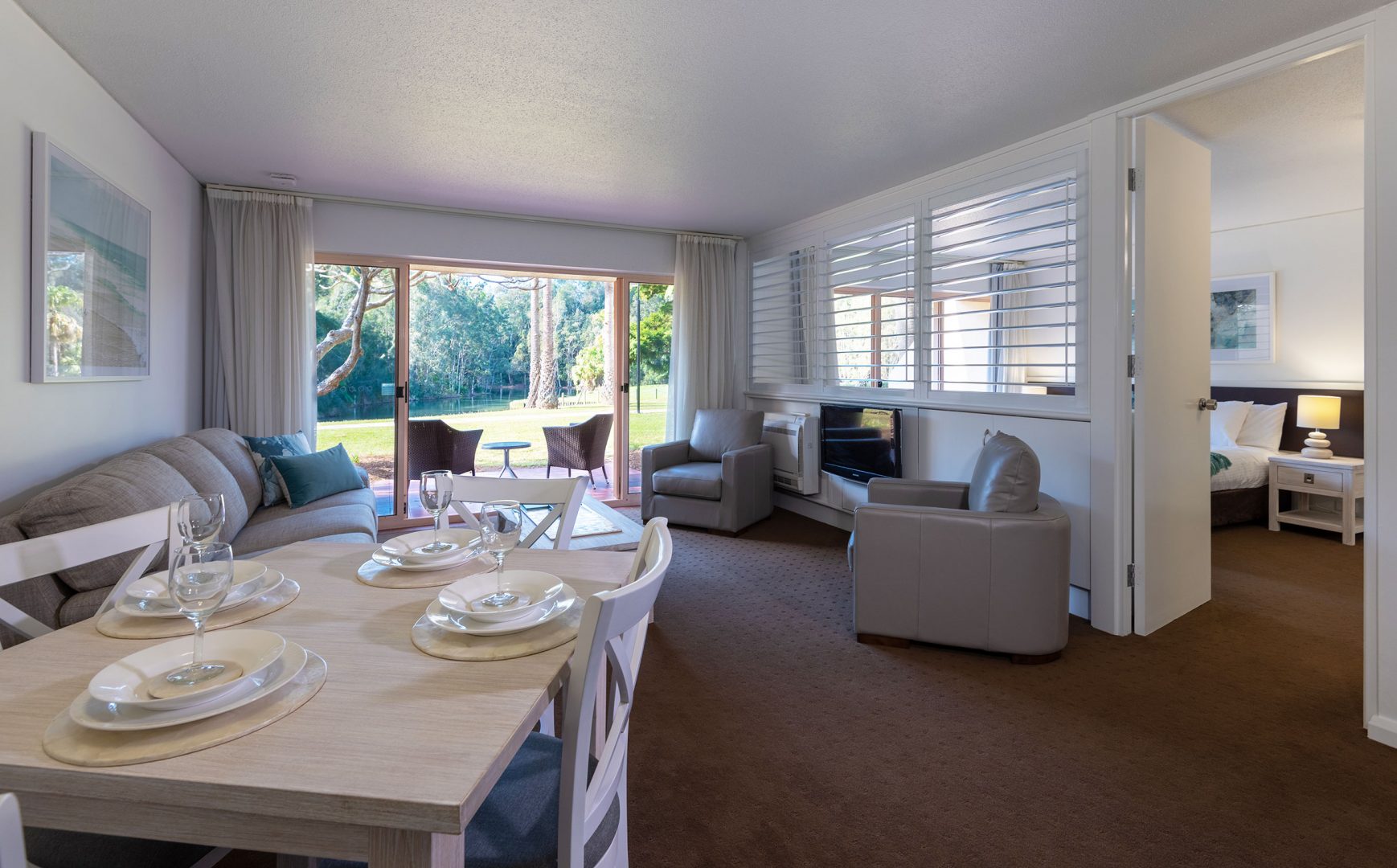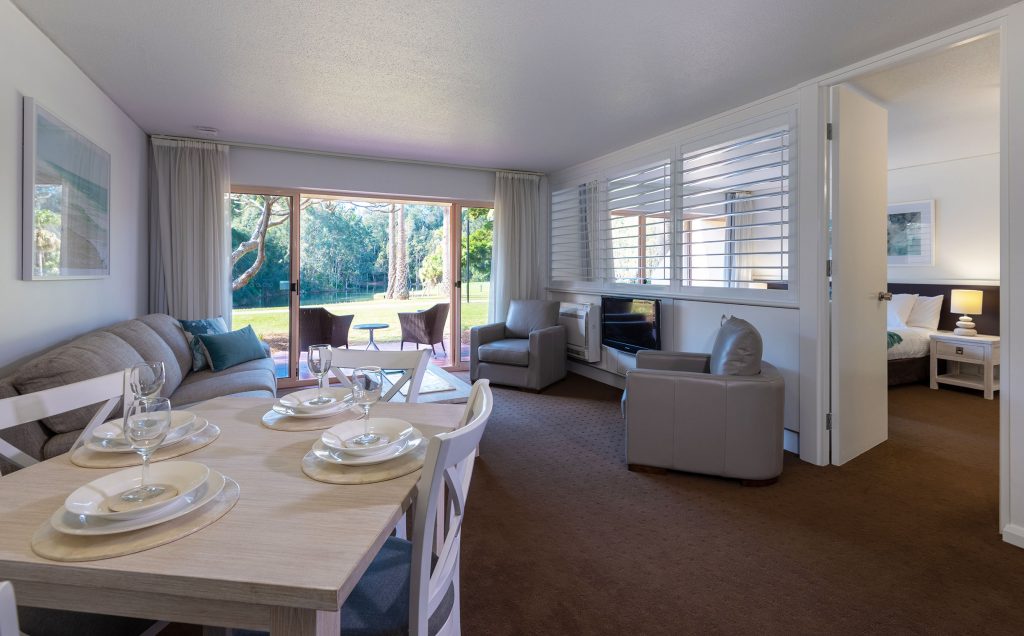 The recently refurbished Executive one-bedroom apartment
"We are excited to be welcoming back local, regional and residential conferencing of all kinds. Our refreshed conference spaces, refined delegate packages and ability to adapt is generating really positive reviews from our clients," says Group Sales Manager Stephanie Kesby. "While we're focused on developing our residential conferencing business and growing visitation here on the Coffs Coast, we also want the property to become a hub for board meetings, business lunches and casual staff get togethers at a local level. There are so many unique and versatile spaces to work with," Stephanie says.
To add to the upward trajectory of the resort, further strata initiatives including the beautification of the gardens, refurbishment of the golf course and refreshing the pool areas are rounding out the aesthetic of the property.
To experience these exciting new developments for yourself, bookings can be made by calling (02) 6659 7000 or on the Pacific Bay Resort website.